The family that prays together, stays together. How about the family that studies together? Family Bible study has many benefits. Here are some helpful tips.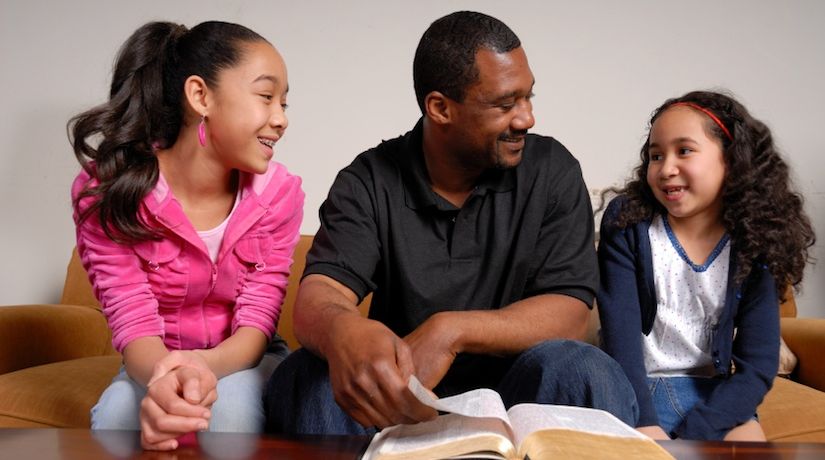 Few things are more painful to parents than to see their children suffer because of bad choices. Parents cannot always be there to help their children with the decisions they face. But they can help prepare their children to make wise decisions and avoid many of the pitfalls that come with growing up. (For more on this, see "Helping Our Children Grow.")
One of the most important tools for preparing our children for life is the Bible. What can parents do to make family Bible study engaging, memorable, effective—and even fun?
Teach your children God's ways
"A wise son makes a glad father, but a foolish son is the grief of his mother" (Proverbs 10:1). Parents hurt when their children make bad choices; they rejoice when they do well.
Our Creator, who made us and gave us life, did not leave us without an instruction book on how to live. He included in the Holy Bible guidance for parents to help us with our children and our families.
If we study and use the instructions He inspired for us, we can help our children avoid many problems and take advantage of many blessings as they grow and mature.
God tells us to teach our children about His ways, and He says that in doing so we can help add years of happiness to their lives and reduce the chances of painful mistakes.
"And you, fathers, do not provoke your children to wrath, but bring them up in the training and admonition of the Lord" (Ephesians 6:4). Doing this can contribute to the children honoring their parents, which brings the promise "that it may be well with you and you may live long on the earth" (verse 3).
"And these words which I command you today shall be in your heart. You shall teach them diligently to your children, and shall talk of them when you sit in your house, when you walk by the way, when you lie down, and when you rise up" (Deuteronomy 6:6-7).
As children mature, they develop their own personal standards and values through their experiences, the people they have contact with and the media they are exposed to. As parents, we shouldn't leave this most important process to others and the continual negative influence of television and movies.
Why is the Bible important?
Our loving Father in heaven inspired the Bible as a gift to us. The Creator communicates to us what is truly important in life. He tells us the way of life that produces blessings, as well as the wrong ways that produce problems.
Parents who teach their children the right way of life through family Bible studies are equipping them with the tools to live a more fulfilling life. The Bible shows that those who do right will be blessed:
"Say to the righteous that it shall be well with them, for they shall eat the fruit of their doings" (Isaiah 3:10).
"You shall therefore keep His statutes and His commandments which I command you today, that it may go well with you and with your children after you, and that you may prolong your days in the land which the LORD your God is giving you for all time" (Deuteronomy 4:40).
The time and effort we spend instructing our children can mean the difference between a shortened life because of bad choices or living to "a good old age."
We must convey to our children the importance of learning God's way, as Solomon tried to do:
"Hear, my children, the instruction of a father, and give attention to know understanding; for I give you good doctrine: Do not forsake my law. When I was my father's son, tender and the only one in the sight of my mother, he also taught me, and said to me: 'Let your heart retain my words; keep my commands, and live. Get wisdom! Get understanding! Do not forget, nor turn away from the words of my mouth. Do not forsake her, and she will preserve you; love her, and she will keep you'" (Proverbs 4:1-6).
So how can we make our family Bible study interesting, effective and age-appropriate?
Read to your children
One method of teaching small children is to read to them. Young children love to be read to. Many parents find their children bringing them books and asking to be read to. It is a wonderful teaching opportunity, so why not use some of this time to teach biblical principles?
There are a number of books that have Bible stories on a child's level. If you choose good ones, the stories will not only hold their interest, but will help them begin to grasp the truths God provides in His Word.
In addition to Bible story books, see the nearly 50 "Bible Stories" with downloadable coloring pages on Life, Hope & Truth.
And check out all the Bible stories on our growing "Encourage, Equip & Inspire" website. More on this wide-ranging and very helpful resource for parents and families later in the article.
As children get older, it may become more difficult to hold their attention in your family Bible studies. There are so many distractions competing for our children's time and attention—video games, iPods, cell phones, television shows, etc. But there are things we can do to help keep their attention and help them continue to learn.
Interactive Bible study
One of the best ways to keep the family focused is to make your family Bible study interactive. Involve the whole family in reading and discussions.One of the best ways to keep the family focused is to make your family Bible study interactive.
Involve the whole family in reading and discussions. Ask questions about what a verse or story means. What does God want us to learn from a parable or the life of a righteous man or woman?
Bible study games
Make Bible study into a game. For example, as your children's Bible knowledge grows, you can find or create Bible trivia questions. Or try a game of "Catch Me If You Can," which involves one family member beginning to read from the Bible, while everyone else tries to figure out where he or she is reading from.
Family Bible study can be fun, challenging and still engage our children in the Word of God.
How can I approach Bible study with my children?
There are several approaches one can take to family Bible study. Where do you begin?
Here are some ideas:
Best book of the Bible to start with?
One idea is to begin where it all begins. The title of the first book of the Bible, Genesis, comes from a Greek word meaning origins or beginnings. By reading through Genesis, the family can discuss how everything that exists began through the creative act of God. He made us. He made all of the things that make life enjoyable for us, and He made us for a purpose.
The story flow of Genesis leads right into Exodus, with more foundational stories and lessons.
There is no one right place to start, but some other good books to begin with for following the story flow of the Bible include Joshua (which leads into Judges), 1 Samuel (followed by 2 Samuel, 1 and 2 Kings), Matthew (expanded by the perspectives in Mark, Luke and John) and Acts.
So one approach to Bible study is to just begin reading the Scriptures together, whether in Genesis or 1 Samuel or Matthew or Acts—stopping often to discuss individual verses.
Bible characters
Another approach is to read stories of some of the great men and women of the Bible. There are the stories of Joseph, David and Esther—young people who became great because they loved God and His laws. You can read about the faithfulness of Noah, Abraham and Moses, or the wisdom of Abigail and Solomon.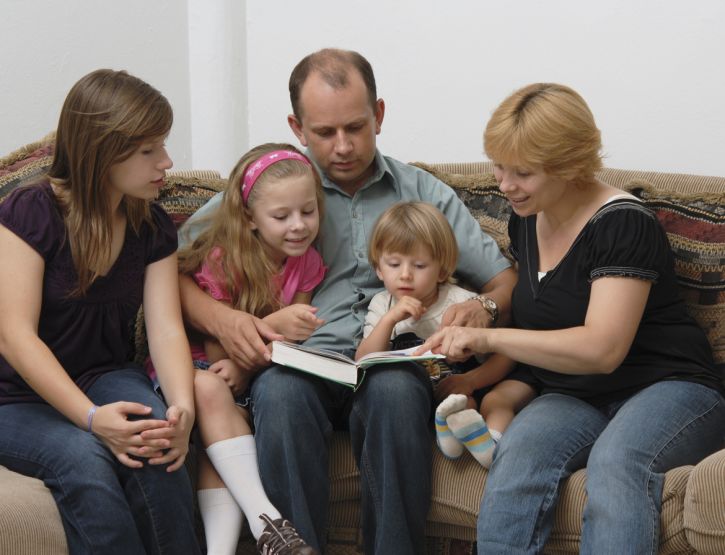 There are also stories of those who failed because they rejected God's laws. Others failed because they allowed lust or greed to destroy them. These bad examples can also have clear and easy lessons to relate to our children.
Family Bible study topics
There is no end to the topics the Bible addresses that can be of interest and help to your family. Here are just a few ideas:
Many people can name at least some of the 10 Commandments, but can you and your family name them all? More importantly, can we explain what they mean? Powerful lessons can be learned by discussing what the world would be like if everyone obeyed even one of the commandments (for example, "You shall not steal").
The book of Proverbs is a great book to study with our children and teens. It is one of several books of wisdom literature in the Bible. It was primarily written to help teens and young adults learn how to live life wisely. There are more than a dozen different topics that can be researched and discussed, including:
How to acquire wisdom and understanding.
Seeking counsel in decision making.
Sex and morality.
Alcohol (drugs).
Wise handling of our finances.
The control of our emotions.
The Gospels contain many parables. Jesus Christ used them to teach lessons of life and faith, and we can use those parables to teach our children as well—digging out the meanings He intended. Then we can discuss how to apply the lesson in our own lives.
For dozens more family Bible study topics and resources, see the "Encourage, Equip & Inspire" website.
Encourage, Equip & Inspire
You can find resources for just about everything discussed in this article in our ever-growing "Encourage, Equip & Inspire" website. Parents will find studies to inspire them and to use with their children. Sections include:
The opportunity to teach your children
God has given parents—both fathers and mothers—the wonderful responsibility to teach their children about Him and His way of life.
Solomon wrote, "My son, hear the instruction of your father, and do not forsake the law of your mother" (Proverbs 1:8). This shows the value of the contribution of both father and mother in teaching the children.
It is important to make the family Bible studies age-appropriate. Think of the challenges that each of your children might face in their stages of life, such as choosing friends, being responsible and controlling their emotions. As our children move into their later teen years, there might be questions about repentance, baptism, relationships and, in time, choosing their future mate.
Family Bible studies may provide an avenue for them to ask you about, and for you to help them with, these important questions.
What a great opportunity parents have to teach and share biblical instruction and their own personal experiences with their children to prepare them for a successful future!
For more information and ideas about Bible study, see "How to Study the Bible" and related articles.