How can we create the best environment for teaching and helping our children grow? How can we make a peaceful home for the children God has entrusted to us?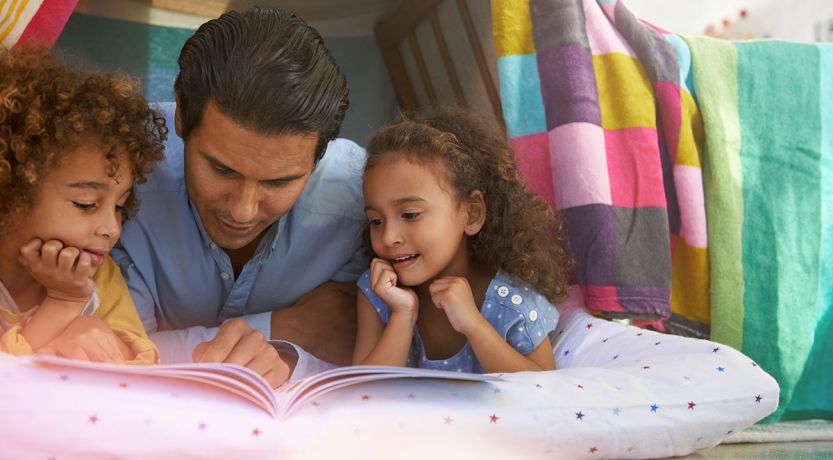 All humans start out as sweet, lovable and innocent little babies. They come into this world without emotional baggage or bad habits to break.
Practically everything has to be learned—how to eat, when to sleep, how to use the toilet, crawl, walk, talk, listen, read and so much more—and parents are their first and most important teachers. What and how they learn greatly affects whether they grow up to be wise or foolish.
Many factors influence the minds of our children as they grow up, including their peers, entertainment and the powerful influence of social media. But most studies show that the family still has the strongest effect of all of these.
How we parent our children determines to a great extent their future. It deeply impacts how well they will do on their jobs, the type of person they will choose to marry and the success of that relationship, how they will parent their own children and the relationship they will have with them.
No parent wants to go through the anguish of seeing his or her children choose a path that will destroy their future happiness. So what can we do to ensure our children become successful adults?
"Unless the Lord builds the house"
The foundation of a successful home and family begins even before you marry. What can you do to prepare to be a godly mate and parent? And what kind of person do you want to marry and have as the father or mother of your children?
Solomon wisely noted, "Unless the Lord builds the house, they labor in vain who build it" and "Behold, children are a heritage from the Lord" (Psalm 127:1, 3). A wise person will therefore first seek God's blessing on his or her marriage. And once you are married and decide to have children, why not first ask God to bless the conception, birth and your parenting efforts?
God blesses us with these little ones, and He is the One who can teach us how to bring them to adulthood successfully.
Two great commandments: principles for how to raise a child
God has not left us without guidelines we can use to provide a more fulfilling life for our children. Certainly there is no guarantee, as children sometimes make bad choices, but applying these guidelines will greatly increase our odds of a good outcome.
The greatest laws of life are also the greatest guides to successful childrearing. Jesus said the entire law of God could be summarized as two great commandments: Love God with all our hearts and love our neighbors as ourselves (Matthew 22:36-39). These two great laws provide the most important framework for steering our children toward a successful, fulfilling life.
When we realize that every human has an awesome potential, including these little ones in our care for a brief period of time, parenting takes on a whole different outlook. What is our purpose in life? What is their future and purpose? It all ties in with our relationship with God and each other.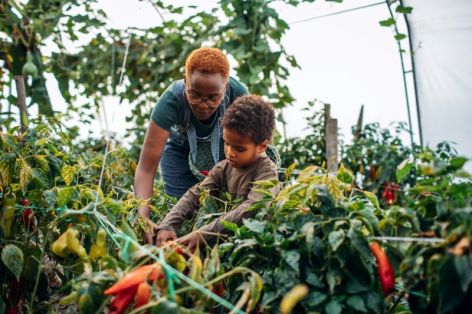 If God is first in our lives, then He will be our go-to source for the help we need in this most important task of parenting. He will help us create the environment to assist our children in growing into the kind of adults they need to be—people who love God with all their hearts and their neighbors as themselves!
Positive environment for child development
When I think about an environment for growth, an experience from years ago comes to mind.
Indiana is beautiful in the summer; but in the dead of winter, it can be a cold, dreary place. Very few evergreens exist to provide color, and when no snow falls the landscape is a dull gray.
On one of those cloudy days, my wife and I visited a couple who owned a nursery farm. We stepped from our car into the cold north wind and made our way over to some long buildings.
As we stepped through the doors, we were welcomed by a pleasant 72-degree temperature and met with rows and rows of beautiful flowers and many varieties of verdant young vegetable plants.
No matter how cold, snowy and windy it was outside, inside those buildings we found the ideal environment in which plants could thrive. If we create the right environment, we can grow almost anything we want to.
The same is true for children. Give them the right environment, and they will develop the qualities they'll need for a great future.
We can't totally insulate our children from all the negative things of this world, but we can create an environment in our homes where they can grow and thrive.
Peaceful home
My wife and I had the goal of making our home a sanctuary for our children. No matter what kind of day they had at school or in the neighborhood, we wanted our home to be a place they would find peace, security, kindness and love.The family environment is what makes a house a home. The world is not always the nicest place, and after a hard day at school or work, we all need a warm place to come home to.
My wife and I had the goal of making our home a sanctuary for our children. No matter what kind of day they had at school or in the neighborhood, we wanted our home to be a place they would find peace, security, kindness and love.
"For God is not the author of confusion but of peace" (1 Corinthians 14:33). Teaching family members to respect others and providing the security of structure for everyone establishes an atmosphere for growth.
A few of the building blocks for creating this kind of environment in the home include:
Settling differences without screaming and anger.
Having meals together.
Viewing television and computer screens less and talking and listening more.
Creating family traditions, such as family activity nights and family Bible studies.
Reading to children a lot, especially when they are small. They love it! It provides not only a great emotional connector with the parents but it instills in them a desire to learn.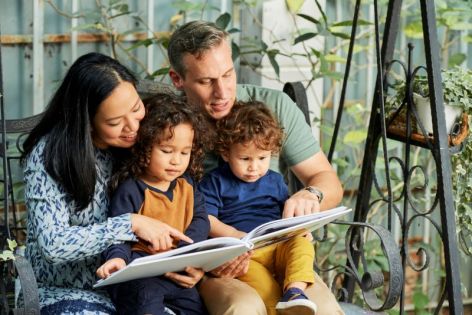 And, of course, the most powerful method of instruction is our example. A picture is worth a thousand words, and a good example of what to do is worth a thousand spoken "don'ts."
Above all, it's vital that we teach our children about God as early as possible and also that they see that God is important to us. They need to know that He is the source of every good and perfect gift we have to enjoy (James 1:17).
Teaching our children
God tells us to teach our children about Him and His instructions for us every day, all through the day, to explain how obeying His laws makes life good for us and others.
"You shall love the LORD your God with all your heart, with all your soul, and with all your strength. And these words which I command you today shall be in your heart. You shall teach them diligently to your children, and shall talk of them when you sit in your house, when you walk by the way, when you lie down, and when you rise up" (Deuteronomy 6:5-7, 24; see also 10:13).
When our children were small, our family was frequently together in the car. On long trips, our children would often ask me to tell them stories. I would make up stories about young heroes and villains, but I always worked in a moral to the story as another way to teach them about honesty, serving others or sacrifice for a good cause.
It can be challenging to find time to teach our children. Thankfully, God gave us the Sabbath command—to cease from our work and play on the seventh day. (For more about this, download our free booklet The Sabbath: A Neglected Gift From God.) My family found that the Sabbath was special time unlike the rest of the week, because it provided great opportunities to enjoy time together and to talk about God's Word and way of life.
My wife always prepared a nice meal for the beginning of the Sabbath, Friday evening. Our children knew that dessert came after our family Bible study, so they were always excited for the study to begin. We tried to keep it interesting and relevant for their ages and to involve them by making it interactive.
Helping our children grow in discipline and accountability
Rules and discipline are a necessary part of life. If parents don't require their children to live within the boundaries of correct conduct, life will, and experience can be the harshest disciplinarian. Even God, our Father, disciplines us for our benefit (Hebrews 12:10).
The Bible teaches loving discipline and instructs parents to avoid harsh and unreasonable rules and enforcement (Proverbs 13:24; 22:6; Ephesians 6:4; Colossians 3:21).
Recent research backs up the effectiveness of this loving approach. "A large body of research on attitudes indicates that parental warmth together with reasonable levels of control combine to produce positive child outcomes" (Joan E. Grusec, PhD, and Tanya Danyliuk, BA, "Parents' Attitudes and Beliefs: Their Impact on Children's Development").
Wise parenting, however, looks deeper than just correcting specific infractions. Even more important than wrong actions are the attitudes or motives behind them. Consider what those may be so you can address those when necessary.
There are no perfect parents
No matter how well parents have done, they all say in hindsight, "I made some mistakes. I could have done better." There are no perfect parents. So don't get discouraged. Do the best you can with God's help, and entrust the outcome to Him.
God gave His Son as a gift to the world. Although God's gift is far above anything we can imagine, there is a way in which He wants us to give our children as a gift as well. He wants us to prepare them to make a contribution to the world—to make it a better place for others!
We encourage you to learn more about what the Bible says about parenting and building a strong family. The articles in the "Parenting" and "Family" sections can help.
Bible Verses About Parenting Responsibilities
The apostle Paul tells us the most important things a parent can teach:
"Fathers, do not provoke your children to wrath [lest they become discouraged, Colossians 3:21 adds], but bring them up in the training and admonition of the Lord" (Ephesians 6:4).
Paul packs a lot into this short instruction to parents.
First, he gives a warning not to be unreasonable, severe or demeaning—not to dishearten them, but to encourage them.
"Bring them up" is from the same Greek word translated "nourishes" in Ephesians 5:29, where Paul points out how much we nourish and cherish our own bodies. It is natural that parents should lovingly feed their children's bodies and minds.
And what is the main subject of all the training and admonition? It is the way of the Lord. This is the most important thing a parent can teach. How to obey God. How to fear Him, please Him and even become like Him. Why?
Because children are a heritage from the Lord (Psalm 127:3)—He gives them to us to raise, but they are really His.
We must learn the way of the Lord ourselves in order to teach it, but, thankfully, it is all laid out for us in one textbook—the Holy Bible. The Bible gives us the foundational truths that help us—and our children—make sense of all other important truths.
Introduce your children to God through age-appropriate Bible study, prayer, exploring His creation and practical application of biblical principles. As your child sees you live out your faith, he or she will learn how reverence of God leads to wise choices and blessings. Obeying God's laws brings benefits now—and forever.
Some of those benefits are described in the verses at the beginning of Ephesians 6. Learning to honor parents is a step toward honoring God, and God specifically listed the benefits obeying this Fifth Commandment can bring: "'Honor your father and mother,' which is the first commandment with promise: 'that it may be well with you and you may live long on the earth'" (verses 2-3).
Read more in our articles "How to Help Your Children Build a Relationship With God" and "Fifth Commandment: Honor Your Father and Your Mother."
Parenting: Instructions Not Included
Even though we might not endorse the film itself, the title to the 2013 movie Instructions Not Included certainly resonates with many new parents!
Many governments require training for teachers, camp directors and child protective services, yet it seems we expect parents to intuitively know what to do. We expect mothers and fathers to learn on the job—and they sure do!
But the biblical expectation is more effective and encouraging. God ideally wanted parents to learn to be parents from their parents. If your parents haven't given you this training, consider asking them for it. It's a biblical principle and even if they made some big mistakes, perhaps they learned from those and can now provide meaningful advice within the framework of God's principles.
If your parents aren't available or qualified, other family members or wise people you know might step into this role.
Beyond personal experience, it can be helpful to study child development and what parenting "experts" have to teach. But beware of the parenting "fad of the year," and compare the advice you read with that which has truly stood the test of time—the Bible. God created children and family, and our Heavenly Father truly knows what's best. For more on Christian parenting, see the biblically based articles in our Life, Hope & Truth "Parenting" section.