Technology has created new and exciting ways to communicate. But is the social media craze affecting our friendships? How can we make more real friends?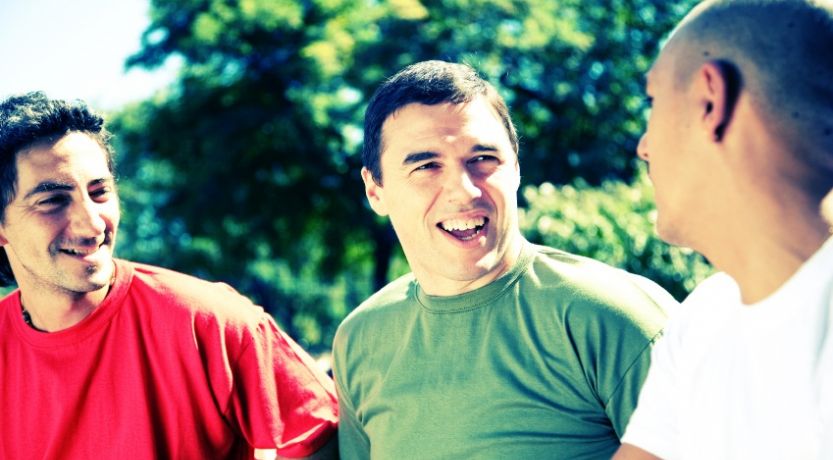 With a computer, tablet or smart phone today we can share photos, thoughts and the experiences of the moment with family and friends at any time. With a quick search, it is possible to find and reconnect with friends from years ago and even befriend people we've never met face-to-face.
The numbers of social network "friends" can grow to the point where one individual quipped that he has more friends on Facebook than he does in real life!
More and more research is showing the impact social media and "digital friends" can have on our ability to relate to others in person. But even aside from these modern challenges, how to make friends has been a perennial question of vital interest to people through the ages. Feelings of loneliness can be an issue for people of all ages, even when they have people around. (See more in our article "The Loneliness Epidemic.")
What does the Bible say about how to make and be a good friend?
To make friends, be friendly!
Everyone wants to have friends who are loyal and true, but not everyone knows how to have or be such a friend.
The Bible teaches the importance of treating others the way we want to be treated—and we all appreciate others who are friendly (Matthew 7:12; Proverbs 18:24). People who make friends easily are those who express an interest in others and in what they are doing. By asking questions and showing interest in others, you make them feel welcomed and appreciated, helping them feel their efforts are worthwhile.
Friendly people will not pass up the opportunity to let others know when they do something well. They realize how much it encourages them to be praised for their efforts, and they try to praise others too.
A friend is encouraging
Wise King Solomon noted, "Two are better than one, because they have a good reward for their labor. For if they fall, one will lift up his companion. But woe to him who is alone when he falls, for he has no one to help him up. … Though one may be overpowered by another, two can withstand him. And a threefold cord is not quickly broken" (Ecclesiastes 4:9-10, 12).
The impact of well-timed encouragement can be tremendous. I can remember talking to a less popular classmate at school after he had a run-in with the class bully. "Don't worry about him," I said. "He's just jealous of your grades in class." A couple more times I offered encouragement when I saw him looking forlorn.
What a response I got! We began doing almost everything together. Later on, this fellow introduced me as his "best friend." The incident taught me how important it is to show concern, and to this day we are firm "best friends"!
Be trustworthy
What kind of people do others want to have around them? Those they can trust and rely on. Do others see you as trustworthy? The way you live your life, the standards you abide by, will create an impression on others. Jesus confirms this: "You are the light of the world. A city that is set on a hill cannot be hidden. … Let your light so shine before men, that they may see your good works and glorify your Father in heaven" (Matthew 5:14, 16).
Never compromise your integrity, standards or beliefs because you think someone will not approve of you for following God's way. If the person is a worthwhile friend, he or she will appreciate your honesty and uprightness. If not, then he or she is not a good type to have as a friend!
Do you bear grudges?
Humanly speaking, it can be very difficult not to hold on to hurts and bear a grudge. The apostle Paul exhorted, "Do not let the sun go down on your wrath" (Ephesians 4:26). If you have a problem with someone, approach the person straight away and settle the matter. Then move on without dragging the offense with you.
Coupled with forgetting grudges is forgiving others. In Matthew 6:14-15 we read, "If you forgive men their trespasses, your heavenly Father will also forgive you. But if you do not forgive men their trespasses, neither will your Father forgive your trespasses." Food for thought!
How many friendships have been damaged or destroyed because of some hurt—real or imagined—that was never resolved and therefore never forgiven? How much could the camaraderie, encouragement and support have meant later on? For lack of valuing a friendship and learning to forgive, many people will never know.
Outgoing concern
In Luke 6:31 Jesus Christ said, "And just as you want men to do to you, you also do to them likewise." This is a passage from which we draw the "golden rule." So if we want our friends to show care and concern for us, we must learn to do the same. It isn't an attitude of trying to take advantage of others, but rather of serving for the good of others.
I was at an amateur radio flea market not long ago. One man had a lot of equipment for sale on his table, asking folks to make an offer. Another man was inspecting a radio lovingly. "I'll offer 800 for this radio," he said. "No," said the seller, "that's too much; I'll take 600 for it." You do not often see this happening!
Interestingly, virtually everything he had flew off his table! This really shows how rapidly one can develop a reputation for fairness. Simply by his actions, this fellow had gained the respect of everyone at the fair. Similarly, a willingness to stop, listen and help others can gain you their respect.
A few other tips
To have good friends, we also must learn to control our temper. The apostle James said, "Let every man be swift to hear, slow to speak, slow to wrath" (James 1:19).
Don't be fearful to go to other people for advice. Not only will you learn something, but it makes them feel needed and useful!
If you are wrong, admit it—without hesitation! The other person will respect you more for it.
Confrontation breeds anger and perhaps even hatred, so avoid it if at all possible. King Solomon had some words of wisdom to share: "A soft answer turns away wrath, but a harsh word stirs up anger" (Proverbs 15:1). Very often this gentle approach can dissipate someone's anger completely.
Never embarrass someone in front of others. If you have a problem to raise, do it in private, where the person has a chance to defend himself or herself and raise issues that are not the business of others.
Never get involved with gossip or spreading rumors. God condemns this conduct as a very serious sin. In James 1:26 we are told to "bridle [your] tongue." James 3:8 adds, "No man can tame the tongue. It is an unruly evil, full of deadly poison."
Do not condemn others! Jesus tells us, "Judge not, that you be not judged" (Matthew 7:1). Rather, we should look for the positive factors relating to a person's conduct.
God's instruction manual
All of this advice about how to make friends can be found in God's instruction book—the Holy Bible. The cornerstone of true friendship is love. Jesus Himself told us, "You shall love your neighbor as yourself" (Matthew 22:39). Love begets outgoing concern, unselfishness and all the other aspects discussed above. Outgoing love is the basis for all real friendships!
In Galatians 5:22-23 Paul lists nine characteristics of the "fruit of the Spirit": love, joy, peace, longsuffering, kindness, goodness, faithfulness, gentleness and self-control. How much would each of these characteristics do for friendships? He continues: "Let us not become conceited, provoking one another, envying one another" (Galatians 5:26).
Friendly people seem to possess more of the precious commodity of time. But their secret lies in their patience and their willingness to share their time with others. Very often that is all they need to share—their time with a sincere interest in and care for others. The investment of a little of your time in the right place will be paid back a hundredfold!
Modern technology provides many benefits, including almost instant communication around the world. But instant communication does not necessarily equal genuine, trusting friendships.
If we truly live as God teaches us in His instruction manual, we will find that we will make more friends and that others will enjoy being in our company. We will be better equipped to be a good friend, and we will put ourselves in a position to earn the respect of others, who can also become our good friends!
For more about improving all our relationships, see the other articles in this "Relationships" section.