One in 10 grandparents has a grandchild living with him or her, and one in 20 is the primary caregiver. As overwhelming as this can be, there is hope!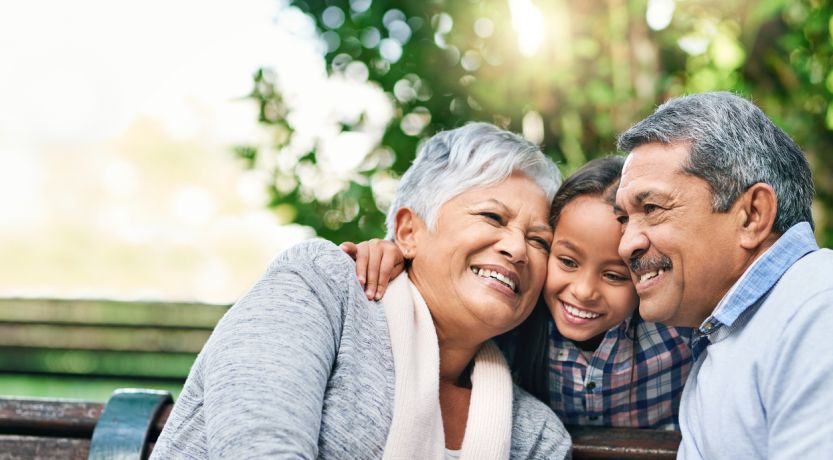 Some have called parenting the hardest job you'll ever love. Then what about when grandparents take on the role of parenting? Raising your grandchildren can present more challenges, since grandparents typically have less energy.
And sometimes it comes with self-recriminations and doubts.
Grandparents' concerns
"It's all my fault! I guess I really messed up teaching my kids when they were little. If my son wasn't in jail for drugs, I wouldn't be the one raising my grandchild!"
"How did all of this happen? I already raised my children; I'm too old and tired to do it again."
Have you ever had thoughts like these, or know someone who has? It is stressful and increasingly more complicated to raise children today. You may wonder, is it my fault? Could I have done something different to keep this from happening?
Many people find themselves in this situation. Their own children have grown up to be adults with financial problems, addictions, mental health issues or disabilities. Or their children are struggling single parents, or perhaps even met an untimely death. As a result, many grandparents are now raising their grandchildren.
According to a report by North Dakota State University, in 2020 slightly more than 7 million grandparents lived with at least one grandchild under the age of 18 in the United States.
If you are among this select group, you are not alone!
There are many reasons why this happens, and sometimes it's the result of poor choices made by your children.
Your children's choices
We all have choices. God created people and gave them the ability to make choices, good or bad. We reap the consequences, good or bad, depending on our choices.
In Genesis 2:17 God instructed His children, "But of the tree of the knowledge of good and evil you shall not eat, for in the day that you eat of it you shall surely die."
Think about this verse. Have you ever given a command to your children that you expected them to follow? Did they? Well, Adam and Eve disobeyed their Father too! Was it God's fault that they took of that forbidden tree? Was He a bad parent? Of course not.
As difficult as it may be, you can make a huge difference in the lives of your grandchildren.Let's continue in verse 1 of chapter 3: "Now the serpent was more cunning [crafty] than any beast of the field which the LORD God had made. And he said to the woman, 'Has God indeed said, "You shall not eat of every tree of the garden"?'"
Verses 2 and 3 prove that Eve clearly knew the instructions that God had given her and Adam. But Satan contradicted God's specific commands, and in verse 4, he lied to Eve saying, "You will not surely die."
Satan is called the tempter (Matthew 4:3), and Jesus labels him a liar (John 8:44). God allowed him to influence Adam and Eve, and the choices they made. Sadly, they listened to him and disobeyed their Creator.
Satan is still allowed to roam among us today (1 Peter 5:8). He is called "the god of this age" (2 Corinthians 4:4), and he "deceives the whole world" (Revelation 12:9). Everyone has to confront the influence of Satan.
No matter how well you raised your sons and daughters, they can be tempted and deceived to follow their own lusts and desires and can therefore make poor decisions (see our parenting resource "A Type of God's Family").
Extra grandparenting challenges
It can be difficult and stressful to raise children, and having to raise grandchildren in your older years can be even more challenging. In addition to the normal child rearing difficulties, you may have grandchildren with mental or emotional challenges. If a parent is in jail or rehab or is mentally unstable or financially deprived, it can have a direct impact on his or her children.
Add to that the health issues that come to you with age, or financial problems resulting from a fixed income, and you can have the perfect storm of stress!
But you do not need to shoulder these burdens alone. Jesus provides encouragement by His words in Matthew 11:28-30:
"Come to Me, all you who labor and are heavy laden, and I will give you rest. Take My yoke upon you and learn from Me, for I am gentle and lowly in heart, and you will find rest for your souls. For My yoke is easy and My burden is light."
God does not abandon us, and He does not leave us without help!
Seeking God's help
The most important thing you can do is seek help from our Heavenly Father! God will help you to bear this burden if you look to Him and ask.
In the Sermon on the Mount Jesus said, "Ask, and it will be given to you; seek, and you will find; knock, and it will be opened to you. For everyone who asks receives, and he who seeks finds, and to him who knocks it will be opened. Or what man is there among you who, if his son asks for bread, will give him a stone? Or if he asks for a fish, will he give him a serpent? If you then, being evil, know how to give good gifts to your children, how much more will your Father who is in heaven give good things to those who ask Him!" (Matthew 7:7-11).
There are many scriptures that can encourage and help us in a time of need. God is also our Healer. We can seek God's healing for our grandchildren.
Remember, God loves our children and grandchildren even more than we do. He has a plan to bring all of His children into His family. He has a purpose for us all! (See "What Is the Real Purpose of Life?" and "Encouraging Bible Verses.")
Bible verses about grandparents
Here are a few Bible verses about the blessings and opportunities of being a grandparent:
"Now this is the commandment, and these are the statutes and judgments which the LORD your God has commanded to teach you, that you may observe them in the land which you are crossing over to possess, that you may fear the LORD your God, to keep all His statutes and His commandments which I command you, you and your son and your grandson, all the days of your life, and that your days may be prolonged" (Deuteronomy 6:1-2, emphasis added throughout).
"But the mercy of the LORD is from everlasting to everlasting on those who fear Him, and His righteousness to children's children" (Psalm 103:17).
"Children's children are the crown of old men, and the glory of children is their father" (Proverbs 17:6).
Paul told Timothy he thanked God "when I call to remembrance the genuine faith that is in you, which dwelt first in your grandmother Lois and your mother Eunice, and I am persuaded is in you also" (2 Timothy 1:5).
Support for grandparents raising grandchildren
Statistics show this is no longer an isolated concern of just a few. With the growing tide of grandparents raising grandchildren, a large amount of support is becoming available.
We can find a wide range of information through books, articles and support groups. Seeking support and encouragement from church, neighbors, friends and family can help lift some of the burden as well. It is important to have someone to talk with as you are going through this difficult period in your life.
If the needs are especially heavy or complicated, you may want to seek professional counseling. The cost of professional counseling can be high, so it may be wise to check with the local department of family and children's services to find out what help is available, and whether you and/or your grandchild qualify to receive free counseling services.
Planning and preparation for grandparenting
Planning and preparation can help you and your grandchildren be more successful and manage the stress.
Evaluate and establish a plan and backup plans. Ask questions like: How long will we have our grandchildren? Will they be living with us, or just staying with us during the day? Are we responsible for their education and care? Do the children have special needs? What are the financial and legal stresses and resources?
Seek out friends, family, neighbors, church family or support groups. Having a few people with whom you can share your struggles and frustrations, as well as triumphs and successes, is very important! Sometimes an outside perspective can provide insights that may be helpful in sorting out your thoughts, preparations and plans.
Seek counsel. Professional counseling can be of help to you and/or your grandchildren. You may also need guidance in the areas of finance, addictions, working with disabilities, etc. The book of Proverbs provides wisdom regarding seeking counsel: "Without counsel plans go awry, but in the multitude of counselors they are established" (Proverbs 15:22).
Seek a relationship with God. This is the most important point. God can help you through this. "With God all things are possible" (Matthew 19:26).
There is light at the end of the tunnel. The responsibility may not go away, but how you plan and prepare and apply what you've learned can make things go more smoothly.
You now have an opportunity to bring up a child better—with greater experience and wisdom. You can give the needed love and guidance and encouragement to those grandchildren that you have been given to raise!
Bond between grandparents and grandchildren
As difficult as it may be, you can make a huge difference in the lives of your grandchildren. They might be facing a very bleak outlook without you. And a wonderful and deep bond can often be built between grandparents and the grandchildren they raise. The special closeness and love are just part of the blessing that can result from your dedicated efforts.
We all learn and grow as parents, and let's face it, we make many mistakes along the way. Now in our older age, we have the knowledge and experience we wish that we would have had when we were raising our own children.
Grandparents can be a great and important influence in the lives of their grandchildren. Use this opportunity to be the best grandparent you can be!
For more about being a grandparent, see "Leaving a Legacy for Your Grandchildren." For more parenting resources, see the articles in our "Parenting" and "Family" sections and our "Encourage, Equip & Inspire" section.