Meditation can sound like a mysterious religious practice. But is this what God wants? What is meditation in the Bible? What are the benefits of meditation?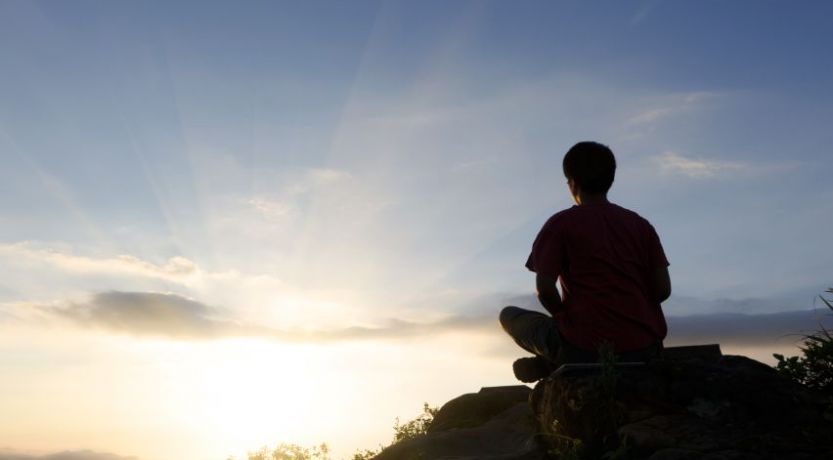 In our fast-paced society, we often find ourselves rushing through our daily routine, rarely stopping to think. Briefly put, meditation is stopping to think!
It is concentrated thinking about a particular subject for a period of time.
Meditation vs. multitasking
Life's demands typically force us to do more than one thing at a time, to multitask. It's great if you can juggle several thoughts at the same time. But you can't get the most out of your reasoning power, your creative ability—or your ability to relax—if you never concentrate deeply on just one topic.
Meditating for spiritual purposes requires us to put other thoughts aside for a while and to focus on one important subject.
Meditation in the Bible
The Bible speaks of meditation in numerous references, both in the Old Testament and in the New Testament.
Psalm 63 is one example. This song or prayer was written by David before he became king of Judah when he had to "go underground" for a while to avoid being assassinated. It was obviously a highly stressful time in his life. He had been falsely accused of treason.
In verse 6 David speaks of meditating during sleepless nights, as he thought deeply about how God always provides for those who search Him out. Those meditations brought back memories of how God rescued David previously, and they cheered him up.
David dedicated his meditation to God as a way to worship and please Him:
"Let the words of my mouth and the meditation of my heart be acceptable in Your sight, O LORD, my strength and my Redeemer" (Psalm 19:14).
"May my meditation be sweet to Him; I will be glad in the LORD" (Psalm 104:34).
"I remember the days of old; I meditate on all Your works; I muse on the work of Your hands. I spread out my hands to You; my soul longs for You like a thirsty land" (Psalm 143:5-6).
The type of meditation spoken of in the Bible isn't the repeated chanting of a mystical sound or phrase. There is nothing mysterious about it. It means using your mind in an effective manner to think intensely on a single subject that relates to God.
God notices and is pleased by those who meditate on Him and His ways.
"Then those who feared the LORD spoke to one another, and the LORD listened and heard them; so a book of remembrance was written before Him for those who fear the LORD and who meditate on His name" (Malachi 3:16).
To meditate on God's name is to think deeply about Him and His characteristics. See more in our articles "Names of God" and "What Does the Fear of the Lord Mean?"
Prayer and meditation in the Bible
Pondering deeply on something that concerns you naturally might stir you to
pray
about it. Prayer is talking to God. We "listen" to Him through studying His Word. So, prayer and Bible study are the two necessary elements of communicating with God. Meditation enriches both sides of this relational communication with our Heavenly Father.
For example, David wrote in Psalm 64, "Hear my voice, O God, in my meditation; preserve my life from fear of the enemy" (verse 1). David was thinking deeply about the danger he faced, and his meditation inspired him to pray to God about protection—just as we would do in a similar circumstance.
How to meditate on the Word of God
In the famous 119th Psalm, the psalmist wrote of meditating in a different way on a sleepless night: "My eyes are awake through the night watches, that I may meditate on Your word" (verse 148).
When facing some demanding situation, this writer spent time thinking deeply about God's Word. He could have been looking for direction on how to handle what he was facing, or he might have been simply seeking comfort from whatever the stress of the moment was.
The Bible is a guide for life, for everything and anything that life throws at us. You might be familiar with this verse, which verifies this claim: "Your word is a lamp to my feet and a light to my path" (Psalm 119:105). The counsel that the Bible has to offer is often in condensed form. To derive the full benefit of its wisdom, a person has to deliberate, to ponder its meaning and the way to apply it personally.
In conjunction with prayer and the help of God's Spirit, a believer can reinforce godly conduct by picturing himself saying or doing the right thing. That is another benefit and way to use meditation.The psalmist committed himself to doing this, so that he would discover everything God's words had stored within them: "I will meditate on Your precepts, and contemplate Your ways" (Psalm 119:15).
God encouraged Joshua after the death of Moses to continue to focus on the Word of God—studying it and doing what it says.
"This Book of the Law shall not depart from your mouth, but you shall meditate in it day and night, that you may observe to do according to all that is written in it. For then you will make your way prosperous, and then you will have good success" (Joshua 1:8).
Meditation benefits and things to think about
It is commonly known that directing your thinking on a specific behavior can change your habits. For example, basketball players who repeatedly picture making a play or a shot successfully can improve their game significantly.
Many people wrestle with sinful habits that they need to replace with behavior that is acceptable to God. In conjunction with prayer and the help of God's Spirit, a believer can reinforce godly conduct by picturing himself saying or doing the right thing. That is another benefit and way to use meditation.
What should we meditate on? The apostle Paul wrote: "Finally, brethren, whatever things are true, whatever things are noble, whatever things are just, whatever things are pure, whatever things are lovely, whatever things are of good report, if there is any virtue and if there is anything praiseworthy—meditate on these things" (Philippians 4:8; see our Daily Bible Verse Blog post "Meditate on These Things").
Thinking about the meaning, the value and the application of these guideposts for life, as well as picturing yourself putting them into practice, can have positive benefits. This type of meditation will help you mature spiritually.
Lastly, concentrating your mind on a single spiritual value or a beautiful aspect of creation will help free your mind and body of stress.
Genesis 24:63 tells of Isaac, at that time a 40-year-old man with weighty business responsibilities—and courtship—on his mind, going "out to meditate in the field in the evening."
Notice the setting, for it helps to have an environment conducive to meditation. A park, a hiking trail, a garden or a place with a view of the sunrise or sunset might be where you can meditate easily. Or, as mentioned above about David, maybe the quiet of your bed late at night would be a haven for you. Undoubtedly, you will find more than one place that lends itself to meditation if you look for it.
So, what is meditation? Meditation for spiritual reasons is a healthy and necessary practice with many benefits when practiced as taught in the Bible.
To learn more about meditation and strategies for using this spiritual tool in your life, read: