Dads are a disappearing and often disrespected resource. But what do studies, statistics and Scripture tell us about why dads are important?
It's one of my favorite pictures. It captured a line of dads and uncles talking at the back of our church hall—most with babies in their arms!
To me, this photo speaks of their care and nurturing and involvement in the lives of the tiny people they are holding.
Unfortunately, in our culture, this snapshot is an anomaly.
Fathers on TV
Have you noticed that on advertisements and even in the content of television programs, dads are increasingly portrayed as weak, clueless and seriously lacking in intelligence? Or as mean bullies?
These characterizations seem to make dads of little value to the family.
And in real life, some dads leave completely. In fact, in 2018, more than 1 in 4 kids in the United States lived in a home without a dad.
What is wrong with this picture?
Are dads important? And, if so, why are they important?
Role of a good father
All the way back at the beginning, God told man and woman that when they started their family, a man was to leave his father and mother and begin a new family unit with his wife (Genesis 2:24). God also encouraged them to add children to the family (1:28).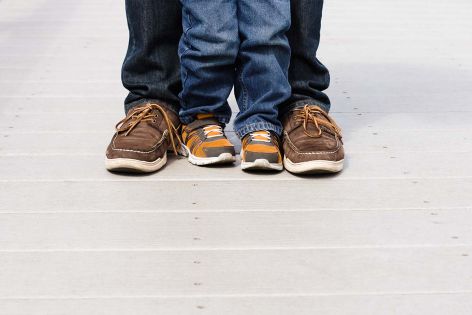 Proverbs 5:18 admonishes men to rejoice with the wife of their youth, indicating a long-term, happy relationship that can include grandchildren (Proverbs 17:6) and that goes all the way into old age.
Nice picture of a happy family, right?
And God goes further and tells dads (and moms) to bring up children in the instruction of the Lord (Ephesians 6:4) and to do it from the time they get up in the morning until the time they go to bed at night (Deuteronomy 6:7).
Psalm 103:13 speaks of the compassion a father has for his children, and we see the prodigal son's dad forgiving him and welcoming him back with open arms when he came to his senses and repented (Luke 15:11-32; see our article "The Prodigal Son: Parable With Overlooked Meaning").
The picture God paints of a loving dad is one who is compassionate, loves his children, actively guides his children, forgives his children and cherishes his children. This is not the same weak, clueless, silly-headed, mean or absent dad that popular culture wants to portray.
The importance of a father in child development
With just a brief search online, you will find article after article and study after study that support how important involved and loving dads are in the lives of children.
According to Claire Lerner in an article titled "The Daddy Factor: The Crucial Impact of Fathers on Young Children's Development," this impact starts all the way back at the prenatal stage.
Are good dads important? Yes, they are important and vital to the health and well-being of both our physical and our spiritual families.According to "5 Things You Should Know About the Importance of Fathers," research at the University of Texas shows that children with involved and loving dads are 39 percent more likely to earn mostly As in school, 45 percent less likely to have to repeat a grade and twice as likely to go to college and be successfully employed afterwards. The study also shows children are 60 percent less likely to be suspended or expelled, 75 percent less likely to bear a child in their teens and 80 percent less likely to spend time in jail.
Here is a brief synopsis of some of the benefits: increased cognitive and academic performance, better language skills, confidence, impulse control, higher self-esteem, fewer mental health issues such as depression, better social choices, stronger social connections with peers, empathy—and the list could go on.
In the blog post "The Important Role of Dad," Dr. Gail Gross says, "Your child's primary relationship with his/her father can affect all of your child's relationships from birth to death . . . Those early patterns of interaction with father are the very patterns that will be projected forward into all relationships . . . forever more: not only your child's intrinsic idea of who he/she is as he/she relates to others, but also, the range of what your child considers acceptable and loving."
So, yes, dads are important!
Why dads are important to moms
But so what? Why is this important to me? I am not a dad.
First, this is important to me because I am a mom. And I want my kids to have every advantage I can give them. Having a great dad involved in their lives gives them many advantages that will make their lives so much better.
Second, it helps to have someone share the load of raising kids. One of the advantages of having an involved dad that several of the studies mentioned is that it helps moms. Moms can be better at mothering if dads are successfully fathering. Specifically mentioned was a reduction in stress. (Wouldn't we all love that!)
And, third, we as moms have the ability either to facilitate and encourage the father-child relationship or, sadly, to poison and tear down that relationship. We must make sure we wield that power very carefully.
Speaking very plainly, it is wrong to tear down a dad to his children.
We all have the ability to support and encourage dads—our own, our spouse, our brother, our friend.
Our Heavenly Father
Here is one more thing to consider. All of the amazing things about dads that we have talked about apply far more to someone else as well—God. He calls Himself our Father and calls us His children. He is compassionate, loves His children, actively guides His children, forgives His children and cherishes His children.
The god of this world does not want you to believe that. Satan the devil would like you to believe that our amazing Heavenly Father is either weak and detached or mean and overbearing. Satan has fooled so many people into believing that God isn't or shouldn't be involved in our lives. It's the same playbook he uses to attack our physical dads.
Let's face it, if your relationship with your physical dad is not good, doesn't it make it more difficult to have a relationship with and trust a Dad—a Father—that you cannot see? What a clever tool Satan has used.
Whether you are a dad or you know a dad, fatherhood deserves another respectful look. Are good dads important? Yes, they are important and vital to the health and well-being of both our physical and our spiritual families.
I cherish my picture of the dads in our congregation. They are the kind of dads that raise healthy children. What a wonderful blessing to all of us!