The years in which a young person transitions from childhood to adulthood can be challenging. How should we deal with our children during the teen years?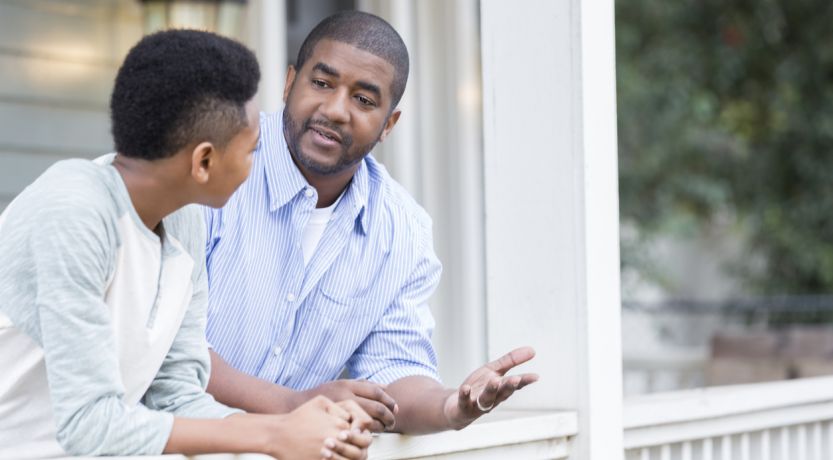 Teenagers.
Just mentioning the word can cause anxiety for some people. Perhaps it's because of memories of their own trip through the teen years, or perhaps it reflects experiences with their own children during that stage.
For many, those years of not being a child—but not quite being an adult either—are years of uncertainty, insecurity, learning, pushing boundaries and sometimes outright rebellion.
While adolescence has probably always been a challenging transitional time, it was faced very differently in the past. As the world has changed, the teenage experience has changed.
A better understanding of what those changes are can help us and our children better navigate this developmentally important time.
Adolescents in centuries past
Throughout much of history, adolescents were workers. In fact, children as young as 7 years old were often brought into the workforce. In both towns and farms, children worked beside their parents, doing what was necessary to support the family. As the age of industrialization spread in the 18th and 19th centuries, children began working long hours in factories.
As the standard of living rose in the developed world, educational opportunities began to change. Families were able to survive without their children's financial contributions, so adolescents often stayed in school longer. Young people could now spend leisure time with peers, and this growing sense of freedom affected the way average teens viewed themselves and the world.
And this brought profound changes to the family.
Evolution of the teenager
It may come as a surprise to some, but prior to World War II, the term teenager was rarely used. In fact, many trace the view of adolescence as a distinct developmental stage to this time period. This newly defined stage of life, combined with a greater level of family income, resulted in other societal changes.
One of those changes in the U.S. and much of the Western world was the availability of the automobile, which provided a degree of freedom and autonomy previously unheard of. Beginning in the 1950s, teenagers suddenly became trendsetters in music, fashion, film and dance.
It became the norm for teenagers to focus on experimentation rather than labor. Teens of the 1960s and 1970s were known for rebellious attitudes and a proclivity for risky behavior that included illegal drugs, abuse of alcohol and a high rate of sexual activity. Parents faced new challenges in helping their teenage children navigate the world and avoid destructive decisions.
But over the last 20 years, the behavior of the average teenager has changed. Recent studies by psychologists like Jean Twenge, professor of psychology at San Diego State University, have revealed profound changes in teenage behavior.
Parents, grandparents and guardians need to be certain they are modeling the kind of behavior they want to see from their teens!According to Dr. Twenge's research, when compared with teenagers from past decades, 17- and 18-year-olds today are slightly less likely to have tried alcohol and drugs or to have had sex. They are also waiting longer to get a driver's license or move out of their parents' homes. On average, they are waiting longer to get married and to have children as well.
Commenting on these findings, the BBC article "Why Teenagers Aren't What They Used to Be" states, "By many measures, adolescence now continues until around the age of 24 to 25" (Feb. 1, 2022).
What does the modern teen face?
According to studies, the rates of sexual activity and drug and alcohol use among teens have declined since the early 2000s. Smoking has declined by nearly 70 percent among teens. Of course, all of this is good news for teen and parents!
But does this mean modern teens are choosing to refrain from all risky behaviors? Not necessarily.
A slew of studies in recent years reveal teen behaviors have changed, but not always for the better. The reality is that today's teens have the ability to be involved in activities that didn't exist for previous generations. The digital age has dramatically changed the fabric of adolescence and is forcing parents to worry about new challenges.
While smoking has declined across all age groups, we can't ignore the alternative that has appeared: the e-cigarette (commonly known as vaping). Between 2011 and 2019 the use of e-cigarettes among teens rose by 1,800 percent!
With the dramatic rise in vaping, the medical community is now reporting a similar rise in lung problems, heart disease, gum inflammation, and negative impacts on brain development directly tied to use of e-cigarettes.
The more we learn, the clearer it is that e-cigarettes are not a healthy alternative to smoking.
The impact of smartphones on teens
According to an August 2019 Pew Research Center report, 95 percent of U.S. teenagers have access to a smartphone. These mobile electronic devices have single-handedly revolutionized teenage life. Social media platforms like Facebook, YouTube, Instagram, Twitter, Tumblr and Snapchat—which didn't exist a generation or two ago—now dominate the life and time of today's teens.
The cell phone is so embedded in teenage life that an earlier (2018) Pew Research survey found 45 percent of teens say they're online on a near constant basis! A 2018 Common Sense Media survey found that 60 percent of teens said they would rather socialize with friends online instead of face to face.
The artificial world of social media has created a heightened obsession with beauty and glamour that the average teen feels unable to attain. This has been linked to increased feelings of discouragement and depression among teens. As a result, a Science Daily study connected the unrealistic images of life shown on social media with a rise in suicides among teenage girls.
Smartphones have also contributed to automobile accidents. Studies show that a texting driver is 20 times more likely to have an accident, and yet 35 percent of teen drivers report responding to text messages when they are behind the wheel!
Access to smartphones has also increased access to pornography. It's not an overstatement to declare pornography one of the greatest pandemics of our time. The U.S. Department of Justice recently stated: "Never before in the history of telecommunications media in the United States has so much indecent (and obscene) material been so easily accessible by so many minors in so many American homes with so few restrictions."
Other studies reveal that 93 percent of our sons and 62 percent of our daughters have been exposed to online pornography before the age of 18, with more than half of boys and nearly a third of girls having their first exposure before they're 13. Over a third of teenage boys reported viewing pornographic videos "too many times to count."
This issue recently came to the forefront when musician Billie Eilish acknowledged she had viewed explicit content starting at 11 years old and had been negatively affected by it. She described her brain being "destroyed" and suffering nightmares because of it.
Considering that the digital world is only expanding, and creating new challenges as it does so, it's worth noting that it's never been more important for parents and teens to be grounded in the eternal standards of God.Another new challenge associated with this is the rise of sexting, or "self porn." Different studies show different statistics about teens who have sent nude images of themselves by text, email or app, but all of the estimates are alarming. Laws against child pornography seem to have a limited impact.
These are just some of the many challenges that teens face today.
How can a parent respond?
The world of a typical teenager suddenly seems far more complicated than in previous generations. So where does that leave parents and teens who desire to live a godly life? There are several important points for us to keep in mind.
1. God's standards don't change. Parents must keep in mind that no matter where societal trends might go, the solid truth of the Bible never changes! God told the prophet Malachi, "For I am the LORD, I do not change" (Malachi 3:6). And the book of Hebrews declares, "Jesus Christ is the same yesterday, today, and forever" (Hebrews 13:8).
What was sin in the past is still sin today. Our responsibility is to understand the principles our Creator gives us in Scripture and understand how to apply them to modern challenges. Though none of the challenges cited in this article are directly mentioned in the Bible, the core principles of moral purity that they break have always been there.
Considering that the digital world is only expanding, and creating new challenges as it does so, it's worth noting that it's never been more important for parents and teens to be grounded in the eternal standards of God.
2. Stay connected with your children. God instructed Moses to tell the Israelites to teach their children about God's ways "when you sit in your house, when you walk by the way, when you lie down, and when you rise up" (Deuteronomy 6:7). This instruction must be a constant part of our relationship with our children. Proverbs 22:6 instructs parents to "train up a child in the way he should go, and when he is old he will not depart from it."
But when our own lives are flooded with so much to do that we can hardly find time to stop and catch our breath, how can we possibly keep up with what our children are doing? School and a wide range of social activities are only a few of the items on their plate. Is it possible for parents to keep up with all of that?
The number one key is open communication.
It's critical to be involved and informed about their lives, their friends, and where and what they do. Although our relationship with our children evolves over time, we must never forget we are first and foremost parents who have their best interests at heart.
If we want to provide counsel and guidance, we must know what they're facing.
3. Set appropriate boundaries. Teenagers are almost adults, but not quite. So, they will continue to require rules and the motivation to follow them. You will naturally adjust your rules depending on the age and maturity of your teen, but it is essential to establish limits and curfews for them. There are also a wide variety of parental control apps for computers, tablets and smartphones. It would be wise to do research and eventually invest in a program that will set proper boundaries for your teen.
4. Pray for discernment and wisdom. James wrote, "If any of you lacks wisdom, let him ask of God, who gives to all liberally and without reproach, and it will be given to him" (James 1:5). Parents of teens know how much they need wisdom to properly guide and teach their children!
5. Set the right example. In addition to taking the important steps listed above, parents, grandparents and guardians need to be certain they are modeling the kind of behavior they want to see from their teens! We should ask ourselves if we are being honest, if we are trustworthy, if we are living by the moral standards we want our teens to hold. "Do as I say, not as I do" doesn't work with child-rearing, and it most certainly will not work with teenagers!
The teen years are something everyone must go through. The way society has viewed these years has changed over the centuries, and the influences teens face today are different from those past generations faced. But these years need not be so dreadful for teens and parents.
We all need to focus on the never-changing truths of God to form the foundation for our values and behaviors. There will be challenges, detours and difficult times, but parents can use the Bible as their guide to help their children navigate through their teenage years.