Studying the Bible involves asking questions and searching for answers. Here are examples of Bible questions and answers published in Discern magazine.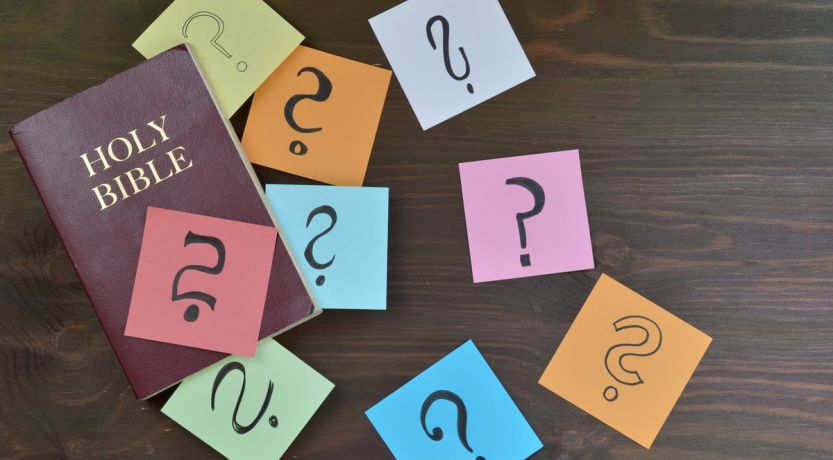 We began publishing "Q & A: Answers to Your Biblical Questions" in the November/December 2021 issue of Discern, a Magazine of Life, Hope & Truth. The answers were written by a team of ministers of the Church of God, a Worldwide Association, who take care of the questions submitted to our "Ask a Question" form.
If you have questions and would like a personal answer, you can submit them at LifeHopeandTruth.com/ask-a-question.
Here are the questions and answers published so far.
Questions and Answers from the November/December 2022 Discern
Question: My son-in-law is addicted to a game and spends hours playing it at the expense of his family, and his work has suffered too. Please let me know what help there is for him.
Answer: We're sorry for the struggle you and your family are experiencing. Our world is seemingly full of addictions, including the addiction to computer gaming.
As you are already seeing, a gaming addiction can indeed cause serious problems for relationships, work and even the health of the gamer, both mentally and physically. Hard-core gamers may be playing the game five or more hours a day (and night) every day. When they aren't working, eating or sleeping, they are playing the game. And often, even when they are doing something else, they are still thinking about the game. It isn't just a hobby; it is an obsession that is taking over their lives.
One of the consequences of any kind of addiction is the terrible impact it has on other aspects of life. When this begins to happen, many will respond with anger. They don't see what they are doing as a problem, and they can't understand why anyone else would have a problem with it or fail to be supportive of them and their "hobby"!
That really hits at the heart of the issue—they don't see their behavior as a problem.
As with any kind of addict, the first step to recovery for gaming addicts is to admit they have a problem! If your son-in-law is not yet at that point, you cannot go any further. Sometimes family members can talk with the addict and help him or her to see the problem, and sometimes family members are not effective. (This could reflect that old saying that "familiarity breeds contempt.")
But one way or another, before your son-in-law can break the addiction, he somehow has to come to see how the game has taken over his life and how it is destroying much of what is good and wholesome in his life.
We have an excellent article on our website titled "The Dark Side of Gaming." I encourage you to read it, and if your son-in-law is at all open to reading it, give him the link or print it off for him. See also "Confronting Addiction" and related articles for additional information that can help.
Question: How can we lose our salvation by not obeying God, if the Bible says that we are not saved by our good doings or following the law, instead we are saved by believing in Jesus Christ?
Answer: Paul showed the necessity of God's grace and faith (Ephesians 2:8). No works that we could ever do could pay the penalty for our past sins. Nothing we could ever do could earn salvation. But the apostle Paul also told the Philippians to continue to obey and to "work out your own salvation with fear and trembling; for it is God who works in you both to will and to do for His good pleasure" (Philippians 2:12-13).
If you read both passages more closely—and put them together with the other teachings about salvation throughout the Bible—you find that they all work together. Here is a brief excerpt from our article "Once Saved, Always Saved?":
"We compared the process of conversion to buying a home. But it's more like being given a galaxy! Nothing we could do would ever pay for it. But, by God's grace, we can receive this gift freely.
"Still, receiving this gift requires that we show that we really want it by continually drawing closer to God and removing sin. It requires seeking not to disgust the Great Giver with our evil actions, but seeking to please Him by obeying His rules, which are really for our own benefit.
"God wants us to follow His instructions to us with a deep love for Him from our heart. Loving God entails keeping His commandments. John 14:15 states, 'If you love Me, keep My commandments.'"
Read the rest of this article to get a fuller biblical picture of salvation. You may also be interested in "Saved by Grace; Created for Good Works" and the articles in the "Law and Grace" section of our website.
Questions and Answers from the September/October 2022 Discern
Question: Thank you for such insightful exposition of the feasts of God [in "Journey 3: The Plan of God"]. Frankly, I had never looked at them in the way you have expounded! And linking them with our Christian journey is just amazing. After reading your explanation of the Feast of Trumpets, my questions are these:
Does this mean all saints who will be alive then will have to go through the Great Tribulation period characterized by the seven trumpets?
Is it only after the seventh trumpet that the "rapture" will happen and the first resurrection will occur? I have, rightly or wrongly, always believed that the rapture will happen before the Great Tribulation. Please help clarify this matter.
Answer: It is exciting to see how the steps in God's plan of salvation are pictured in the seven annual feasts of the Lord. The Feast of Trumpets is indeed a pivotal one, picturing a number of end-time events around the return of Jesus Christ.
The Bible talks about some saints being martyred (Revelation 6:9-11; 12:11), but others being protected for 3½ years during the Great Tribulation (verse 14). Our article "Place of Safety" will give you more biblical information about this. You may be surprised to find that the Bible talks about this place of safety on earth, but it does not talk about a secret rapture to heaven. You can learn more about this in our article "Will There Be a Secret Rapture?"
The first resurrection will occur at the sounding of the seventh trumpet at the return of Jesus Christ. You can read more about this in our articles "When Will Jesus Return?" and "What Are the Resurrections?"
Question: What do these festivals [Atonement and Feast of Tabernacles] represent?
Answer: The biblical festivals of the Day of Atonement and the Feast of Tabernacles represent parts of God's plan of salvation. To learn more about these festivals, you can watch the following videos in our "Feasts of the Lord" video series:
You may also be interested in reading "The Symbolism of the Day of Atonement," "Trumpets, Atonement, Tabernacles and the Eighth Day" and "What Is the Feast of Tabernacles?"
Question: Is the Eighth Day separate from the Feast of Tabernacles since it pictures the time after the Millennium is finished?
Answer: Yes. The Bible shows the Eighth Day (also known as the Last Great Day) is a separate festival from the Feast of Tabernacles (Leviticus 23:36, 39). The seven days of the Feast of Tabernacles symbolize the 1,000-year reign of Jesus Christ and the resurrected saints (Revelation 20:4-6). The Eighth Day represents the period after the Millennium called the Great White Throne Judgment (Revelation 20:11-12).
To learn more about this period after the Millennium, please read "The Last Great Day: The Final Harvest."
Questions and Answers from the July/August 2022 Discern
Question: What if I've tried to stop sinning, but I can't?
Answer: Sin is easy to repeat since Satan is constantly influencing us all to repeat our mistakes. This can be very frustrating. Even the apostle Paul felt this. He wrote in Romans 7:14-20:
"For we know that the law is spiritual, but I am carnal, sold under sin. For what I am doing, I do not understand. For what I will to do, that I do not practice; but what I hate, that I do. If, then, I do what I will not to do, I agree with the law that it is good.
"But now, it is no longer I who do it, but sin that dwells in me. For I know that in me (that is, in my flesh) nothing good dwells; for to will is present with me, but how to perform what is good I do not find. For the good that I will to do, I do not do; but the evil I will not to do, that I practice. Now if I do what I will not to do, it is no longer I who do it, but sin that dwells in me."
Paul struggled with repeat sin as well. But please notice how he pushed forward: "O wretched man that I am! Who will deliver me from this body of death? I thank God—through Jesus Christ our Lord!" (verses 24-25).
We do have a series of articles that deal with sin and how to overcome the persistent sins that can plague all of us. Please start with "Repentance: What Does Repent Mean?" This lead article starts the series. We also recommend you read "How to Stop Habitual Sin" and "Dealing With Sins That Won't Go Away."
You will find much help and comfort in learning about true repentance and God's magnificent power of forgiveness!
Question: Psalm 19:13 talks about "presumptuous sins." What is presumptuous sin, and how can we avoid it or be aware of it and not commit it?
Answer: The New International Version translates "presumptuous sins" as "willful sins," and the New Living Translation reads "deliberate sins." Sinning deliberately, or willfully, would be in contrast to sinning because of weakness (and then deeply repenting) or sinning unknowingly.
The Expositor's Bible Commentary comments on Psalm 19:13: "The wicked sin in their arrogance and show no awareness of having done wrong. 'Willful sins' are those often attributed to the 'arrogant' (zedim), who have no regard for God (. . . 'sins of self-will')."
Notice that in the previous verse, David prayed to be forgiven of sins that are unknown to him. David's point in verse 13 is to ask God for help to keep from sinning willfully and for help to be God's servant and not a servant or slave to sin.
David's prayer, asking God for help, is a good example of both how to be aware of sin and how to avoid sin. Daily prayer and study of God's Word, the Bible, are important keys to being a servant of God and not a slave to sin.
We have several articles that can be helpful in explaining the nature of sin, how to repent of it and how to avoid it. These include:
Question: I am doing an 11-part Bible study by Life, Hope & Truth that's downloadable by PDF, that's followed by a quiz. I want to recommend it to a friend. What link would I use to forward this study to her?
Answer: We're glad to hear you're enjoying our Bible Study Course. You can share this course by sending the following link to your friend: https://bsc.lifehopeandtruth.com/. Your friend can click on the "Enroll" button to get started.
Questions and Answers from the May/June 2022 Discern
Question: What are we supposed to do at Pentecost? We see two loaves of bread mentioned, and repenting and praying, but what outlines can we get from the Bible? Are there any special things that we need to do?
Answer: The festival of Pentecost is included in the plan of God to show the start of the New Testament Church and the giving of the Holy Spirit to the people God has chosen to be His own. We are told that the waving of the loaves in the Old Testament pictured something very special: "They are the firstfruits to the LORD" (Leviticus 23:17).
The Church now is made up of people that God calls His firstfruits. We see that in several scriptures in the New Testament:
"These are the ones who follow the Lamb wherever He goes. These were redeemed from among men, being firstfruits to God and to the Lamb" (Revelation 14:4, emphasis added throughout).
"Of His own will He brought us forth by the word of truth, that we might be a kind of firstfruits of His creatures" (James 1:18).
Ancient Israel would have seen the ceremony of waving the loaves as a gesture of thankfulness for their harvest. We understand the spiritual intent that God is reaping a small harvest today by calling people into His Church.
Pentecost is an annual holy day, so we do not do our regular work on that day. The prescribed thing we are to do is also discussed in Leviticus 23. "And you shall proclaim on the same day that it is a holy convocation to you. You shall do no customary work on it. It shall be a statute forever in all your dwellings throughout your generations" (verse 21).
A convocation is a gathering or an assembly, and so we attend church services on that day. We bring ourselves (the firstfruits) into His assembly, listen to messages about the meaning of Pentecost and thank God for the gift of His Holy Spirit and His Church.
Take the time to read some of our material about Pentecost, such as "3 Ways Pentecost Shows Us the Future." These helpful insights will deepen your understanding of this special festival.
Question: I need to know more about parenting.
Answer: Parenting is a very important topic to learn more about! We recommend you explore the articles in the "Parenting" section of our website, especially:
At the bottom of each article you'll find a list of related articles. Please let us know if you have further questions about any of our resources or biblical topics.
Question: What original part of the Bible was written by God Himself?
Answer: If you are asking what was actually inscribed by God, the only thing we know of are the two tablets of stone on which God wrote the 10 Commandments (Exodus 24:12). For the Bible, God used human instruments to record the books as He inspired them.
The apostle Paul affirmed that all Scripture was given by the direct inspiration of God (2 Timothy 3:16). That means it all came directly from the mind of God. It is the mind of God in print!
If you'd like to look into the writing and preservation of the Bible, please read:
Questions and Answers from the March/April 2022 Discern
Question: I am looking into baptism and laying on of hands. What is the order of these sacraments? Where do I repent, for example?
Answer: The apostle Peter summarized the main steps in the process of conversion in Acts 2:38: "Repent, and let every one of you be baptized in the name of Jesus Christ for the remission of sins; and you shall receive the gift of the Holy Spirit."
Repentance is a personal process of learning what God defines as sin and recognizing our personal sins. Repentance is a change of heart and change of direction. It involves a determination to stop sinning and not to sin in the future. So, in private prayer to God, we ask for His forgiveness and commit to obeying Him.
The Bible teaches that baptism is a ceremony every truly repentant person must go through to have his or her sins forgiven and to start living the converted way of life. A minister will counsel with a person requesting baptism, and the repentant person who has counted the cost of discipleship (Luke 14:27-33) will be baptized by being fully immersed in water.
After the baptism, the minister will put his hands on the person and pray for God to grant His Holy Spirit to the person. In the New King James Version of the Bible you will find this called the laying on of hands (Acts 8:17; Hebrews 6:1-2). You can learn more in our article "Laying On of Hands."
Our free booklet Change Your Life rounds up the key scriptures about repentance, faith, baptism, the Holy Spirit and conversion.
Question: I was baptized in a church in Japan, and they pulled me out before my whole head was submerged in water, which is bothering me. I was also told by the pastor that only those who are given a position in the church can receive the laying on of hands. I don't think there are any churches in Japan where you can receive the laying on of hands. If possible, I would like to go to America and be baptized again. I would also like to receive the laying on of hands. Is it a problem to be baptized again?
Answer: You are correct that the Bible teaches complete immersion under water as a symbol of the complete burial of what the apostle Paul called the "old man" (Romans 6:6). This is explained in our biblical articles "What Do the Symbols of Baptism Mean?" and "Putting to Death the Old Man: What Does That Mean?"
You are also correct that the Bible teaches the laying on of hands as the method God uses for imparting the Holy Spirit after baptism. An example of the laying on of hands is in Acts 8:14-17 (see also our article "Laying On of Hands").
The Bible also mentions examples of some who were rebaptized in Acts 19:1-6. You can study more about the subject of rebaptism in our articles "Rebaptism: Why Would You Be Baptized Again?" and "Reasons to Get Baptized Again."
The ministers of the Church of God, a Worldwide Association, do practice water baptism by immersion and the laying on of hands. Though we do not currently have a pastor in Japan, we do have congregations in 50 countries, and we have a senior pastor who has regularly traveled throughout Asia. You can find a list of all of our congregations and contact information for the pastors on our Congregations page. And, of course, you are welcome to visit us here in the United States.
Questions and Answers from the January/February 2022 Discern
Question: I am very disturbed by your article "Dante's Un-Divine Comedy"! "What is hell?" is explained: "Hell in the Bible is the Greek Hades, which essentially refers to the grave. Contrary to Dante's imaginary place of sadistic, eternal punishing, the grave is actually a peaceful, silent place." Also, you say that "the Bible does not teach that righteous people go to heaven at death" and that "God's plan includes offering eternal life to every member of the human family. This includes those who lived, died and returned to dust without developing a relationship with God." You're saying people get a second chance after death! What about to be "absent from the body is to be present with the Lord," spoken by Paul?
Answer: We are very sorry to hear about your disappointment with our article about Dante's imaginative poetry about the afterlife.
We strive to teach only what the Bible teaches, not the ideas of philosophers or theologians or poets outside of the Bible. We do not believe anyone will have a "second chance." But the Bible does show that God is fair and merciful, and He wants everyone to have a first chance.
The apostle Paul wrote that God "desires all men to be saved and to come to the knowledge of the truth" (1 Timothy 2:4). The apostle Peter wrote that God "is longsuffering toward us, not willing that any should perish but that all should come to repentance" (2 Peter 3:9).
In the context of the rest of the Bible, we know this does not mean universal salvation, since some will choose to reject salvation and will experience "the second death" in the "lake of fire" (Revelation 20:14-15). But God does want there to be a universal chance for repentance and salvation. We explain more about all this in our biblical article "Is God Fair?"
You mentioned Paul's statement about being absent from the body. Our article "Absent From the Body, Present With the Lord?" looks at 2 Corinthians 5:8 and the context in detail. Paul taught a lot about the resurrection of the dead in 1 Corinthians 15 and 1 Thessalonians 4:15-16. He was saying that after his death, in his next conscious moment, he would be resurrected and be with the Lord forever.
We certainly understand that the ideas about heaven and hell in the popular culture have been influenced by the ideas of men like Dante, but we believe a careful study of the Bible shows that God does have a clear, merciful and inspiring plan of salvation.
Our booklet The Last Enemy: What Really Happens After Death? goes through the scriptures on this topic in detail.
Question: Why are you a corporation?
Answer: The Church of God is a spiritual organization, but in order to legally operate and accomplish its work in this world, the Church of God, a Worldwide Association, has incorporated or sought other legal status in countries around the world. In the United States, we are incorporated as a 501(c)(3) organization. This allows U.S. taxpayers to obtain a tax deduction for their donations. Feel free to let us know if you have further questions.
Question: Are the plagues of Revelation 16 things to happen during the end days?
Answer: Yes, the frightening plagues of Revelation 16 will happen on earth when Jesus Christ returns. They are explained in our article "What Are the Seven Last Plagues of Revelation?"
Questions and Answers from the November/December 2021 Discern
Question: We know Jesus came to earth. So, if we can't arrive at an exact birth date, what's the harm in assuming a date to worship the Savior?
Answer: While the exact date of Christ's birth is not known, the pagan origins of Christmas and its customs are well-known. Even the date—Dec. 25—has a pagan history. Our blog post "Is Christmas a Pagan Holiday?" outlines this history, mentioning, for instance:
"It is a widely known fact that in the fourth century the Catholic Church adopted the pagan celebration of the winter solstice and modified it. They decided to use it to worship the birth of the Son of God, instead of the sun god. 'The winter solstice or Brumalia, by now the feast of Mithras and the Unconquered Sun, had been associated with the birth of Jesus in 354 by Bishop Liberius of Rome' (A History of Pagan Europe, 1995, p. 76)."
But Christmas and its traditions are not the only example of paganism being mixed with worship of the true God. The Old Testament records that religious syncretism (the blending of different religious traditions) was a constant problem ancient Israel had.
Here's the question we should ask: Does it matter to God if we designate a date of our choosing to worship Him by celebrating the birth of Jesus, especially when the date and customs of that celebration have a pagan history?
There is no biblical command to observe the birth of Christ, and there is no biblical record of the early New Testament Church celebrating Christmas. But how we worship God does matter to Him!
Notice God's instructions in Deuteronomy 12:30-31: "Do not inquire after their gods, saying, 'How did these nations serve their gods? I also will do likewise.' You shall not worship the LORD your God in that way."
God cares which days we worship Him on. God instructs us to celebrate "the feasts of the LORD" listed in Leviticus 23. Learn more about these meaningful days in our booklet From Holidays to Holy Days: God's Plan for You.
Question: So how does a 70-year-old grandpa not spend Christmas with his wife, daughters and grandchildren? I only recently realized the truth about Christmas myself, and so far, my family has not accepted it.
Answer: The first thing you can do is lovingly and patiently explain to your family that you feel convicted that you should not celebrate Christmas.
Our article "Christmas: Should Christians Celebrate It?" offers several useful pointers under the subhead "How do I tell my relatives?" In addition, here are some other thoughts:
Encourage family members that there are other times to give and receive gifts. Then be sure to do it—even putting it on your calendar!
If they insist on giving you a gift, you may want to accept it rather than refuse it and possibly damage the relationship. Just accepting a gift doesn't mean you are celebrating Christmas. Of course, if this bothers your conscience, don't do it (Romans 14:23).
Some have found it helpful to visit relatives at Thanksgiving or other times rather than Christmas.
On Christmas some join family for the meal but forgo participation in other activities of the day.
Your family probably will not understand, even if it's quite clear to you. In most cases, the best you can expect is that they will be accepting of your changed beliefs. Be patient with them—and ask God to help them be patient with you. If they genuinely want to know why you do not observe the holiday, you might direct them to our other helpful material, such as our blog post "Four Reasons Christmas Is Not Christian." But it's best not to offer until asked, or it can seem as if you are trying to push your view on them.
Resources for answering Bible questions
You can find answers to hundreds of Bible questions by searching this website. If you have questions and would like a personal answer, you can submit them using the "Ask a Question" link below.