Music has been important in societies through time, and it plays a vital part in the Bible too. What does the Bible say about music in history and prophecy?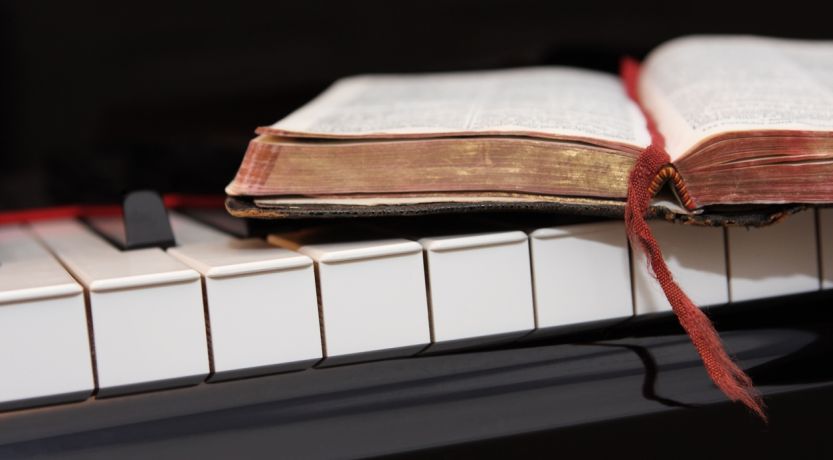 Music is magnificent—a wonder of God's creation and beneficial in many ways.
The reason music is such a wonderful blessing is because God Himself designed music. It seems there is a spiritual version of music that exists apart from and transcending our physical universe. The Bible describes glorious music in God's very throne room in heaven (Revelation 15:1-4).
Music in biblical prehistory
It appears God created angels to be musical. The Bible mentions that at the creation "the morning stars sang together, and all the sons of God shouted for joy" (Job 38:7).
Both "the morning stars" and "the sons of God" are references to the angels. There was singing going on at the creation of the physical universe!
Music in Bible history
From the beginning, music has been part of every culture, and so, over the centuries and millennia, the music of the world has developed in an amazing variety of ways.
Music is also found throughout the Bible. Musical instruments are mentioned as early as Genesis 4:21.
Generally, the references to music in the Bible indicate it was a regular part of life, not reserved for professionals. It was used for social events and celebrations, including weddings and victory celebrations. There were working songs sung by harvesters, and the Bible even mentions a well diggers' song (Numbers 21:17). Music was part of everyday life, and amateurs wrote and sang (and danced to) the music.
Professional musicians are first mentioned in connection with King David.
Hebrew words for vocal music outnumber words for purely instrumental music. Of course, the singing or chanting was intimately tied to the words that were sung or chanted.
There are a number of musical terms in the Bible, especially in the Psalms. But as The Interpreter's Dictionary of the Bible says, "The enigmatic musical superscriptions which occur mainly at the opening of psalms constitute a real musical terminology, which, however, is almost unintelligible to us." This dictionary then goes on for more than a page trying to figure out what some expressions like maskil, alamoth, neghinoth and shiggayon might mean.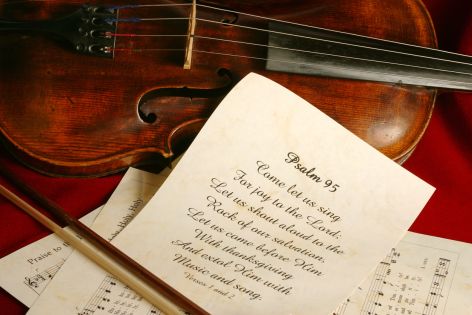 We might be surprised to hear the music of David's day, and we might be amazed to hear the different types of music that were made at different times in Bible history.
A variety of musical instruments is mentioned in the Bible, including many percussion, wind and stringed instruments.
Some of the earlier Bible versions had interesting translations of musical terms that implied that in biblical times they had bagpipes (very unlikely) and even sackbuts (some kind of medieval trombone), but these "did not exist in biblical times," according to The Interpreter's Dictionary of the Bible.
David and music
David is the most famous musician in the Bible. When he was young, David played music to soothe King Saul when he was afflicted with a distressing spirit (1 Samuel 16:23).
Later, David and all Israel celebrated mightily with music when bringing the ark of the covenant to Jerusalem (2 Samuel 6:5).
King David also organized some of the Levites into temple musicians (1 Chronicles 15:16).
Other passages show that David devoted a lot of resources to make quality music a major part of worship.
1 Chronicles 23:5 tells us that David appointed 4,000 to praise the LORD with musical instruments.
Several passages mention that the musicians were skillful, so it seems the musicians were not chosen just on the basis of hereditary, but that skill was involved (1 Chronicles 15:22; 2 Chronicles 34:12).
2 Chronicles 5:13 tells us that "the trumpeters and singers were as one, to make one sound to be heard." They were unified, harmonious and produced quality music.
King Solomon continued in David's musical tradition. In addition to his proverbs, he wrote 1,005 songs (1 Kings 4:32).
Solomon had the best of everything, "the delights of the sons of men," including singers and musical instruments of all kinds (Ecclesiastes 2:8).
Music in the New Testament
Now let's take a brief tour of music in the New Testament.
Music was used for celebrations in New Testament times as well, as in the parable of the prodigal son, where the father called for a special meal with music and dancing when his lost son returned home (Luke 15:25).
We're told the apostle Paul even sang in prison at midnight! "But at midnight Paul and Silas were praying and singing hymns to God, and the prisoners were listening to them" (Acts 16:25-26).
But it wasn't just the prisoners listening to them. God heard and intervened, causing an earthquake and opening all the doors and loosening the chains of all the prisoners! And this led to the near suicide and then the conversion of the Philippian jailer.
Of course, singing isn't only for occasions like that! The apostles taught that music is a regular part of the Christian life. Let's look at three New Testament instructions to sing.
In Ephesians 5 Paul told the Ephesians not to get drunk, but to be filled with the Holy Spirit. In verses 19-20 he continued, "Speaking to one another in psalms and hymns and spiritual songs, singing and making melody in your heart to the Lord, giving thanks always for all things to God the Father in the name of our Lord Jesus Christ."
Some believe "psalms and hymns and spiritual songs" could be descriptions of different parts of the book of Psalms. It might mean something else, but it does seem to point to some variety in the songbook of the early Church.
In Colossians 3:16 Paul wrote, "Let the word of Christ dwell in you richly in all wisdom, teaching and admonishing one another in psalms and hymns and spiritual songs, singing with grace in your hearts to the Lord."
James concluded his letter with instructions for people facing different situations: "Is anyone among you suffering? Let him pray. Is anyone cheerful? Let him sing psalms" (James 5:13). Some versions say "songs of praise."
So, it is clear that the New Testament Church continued to consider music to be an important part of worshipping God.
Music in future prophecy
And music plays a big part in Bible prophecy. Let's look at a few of the many prophecies about the return of Jesus Christ and the 1,000-year Millennium that mention music.
The end of Isaiah 11 talks about the time just after the return of Christ when God will gather the tribes of Israel—the outcasts, the captives, the remnant—from the four corners of the earth. After this second exodus described in Isaiah 11, Isaiah records what's been called a hymn of praise in Isaiah 12.
Verse 2 mentions, "The LORD, is my strength and song; He also has become my salvation."
Verse 5 adds, "Sing to the LORD, for He has done excellent things; this is known in all the earth."
This time of Christ's return is also described in Isaiah 52:9:
"Break forth into joy, sing together, you waste places of Jerusalem! For the LORD has comforted His people, He has redeemed Jerusalem."
Even nature is described as singing in Isaiah 55:12: "For you shall go out with joy, and be led out with peace; the mountains and the hills shall break forth into singing before you, and all the trees of the field shall clap their hands."
Isaiah 35, one of my favorite millennial passages, mentions singing three times.
God created music for us to enjoy. He made us to have creativity, and He gave some people special skills in composing music. Perhaps some of you reading this will have a chance to develop the music of the Millennium."The wilderness and the wasteland shall be glad for them, and the desert shall rejoice and blossom as the rose; it shall blossom abundantly and rejoice, even with joy and singing. The glory of Lebanon shall be given to it, the excellence of Carmel and Sharon. They shall see the glory of the LORD, the excellency of our God . . .
"Then the lame shall leap like a deer, and the tongue of the dumb sing. For waters shall burst forth in the wilderness, and streams in the desert . . .
"And the ransomed of the LORD shall return, and come to Zion with singing, with everlasting joy on their heads. They shall obtain joy and gladness, and sorrow and sighing shall flee away" (Isaiah 35:1-2, 6 and 10).
Let's also look at Zechariah 2:10: "'Sing and rejoice, O daughter of Zion! For behold, I am coming and I will dwell in your midst,' says the LORD."
"He will rejoice over you with singing"
One of the most exciting prophecies about music is found in Zephaniah 3:17. Verse 14 starts the section with a similar message to what we just read in Zechariah, saying "Sing, O daughter of Zion! Shout, O Israel! Be glad and rejoice with all your heart, O daughter of Jerusalem!"
Verse 17 is the capstone. Throughout this article, we have read of people singing and angels singing. But here we discover that even God will be singing! Zephaniah 3:17 says:
"The LORD your God in your midst, the Mighty One, will save; He will rejoice over you with gladness, He will quiet you with His love, He will rejoice over you with singing."
It will be incredible to hear God singing and rejoicing!
New songs for a new world
So, what will music be like during Christ's millennial reign?
God is a God of variety and creativity. He has given musical skills to many people today, and that will undoubtedly continue in the Millennium.
How do we know there will be new songs in the Millennium? Let's see what the Bible says.
Several times in the Bible it talks about a new song. (How many times? The phrase new song is found in the New King James Version of the Bible nine times—six times in Psalms, once in Isaiah and twice in Revelation.)
For example, the prophecy in Isaiah 42:10 says: "Sing to the LORD a new song, and His praise from the ends of the earth."
A new world will need new songs.
There will be songs for worship on the weekly Sabbaths and at God's annual festivals. There will be congregational hymns and special music. There will be songs for celebration. There will be songs sung at weddings and funerals and graduations. Maybe there will be songs at dedications and barn raisings and anything else to be celebrated. There will be songs for singing, songs for playing, songs for dancing.
God created music for us to enjoy. He made us to have creativity, and He gave some people special skills in composing music. Perhaps some of you reading this will have a chance to develop the music of the Millennium.
I can't wait to hear it!