Are you carrying a huge financial burden? Are bills overwhelming you, and is dealing with debt stressing you out? There are practical, biblical answers.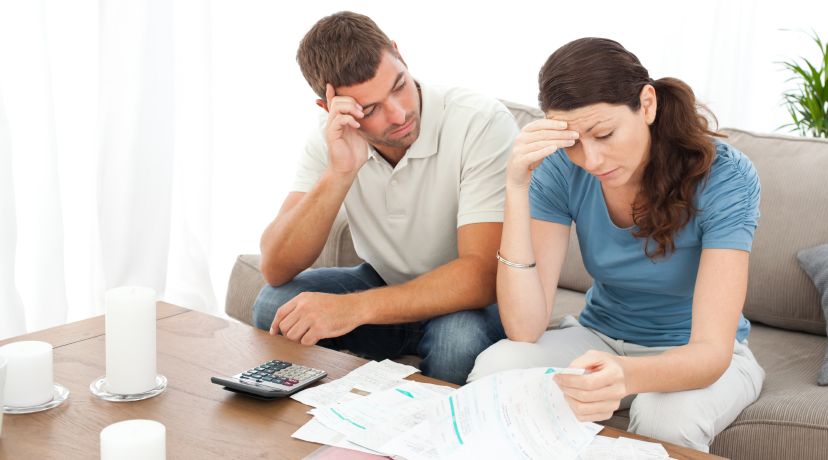 How does this happen? It seems like you wake up one day and realize that you have more bills than you have income. Was it the new car you were lured into with "interest-free" payments? Of course, there are children in college, the house that seemed so reasonable at the time, and now unexpected medical bills no one could have foreseen.
Perhaps you or your mate have recently lost a job. Now you may find yourselves with one income or maybe no income, struggling and dealing with debt. The pressure is so overwhelming you may feel depressed, anxious and maybe even hopeless.
But wait, there is hope! There are answers and solutions to work your way out of the stranglehold of debt. This won't be a quick fix, nor will it be easy, but there is life beyond debt!
It's time to take a deep breath, trust in God and know that He does not want you to wallow in debt and stress. Jesus Himself said, "I have come that they may have life, and that they may have it more abundantly" (John 10:10).
The mind-set
In dealing with a debt crisis, it is first important to understand how it happened. And realize, it has happened to a lot of people—and countries!
According to the U.S. Debt Clock, the outstanding national debt in early 2022 reached $30 trillion! That number is so large most of us can't comprehend it—so to put it into perspective, it is more than $90,000 per citizen. And it has not stopped! The national debt continues to grow by billions of dollars a day.
Dealing with debt: the credit card trap
The average American has credit card debt of around $6,000. This is only the tip of the iceberg, as Nerdwallet reported that as of September 2021 the average auto loan is $28,882 and the average student loan is $59,042.
As surprising as it may seem, easy credit is still readily available. The credit card industry mails out billions of credit card offers each year.
Financial advice from the Bible
The Bible speaks of the result of one who incurs debt. In the book of Proverbs, where you will find a wealth of wisdom, it says, "The rich rules over the poor, and the borrower is servant to the lender" (Proverbs 22:7). That is not a great place to be, though you probably truly understand that by now.
It's time for a mind-set change! You can dig yourself out of a financial mess. There are many who have been successful at changing their financial direction and are now free of debt! You can attain that same freedom!
The apostle Paul stated, "I can do all things through Christ who strengthens me" (Philippians 4:13). If you walk with God, make Him your financial partner and change the way that you think about money and finances, you will achieve success and overcome your money problems.
Mike Todd, an American film producer, once said, "I've never been poor, only broke. Being poor is a frame of mind. Being broke is only a temporary position."
Positive steps for change in dealing with debt
Now let's move ahead to the solutions to your debt crisis. Here are some simple points to getting out of debt and achieving financial security:
1. Stop borrowing.
Resist the temptation to spend beyond your means. When one is serious about getting out of debt, any spending will be focused on needs, not wants and desires. The temptations—"Why wait when you can have it right now!" and "It's yours for only three easy payments of …"—must be resisted. You must have the discipline and character to not spend beyond your means. President Calvin Coolidge once said, "There is no dignity quite so impressive, and no independence quite so important, as living within your means."
2. Set a workable budget.
A written budget is a "must have" if you are going to work your way out of debt. If you are married, sit down with your spouse and build your budget together. You and your spouse are a team and must plan this important subject together. You both need to know where your money is going (every penny).
The more severe your debt crisis, the more austere your budget will need to be. Focus on needs: food, shelter, utilities and transportation will occupy most of the spending for one's needs.
You will need to curtail eating out and stop buying all extras. Critically evaluate cable and/or satellite TV, and you will find they are simply not necessities when one is in a debt crisis. It is difficult, but this is the time to eliminate all unnecessary expenses.
3. Set aside an emergency fund.
Within your budget, plan to save some for the unexpected. Budget to build this emergency fund until you have $500 or $1,000 set aside. Then, when the unplanned bill or emergency arises, you will have a means to deal with it without blowing the budget! However, one must exercise discipline and restraint to avoid using this fund for anything but an emergency.
4. Sell.
Many people in Western nations today have attics, garages, basements, closets and even storage sheds filled with "stuff"—things that aren't used and are just taking up space. Now is a good time to begin turning those items into cash to help pay off debt. You may be surprised at how much you might earn from a good yard sale or flea market.
If you are paying on a car that you cannot afford, it may be time to put it up for sale and purchase a more frugal vehicle. You can find some excellent prices on older, reliable vehicles. But you'll have to be honest with the want-vs.-need issue. Remember, this is simply a temporary situation until you can get your spending under control and get out of being a slave to debt.
5. Work.
If you are able, look into the potential of overtime with your company or consider an additional part-time job. Some have taken temporary jobs delivering pizza or cutting lawns. Maybe you're a fix-it person and can distribute some flyers around the neighborhood, advertising your skills.
It will mean some hard work and maybe long hours, but if you're serious about getting out of debt, extra time spent in work can help. Again, this need only be a temporary situation.
6. Education.
With the ever-changing job market, it may be wise to explore the opportunity to upgrade your knowledge or learn new skills. This may even involve going back to school for further education. Many colleges have created night school programs that allow working adults to continue working while earning the degree they need. You may even be able to take advantage of scholarships and grants that are available in many different fields. (Be very wary of taking on large amounts of debt to finance programs of questionable value. Many young adults tell stories of crushing student loan debt.)
If adding to your education holds interest for you, be willing to spend the time in researching options and ways to pay for them. The Internet has made that much easier today. A wisely chosen career change may not only help with the finances, but can bring happiness and fulfillment to one who works toward a job that will bring stability and peace to the entire family.
7. Relationship with God.
As mentioned earlier, making God your financial partner will ensure success in properly dealing with debt. Besides doing everything physically possible to get out of debt, it is important that God's guidance and blessing be sought in this matter.
The Bible is filled with wisdom and guidance when it comes to the subject of finances. King Solomon wrote, "Trust in the LORD with all your heart, and lean not on your own understanding; in all your ways acknowledge Him, and He shall direct your paths" (Proverbs 3:5-6).
We have seen that it is important to have a proper mind-set and perspective concerning money. Jesus helped balance that perspective when He said, "Do not lay up for yourselves treasures on earth, where moth and rust destroy and where thieves break in and steal; but lay up for yourselves treasures in heaven, where neither moth nor rust destroys and where thieves do not break in and steal. For where your treasure is, there your heart will be also" (Matthew 6:19-21).
Jesus also gave the encouragement, "But seek first the kingdom of God and His righteousness, and all these things shall be added to you" (verse 33).
Since the Bible reveals that God owns everything, including the earth (Exodus 19:5), precious metals (Haggai 2:8), animals (Psalm 50:11) and people (Ezekiel 18:4), it is important to understand that we must render to God that which belongs to Him. (Please read the related article on tithing.)
God does not desire that you live in debt, engulfed in stress and despair. Look at what He said to those who would trust in Him: "The LORD will open to you His good treasure, the heavens, to give the rain to your land in its season, and to bless all the work of your hand. You shall lend to many nations, but you shall not borrow" (Deuteronomy 28:12).
May Almighty God bless all the work of your hands as you trust Him to be your financial partner, helping bring you toward freedom from debt and financial peace.
For more financial principles, see the article on "Christian Budgeting."