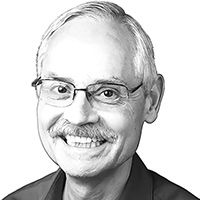 Mike Bennett
Mike Bennett is editorial content manager for the Church of God, a Worldwide Association, in the Dallas, Texas, area. He coordinates the Life, Hope & Truth website, Discern magazine and the Life, Hope & Truth Weekly Newsletter. He is also part of the Personal Correspondence team of ministers who answer questions sent to Life, Hope & Truth.
He has been an editor his entire professional life, serving as the managing editor for a widely circulated Christian youth magazine, as editor of MultiLingual Computing magazine and as a staff member on various biblically based periodicals. He has a bachelor's degree in theology from Ambassador College and has been an ordained minister since 2005.
In addition to the 100+ articles and blog posts below, Mike is the primary author of Finding Hope in a Hopeless World, From Holidays to Holy Days: God's Plan for You, God's 10 Commandments: Still Relevant Today and Lesson 6 of the Bible Study Course.
Mike and his wife, Becky, have been married over 30 years and have two married daughters. He grew up in Washington state and has lived in California, Idaho, Ohio and Texas. He enjoys spending time with his family and traveling. He has visited Canada, Mexico, England, Ireland, Israel, Egypt, the Philippines, New Zealand, Italy, Switzerland, Liechtenstein, Austria, Germany, France, Spain, India, Sri Lanka, Belgium, the Netherlands, Slovakia, Hungary, the Czech Republic and most of the states of the United States. In 1980 he had the opportunity to participate in an archaeological excavation at the City of David dig site in Jerusalem.
Articles & Blogs