Does the Bible speak of a special "place of safety" for Christians during the Great Tribulation and the Day of the Lord? If so, where is it?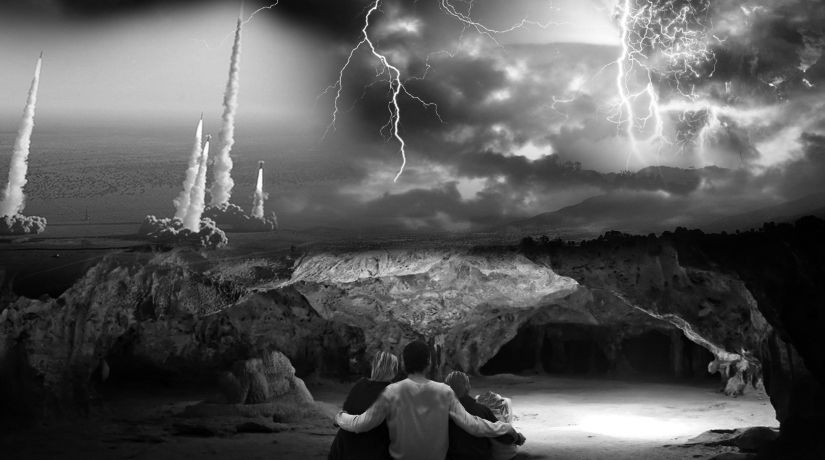 In what is called the Olivet Prophecy, Jesus said, "For then there will be great tribulation, such as has not been since the beginning of the world until this time, no, nor ever shall be. And unless those days were shortened, no flesh would be saved [meaning, alive]; but for the elect's sake those days will be shortened" (Matthew 24:21-22).
What will happen to Christians during the Great Tribulation? The popular teaching today is that they will be raptured to heaven before the Great Tribulation begins and return with Christ at His second coming to end the Great Tribulation and to put Satan away. (To learn what God's Word says about this important subject, see our article on the rapture.)
What is the correct biblical teaching on what will happen to Christians during the Tribulation?
In Jesus' prophecy to the seven churches, which was given to John for him to write in the book of Revelation, Jesus said, "Because you have kept My command to persevere, I also will keep you from the hour of trial which shall come upon the whole world, to test those who dwell on the earth" (Revelation 3:10). The hour of trial that will come on the whole world is the Great Tribulation.
These Christians will be protected from the Great Tribulation because they kept Christ's "command to persevere" and they also kept the commandments of God (Revelation 14:12). But how and where will they be kept from that "hour of trial"?
A woman flies into the wilderness
In chapter 12 of the book of Revelation John writes of a war in heaven between Satan and the archangel Michael. But Satan will lose and be cast back down to the earth. Satan will then have great wrath because he knows he has but a short time left. He will bring about great tribulation (war) and persecute the woman, which at the end of the chapter is symbolic of Christ's Church (verses 12-13).
Verse 14 says, "But the woman was given two wings of a great eagle, that she might fly into the wilderness to her place, where she is nourished for a time and times and half a time, from the presence of the serpent [Satan]."
Notice that the woman, here meaning the Church, will "fly into the wilderness to her place." The word "place" is singular. This verse also says the Church is nourished for 3½ years (time = 1 year, times = 2 years, half a time = half a year) in the wilderness (see also Revelation 13:5).
Does the Bible indicate any possible location for this wilderness or "place of safety"?
Some have speculated about where a place of safety would be, such as Petra in Jordan, but the Bible does not clearly indicate a specific location. We do know that part of the Church will be taken into a "wilderness to her place" (Revelation 12:14) where it will be "nourished"—protected and cared for. The wording implies there is one location that will be prepared at which the Church will be protected, but Scripture does not clearly identify that place.
Are all protected in a place of safety?
But will all Christians be included? Although some Christians will be nourished and protected, it seems others will suffer persecution and martyrdom during the time of the Great Tribulation (Revelation 6:9-11; Revelation 12:17).
Speaking of the time of His second coming, Jesus said, "And He will send His angels with a great sound of a trumpet, and they will gather together His elect from the four winds, from one end of heaven [atmosphere] to the other" (Matthew 24:31). When Christ returns, He will resurrect faithful saints from their graves and the saints who are alive will be changed into spirit. The saints who are alive will have lived through the Great Tribulation. Will they have been protected in a particular location or "place of safety"?
Revelation 7 describes a group of people numbering 144,000 (verses 3-4) and also "a great multitude which no one could number" (verse 9) that is said to have "come out of the great tribulation" (verse 14). The Bible does not say whether these people will be in a wilderness location during the last part of the Great Tribulation or whether they will be taken to such a location after they are "sealed" for protection. Exactly how and where they are protected is not revealed.
God protects His people
The book of Psalms contains numerous scriptures that speak of God protecting His faithful people. In these passages, the focus is on trusting God, as opposed to being in a specific location in order to be protected.
Psalm 18:2: "The LORD is my rock and my fortress and my deliverer; my God, my strength, in whom I will trust; my shield and the horn of my salvation, my stronghold."
Psalm 27:5: "For in the time of trouble He shall hide me in His pavilion; in the secret place of His tabernacle He shall hide me; He shall set me high upon a rock."
Psalm 31:20: "You shall hide them in the secret place of Your presence from the plots of man; You shall keep them secretly in a pavilion ["shelter," Revised Standard Version] from the strife of tongues."
Psalm 32:7: "You are my hiding place; You shall preserve me from trouble."
Psalm 91:7, 9-10: "A thousand may fall at your side, and ten thousand at your right hand; but it shall not come near you. … Because you have made the LORD, who is my refuge, even the Most High, your dwelling place, no evil shall befall you, nor shall any plague come near your dwelling."
Psalm 121:7: "The LORD shall preserve you from all evil; He shall preserve your soul."
These promises of protection will be fulfilled for the "woman who flies into the wilderness," for those who "come out of Great Tribulation," and for those gathered alive at Christ's return from "the four winds" of the earth. The one common thread in all of these Scripture examples is that God will protect those who faithfully seek to serve, obey and trust in Him.
Place of safety summary
What can we conclude from these scriptures in reference to a "place of safety"?
The Bible says some Christians will go into the wilderness to be protected from Satan and his wrath (Revelation 12:14).
The Bible also says some Christians will not go into this wilderness "place of safety" and Satan will go to make war with them (Revelation 12:17).
The Bible also shows that many other servants of God will be "sealed" for protection (Revelation 7:3-8).
Several Psalms speak of the Lord's protection of His faithful saints.
Jesus' instructions to Christians today
The place of safety may be an intriguing subject to study, but it is not what Jesus wanted Christians to be constantly dwelling on. It is true He instructed us to "watch therefore, and pray always that you may be counted worthy to escape all these things that will come to pass, and to stand before the Son of Man" (Luke 21:36). But worrying about one's personal safety to the exclusion of other important spiritual responsibilities is not what Christ had in mind.
In the Sermon on the Mount Jesus instructed us to "seek first the kingdom of God and His righteousness, and all these things shall be added to you" (Matthew 6:33). If Christians are seeking first God's Kingdom and His righteousness, then they will be watching and praying and Jesus will be with them always, "even to the end of the age" (Matthew 28:20).
To learn more about the Kingdom of God and how to seek it, see the section "The Kingdom of God" on this website.