Fear and worry can plague us when we see our weaknesses. But God doesn't want us to be trapped by feeling vulnerable. He offers the strength and refuge we need.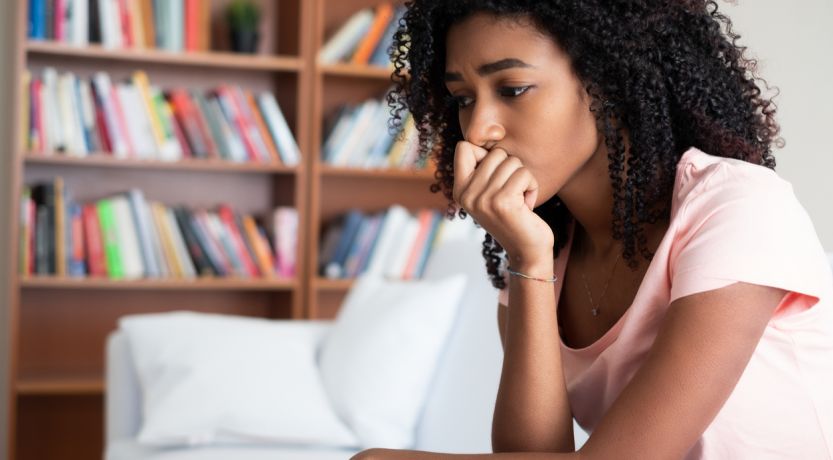 Some of our earliest traumatic memories are often of times of vulnerability and fear: memories of being separated from our families, of being in a strange place, of being with strange people.
"When we were children, we used to think that when we were grown-up we would no longer be vulnerable. But to grow up is to accept vulnerability . . . To be alive is to be vulnerable," said Madeleine L'Engle, author of A Wrinkle in Time.
Of course, before we come to that realization, we may actually go through a period of feeling invulnerable. Scientists explain that adolescent brain development plays a part in causing many teens and young adults to feel immortal and take risks.
But for many of us, such feelings are short-lived. Waves of insecurity, worry and vulnerability prevail.
Over the years, we regularly receive reminders that we are weak and vulnerable.
Vulnerable to disease. Vulnerable to natural disasters. Vulnerable to the inevitable effects of aging (see "I Don't Want to Be a Burden").
Mostly we are vulnerable to other people. People who want to cheat us, use us, take advantage of us, abuse us. This is especially insidious and devastating when they have led us to care for and trust them. The betrayal can leave us feeling violated and powerless. It can poison our ability to build trusting, intimate relationships.
David experienced the treachery of a friend betraying him (Psalm 41:9), and Jesus Christ quoted David's poignant words as a prophecy of the betrayal He was experiencing (John 13:18-30).
The Bible has much to say about the vulnerable and God's care and protection for them.
The story of Ruth
Widows were among the most vulnerable people in the ancient world. The book of Ruth in the Bible focuses on two widows in tragic circumstances.
Naomi was a Jewish woman who had left her homeland because of famine 10 years earlier. When her husband and two sons died, she faced even greater want. She urged her Moabite daughters-in-law to return to their families in order to survive, while she would risk the trip back to Judah.
Ruth, now a vulnerable widow herself, made the loving and courageous decision to go with her mother-in-law.
"In choosing to leave Moab, Ruth knows that Naomi cannot protect her, cannot produce another heir for her to marry, cannot provide for her most basic physical needs . . .
"Ruth accepts the role of provider, gleaning in the fields for long hours, facing the daily threat from other gleaners, bowing low before the landowner, bringing home scraps from her noontime meal . . .
"Although the story is charming, it has a core of grim realism" (A Complete Literary Guide to the Bible, p. 155).
Ruth risked everything in her loyalty to the even more vulnerable Naomi, and God blessed them both with the protection of the kinsman-redeemer Boaz.
His role foreshadowed the great Redeemer, our Savior and King Jesus Christ. Jesus was willing to make Himself vulnerable and to suffer (Philippians 2:5-8) in order to save the vulnerable.
We're all vulnerable
Some of the Bible's most poignant passages acknowledge our shared weaknesses.
Some of the Bible's most poignant passages acknowledge our shared weaknesses.King David wrote about our physical frailties: "Man is like a breath; his days are like a passing shadow" (Psalm 144:4).
King Solomon observed our susceptibility to mistreatment by others: "Then I returned and considered all the oppression that is done under the sun: And look! The tears of the oppressed, but they have no comforter—on the side of their oppressors there is power, but they have no comforter" (Ecclesiastes 4:1).
The apostle Paul recognized our spiritual failings: "There is none righteous, no, not one; there is none who understands; there is none who seeks after God. They have all turned aside; they have together become unprofitable; there is none who does good, no, not one" (Romans 3:10-12).
As Jesus noted, "The spirit indeed is willing, but the flesh is weak" (Matthew 26:41).
Even Samson had his Achilles' heel, so to speak (Judges 13-16).
Samson grew up having superhuman physical strength, but he often lacked spiritual and moral strength. He allowed his attraction to pagan Philistine women to lead him into unwise decisions and sin. (Since God was "seeking an occasion to move against the Philistines" (Judges 14:4), even Samson's weakness figured into God's plan.) Samson was vulnerable to manipulation by these women. Finally, he even divulged the secret of his strength to Delilah, who quickly used it against him.
Samson took his miraculous strength for granted most of his life, until it was taken away. In the end, the weakened and blinded Samson prayed for God to restore his strength for one last blow against the Philistine oppressors.
Samson's story highlights an essential truth. Even when other people betray our trust, we have Someone to turn to that we can rely on completely.
What does the Bible say about broken trust?
The Bible is realistic about the overall trustworthiness of other people.
"Cursed is the man who trusts in man and makes flesh his strength" (Jeremiah 17:5). Why? Because "the heart is deceitful above all things, and desperately wicked; who can know it?" (verse 9). Broken trust is one of the many evils afflicting humanity.
In contrast, God says, "Blessed is the man who trusts in the LORD, and whose hope is the LORD" (verse 7; see more on this in our article "Broken Trust: Who Can You Trust?").
God loves us. He is completely faithful and trustworthy.
And when God is involved, our vulnerabilities don't have to be limitations. They can be the backdrop to display God's power.
When I am weak, then I am strong
The apostle Paul lived a life of difficulty and deprivation. He put everything on the line, risking his life and forgoing comforts and safety in order to preach the good news and care for the Church of God. God transformed His vulnerability and weaknesses into spiritual strength.
Paul told the Corinthians about a trial he had pleaded with the Lord three times to remove.
"And He said to me, 'My grace is sufficient for you, for My strength is made perfect in weakness.' Therefore most gladly I will rather boast in my infirmities, that the power of Christ may rest upon me. Therefore I take pleasure in infirmities, in reproaches, in needs, in persecutions, in distresses, for Christ's sake. For when I am weak, then I am strong" (2 Corinthians 12:9-10; see more in our article "What Was Paul's Thorn in the Flesh?").
God's strength in our lives becomes clear when contrasted with our own weaknesses. When we are weak physically, we, too, can call on God's spiritual strength.
Paul didn't receive the answer he wanted, but he got the help he needed to survive and accomplish an amazing work that turned the world upside down (Acts 17:6).
God strengthens us
God tells us He knows our weaknesses, and He offers the help we need.
We can be encouraged to know that Jesus understands what we are going through.Hebrews 4:14-16 says, "Seeing then that we have a great High Priest who has passed through the heavens, Jesus the Son of God, let us hold fast our confession. For we do not have a High Priest who cannot sympathize with our weaknesses, but was in all points tempted as we are, yet without sin. Let us therefore come boldly to the throne of grace, that we may obtain mercy and find grace to help in time of need."
We need to remember what Christ has done for us. We need to have faith and hold it fast. We can be encouraged to know that Jesus understands what we are going through. Sympathize in this passage means "to suffer with another" (Vine's Complete Expository Dictionary of Old and New Testament Words). He experienced the weaknesses, the temptations and the trials. He understands our weaknesses, and He knows the kinds of help we need to fight those weaknesses and overcome the sins.
We have been granted the awesome privilege to come to the throne of grace! And we can come any time we need. In fact, we can come boldly, with confidence that we have been invited and are welcomed.
We can cast our weaknesses and vulnerabilities upon God, and He gives us mercy and grace to help in our times of need.
For more on how God strengthens us, see "37 Encouraging Bible Verses About God's Strength."
God protects us
God has all power, and He has our eternal best interests at heart.
"For He Himself has said, 'I will never leave you nor forsake you.' So we may boldly say: 'The LORD is my helper; I will not fear. What can man do to me?'" (Hebrews 13:5-6).
The Christian life includes trials and challenges, but even through these God can give us a "way of escape, that you may be able to bear it" (1 Corinthians 10:13). And He can make all these things work out for our good in the end (Romans 8:28). He can make us "more than conquerors" (Romans 8:37).
When we're feeling vulnerable, we can turn to our loving God and cast "all your care upon Him, for He cares for you" (1 Peter 5:7).
For more biblical encouragement and help, study our biblical articles "More Than Conquerors," "22 Encouraging Bible Verses About God's Protection" and "How to Put on the Armor of God."