Have you ever wondered why so few people experience true happiness and peace of mind? What about you? Are you personally filled with joy and happiness? If not, you can tap into life-changing gems of knowledge that lead to genuine joy and contentment.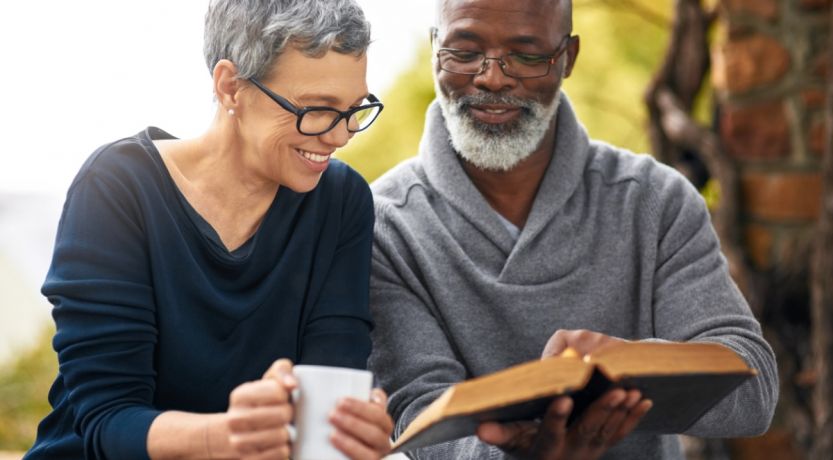 We all want to be happy. Yet so many today deal with discouragement, sadness, fear and worry that rob them of real happiness.
Global trends: depression and anxiety robbing us of happiness
The World Health Organization says that depression and anxiety disorders are some of the most common health issues worldwide. Globally more than 300 million people of all ages suffer from depression. Depression is on the rise and negatively impacts societies, especially families, learning institutions and the workplace. More women are affected than men, and it is a leading cause of suicide.
In a recent survey the Anxiety and Depression Association of America stated that major depression in the U.S. is one of the most common mental disorders, affecting around 40 million adults aged 18 and older—approximately 18 percent of the population. Nearly half of those diagnosed also experienced a degree of anxiety. For instance, 15 million adults, or 6.8 percent of the U.S. population, have social anxiety disorder.
The U.K. charity Mind for Better Mental Health reports that one in four people in the U.K. experience some form of mental health problems (such as depression or anxiety) each year, and one in six experience such issues in any given week.
A 2016/17 New Zealand Health Survey found that one in six adults in New Zealand had been diagnosed with a common mental disorder (such as depression or some other anxiety disorder) at some time in their lives.
What can we do?
Where do we go for help?
Professional therapists and counselors, as well as motivational and self-help books and articles, have a place and may be helpful. In this article, however, we will focus on another source of sound counsel that is sorely neglected and overlooked.
The Creator of our bodies and minds has given us a handbook as an assured, dependable and unfailing source of knowledge. It outlines basic principles and instructions for daily living.
If applied, these guidelines will lead us into a life guaranteed to produce lasting happiness and contentment. Rejection of these principles will undoubtedly produce heartache and unending sorrow. These biblical guidelines are not magical formulas, but practical rules of daily conduct that govern the way to happiness.
It is logical that the Creator of mankind knows what produces happiness. His instruction book, the Bible, is a source where we can discover the answers to life's most perplexing and difficult questions, including what makes us happy—and what makes us unhappy.
God desires that we enjoy a full, abundant life.However, there is a challenge all of us face. One of the most difficult things for us humans is to admit when we are wrong—to confess our errors and change our thinking and actions.
Each of us must prove to ourselves that the Word of God is the foundation upon which we are to build our lives. Then it is up to us to rightly use that knowledge.
The Bible provides the answers about how to be happy
God desires that we enjoy a full, abundant life. Jesus said, "I have come that they may have life, and that they might have it more abundantly" (John 10:10). He came to show mankind the path that leads to true happiness, recorded in the pages of your Bible.
What are the biblical principles that we should practice in order to produce happiness in our lives?
Strive to place God first in your life and obey Him.
One of the keys to happiness is a willingness to live in accordance with the laws of God, beginning with the 10 Commandments. "Happy are they who are without sin in their ways, walking in the law of the Lord. Happy are they who keep his unchanging word, searching after him with all their heart" (Psalm 119:1-2, Bible in Basic English).
Furthermore, "Happy are those who do not follow the advice of the wicked, or take the path that sinners tread, or sit in the seat of scoffers; but their delight is in the law of the LORD, and on his law they meditate day and night. … For the LORD watches over the way of the righteous, but the way of the wicked will perish" (Psalm 1:1-2, 6, New Revised Standard Version).
In the New Testament the Greek word for happy is makarios. In most verses makarios is translated "blessed" when it could also be "happy." Notice Revelation 22:7, 14: "Behold, I am coming quickly! Blessed [happy] is he who keeps the words of the prophecy of this book. … Blessed [happy] are those who do His commandments, that they may have the right to the tree of life, and may enter through the gates into the city."
These dogmatic statements are in the last chapter of the entire Bible!
Obedience to God and His laws will indeed lead to eternal joy and happiness.
Practice the way of give.
In spite of our material wealth and blessings, so many in the Western world are unhappy and discontented. It is easy to be overcome with a spirit of competition, striving to gain more and more physical things. Worrying over unpaid and ever-increasing debt can lead to a negative and unhappy state of mind.
"A glad heart makes a cheerful face, but by sorrow of heart the spirit is crushed. … All the days of the afflicted are evil, but the cheerful of heart has a continual feast. Better is a little with the fear of the LORD than great treasure and trouble with it" (Proverbs 15:13, 15-16, English Standard Version).
Most people feel they would be happier if only they could increase their income. But notice Acts 20:35: "I have shown you in all things that by working hard in this way we must help the weak, remembering the words that the Lord Jesus himself said, 'There is more happiness in giving than in receiving'" (Good News Translation).
Jesus Christ, who gave up His life for humanity, said, "Give, and it will be given to you: good measure, pressed down, shaken together, and running over will be put into your bosom. For with the same measure that you use, it will be measured back to you" (Luke 6:38).
It is a truism that happiness can be multiplied by dividing it with others.Material possessions are a blessing when rightly used, together with an attitude of giving and sharing. Society seems convinced that getting without giving is the way to go. However, this approach is in direct contradiction to the way God intends us to live.
It is a truism that happiness can be multiplied by dividing it with others.
Discover why you were born.
Humans over the centuries have struggled to discover the reason for their existence. What is man, and for what purpose was he placed on this earth? Discovering why you were born will dramatically change your life. You will begin to see that God has planned a future for each of us that is beyond our imagination. There is an exciting and glorious future that awaits us.
"But as it is written: 'Eye has not seen, nor ear heard, nor have entered into the heart of man the things which God has prepared for those who love Him.' But God has revealed them to us through His Spirit" (1 Corinthians 2:9-10).
Our incredible potential is detailed and made plain in our booklet God's Purpose for You: Discovering Why You Were Born. Download a free copy, and you will come to understand the purpose of your existence and why you were placed on the earth. The information contained in this booklet will change your life forever!
And this knowledge of a glorious future will result in personal happiness and joy you have not experienced before.
Face up to life's trials and upsets.
It is vital to understand that tests and trials are actually part of the way God develops our character. God does not enjoy seeing us suffer, but He does enjoy seeing us develop spiritual character. Experiencing trials is one way we can grow in the character traits God desires. Once we grasp this fact, we have a better chance at not allowing the ups and downs of life to get us down. We have the opportunity to turn defeats into victories because we understand and appreciate God's supreme purpose behind our trials.
The apostle Paul explained it this way: "Therefore we do not lose heart. Even though our outward man is perishing, yet the inward man is being renewed day by day. For our light affliction which is but for a moment, is working for us a far more exceeding and eternal weight of glory" (2 Corinthians 4:16-17, emphasis added throughout).
The apostle Peter said, "Beloved, do not think it strange concerning the fiery trial which is to try you, as though some strange thing happened to you; but rejoice to the extent that you partake of Christ's sufferings, that when His glory is revealed, you may also be glad with exceeding joy" (1 Peter 4:12-13).
Understanding the purpose for our trials helps us "press toward the mark for the prize of the high calling of God in Christ Jesus" (Philippians 3:14, King James Version)—with satisfaction and genuine happiness!
Helen Keller, though blind, realized that "happiness cannot come from without. It must come from within. It is not what we see and touch … which makes us happy; it is that which we think and feel and do, first for the other fellow and then for ourselves."
God is giving you the opportunity to learn how to be truly happy
Becoming familiar with God's promises and purpose for mankind opens a pathway for you to begin to experience happiness, joy and contentment in a way you have never understood before (1 Peter 1:3-7; 1 John 3:1-3). Believe what the Bible says about why we exist, confidently claim the promises, and look forward to a future filled with joy and happiness.
As Jesus said, "I have come that they may have life, and that they may have it more abundantly" (John 10:10).
Strive to please God and look forward to the abundant life—filled with happiness!