Everyone looks for happiness, one way or another. Everyone in history and in all places. Why is it so hard to find? What do you need to be happy?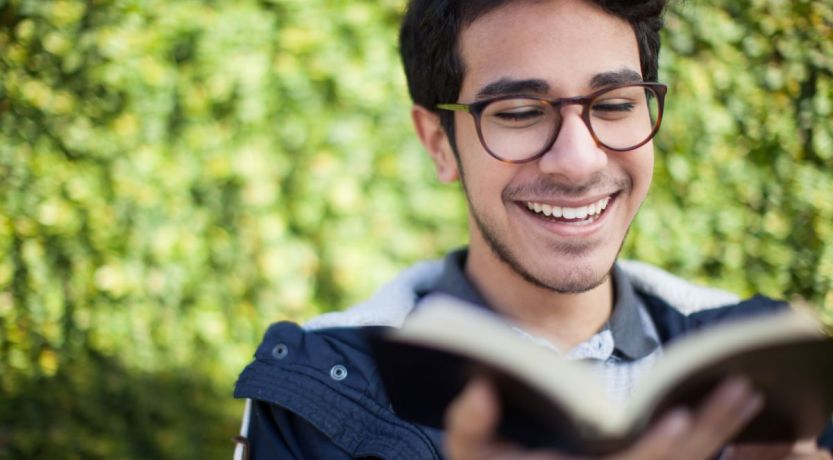 First of all, what is happiness? Let's define what all people who have ever lived have looked for, or at least wished for. They all wanted their lives to be better by possessing it—this thing called happiness.
There are many definitions of happiness. However, after considering the best information available, I believe it can be boiled down to the following deceptively simple definition.
Happiness is being content with life.
People who are content with life do not experience a sense of emptiness, but of fullness. They say, "I have enough. I am content and satisfied with what I have, and where I am. I don't need more. I'm content."
Deceptively simple definition of happiness
Happiness is being content with life? Really? Some readers may question and recoil at this definition of happiness. It might seem too simple. It might seem incomplete.
To some, it might even seem dangerous. Couldn't this definition of happiness serve to justify bad things—like lethargy, laziness, destructive asceticism, willful poverty and suffering for self and those dependent on self? And even evil and injustice?
Could it seem to invalidate hard work, diligence, education, self-improvement, creativity, zeal for a good cause and opposition to evil and oppression?
Properly understood, this definition of happiness does none of that. Indeed, it summarizes what God reveals.
Happiness in the Bible
This definition—happiness is being content with life—directs a person to the source of what he or she ought to be content with. The result of this is to bring the Creator God—the God of the Bible—into the picture.
When fully grasped, this definition serves to acknowledge that God is the source of every good and perfect gift. It means being content with God—with what He provides.
Happiness is trusting God's wisdom and love enough to be content with the blessings He has chosen to give.When happiness is understood this way, the core of every believer's life is built upon his or her Creator and the blessings that He chooses to give. Happiness is trusting God's wisdom and love enough to be content with the blessings He has chosen to give.
What do you need to be happy?
True happiness is being content with God, who is the source of life. It is being content with God, instead of wishing He were other than He is. It is being content with God, instead of endeavoring to create another god, in our own image, more to our own liking. It is being content with God, instead of judging Him as insufficiently good or wise or powerful.
Happiness is not to be found in obtaining ever more things as a result of one's own plans and pursuits. Its real source is not the development or manipulation of social relationships. Its source is not influence or power over other people, or their esteem or opinions.
Instead, when viewed through the lens of this definition, happiness has a lot to do with knowing and trusting the Creator God. It is knowing Him and trusting Him, as He is, and as He does. It is being content with Him and what He gives.
What does the Bible say about happiness?
Happiness is being content with life—and that includes all of the gifts God gives.
"Every good gift and every perfect gift is from above, and comes down from the Father of lights, with whom there is no variation or shadow of turning" (James 1:17).
There are no good and perfect gifts a person can receive that do not come from the true Creator God. There might be other sorts of gifts, but all the good and perfect ones come from God. Being satisfied and content with that is the essence of happiness.
Because God has a bigger purpose for people's lives than most of us are even aware of, He gives gifts—good and perfect gifts—of all sorts. Some (but not all) of these gifts from God satisfy people's immediate physical needs and desires and give pleasure to their senses.
Some good and perfect gifts from God do not give pleasure to our senses or ease our circumstances. Some of them come in the form of the opposite—of God's putting us into (or allowing us to be in) circumstances that are challenging, even unpleasant.
Some of His good and perfect gifts require us to be faithful to Him and His standards while we endure challenging and difficult circumstances. They require us to trust Him to get us out of them at a time of His choosing.
These gifts are called trials. Happiness includes the ability to be content and satisfied with God, even when He has given the gift of a trial.
The Bible contains many examples of people who knew and trusted the true God, and who responded to trials in this way. These servants of God had arrived at true happiness—the ability to be content with the life God had called them to live—even including the trials He permitted. Such trials tested and further strengthened their trust in God's goodness and wisdom and care for them—and His working in their lives to accomplish His purpose.
Happiness, even in a trial
The apostle Paul's character developed in this way as an example for Christians of all times. He was challenged by a great many trials, even suffering, in his service to God. Still he was content with life—he was happy. He had learned this truth about happiness. He understood the basis for it.
"Not that I speak in regard to need, for I have learned in whatever state I am, to be content: I know how to be abased, and I know how to abound. Everywhere and in all things I have learned both to be full and to be hungry, both to abound and to suffer need. I can do all things through Christ who strengthens me" (Philippians 4:11-13, emphasis added throughout).
He loved and trusted God to give him what he really needed, including the strength to maintain that love and trust in times of trial. His happiness was in being satisfied with God's choices for his life.
Paul's happiness was not defined by, or dependent on, the quantity of material things he possessed or the absence of assaults on his comfort. If God permitted him to have only the very basics of life, that was enough. If Paul was assailed by assaults, but God was with him in the danger, that was enough. Paul was content with God and the life that God led him to experience. This was also the case with other servants of God whose stories are included in the Bible.
This does not mean that a Christian will never be discouraged, downcast or temporarily worried. It doesn't mean we can't grieve.
For example, Paul instructed the Corinthians to comfort a person who likely was discouraged after correction: "So that, on the contrary, you ought rather to forgive and comfort him, lest perhaps such a one be swallowed up with too much sorrow" (2 Corinthians 2:7). Paul also acknowledged the need to encourage those grieving over death: "Therefore comfort one another with these words" (1 Thessalonians 4:18).
Contentment in the Bible
"Now godliness with contentment is great gain. For we brought nothing into this world, and it is certain we can carry nothing out. And having food and clothing, with these we shall be content. But those who desire to be rich fall into temptation and a snare, and into many foolish and harmful lusts which drown men in destruction and perdition" (1 Timothy 6:6-8).
Nor was Paul's happiness defined by or dependent on ease of circumstances or relationships with other people. In the life and calling God gave to Paul, there was often opposition from other people. There was struggle. There was injustice.
Through it all, Paul was content with life. That's because He was content with God, who permitted all of these circumstances and who was with Paul, helping him through all of them. Paul was content with God's wisdom in knowing what to allow Paul to experience. Paul was content to rely on God's power to pass through all trials and tests and sufferings in the life he had been called to live.
"A thorn in the flesh was given to me, a messenger of Satan to buffet me, lest I be exalted above measure. Concerning this thing I pleaded with the Lord three times that it might depart from me. And He said to me, 'My grace is sufficient for you, for My strength is made perfect in weakness.'
"Therefore most gladly I will rather boast in my infirmities, that the power of Christ may rest upon me. Therefore I take pleasure in infirmities, in reproaches, in needs, in persecutions, in distresses, for Christ's sake. For when I am weak, then I am strong" (2 Corinthians 12:7-10).
Paul was content to rely on God's strength in him, not his own.
This is the sort of contentment (happiness) that is described in the book of Hebrews. "Let your conduct be without covetousness; be content with such things as you have. For He Himself has said, 'I will never leave you nor forsake you.' So we may boldly say: 'The LORD is my helper; I will not fear. What can man do to me?'" (Hebrews 13:5-6).
The apostle Peter wrote in the same vein. He, too, was inspired to teach Christians that true happiness is built on the foundation of being satisfied with God's wisdom, power and care.
"Blessed be the God and Father of our Lord Jesus Christ, who according to His abundant mercy has begotten us again to a living hope through the resurrection of Jesus Christ from the dead, to an inheritance incorruptible and undefiled and that does not fade away, reserved in heaven for you, who are kept by the power of God through faith for salvation ready to be revealed in the last time.
"In this you greatly rejoice, though now for a little while, if need be, you have been grieved by various trials" (1 Peter 1:3-6).
This, especially the italicized words, is the language of a person who is satisfied and content with God as He is and as He does. This is an exhortation to be content to rely on God's power to pass through any trial faithfully.
Happiness was at the core of Jesus' teaching
In these examples and words of the apostles Paul and Peter, we see a reflection of Jesus' words in the Sermon on the Mount. The Beatitudes of Matthew 5 are often translated using the English word blessed, which is translated from the Greek word makarios.
"Blessed [happy] are the pure in heart, for they shall see God" (Matthew 5:8).Some modern English translations use the word happy instead of blessed (for example, the Bible in Basic English and the Good News Translation). Even in the King James Version, the word makarios is sometimes translated "happy"—for example, John 13:17; Romans 14:22; and 1 Peter 4:14.
Jesus taught that happiness is being content with God—knowing Him, trusting Him, conforming to Him, even suffering for Him.
Contentment requires some participation on our part. Notice these words of Jesus: "If you know these things, blessed [happy] are you if you do them" (John 13:17).
"Blessed [happy] are those who hunger and thirst for righteousness, for they shall be filled" (Matthew 5:6).
"Blessed [happy] are the pure in heart, for they shall see God" (Matthew 5:8).
"Blessed [happy] are those who are persecuted for righteousness' sake, for theirs is the kingdom of heaven. Blessed are you when they revile and persecute you, and say all kinds of evil against you falsely for My sake. Rejoice and be exceedingly glad" (Matthew 5:10-12).
Jesus repeated this teaching to His disciples at the end of His physical life. He exhorted them to trust and be content with God's care for them. "Let not your heart be troubled; you believe in God, believe also in Me. … These things I have spoken to you, that in Me you may have peace. In the world you will have tribulation; but be of good cheer, I have overcome the world" (John 14:1; 16:33).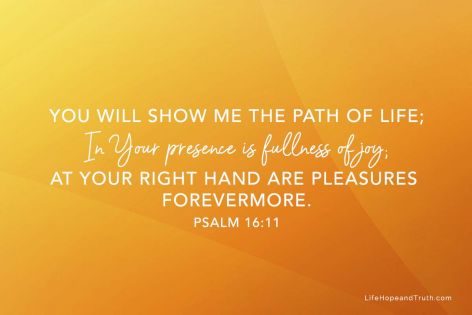 When empowered by the Holy Spirit, these same disciples displayed this satisfaction with God. They showed it even when He allowed them to suffer—giving them the "gift" of the opportunity to be obedient witnesses to Him. This happiness was in the apostles' lives, and they exhorted other Christians to have it in their lives too.
"And when they had called for the apostles and beaten them, they commanded that they should not speak in the name of Jesus, and let them go. So they departed from the presence of the council, rejoicing that they were counted worthy to suffer shame for His name" (Acts 5:40-41).
"And not in any way terrified by your adversaries, which is to them a proof of perdition, but to you of salvation, and that from God. For to you it has been granted on behalf of Christ, not only to believe in Him, but also to suffer for His sake" (Philippians 1:28-29).
Happiness and contentment forever
So, what do we learn from the Bible about happiness? It is a simple concept. We learn that it is equivalent to knowing and being satisfied with the true Creator God. It is accepting Him and trusting Him and loving Him as He is. It is being content with His plan and purpose for our lives. It is being content to yield to His purpose, His work and His leadership.
It is being content to trust in His power and care for us. It is being content with His good and perfect gifts, in whatever form they may take. That contentment with God leads to obeying Him and serving Him in all circumstances. It is the only true happiness a human being can experience.
Those who experience godly joy and happiness in this temporary world that is under the sway of Satan (1 John 5:19) will be ushered into the age when pain and suffering will be removed (Revelation 21:4).
God has rich and wonderful blessings for those who endure the challenges of this world. Looking back, we'll find none of these problems will compare with what God has planned for the children He loves.
As the apostle Paul wrote, "For I consider that the sufferings of this present time are not worthy to be compared with the glory which shall be revealed in us" (Romans 8:18).
Then, as King David wrote, "You will show me the path of life; in Your presence is fullness of joy; at Your right hand are pleasures forevermore" (Psalm 16:11).
Learn more in our articles "How to Be Happy" and "How to Be Successful."