In a rapidly changing world, amid a deluge of ideas and opinions, how can we clearly see what is right and wrong? Where can we find true wisdom?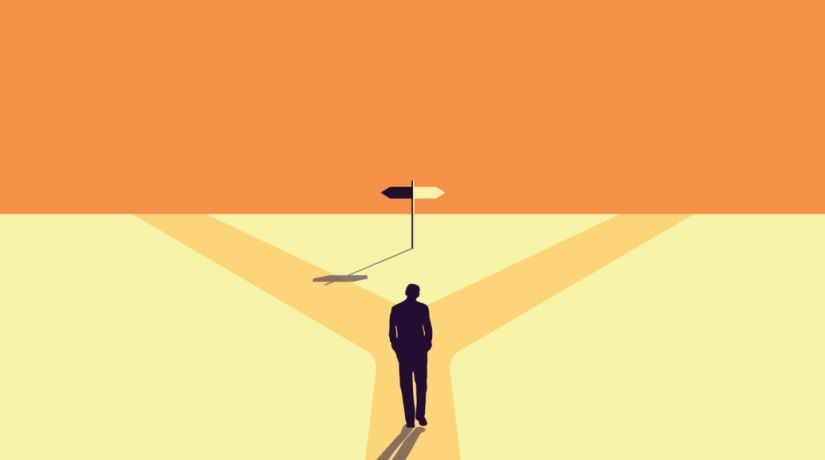 Why is there so much confusion in the world when it comes to morality? What is good and what is evil? Who defines it? What about those gray areas where so many find it hard to decide?
Why does corruption seem to happen on all levels of government and no one bats an eye? Who is to say what is right or wrong when it comes to sexuality?
These questions boggle the minds of many. But the Bible has the answer to help us distinguish between good and evil. God also offers the power of discernment to those willing to understand.
Who's to decide?
In some cases, it's pretty easy to separate good and evil. Terrorist suicide bombers: evil. Helping the poor and needy: good. But in most cases recognizing good and evil seems to be a subjective judgment, with a lot of room for gray in our individual opinions. Scripture tells us that, left to ourselves, we are not always able to define good and evil by godly standards (Proverbs 14:12).
Yet there is a stern warning about knowing the difference. The prophet Isaiah boldly warned, "Woe to those who call evil good, and good evil; who put darkness for light, and light for darkness; who put bitter for sweet, and sweet for bitter!" (Isaiah 5:20).
But God did not leave mankind in the dark to figure out the difference between good and evil on our own. God wants us to make a distinction and to choose to do what is good. King David wrote, "Depart from evil and do good; seek peace and pursue it" (Psalm 34:14).
The apostle John also points out where God desires His committed followers to stand: "Beloved, do not imitate what is evil, but what is good. He who does good is of God, but he who does evil has not seen God" (3 John 1:11).
So, how does God define good?
The 10 Commandments
The apostle Paul says that "the law is holy, and the commandment holy and just and good" (Romans 7:12). God, through Moses, told the nation of Israel to "observe and obey all these words which I command you, that it may go well with you and your children after you forever, when you do what is good and right in the sight of the LORD your God" (Deuteronomy 12:28). When Jesus Christ was on the earth, He reiterated the importance of keeping the commandments (Matthew 19:17).
The 10 Commandments listed in Exodus 20 are the basic fundamentals for doing what God defines as good. Because God loves us, He wants to show us how to truly love Him and our neighbors. The 10 Commandments teach us how to do this.
When a lawyer asked Jesus Christ what the greatest commandment in the law was, He summarized the 10 Commandments in this way: "'You shall love the LORD your God with all your heart, with all your soul, and with all your mind.' This is the first and great commandment" (Matthew 22:37-38). Taking a closer look, we see this encompasses the first four of the 10 Commandments, revealing how to worship and honor God.
Jesus continued, "And the second is like it: 'You shall love your neighbor as yourself'" (verse 39). Loving and respecting our fellow man covers the last six of the 10 Commandments. Jesus concluded, "On these two commandments hang all the Law and the Prophets" (verse 40).
If you would like to learn more about God's 10 Commandments, we offer four different ways for you to explore the Bible's teaching on this topic:
So, what is discernment?
Charles Spurgeon once said, "Discernment is not a matter of simply telling the difference between right and wrong; rather it is telling the difference between right and almost right." In the Bible, one of the Hebrew words translated "discern" also means to "understand, consider … perceive" (Brown-Driver-Briggs Hebrew Lexicon, H995, biyn).
In the New Testament the Greek word translated "discerning" is diakrisis, which means "a distinguishing, discerning, judging" (Thayer's Greek Lexicon). Throughout the Bible, we see the importance of distinguishing between good and evil. As we use the 10 Commandments as our guide for goodness, we will also be able to more clearly see what is evil or sinful.
However, the gray areas of good and evil still confront us from time to time. We are unable to determine the motives or desires of others. At times, we may get emotionally involved in a social or political issue where we just can't see the absolute line between good and evil. What do we do then?
Prayer: the example of Solomon
After the death of his father David, Solomon was set to be the next king of Israel. But he knew he needed help.
God asked Solomon in a dream: "Ask! What shall I give you?" (1 Kings 3:5).
Solomon responded, "Now, O LORD my God, You have made Your servant king instead of my father David, but I am a little child; I do not know how to go out or come in. And Your servant is in the midst of Your people whom You have chosen, a great people, too numerous to be numbered or counted. Therefore give to Your servant an understanding heart to judge Your people, that I may discern between good and evil. For who is able to judge this great people of Yours?" (verses 7-9).
When we can't distinguish between good or evil, when we can't discern whether the motives of others are right or wrong, the first place to go is to God, our Heavenly Father, in prayer. "If any of you lacks wisdom, let him ask of God, who gives to all liberally and without reproach, and it will be given to him" (James 1:5).
God was so pleased with Solomon's reply that He approved his request. "I have done according to your words; see, I have given you a wise and understanding heart, so that there has not been anyone like you before you, nor shall any like you arise after you" (1 Kings 3:12).
Solomon asked in faith for discernment. So can you!
Exercising discernment
Discernment isn't a permanent gift. We must "use it or lose it."After praying for discernment and receiving God's Spirit, which is a gift of God given after one repents and is baptized, we must exercise discernment—we must continue to obey. Again, consider Solomon's example. He initially had wisdom and discernment, but he lost it when he allowed his personal desires to thwart his judgment and wisdom (1 Kings 11:4-10). He lost his discernment—his heart was turned, and he practiced evil—which led to disaster.
We, too, must continue to obey so that we don't lose the power of discernment. Hebrews 5:13-14 says maturity and discernment are the result of "use" and exercise of the "word of righteousness."
Discernment isn't a permanent gift. We must "use it or lose it."
The Kingdom of God
The good news is that one day in the near future, good will triumph over evil. Jesus Christ will return to earth, and at His command an angel will bind Satan (Revelation 20:2). Satan once deceived Adam and Eve into eating of the tree of the knowledge of good and evil, and the entire world followed suit (Revelation 12:9). But his rule will end when Jesus Christ returns as King of Kings and Lord of Lords (Revelation 19:16).
For now we need discernment to know the difference between right and wrong. But in the future the 10 Commandments will be the law of the land. God's ways will be globally taught, and as all people learn to obey God's laws, they will enjoy peace and prosperity (Isaiah 2:3-4). There will be no more confusion between right and wrong, and mankind will have access to the ignored tree of life (see our article "The Tree of Life").
You, too, can be a part of this wonderful future! After going through the process of repentance and baptism, we should be eager to keep the commandments and "turn away from evil and do good" (1 Peter 3:11). God promises eternal life to those who are willing to change their lives in this way (1 John 2:25).
Jesus Christ expressly states in the last book of the Bible, "Blessed are those who do His commandments, that they may have the right to the tree of life, and may enter through the gates into the city" (Revelation 22:14).
We invite you to gain additional biblical understanding about God's plan for your future. Study our free booklets Change Your Life! and The Mystery of the Kingdom.