The alarm startles you awake. It's time to get ready to face another day on the job. Are you eager? Or do you dread the day ahead and think, "I hate my job"?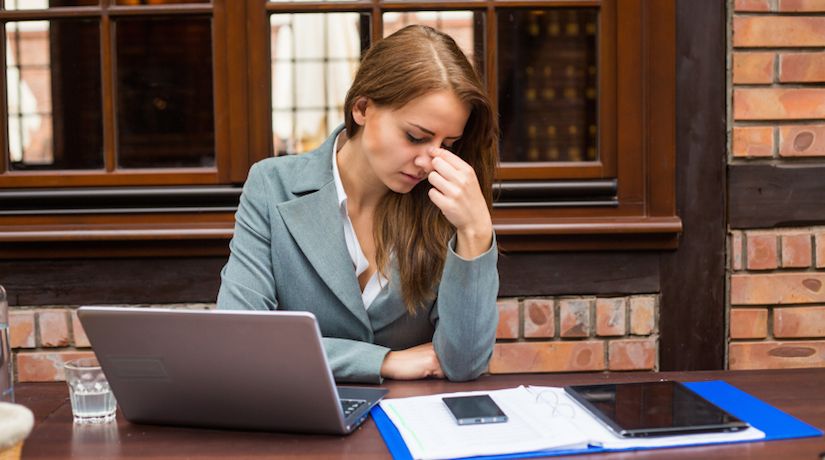 Everyone wishes for a "dream job." Some have figured out exactly what they want to do and have worked to obtain the education and experience needed to try to find or create just the right job for them. But, sadly, this is rare, and even some who have attempted this end up disappointed by changing job markets and economic setbacks.
More often, people stumble into jobs by accident and feel trapped. Still others struggle to find a job in the first place and face chronic unemployment. Many have been forced into accepting any job available and may find it difficult or frustrating to perform the job they have.
It's no wonder so many people express dissatisfaction and some even shout, "I hate my job!"
Some tough jobs in the Bible
The first recorded human jobs were given by God to Adam. First he was given the task of naming the animals. Then he and his wife, Eve, were placed in a beautiful garden and told to tend and keep the garden (Genesis 2:15). This might sound like a lot of work, but at first it might not have been too difficult to tend to the verdant and perfectly designed garden.
But things changed after Adam and Eve disobeyed their Creator. The result was backbreaking work pulling weeds and thorns from an environment very different from the beautiful garden that had been their home (Genesis 3:17).
Suddenly work was not so easy for Adam. Perhaps he, too, came to hate his job. In his case, it was the result of his own bad choices (disobeying God's clear instructions).
An example of making the most of a bad situation is the biblical account of Joseph recorded in Genesis 39-41. Joseph had been sold into slavery in Egypt by his jealous brothers. He was purchased by wealthy Potiphar and worked as a household slave.
False accusations by Potiphar's wife landed Joseph in prison. But even in prison, Joseph put his heart into his work (Genesis 39:22). Eventually God inspired Joseph to interpret a dream that predicted a coming Egyptian famine. Pharaoh's answer to the national challenge was to make Joseph second in command in the nation and assign him the job of preparing Egypt for the famine (Genesis 41:40-41).
Joseph's legacy of honesty, integrity, perseverance and trusting God rings loudly for us through the biblical record.
Some other biblical accounts dealing with difficult jobs include:
The Israelite slaves laboring under the cruel hand of the Egyptians (Exodus 5:6-15).
Ruth gleaning grain from the fields (Ruth 2:2).
The workers building Solomon's grand temple (1 Kings 5).
Ezekiel portraying the siege of Jerusalem (Ezekiel 4).
Paul making frequent journeys and suffering persecutions (2 Corinthians 11:24-26).
When we read and think about some of these examples, perhaps it gives us a different perspective of our own jobs.
What are your options?
If you really hate your current job, are you going to continue waking up daily with the thoughts of how much you don't want to go to work, or can you try to change the situation? It would seem you have these options:
Continue to hate your job.
Learn to accept and be content with the job you have.
Look for a new job with the current job skills you have.
Develop new marketable job skills that will prepare you for a different job or even a different career.
If you really hate your current job, are you going to continue waking up daily with the thoughts of how much you don't want to go to work, or can you try to change the situation?Since you're reading this article for some answers and hope, why don't we rule out option 1? Let's briefly consider the other options.
Learn to accept and be content with your job
If you can't change your job, one option is to accept it, try to be thankful for it and make the best of a difficult situation. Perhaps a place to begin would be to be thankful you have a job when so many don't.
The Bible provides us with this advice: "Whatever your hand finds to do, do it with your might; for there is no work or device or knowledge or wisdom in the grave where you are going" (Ecclesiastes 9:10). The lesson is clear: If we have a particular task to perform, then we should go ahead and try to give it everything we have. We can give ourselves the goal of striving to be the best at what we do. (Read more about this in our articles "Diligence: Why Does God Prize It?" and "Hard Work.")
Colossians 3:23 reminds us: "Whatever you do, work at it with all your heart, as working for the Lord, not for human masters" (New International Version). We should do our jobs with purpose and integrity regardless of the task at hand, simply because it is the right thing to do.
Looking for ways to accentuate any positive aspects of the job can give us a new mind-set, and the positive results might eventually rub off on those around us. Ask God to help you improve your job performance, your attitude and your interactions with others. Ask for His help to deal with the challenges and negative aspects of the job.
God can help us deal with difficult situations and people. He can help us find peace and contentment even in the midst of unpleasant circumstances. If you make this choice, Paul's perspective in the book of Philippians can be encouraging. Here, he wrote: "I have learned in whatever state I am, to be content" (Philippians 4:11).
Look for a new job
If you really find your current job intolerable, you may decide to look for a new job. (For biblical help with making a good decision, see "Decision Making: Seven Steps for Making Good, Christian Choices.")
Once you have decided, set aside some time to look for other possible opportunities. Talk about your needs with your circle of acquaintances. Let them know you are looking. Put your résumé or curriculum vitae online. Submit applications to various companies if you meet their requirements. If you are called for an interview, be professional and prepared for it. You need to show potential employers just how valuable you can be to their organizations.
As you are searching for work, ask God for help and guidance as you do your part in looking for a different job. Try hard to be patient. Making sure our lives are in harmony with God's revealed will is still the most important standard and strategy of all.
Develop new marketable job skills
The final option we'll discuss here is the possibility of getting more training or continuing your education to allow you to obtain the skills necessary for the more rewarding or fulfilling career of your choice. As they say, you're never too old to learn! Evening classes and online education opportunities are more plentiful than ever before. Look into mentoring programs or apprenticeships. Don't limit your options. Talk to various professional people for advice.
If you really do hate your job, do you have the motivation to learn the skills necessary to do something different? The book of Proverbs mentions the importance of continuing our education throughout life. Notice these two verses:
"A wise man will hear and increase learning, and a man of understanding will attain wise counsel" (Proverbs 1:5, emphasis added throughout).
"Give instruction to a wise man, and he will be still wiser; teach a just man, and he will increase in learning" (9:9).
Increasing our learning takes commitment and determination. Can you go forward with that goal?
Follow the example of Jesus Christ
Our ultimate example of hard work and accomplishing the tasks given to us is the example of Jesus Christ. He said: "My Father has been working until now, and I have been working" (John 5:17). He finished the important work His Father gave Him to do (John 17:4).
We should not be quitters, but finish our tasks, assignments or jobs to the best of our ability with the tools we have. If you've read this far, you may well be ready to consider changes in mental outlook on work and jobs in general.
A real job change is coming
That's what the Life, Hope & Truth website is all about. We are here to supply you the help you need to make changes in your life—changes for the better. We are here to help provide purpose and direction for your life as you learn what God's plan for mankind is all about. If you truly do hate your job, it may help to know that you have a far greater purpose in life than your daily employment.
If you're responding to God's calling, then you are being given an opportunity to prepare for another job, a job that has far more fulfillment and purpose than can be humanly envisioned. Your most important job then becomes preparing for the time when Jesus Christ will return to this earth and establish His government over all nations.
If we respond to God's calling now, we will then have the opportunity to help Christ bring peace, plenty and truly fulfilling lives to all the peoples of the world after He returns. How's that for a satisfying job!
Your Bible is your textbook. Life, Hope & Truth is here to help. Will you accept that challenge and develop the skills necessary to accomplish the greatest job any person has ever been given to do?
For more on choosing the right approach, read the articles in the section: "Christian Living: Living the Way Jesus Wants."