Every day we need God's help. But sometimes our trials become desperate, and we cry out, "God, help me!" When and how does God answer such prayers?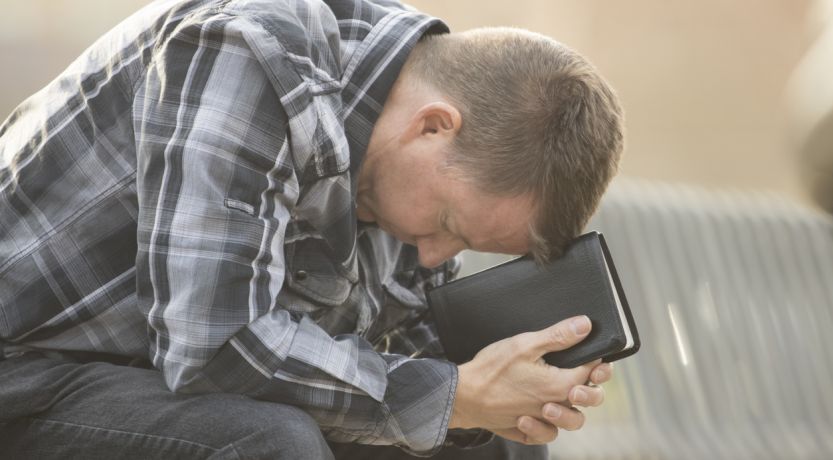 When we pray for God's help, He hears and He cares. He tells us in the Bible what we should do to receive His answer, and how and when He sends help.
This Bible study reveals how to pray, "God, please help me!" and receive and accept His help.
What we can learn from Jesus' cry for help
The mental agony was unimaginable. Jesus knew all about the brutal beating and excruciating death He would face over the next few hours, and He told His disciples that His soul was "exceeding sorrowful, even to death" (Mark 14:34).
Jesus asked His three closest friends to be near Him while He cried out to God for help in His greatest trial. He prayed that if it were possible, the coming time of intense suffering might "pass from Him."
"Abba, Father, all things are possible for You. Take this cup away from Me; nevertheless, not what I will, but what You will" (verse 36).
Luke's account explains that God answered by sending help. "Then an angel appeared to Him from heaven, strengthening Him" (Luke 22:43).
The trial would not be taken away. It was the reason He had come to earth in the first place, to carry the penalty of our sins so that we could live. But, even so, God heard His cry for help and gave Him strength.
Will God help me?
Of course God heard Jesus Christ, His Son. But will God help us?
God has the ability and the desire to help us in our needs. He gives His followers reassurance that we can trust in Him.
"Let us therefore come boldly to the throne of grace, that we may obtain mercy and find grace to help in time of need" (Hebrews 4:16).
And of course God has no physical limitations to prevent Him from helping: "For with God nothing will be impossible" (Luke 1:37).
We can have trust because God is trustworthy; we can have faith because He is faithful.
The psalmist David recognized his need for God's help and believed that God had been and continued to be his helper. And when he was in trouble, he reminded God of that:
"Do not hide Your face from me; do not turn Your servant away in anger; You have been my help; do not leave me nor forsake me, O God of my salvation. When my father and my mother forsake me, then the LORD will take care of me" (Psalm 27:9-10).
As the Zondervan NIV Bible Commentary explains, "Through his prayer the psalmist develops a deeper sense of dependence on the Lord. Adversity often masquerades as God's lack of interest or outright anger. … But the psalmist knows that the Lord is his heavenly Father. He looks for the intimacy of a relationship with his Father in heaven even in the experience of God's wrath" (commentary on Psalm 27:7-10).
"For He Himself has said, 'I will never leave you nor forsake you.' So we may boldly say, 'The LORD is my helper; I will not fear. What can man do to me?'" (Hebrews 13:5-6).In the same vein David also wrote, "But I am poor and needy; yet the LORD thinks upon me. You are my help and my deliverer; do not delay, O my God" (Psalm 40:17).
Isaiah prophesied of the Suffering Servant's (Jesus Christ's) trust in God's help: "Surely the Lord GOD will help Me; who is he who will condemn Me?" (Isaiah 50:9).
Though Jesus Christ was not spared horrible trials, there is no doubt His Father helped Him through them all, and throughout His life. His followers can also have absolute assurance of God's help.
"For He Himself has said, 'I will never leave you nor forsake you.' So we may boldly say, 'The LORD is my helper; I will not fear. What can man do to me?'" (Hebrews 13:5-6).
When it seems God isn't helping
Still, when what we ask for doesn't happen immediately or even after many heartfelt prayers, we can question whether God is hearing us. Why doesn't He intervene or answer?
Often this can just be a matter of perspective. God does hear and in His perfect wisdom and timing has determined that the time is not right for the specific remedy we asked for. Or that our request is not the best for us and others.
Consider Joseph.
For us looking back, we can see that all Joseph's trials were preparing him for great things. But at each turn for the worse, Joseph didn't know he would eventually become second in command of Egypt and be able to save Egypt and his own family from famine.
Joseph could only see his brothers throwing him into a pit, then selling him as a slave.
Joseph could only see his master's wife tempting him, then accusing him of rape.
Joseph could only see his many years as a prisoner stretching on and on, as the chief butler forgot—for two long years—to plead for Joseph's release.
God knew these trials were preparing Joseph, and eventually Joseph also understood (Genesis 45:5-8).
Why won't God help me?
But what if God truly isn't providing the help we request because of something we did? Are there any instances where the Bible says God won't help us? Are there things we should consider about our motivations and approach?
James warns about prayers that are not according to God's will. God will not answer selfish prayers or prayers that have a hidden sinful motive. "You ask and do not receive because you ask amiss, that you may spend it on your pleasures" (James 4:3).
Also, if our mind-set is toward sin—toward disobeying God's good and beneficial laws—why would God help?
Isaiah wrote, "Behold, the LORD's hand is not shortened, that it cannot save; nor His ear heavy, that it cannot hear. But your iniquities have separated you from your God; and your sins have hidden His face from you, so that He will not hear" (Isaiah 59:1-2).
The psalmist said, "If I regard iniquity in my heart, the Lord will not hear" (Psalm 66:18).
Obviously, since we all have sinned (Romans 3:23), God makes an exception when a sinner comes to Him in an attitude of repentance. But sins not repented of hinder our communication and relationship with God. Study more in our article "How to Repent."
As well, we must have living, growing faith. In answering two blind men's pleas for help, Jesus said, "According to your faith let it be to you" (Matthew 9:29). When Jesus spent time in Nazareth, the area He grew up in, the Bible says, "He did not do many mighty works there because of their unbelief" (Matthew 13:58).
So we must be sure that we are repentant and striving to be obedient, that our motives are right, and that we have faith that God can do anything and will do what is best for us.
How to pray for God's help
Is it possible to confidently know that when we cry, "God, help me!" He will indeed help? That He will help in the way that is the very best, now and for eternity?
When we cry out, "God, help me!" is there more we should do? What kinds of prayers does God desire? What should we do to have the most effective prayers?
"So Jesus said to them, 'Because of your unbelief; for assuredly, I say to you, if you have faith as a mustard seed, you will say to this mountain, "Move from here to there," and it will move; and nothing will be impossible for you'" (Matthew 17:20).
God doesn't require everyone to start out as a giant in faith; He knows that faith is something we grow in. He heard the man who cried out, "I believe; help my unbelief!" (Mark 9:24).
Don't wait to have perfect faith to pray. But do make a plan to take the time to study what the Bible says about how to grow in faith, as outlined in our article "How to Grow in Faith."
Pray in Jesus' name, believing and obeying.
Jesus said, "If you ask anything in My name, I will do it" (John 14:14). Why? So "that the Father may be glorified in the Son" (verse 13). Jesus glorified the Father, and the Father glorifies Him.
The context also tells more about what it takes to properly use Jesus' name. Verse 12 shows that He was talking to those who believe in Him, and verse 15 follows up with, "If you love Me, keep My commandments."
To legitimately use Jesus' name, we must believe, and if we believe and love Him, we should obey Him.
Pray according to God's will.
As we saw at the beginning of this article, Jesus Christ Himself set the standard, praying, "Abba, Father, all things are possible for You. Take this cup away from Me; nevertheless, not what I will, but what You will" (Mark 14:36).
Throughout our Christian lives, we must learn to believe more completely that God's plan and His will are for the best for us and for everyone else.Throughout our Christian lives, we must learn to believe more completely that God's plan and His will are for the best for us and for everyone else.
We must grow to have faith in this even when we can't immediately see how "all things [will] work together for good to those who love God, to those who are the called according to His purpose" (Romans 8:28).
Often we believe we know exactly what God must do to save us, and when—now!
But the examples in the Bible show God has different ways of answering and helping. Sometimes He immediately does precisely what we ask. Sometimes He says not yet. Sometimes He has a different solution.
Followers of Christ do suffer fiery trials. A Christian in the midst of a trial can trust in this promise, however: "No temptation has overtaken you except such as is common to man; but God is faithful, who will not allow you to be tempted beyond what you are able, but with the temptation will also make the way of escape, that you may be able to bear it" (1 Corinthians 10:13).
Jesus taught that the Father desires to and does give good gifts when His children ask (Luke 11:9-13). But in the same context He shows the importance of persistence in prayer (verses 5-8).
God has a different perspective on time and an overview of all the circumstances that we can't see. What may seem to be a long delay to us may be necessary for reasons we can't yet see. Read more about this in our article "God's Timing Is Perfect."
God is the giver of every good gift, yet it can be easy to forget that in the midst of a trial. When we pray with appreciation, it is pleasing to God.
The apostle Paul wrote about the benefits of praying with gratitude: "Be anxious for nothing, but in everything by prayer and supplication, with thanksgiving, let your requests be made known to God; and the peace of God, which surpasses all understanding, will guard your hearts and minds through Christ Jesus" (Philippians 4:6-7).
For more about how to receive and understand the answers to your prayers, see our Bible study "Five Keys to Answered Prayers."
"God, help me" prayers in the Bible
The Bible has a number of examples of people crying out to God for help.
Hannah, who was provoked severely and made miserable because she could not have children, "was in bitterness of soul, and prayed to the LORD and wept in anguish" (1 Samuel 1:10). God answered her prayer by giving her Samuel. Through God's blessing, she went on to have "three sons and two daughters" (
2:21
).
During Jesus' time on earth, many came directly to Him to ask for help. For example, in the region of Tyre and Sidon, a woman "cried out to Him, saying, 'Have mercy on me, O Lord, Son of David! My daughter is severely demon possessed.' … Then she came and worshiped Him, saying, 'Lord, help me!'" (Matthew 15:22, 25).
Her passionate, humble and faith-filled petitions led Jesus to reply, "'O woman, great is your faith! Let it be to you as you desire.' And her daughter was healed from that very hour" (verse 28).
Jesus' own disciple Peter, when he saw Jesus walking on water, said, "Lord, if it is You, command me to come to You on the water.'
"So He said, 'Come.' And when Peter had come down out of the boat, he walked on the water to come to Jesus. But when he saw that the wind was boisterous, he was afraid; and beginning to sink he cried out, saying, 'Lord, save me!'
"And immediately Jesus stretched out His hand and caught him, and said to him, 'O you of little faith, why did you doubt?'" (Matthew 14:28-31).
"God, help me" prayers in the Psalms
The book of Psalms contains many prayers and poetic songs that express deep emotions. The writers opened their hearts to God. The fact that God had these passionate and pleading prayers recorded for us shows that we can approach Him the same way when we urgently need His help.
Here are some of the "God, help me!" prayers in the Psalms:
"But You, O LORD, do not be far from Me; O My Strength, hasten to help Me!" (Psalm 22:19).
"Make haste to help me, O Lord, my salvation!" (Psalm 38:22).
"Be pleased, O LORD, to deliver me; O LORD, make haste to help me!" (Psalm 40:13).
"Save me, O God! For the waters have come up to my neck" (Psalm 69:1).
"Make haste, O God, to deliver me! Make haste to help me, O LORD! Let them be ashamed and confounded who seek my life; let them be turned back and confused who desire my hurt" (Psalm 70:1-2).
"O God, do not be far from me; O my God, make haste to help me!" (Psalm 71:12).
"Help me, O LORD my God! Oh, save me according to Your mercy" (Psalm 109:26).
"All Your commandments are faithful; they persecute me wrongfully; help me! … Revive me according to Your lovingkindness, so that I may keep the testimony of Your mouth" (Psalm 119:86, 88).
It's striking how many times the psalmist urges God to make haste. God certainly wants us to learn patience and to trust His timing, yet He understands our urgency.
Jesus Christ experienced the traumas, trials and temptations of human life, and He can "sympathize with our weaknesses" (Hebrews 4:15). He's been there and done that, and He intercedes for us.
We can cry out, "God, help me!" and trust that our loving God will not only hear us, but help us according to His perfect wisdom and plan. Learn more about how to reach out to Him in our study guide How to Pray.