Do you always know what to pray for? Our spiritual needs may not be self-evident, but we must not neglect them. Psalm 119 coaches us on what to pray for!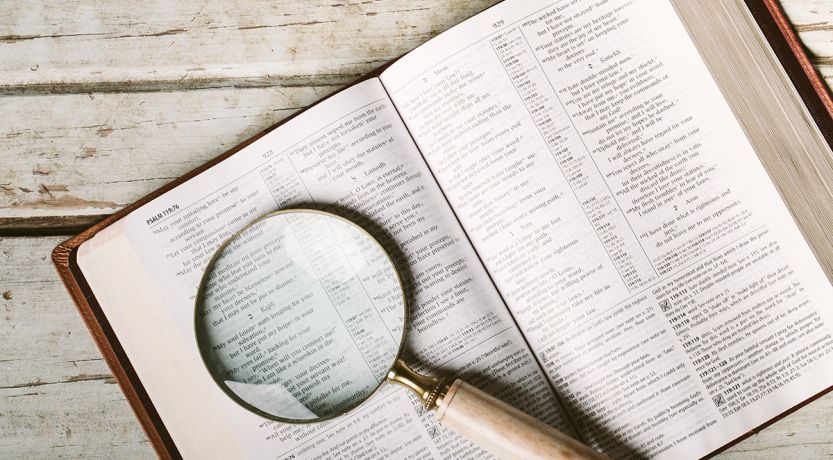 Jesus said that prayer—praising God, talking with Him, petitioning Him—should be an everyday habit for His followers (Matthew 6:5-15).
Prayer outlines
In His model prayer, Christ provided an outline of things to pray about daily. There are several major categories. The purpose of this article is not to address the entire model, but rather just one aspect: our spiritual needs.
In the sample prayer, both our physical and spiritual needs are summarized briefly (Matthew 6:10-13). But there is much more to praying for spiritual needs than these few words convey.
The Psalms are a marvelous collection of prayers that were likely set to music to be sung as part of worshipping God in the tabernacle and later in the temple.
But the Psalms aren't just shadows of a past liturgy. Among other things, as part of the Old Testament scriptures, they are "profitable for doctrine" and "instruction in righteousness" (2 Timothy 3:16). That is, they shine a light on the Christian path, the way of spiritual salvation.
What to pray for
Let's look in detail at one segment of one psalm—verses 33-40 of Psalm 119. In these few verses, the psalmist lists seven spiritual needs.
This section begins:
1. "Teach me, O LORD, the way of Your statutes, and I shall keep it to the end" (Psalm 119:33).
This first petition indicates three things. There is "a way" of God's statutes. What is that? The Hebrew word for "statutes" can mean a particular body of laws God gave Israel through Moses. In this psalm, though, it "appears twenty-two times as a general synonym for Law" (Geoffrey W. Bromiley, ed., International Standard Bible Encyclopedia, 1979, "Statute").
Individually, each of God's laws regulates an aspect of life. But, as this verse implies, taken together, they reveal a way of life.
Second, the appeal for the Lord to teach the psalmist shows that there is more to God's way of life than meets the eye. We need His spiritual direction beyond what we can garner by our own reading or thinking.
Third, the promise to "keep it to the end" illustrates the fact that our commitment to this way of life must be continuing. This stands in contrast to the contemporary concept of just making a single emotional commitment. We are to "give our heart to the Lord," not once, but daily, throughout our life.
Jesus' exchange with a wealthy, young community leader echoes this spiritual truth (Matthew 19:16-22). The young adult was a good person, having long before devoted himself to a morally upstanding life. Yet he wasn't living the deeper spiritual intent threaded throughout God's laws. Like this man, we need to have it shown to us. It is a spiritual need for which we should pray.
2. "Give me understanding, and I shall keep Your law; indeed, I shall observe it with my whole heart" (Psalm 119:34).
Three more things are expressed in this second petition.
The law of God is not a spiritual toxin, as today's Christianity often portrays it. It is a treasure to the believer. A believer is to keep it, not run from it.
Moreover, the psalmist is cheerful about obeying. Some might wrongly label him a "legalist." Actually, a legalist is a self-centered person who attempts to make himself "right" by strictly adhering to religious rules. Regulations imprison him.
By contrast, the person depicted here realizes he cannot make himself right. He sees God's laws as freeing him from wrong. He doesn't trust his internal compass, but instead looks to God for guidance. He believes, as the apostle John wrote later, that "this is the love of God, that we keep His commandments. And His commandments are not burdensome" (1 John 5:3).
The word understanding incorporates perception, cunning, discernment—the ability to separate thoughts. The apostle Paul wrote of this as "rightly dividing the word of truth" (2 Timothy 2:15).
God must grant us understanding of the intent or the spirit of His law. It is a spiritual need.The plea of "give me understanding" shows that this capacity goes beyond human ability. Intellectually knowing God's Word doesn't mean that we have the skill to apply it in every life situation. God must grant us understanding of the intent or the spirit of His law (see "The Power of Discernment"). It is a spiritual need.
3. "Make me walk in the path of Your commandments, for I delight in it" (Psalm 119:35).
Again, we find three things in this petition. The "path" means a well-trodden way (Theological Wordbook of the Old Testament), a beaten track (Strong's). The word can be applied to any navigable path, but in this case, it's one that God's commandments have made.
Note again the attitude of joy and pleasure that the psalmist expresses about being on this path. Clearly, he has confidence in it.
Several times, I have been frustrated by a map app that took me on a trip with sure, crisp directions—to the wrong location! Likely, many of you have too. Not so with this guide to life. We can travel it (use it to plot our way through life) with confidence. It will take us where we need to go. Remember Jesus' words about the narrow way that leads to life.
How would God "make" us walk on this path? That word, as well as the word commandments might imply coercion to some readers, but God neither forces nor compels us against our will. His purpose for us is that we might choose to become His sons and daughters (see our booklet God's Purpose for You). To that end, He has determined to give everyone free will. "Make" here refers to God enabling or making it possible for us to walk on His path.
The prophet Habakkuk used the same word in speaking of God enabling him to go forward in a time of great trial: "The Sovereign LORD is my strength; he makes my feet like the feet of a deer, he enables me to tread on the heights" (Habakkuk 3:19, New International Version, emphasis added).
Jesus amplified this by explaining that the Holy Spirit in us would remind us of His teachings (John 14:26), so that we would then choose to act upon them. See also "Thy Will Be Done" and "Reading the Mind of God." We need to pray for this spiritual help.
4. "Incline my heart to Your testimonies, and not to covetousness" (Psalm 119:36).
We can also break this petition into three parts.
First, catch the recurring theme of God's law; whether spoken of as statutes, law, commandments or testimonies, it conveys the same idea. It's anything and everything that God said about how man should live. "Your word I have hidden in my heart, that I might not sin against You," wrote the same psalmist (verse 11). Reading God's Word, thinking deeply about how it applies to life, tucks it away so that it becomes a ready guide.
Next, notice the affirmation of what is commonly called "human nature." That is, there is a predisposition of the human heart, the seat of motivation, which gives birth to thought, which births action.
This verse reminds us that our default proclivity is toward "covetousness," an archaic word that means a motivation to "selfish gain" (NIV), "dishonest gain and envy" (Amplified Bible) or, as The Message colorfully puts it, "piling up loot"! A synonym is the word lust. Although commonly associated with immorality, in its broadest sense, this word means wrong desire.
The third part is the plea for God to "incline my heart." We know that God does not take over our thoughts and allow us just to coast along through life! This is a request for God to influence us toward His Word and away from natural inclinations. This essentially describes the conversion process, by which we are able to escape "the corruption that is in the world through lust" (2 Peter 1:4).
God reminds us what we should choose to do. Then it is up to us to make the right choice and to act upon it. See our articles "Desire" and "Wrong Choice."
This is a spiritual need!
5. "Turn away my eyes from looking at worthless things, and revive me in Your way" (Psalm 119:37).
Thanks to the Internet, it's never been easier to waste your life away looking at "interesting" things.If ever there was a prayer for this day and age, this is it! Thanks to the Internet, it's never been easier to waste your life away looking at "interesting" things. There are thousands of pictures and videos that don't contribute to your life in any significant way (but can, in fact, harm you). Looking at them just soaks up your time. But let's be honest. Wasting time did not begin with the advent of social media! It was once called "daydreaming."
This verse reminds us that the things society lures us to focus our eyes on are spiritually unproductive. Our minds occasionally need to be jolted back to reality with the challenge:
"Hey, what are you looking at?"
"Isn't that a waste of time?"
"Don't you have something better to do?"
We have already rehearsed the fact that God does not take over our thinking or our choices. Nor does He speak to us in an audible voice. But He does speak to us through His Word, the Holy Bible. He also speaks through fellow believers, as well as through His ordained ministers. If we are reading the Bible regularly, if we are spending time with other Christians, if we are listening to or reading the messages of true ministers, we will "hear" the timely reminders that turn our eyes away from worthlessness.
These articles will help: "Weapons of Mass Distraction," "The Busyness Trap" and "Do You Need a Rest?"
The verse also reminds us that our appetite for spiritually profitable things will diminish. It needs to be revived, recharged. We need a renewal of an appetite for that "way of life" mentioned throughout these verses. It is an appetite for doing good things, for service, for worship, for fellowship, for seeking the Kingdom of God.
Without doubt, this is a spiritual need to pray about!
6. "Establish Your word to Your servant, who is devoted to fearing You" (Psalm 119:38).
Some years ago, a political campaign accused the opposing camp of using "fuzzy math" that led to false claims. "Fuzzy doctrine"—unclear thinking about the Bible's teachings—is infinitely more serious! It can keep you out of the Kingdom of God.
Sadly, many today are content with only a fuzzy knowledge of Scripture. If they have a question, they turn to what others say about the Bible, never digging into it for themselves.
This petition shows us that we need God's Word to stand up, to rise prominently in our thinking. It needs to be as clear as a monument on a hilltop. That's the implication of "establish."
This won't happen merely by hearing someone else talk about the Bible, or even just by our reading it. We have to think about the Bible. Make it a part of us. The ancient kings of Israel were to accomplish this by literally writing out Scripture (Deuteronomy 17:18-20). Even in this day of helpful Bible apps, this is still an effective tool.
Think for a moment about the words "Your servant" in Psalm 119:38. The writer viewed himself as God's servant. Each of us must as well. Our relationship with God is too important to be left in anyone else's hands! More to the point, we do not truly have a relationship with God if we leave it in someone else's hands.
What are we to learn from the fact that the psalmist is "devoted to fearing" God? Isn't fear spiritually unhealthy? Yes, there is a type of fear that causes torment and is cast out by God's love (1 John 4:18). It isn't God's way to scare people into submission. Yet in Psalm 119:38 and many other passages we find unflinchingly positive declarations about fearing God.
It is actually healthy to "fear" God in the sense of holding Him in awe or high regard—having a deep respect for Him, His nature and His way of life. In fact, people who don't have this right kind of fear are inclined to resent God's authority to tell humanity how to live. That's a big reason our present world is in the mess that it is. See "What Does the Fear of the Lord Mean?" and "Godly Fear."
This is definitely a spiritual need to think and pray about.
7. "Turn away my reproach which I dread, for Your judgments are good" (Psalm 119:39).
"Your judgments are good" is another way of expressing what we have read throughout these verses. It declares the indisputable value inherent in God's way of life.
This petition also admits a truth common to all men, that none of us relishes being called out for being wrong. But this discomfort goes beyond mere embarrassment. Being reproached for sin reminds us that the penalty for it is death. Being removed from existence. Forever. (No, it isn't existing forever in torment. For the truth about the afterlife, download our free booklet The Last Enemy: What Really Happens After Death?)
We should dread this reproach!
The plea to "turn away" the reproach is an appeal to God to pass over or forgive our sin. This speaks of the only way man can escape the death penalty that everyone has earned. If you're thinking that this is through Jesus' sacrifice for our sins, you are beginning down the right track—but there is more. Did you know that God does not apply Christ's sacrifice unless or until we repent?
That is, we have to learn what sin is. (No, it isn't always self-evident by any means!) Then we have to recognize where we personally have sinned and are continuing to sin. With God's help, we must begin to turn away from it and toward living the "way of life" mentioned in the verses we've been reading from Psalm 119. This is the process that the Bible calls repentance, which includes God's forgiveness through Jesus Christ's sacrifice.
As King David prayed, "Against You, You only, have I sinned, and done this evil in Your sight—that You may be found just when You speak, and blameless when You judge" (Psalm 51:4).
It is so much more than the common teaching about how to be saved. The clipped version won't get you where you need to go! Be sure to read "Beware of Shortcuts!" and then read the additional articles in "Christian Conversion: How Does the Bible Say We Become Christians?"
We must pray about this spiritual need daily!
Take your spiritual needs to God
These eight verses of Psalm 119 conclude with one more threefold message: "Behold, I long for Your precepts; revive me in Your righteousness" (Psalm 119:40).
First, we see that the psalmist has a craving for the spiritual help that only God can give. We need that too.
Next, "Your precepts" and "Your righteousness" are further ways of reminding us again that God's teachings are more than just rules. They are a way—the only way—to live.
Lastly, the psalmist again prays that he would be renewed in that way through the power of God's Spirit.
The Bible speaks in many places about our spiritual needs. These verses might help you put some of these needs into words that you can take before God's throne in prayer.