God wants us to pray for others. But is it the number of people praying for someone that determines whether God will answer the prayer?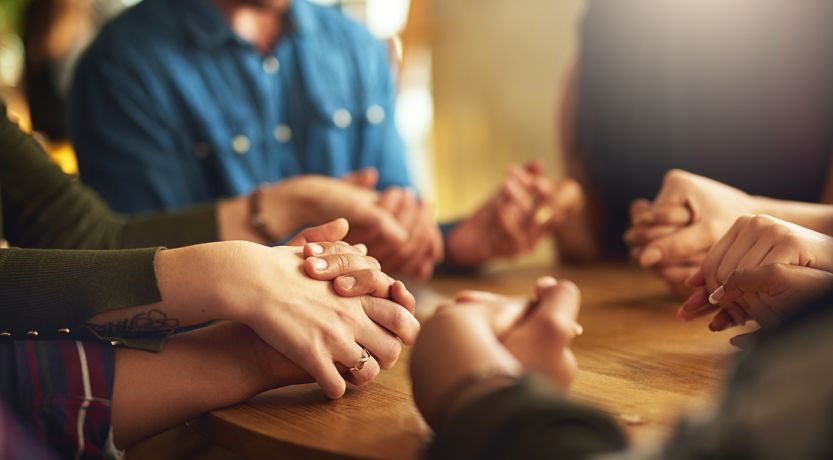 It is common, on various social media sites, to see notices of physical ailments or other hardships with accompanying requests for prayers. The appeal may come from the person enduring the difficulty or be posted by a close friend or family member.
Many will show concern with a comment pledging to spread the word so that additional individuals will join the prayer campaign asking for God's intervention.
It is truly admirable that people care and that they pray. God is well pleased to hear the heartfelt prayers of compassion and concern for those who are hurting and in need. God is love (1 John 4:8, 16), and He rejoices to see such a heart in His people.
The prayers, cards and expressions of concern by others can be truly encouraging to those who are suffering.
But what role does the number of people praying have in determining if God will intervene for the one afflicted? Does a larger number of people praying increase the likelihood God will act?
It is important that we first go to the Bible to see what we find in God's Word.
Jesus' instruction about prayer
The fundamental instruction in the Bible concerning prayer is that we go to God our Father in private. "But you, when you pray, go into your room, and when you have shut your door, pray to your Father who is in the secret place; and your Father who sees in secret will reward you openly" (Matthew 6:6).
Jesus doesn't mention any requirement for soliciting others to join us in prayer in order for God to hear us. From this passage, we see that the essentials of answered prayer have to do with faith and what is in our heart, not a multitude of words (verse 7) or the number of people praying.
Does this mean it is wrong to go to God on another's behalf when he or she is unwell or facing a trial? Is it wrong to ask that others join you in prayer? Not at all! As a matter of fact, we should be praying for those we know who are afflicted. Paul wrote in 1 Corinthians 12:26, "And if one member suffers, all the members suffer with it."
Seeing others in discomfort should touch our hearts and prompt us to go to God about it out of brotherly love.
The Bible is clear that we are to pray out of concern for others (Colossians 1:9). Yet there are a few important distinctions we should understand about the kind of prayers we should offer to God.
Intercessory prayer
In 1 Timothy 2:1 the apostle Paul says that we should offer intercessory prayers. "Therefore I exhort first of all that supplications, prayers, intercessions, and giving of thanks be made for all men" (emphasis added throughout). So, we are to intercede at times by going to God on behalf of others. (See more in our article "Intercessory Prayer: How to Pray for Others.")
Paul also requested prayers so that he would be more effective in preaching the gospel. He asked the members to be "praying also for us, that God would open to us a door for the word, to speak the mystery of Christ" (Colossians 4:3).
Paul knew it was important for members to express to God their desire to see the truth go forward. This applied to the work of the Church and to him personally (Philippians 1:19; 2 Corinthians 1:11). The Church is one body (1 Corinthians 12:27) and is most effective when it does God's work as one unified fellowship.
An example of prayer that resulted in a dramatic response from God is found in Acts chapter 4. After Peter and John were threatened by the Jewish authorities and told that they must be silent concerning Jesus of Nazareth, the Church was moved to join in prayer for God's special blessing (Acts 4:24-30).
"And when they had prayed, the place where they were assembled together was shaken; and they were all filled with the Holy Spirit, and they spoke the Word of God with boldness" (verse 31).
So, clearly, Christian prayer to God can be very powerful.
Praying for others in times of trial
We go to God and offer intercessory prayer for two reasons.
The first is to share with God how this person's suffering has affected us and how much we desire to see him or her find comfort. This shows God that we have Christian love and that we exercise Christian compassion and outgoing concern.
We must not just feel certain things as Christians, we should also demonstrate what is in our heart through action (James 2:18). So, kneeling in prayer to express our love for another person is beneficial both to them and to us. Fervent prayers are the most effective (James 5:16).
The second reason for intercessory prayer is to ask God to sustain the faith of those going through trials.
Jesus gave a good example of this in Luke 22:31-32: "And the Lord said, 'Simon, Simon! Indeed, Satan has asked for you, that he may sift you as wheat. But I have prayed for you, that your faith should not fail; and when you have returned to Me, strengthen your brethren.'"
Jesus did not pray that Satan would be removed. He prayed that Peter's faith would not fail. That Peter would have faith was the key, and Jesus prayed that God would supply the strength Peter needed to stand strong against the devil.
We go to God in prayer and ask that He bolster and sustain the person who is in the midst of a trial. Maintaining faith is the key (James 1:6).
So, we do our part in spiritually holding up the hands of the one patiently waiting for God to intervene, much as Aaron and Hur held up the physical hands of Moses (Exodus 17:12).
Not a matter of numbers
We should not think that the chances of God's responding will rise proportionally with the number of people praying about a matter. That is not found in the Bible and can lead us to misconceptions about God. There are many people who are anointed for an illness or who face other personal trials, for example, who choose to keep their circumstances private. Such a decision in no way diminishes their prospects of being heard.
God's promises are not based on numbers.
A lesson can be learned from the account of Elijah and the prophets of Baal in 1 Kings 18:22-38. Elijah challenged these false prophets to call upon their god and said he, in turn, would call on the God of Israel (verse 24).
The contrast here is very instructive. The prophets of Baal felt it necessary to prompt or arouse their indifferent god into action. To do so, they cajoled Baal with long prayers and foolishly leaped or danced upon the altar they built, hoping to impress their deity. They even cut themselves so that Baal, seeing all 450 of them willing to inflict pain on themselves, might be moved to intervene.
In contrast, Elijah offered a brief prayer of faith, and God immediately responded (verses 37-38). Elijah did not jump, dance or cut himself to try to coax God into action. He simply offered a short, faith-filled prayer that was focused on God's will and glory.
The biblical instruction for healing
When it comes to seeking healing, the Bible does give specific instructions about what a Christian should do. This is found in James 5:14-15: "Is anyone among you sick? Let him call for the elders of the church, and let them pray over him, anointing him with oil in the name of the Lord. And the prayer of faith will save the sick, and the Lord will raise him up. And if he has committed sins, he will be forgiven."
That is the biblical instruction on how we should seek God's intervention when we're sick. The individual, following God's instruction to be anointed, goes to God in faith and asks for healing. God calls on us to do our part, and He says He will do His. It is then a matter of faithfully waiting for God's intervention in His time.
Reconciliation with a brother
The role of James 5:16 is sometimes misunderstood when incorrectly linked to the instruction of verses 14 and 15. Verse 16 says, "Confess your trespasses to one another, and pray for one another, that you may be healed."
God's promises are not based on numbers.This verse is not an instruction to increase the number of people praying for our physical affliction. It is not step 2 in the healing instruction. The Greek word translated "trespasses" in verse 16 is paraptoma. In every case in the New Testament, this word means offenses or trespasses. It is not used to describe physical ailments.
James is instructing us to acknowledge any offenses we have caused others and pray for them so that our own heart is purer when we seek God's healing. It is a principle that is similar to Jesus' instruction in Matthew 5:24: "Leave your gift there before the altar, and go your way. First be reconciled to your brother, and then come and offer your gift."
Jesus is telling us as Christians that we need to be right with our fellow man before we come to Him with our requests. Job was required to pray for his friends before God restored him (Job 42:10). Perhaps this was to ensure that Job did not harbor ill feelings for his three friends who had failed to comfort him in his trial.
John Gill's Exposition of the Bible seems to capture the sense of what James means by "Confess your faults one to another":
"Which must be understood of sins committed against one another; which should be acknowledged, and repentance for them declared, in order to [have] mutual forgiveness and reconciliation; and this is necessary at all times, and especially on beds of affliction, and when death and eternity seem near approaching" (commentary on James 5:16).
A quiet faith
Our loving Father is eager to hear our prayers and respond. "It shall come to pass that before they call, I will answer; and while they are still speaking, I will hear" (Isaiah 65:24). It is the quiet, earnest prayer given in faith that is most pleasing to Him.
A call to mobilize an army of well-intentioned "prayer warriors" to lobby God toward action is not the key to God's heart. Our faith is to be first and foremost in the goodness of God and His promises; then we can ask for the loving support of others who can also go to God, asking for the intervention and strength we need.
Multiplying the number of people praying about a matter just to increase the numbers is not what moves God to intervene. God wants us to place our faith in Him (1 Peter 5:10). At times it is appropriate to ask for others' prayers on our behalf. If these prayers are earnest and sincere, they are a sweet savor that is pleasing to God and can result in His dynamic intervention and help in time of need.