"So when the woman saw that the tree was good for food, that it was pleasant to the eyes, and a tree desirable … she took of its fruit and ate" (Genesis 3:6).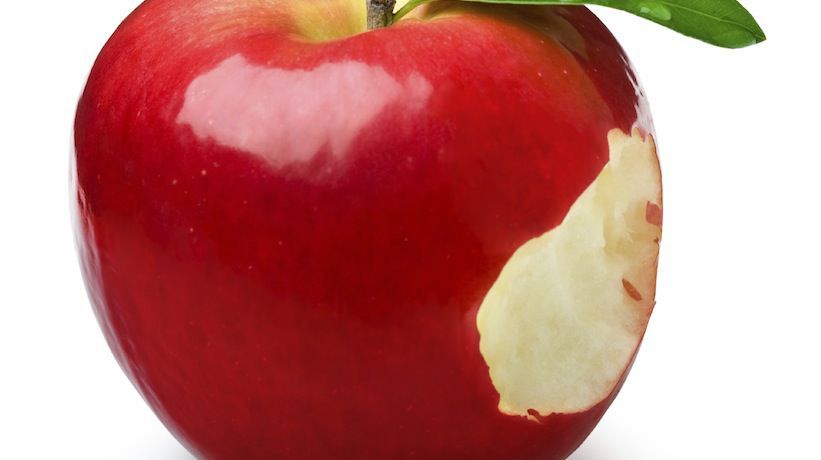 The account in Genesis of mankind's first recorded sin is a familiar one. After Eve saw that the forbidden fruit of the tree of the knowledge of good and evil was pleasant to the eyes and desirable to make one wise, she ate. Verse 6 goes on to tell us that Adam followed in Eve's footsteps: "She also gave to her husband with her, and he ate."
While the story of that original sin is familiar to many, the consequences of giving in to wrong desire are perhaps not so familiar. Adam and Eve were driven from their garden paradise and subsequently found it much more difficult to grow and harvest food.
Eve was also told there would be pain and sorrow in having children. Their firstborn son (Cain) grew up to become the world's first murderer, taking the life of his brother. Who would have believed that so much pain and sorrow could result from giving in to one simple desire?
Cycle of sin
The Bible tells us of a series of steps and decisions that can result in death. "But each one is tempted when he is drawn away by his own desires and enticed. Then, when desire has conceived, it gives birth to sin; and sin, when it is full-grown, brings forth death" (James 1:14-15).
There exists, though, the opportunity to turn away from wrong desire before it leads us down the path followed by Adam and Eve.
First, how can we tell the difference between wrong desires and right desires? We must compare our desires with the law of God. If our desires promote love for God and our fellow man and obedience to God's commandments, they are okay. But if they are contrary to God's commandments and do not show love for God and are not in the best interests of others, they are wrong desires.
Wrong desire is clearly a crucial step in the chain reaction of events that can lead to death. It bears a closer inspection into what the Bible has to say about the nature of those wrong desires we can encounter.
"For all that is in the world—the lust of the flesh, the lust of the eyes, and the pride of life—is not of the Father but is of the world" (1 John 2:16). Three types of wrong desire are enumerated here: desire (lust) of the flesh, desire of the eyes and the pride of life.
Desire of the flesh
Desire of the flesh—the wrong desire for the wealth, comforts or pleasures this world can offer—is the first of the wrong desires listed in 1 John. This can include sexual lusts, gluttony, drunkenness, drugs and other physical addictions.
There is an account in the Bible of a man who gave in to such wrong desires, with disastrous results.
This account concerns a man named Gehazi, who had been a faithful servant to the prophet Elisha for several years. As the story develops in 2 Kings 5, a commander in the Syrian army named Naaman offered a great deal of money and other gifts to the king of Israel in hopes of being cured of his leprosy (2 Kings 5:1-5).
The king was unable to help, but Elisha heard of the situation and sent instructions to Naaman about how to be healed of his leprosy (2 Kings 5:6-10). When Naaman finally followed the instructions, he was healed! Naaman then offered his gifts to Elisha, but Elisha refused them (verses 15-19).
At this point, Gehazi's "desire of the flesh" took over, and he decided to profit from the generosity offered by Naaman. "But Gehazi, the servant of Elisha the man of God, said, 'Look, my master has spared Naaman this Syrian, while not receiving from his hands what he brought; but as the LORD lives, I will run after him and take something from him'" (2 Kings 5:20).
Gehazi did as he said, running after Naaman with a fabricated story about a request from Elisha for money and clothing. These were needed, according to Gehazi, for two new students. Naaman then gave Gehazi silver and changes of clothing, which Gehazi kept for himself (2 Kings 5:21-24).
What was the result for Gehazi of giving in to wrong desires by lying and stealing? Elisha told him, '"Therefore the leprosy of Naaman shall cling to you and your descendants forever.' And he went out from his presence leprous, as white as snow" (verse 27). Leprosy was an especially dreaded disease, causing disfigurement and social isolation.
Ironically, Gehazi suffered a type of destruction to his own flesh when he gave in to the "desire of the flesh." Gehazi couldn't have known what the outcome of his desires would be, or he surely would not have taken the silver and the clothing. Then again, we often do not know what the consequences will be for us (until it is too late) when we give in to wrong desires.
Desire of the eyes
The second desire listed in 1 John concerns visual temptation leading to wrong desire, or "lust of the eyes." This can include coveting cars, houses and other physical things, as well as sexual lust.
In another famous biblical example, King David of Israel gave in to desire of the eyes in the incident with Bathsheba.
"Then it happened one evening that David arose from his bed and walked on the roof of the king's house. And from the roof he saw a woman bathing, and the woman was very beautiful to behold" (2 Samuel 11:2).
As the story continues in 2 Samuel 11, David sent for Bathsheba, committed adultery with her and fathered a child. In order to cover his sins, he sent Bathsheba's husband, Uriah, into battle with instructions for the other troops to withdraw when the battle reached its zenith. David's orders were essentially a death sentence for Uriah. David then took Bathsheba as his wife.
What was God's reaction to what David had done? "Thus says the LORD: 'Behold, I will raise up adversity against you from your own house; and I will take your wives before your eyes and give them to your neighbor, and he shall lie with your wives in the sight of this sun'" (2 Samuel 12:11). God then also caused the first child conceived by Bathsheba with David to die.
David went on to repent, and he was a man after God's own heart who ruled Israel well for many years. However, his sin—giving in to the desire of the eyes—caused much needless pain for David and his family before his life was finished.
The pride of life
The "pride of life" phrase mentioned in 1 John 2:16 is defined by the Jamieson, Fausset and Brown Commentary as "vainglorious display." It could include pride, arrogance, vanity, self-importance, self-promotion and self-righteousness. A simpler definition might be the desire to elevate oneself in the eyes of others.
In the early days of the Christian Church, there were many who sold their possessions and brought them to the apostles for the use of the Church. The account in Acts 4:32-37 describes how several people sold land, houses and other possessions and brought the money to the apostles.
Acts 5:1-2 goes on to describe a couple named Ananias and Sapphira, who sold a possession and brought a part of the proceeds to the apostles but claimed they were giving it all. In verse 3, Peter asked why they had lied about the sale. The problem wasn't that Ananias and Sapphira donated only a part of the proceeds, but that they lied to try to make themselves look good.
Notice Acts 5:4: 'While it remained, was it not your own? And after it was sold, was it not in your own control? Why have you conceived this thing in your heart? You have not lied to men but to God."
We all encounter temptations in life that can easily result in wrong desires. It is easy to give in to temptation and desire things that can harm us. How can we avoid these pitfalls?Ananias and Sapphira desired to impress others with their generosity—they wanted the apostles and others to believe that they had donated all of the proceeds to the Church, when in fact they had donated only part. This desire to impress had fatal results. In verses 5-10, Peter separately asked each about the price of the sale. Each died immediately after lying to Peter about the price.
Few experience such an immediate, disastrous result from the desire to impress others, but the story of Ananias and Sapphira underscores the warning in 1 John 2:16 about the "pride of life."
What can we do about desire?
We all encounter temptations in life that can easily result in the wrong desires just described. It is easy to give in to temptation and desire things that can harm us. How can we avoid these pitfalls?
Galatians 5:16-17 gives us the antidote: "I say then: Walk in the Spirit, and you shall not fulfill the lust of the flesh. For the flesh lusts against the Spirit and Spirit against the flesh; and these are contrary to one another, so that you do not do the things that you wish."
The verses that follow talk about the need to walk in the Spirit, rather than walking in the flesh (Galatians 5:18-26). They illustrate the infinitely more desirable results of walking in the Spirit, as opposed to giving in to the desires of the flesh.
Walking in the Spirit begins with repentance, turning from our sins and being baptized to receive God's Holy Spirit. This leads to conversion and faithfully responding to what God teaches us and enduring to the end. It's vitally important to understand and act on these steps, and the articles on this website about repentance and baptism can help you start. The differences in the outcomes are dramatic. The choices are ours to make.
Next in this series, see the article on "Wrong Choice."