The world is full of many dangers: accidents, illness, crime, violence, wars. How do we ask God for protection? Will God protect us from such things?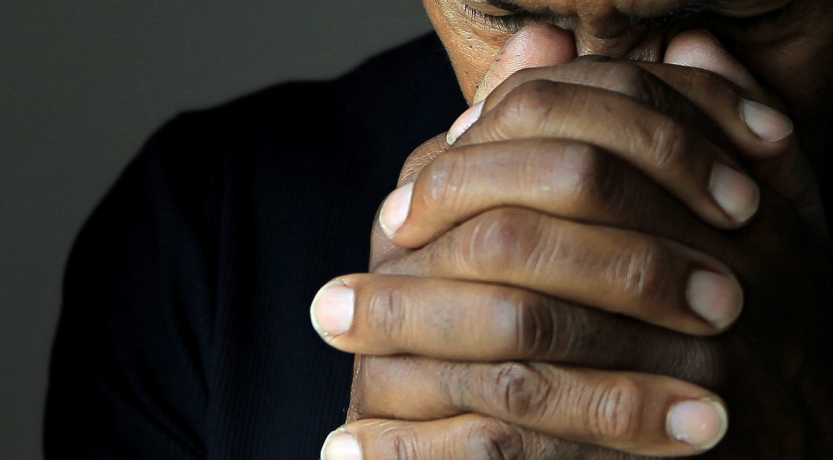 The world today is full of crime and violence. Many people face financial troubles. There are conflicts over politics, race, gender and more. There are numerous hot wars going on, including the war in Ukraine. There are also natural disasters in the news almost daily.
These are things that many people are fearful of. But are these things Christians should fear?
Common fears and anxieties
Have you ever gone on a long trip and asked God to protect you as you traveled? To protect your home and belongings? What about praying for protection when you go to sleep at night? Protection for your home and your family?
Maybe you have a job that is dangerous, and you need protection at work.
Are these things that we can take before the God of the universe, and does He really offer protection?
If God is with us, we don't need to fear
Notice what Joshua and Caleb said as they described the land that God commanded Israel to conquer:
"The land we passed through to spy out is an exceedingly good land. If the LORD delights in us, then He will bring us into this land and give it to us, 'a land which flows with milk and honey.'"
Notice what they said next: "Only do not rebel against the LORD, nor fear the people of the land, for they are our bread; their protection has departed from them, and the LORD is with us. Do not fear them" (Numbers 14:7-9).
We see a couple of things here. First, God is with His people, and when He gives them something to do, He will make it possible. Also, God can remove protection from someone. If He can remove the protection, can He not provide protection as well?
Second, God wants His people to trust Him and have faith in Him. Joshua and Caleb told the people not to rebel against God or to live in fear or doubt. When we do God's will, we can have faith that God will be with us.
For God to answer our prayers, we must be obedient, humble and trusting.
A hedge of protection
Let's look at God's protection from another view. Satan, our enemy and adversary, noted that God had put a hedge of protection around Job.
God said that Job was "a blameless and upright man" (Job 1:8). Job feared God and trusted in Him. Yet Satan questioned Job's motives: "Does Job fear God for nothing? Have You not made a hedge around him, around his household, and around all that he has on every side? You have blessed the work of his hands, and his possessions have increased in the land" (Job 1:9-10).
Satan said that God had made a "hedge" around Job and his household. Strong's Exhaustive Concordance says this Hebrew word means "a fence" or "a hedge" for protection and restraint.
God was protecting Job and his family. He can protect us as well when we ask.
Trusting God even when He allows trials
God wants a relationship with us, and He wants us to communicate, not just expect Him to be there as a "back-pocket God"—pulled out only when we need something from Him.The book of Job goes on to describe a situation where God allowed Satan through that hedge of protection—but God still had Job's eternal best interests at heart. Truly trusting God means that we must pray as Jesus did: "Not My will, but Yours, be done" (Luke 22:42).
God has the power to completely hedge around us. But His great plan to prepare us to be His children requires that we experience and overcome some trials and temptations. We have to learn to trust Him even when He allows us to suffer. (See more in our article "Why Am I Suffering?")
Poetic psalms of protection
Let's look at a couple of the psalms that describe the tender and yet very clear protection of God.
"Show Your marvelous lovingkindness by Your right hand, O You who save those who trust in You from those who rise up against them. Keep me as the apple of Your eye; hide me under the shadow of Your wings, from the wicked who oppress me, from my deadly enemies who surround me" (Psalm 17:7-9).
God can and does protect those who trust Him! He often saves them from calamity. Psalm 17 tells us that He protects us from those who rise against us. Notice the gentleness of God, who is described as protecting us under the shadow of His wings.
Psalm 91:4-7 also says: "He shall cover you with His feathers, and under His wings you shall take refuge; His truth shall be your shield and buckler."
A "buckler" is a small shield. The Hebrew word simply means something that surrounds and defends a person.
"You shall not be afraid of the terror by night, nor of the arrow that flies by day, nor of the pestilence that walks in darkness, nor of the destruction that lays waste at noonday. A thousand may fall at your side, and ten thousand at your right hand; but it shall not come near you."
God's Word is clear—He does offer protection, even from dangers that we may not be aware of or can't see.
So how do we ask God for protection?
We have already seen that God requires certain things of those He protects. Obedience to His commands is a must. As Christ said, "If you love Me, keep My commandments" (John 14:15).
After humbling ourselves and turning to God in obedience, we also need to ask for protection! That may sound simple, but we are reminded, "Ask, and it will be given to you; seek, and you will find; knock, and it will be opened to you. For everyone who asks receives, and he who seeks finds, and to him who knocks it will be opened" (Matthew 7:7-8).
God wants a relationship with us, and He wants us to communicate, not just expect Him to be there as a "back-pocket God"—pulled out only when we need something from Him.
When our faith and trust are secure, we can rejoice as David did in Psalm 5:11-12: "But let all those rejoice who put their trust in You; let them ever shout for joy, because You defend them; let those also who love Your name be joyful in You. For You, O LORD, will bless the righteous; with favor You will surround him as with a shield."
David also wrote in Psalm 34:7, "The angel of the LORD encamps all around those who fear Him, and delivers them."
If we are to fear God, then what is the right kind of fear we should have? Learn what the Bible means by this kind of awe and reverence for God in our articles "What Does the Fear of the Lord Mean?" and "How Can We Cast Out Fear?"
As we can see, God really does offer His protection. It is talked about in Psalms, it is talked about in biblical stories that were written for our benefit, and it is shown in His actions as He cares for His people.
We can't just pray a generic prayer, asking for God's protection, if we don't fear Him, trust in Him and believe that He is listening. We have to be sincere and genuine. We have to be humble, and our prayer must be from the heart (see our article "Prayer From the Heart").
There are many more places in the Bible that describe the protection God gives. The Bible talks of angels that are there to protect little ones. It talks of protection at night while we sleep, protection from enemies and protection from disaster.
The Lord's Prayer, a sample prayer
In His sample prayer Jesus included a section on how we should ask for protection. He doesn't want us to just read or say the exact words that are there, but to ask God for protection in our own words, with our own concerns.
"And do not lead us into temptation, but deliver us from the evil one" (Luke 11:4; see also "Do You Pray the Way Jesus Taught?").
So, we pray for protection from Satan, from the society he influences and from the selfish desires he seeks to tempt us with.
Praying for protection in the end times
We need to ask God for protection in the difficult age that we live in. Paul wrote in Galatians 1:4 that Christ "gave Himself for our sins, that He might deliver us from this present evil age, according to the will of our God and Father."
We are warned of a time yet ahead when there will be great tribulation on the earth. The Bible tells us it will be like no other time in human history. We are also told not to be caught unaware, and we are even told how to pray about it.
"But take heed to yourselves, lest your hearts be weighed down with carousing, drunkenness, and cares of this life, and that Day come on you unexpectedly. For it will come as a snare on all those who dwell on the face of the whole earth. Watch therefore, and pray always that you may be counted worthy to escape all these things that will come to pass, and to stand before the Son of Man" (Luke 21:34-36).
We are told to pray that we can escape. Do we understand what is prophesied to take place in the not-so-distant future, so that we can pray a heartfelt prayer asking for that protection? Learn more about that time and how to watch and pray in our articles "What Is the Great Tribulation?" and "Watch and Pray."
Just as we discussed earlier, the Bible also tells us that we have to be keeping the commandments of God. It warns us, "But ever be on your guard, so that your hearts may not be loaded down with self-indulgence, drunkenness, and worldly worries, and that day, like a trap, catch you unawares" (Luke 21:34, Williams New Testament).
Many times, God's protection is associated with our relationship with Him and how well we obey Him. He wants to be there for us. He desires to protect us. But He also wants us to obey Him and live our lives correctly as He guides and directs us. Walking His way of life actually keeps us from many of the things that people fear in this world.
"My son, keep your father's command, and do not forsake the law of your mother. Bind them continually upon your heart; tie them around your neck. When you roam, they will lead you; when you sleep, they will keep you; and when you awake, they will speak with you.
"For the commandment is a lamp, and the law a light; reproofs of instruction are the way of life" (Proverbs 6:20-23, emphasis added).
How well do you trust and believe?
There are many things that people ask God to protect them from. There are fears and phobias that cause people to live a life of anxiety and apprehension. But God doesn't want us to live with that kind of fear. He wants us to respect and trust Him as our Deliverer. He wants to be there for us and comfort us in our need. He wants to be our protector and our defender.
"For I, the LORD your God, will hold your right hand, saying to you, 'Fear not, I will help you'" (Isaiah 41:13).
Do we believe that? Do we pray for that?
"Trust in the LORD with all your heart, and lean not on your own understanding; in all your ways acknowledge Him, and He shall direct your paths. Do not be wise in your own eyes; fear the LORD and depart from evil. It will be health to your flesh, and strength to your bones" (Proverbs 3:5-8).
Whatever it is that you need protection from, may God answer your prayer for protection, according to His will and eternal plan.
Study further in our article "22 Encouraging Verses About God's Protection" and our study guide How to Pray.