Why are so many people unhappy, even (or especially) in wealthy countries? What's wrong in our lives? What can we do about unhappiness?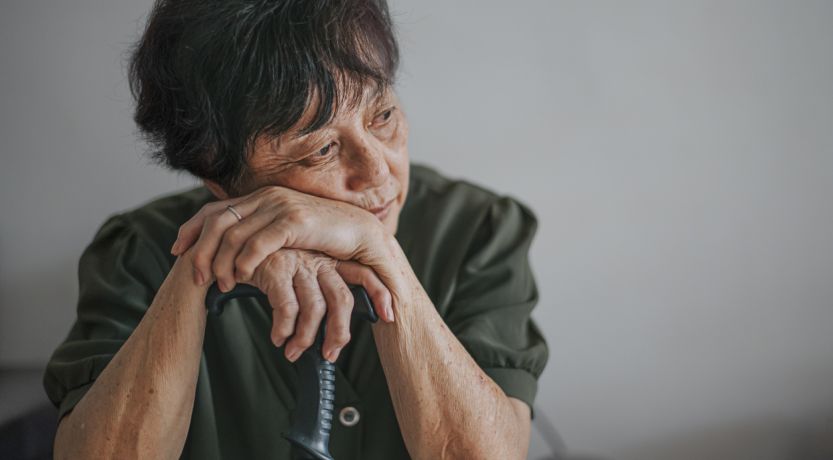 "If only I had more money, I would be happy!"
"If only I had a better job, I would be happy!"
"If only I had [fill in the blank], I would be happy!"
So many people feel something is lacking in their lives and contributing to their unhappiness.
Hopefully, this article, and some of the resources it links to, will be a start to help you find the path to happiness that seems to elude so many.
Things that contribute to unhappiness
First, consider some common situations that we link to unhappiness. Maybe some of these fit what is happening in your life.
You are lonely. You don't have enough friends or family around you.
You are in a job that you do not enjoy.
You are struggling financially and don't have enough money to pay the bills.
You've been hurt by someone you loved or someone you thought loved you.
You are in poor health.
You are addicted to a habit and haven't been able to break free.
Whatever you are facing, what can you do to change the situation so that you can be happy? You may feel you cannot change it, and so you become frustrated. That leads to more unhappiness. Perhaps it even leads to depression.
What can you do?
Some practical tips for beginning to reverse unhappiness
Where can you start? Here are some first steps that can help you escape the downward cycle of unhappiness:
Remember: This too shall pass. As our free booklet Finding Hope in a Hopeless World points out: "These words might seem too simple, but experts through the ages have recognized their power and wisdom. When we are caught in the net of hopelessness, we can see no way out. But there is always a way. 'This too shall pass' gives us a tool to begin to escape the net."
Do something kind for someone else.
Reach out to a lonely person.
Say thank you to someone. It'll make him or her feel appreciated—and can give you a boost too.
Talk to God about your troubles.
Ask God for help.
Look for God's help in the Bible. (See "Finding Answers to the Questions That Matter.")
Talk to family and friends.
Talk to a pastor.
Talk to people at church and be active at church.
Exercise.
Learn.
Volunteer.
These first steps can make a difference. But don't stop there. Continue reading to explore further the causes and cures for unhappiness.
Proactively do your part to change things
A key step to take if you are unhappy and discouraged is to reach out and find a support person—either a relative, friend, counselor or pastor. Find someone you can simply sit down and talk things over with. Your pastor might be of some help here, since that's what pastors are to do—listen and help people.
Tackle the situation in your life that you believe is causing you the most unhappiness and start to deal with it.
If it's poor health, study the issue from reputable sources and seek professional guidance from a doctor. It may start with something basic like losing weight, eating healthier and exercising. These changes can be challenging, but you can find proven strategies for getting started on healthier habits, and it will be worth it! (See our blog post "4 Healthy Habits to Start Right Now.")
What if it's loneliness? You will find that other people are lonely too. Try visiting a nursing home. Try reaching out to someone else who is lonely and lift him or her up. Try to actively reconnect with old friends you may have lost touch with. (See our article "The Loneliness Epidemic" for some helpful tips.)
The point is, be proactive. Take a part-time job. Take college courses. Forgive someone who hurt you. If it would be helpful, seek professional marriage counseling. Don't allow yourself to become consumed with self-pity, since it is self-perpetuating.
Look for happiness. What are happy people doing that is different from what you are doing?
Happiness is not about material possessions
The next thing you need to know about why you are unhappy is that ultimately it is not about money, possessions, careers or even relationships. Those things can contribute to your unhappiness, but they are not the root cause.
People can be poor, single or unemployed, but still be very happy. Those conditions are not the root cause of most unhappiness in the Western world today.
Being unhappy is caused by lacking something in your life, but ultimately it is not caused by lacking some type of a material possession. Being happy is not the result of having a nice home, an expensive car and everything you want.
What is the real missing dimension?
The key to happiness is spiritual
Deep-down happiness—what the Bible calls joy—is not simply physical. There is also a spiritual component.
And that's where many people have a problem. Many people reject religion. But the reality is that God has everything to do with happiness.
Lasting happiness and joy are spiritual elements that emanate from God. God intends for us to enjoy life, and He reveals how we can find happiness. Sadly, most people won't listen to Him. This reality helps us understand why so many are unhappy.
God's instructions for happiness
If you really want to find the happiness that is available from God, look for answers in the Holy Bible.
Those who have found this kind of happiness have done so by following the advice and principles found in that book. But the path to happiness probably isn't what you think.
The Bible says:
"Happy is the man who finds wisdom, and the man who gains understanding" (Proverbs 3:13).
"He who heeds the word wisely will find good, and whoever trusts in the LORD, happy is he" (Proverbs 16:20).
"Where there is no revelation, the people cast off restraint; but happy is he who keeps the law" (Proverbs 29:18).
"Great peace have those who love Your law, and nothing causes them to stumble" (Psalm 119:165).
The Bible tells us that the happiness God offers requires trusting His wisdom and keeping the law of God. But don't many people claim God's law is irrelevant for us today? Exactly. That's part of the reason there are so many unhappy people. Many have rejected God and His law.
God's law is beneficial—for our good (Deuteronomy 10:13). His law shows us how to love Him and love others. This kind of love is the key to lasting happiness.
Spiritual warfare affects our happiness
But we see rejection of God throughout the world today. The result is crime, immorality, violence, rioting, confusion, hatred and war—all kinds of things that contribute to unhappiness. This is the spirit of the devil. Satan is actually called the god of this age (2 Corinthians 4:4). That's why there is so much unhappiness in the world today. While those who have not experienced the calling of God (see John 6:44) may be able to live a life of general contentment, God makes so much more available with His invitation and calling!
Consider the results that come from God's Holy Spirit helping us to think and act like God: "But the fruit of the Spirit is love, joy, peace, longsuffering, kindness, goodness, faithfulness, gentleness, self-control" (Galatians 5:22-23).
In Colossians 3:12-15 the apostle Paul wrote additional descriptions of how a Christian should strive to live:
"Therefore, as the elect of God, holy and beloved, put on tender mercies, kindness, humility, meekness, longsuffering; bearing with one another, and forgiving one another, if anyone has a complaint against another; even as Christ forgave you, so you also must do. But above all these things put on love, which is the bond of perfection. And let the peace of God rule in your hearts, to which also you were called in one body; and be thankful."
Which spirit would you like to have in your mind? God is offering happiness and a peace that passes all comprehension (Philippians 4:7). The Holy Spirit is the key that unlocks the path to true happiness and joy. With that Spirit working in you, you can experience a joy that is missing in many people's lives (verses 11-13).
For now, we live in a troubled world that is filled with unhappiness. But Jesus Christ is going to come back to this earth to set up His peaceful Kingdom where everyone will be taught the way that produces happiness. (Learn more about this in our free booklet The World to Come: What It Will Be Like.)
Understanding God's plan can help you find your purpose in life and the root cause of spiritual happiness. Happiness is built into God's plan for mankind. He is actively working out His plan to eventually offer an eternal life of joy to every single human being who has ever lived or will ever live (1 Timothy 2:4).
Hopefully, you can now answer the question: Why am I unhappy? Could the answer be because you have not yet entered into a relationship with God on His terms? He asks to be worshipped and obeyed, not rejected and ignored. Are you obeying His laws and principles, which are designed to bring happiness to life?
And for those who follow His path of life, our loving God offers true, lasting happiness—"fullness of joy" and "pleasures forevermore" (Psalm 16:11).
I hope you choose happiness.
Study more about this in our articles "How to Be Happy" and "What Do You Need to Be Happy?"