Horrific storms, earthquakes and other disasters claim thousands of lives. Some wonder why God allows such tragedies, while others claim they are proof that there is no God.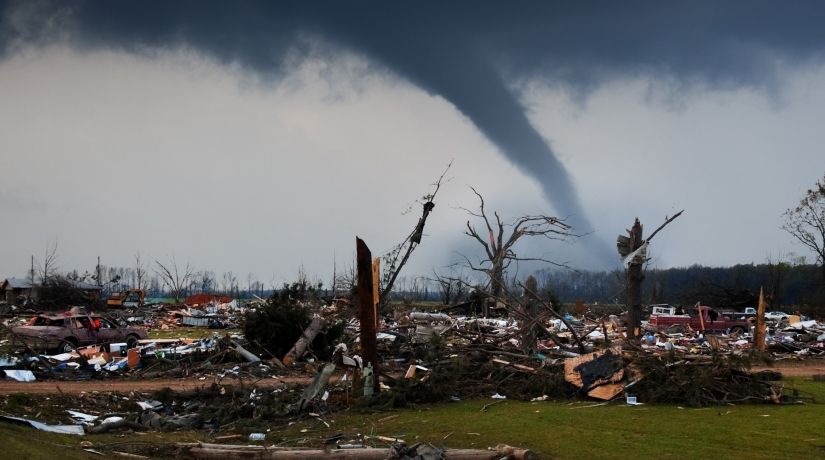 It happens with frightening randomness but sickening regularity. A hurricane, tornado, flood, wildfire, earthquake, tsunami or other natural disaster suddenly strikes an area, killing, maiming, destroying, hurting. Too often there seems to be nothing that can be done to prevent natural disasters—and too little that can be done to heal the survivors and their communities.
I remember the pictures of the devastation that Super Typhoon Haiyan (called Yolanda in the Philippines) caused in 2013. This superstorm was considered to be one the largest storms ever recorded to make landfall. Haiyan was 370 miles across, had sustained winds around 200 miles per hour and produced 20-foot storm surges.
Those on the Philippine Islands had no place to hide from the storm. More than 6,000 people died, and more than 3 million were displaced.
And this horrific disaster just joins the list of recent mega-disasters, such as:
The Indian Ocean earthquake and tsunami in 2004 that killed more than 225,000.
The Haiti earthquake of 2010 that killed more than 160,000.
Cyclone Nargis that killed more than 84,500 in Myanmar in 2008.
The Kashmir earthquake of 2005 that is estimated to have killed 75,000 to 100,000.
The Sichuan earthquake of 2008 that killed about 70,000 in China.
Our hearts hurt for those who have lost loved ones in such natural disasters, and our thoughts and prayers go out to all affected by new disasters that seem to come at an increasing pace.
Where is God?
When disasters like these happen, many wonder how a loving God can just stand by and watch thousands of lives be ripped apart physically, spiritually and emotionally.
That is a fair question, especially to individuals directly affected by such tragedies.
Many never can find the answer. Some just accept the reality of the losses and cling to the belief that everything happens for a reason. But others end up rejecting the existence of a God because, they reason, if this were God's world, He would never allow such suffering.
And, incredibly, that is the answer. There is suffering because this is not God's world!
This is not God's world
The Bible clearly shows that, beginning with our first parents, mankind as a whole has not wanted God to be involved in their lives. The majority of human beings simply want to live how they want to live and to do what they want to do. They don't want God involved in "their world." God has simply obliged.
When God created Adam and Eve, He placed them in the beautiful Garden of Eden—an environment controlled and maintained by God (Genesis 2:8). There would be no natural disasters there. It was a perfect environment in which to live. To enjoy this ideal environment, God simply required that they follow His instructions for how to live. But God also gave them free will. He warned that if they rejected His instructions, suffering and death would result (Genesis 2:17).
Yet, because of Satan the devil's influence, our first parents chose to reject God's instruction and believe Satan's lie. The result was that Adam and Eve were removed from that perfect world (Genesis 3:1-6, 23-24).
They were now on their own, apart from God. Humans in general have continued to push God out of their lives ever since and have remained under Satan's influence (2 Corinthians 4:4). Natural disasters and other tragedies are part of the result of a world that has rejected God.
Many years ago God promised the ancient Israelites protection from natural disasters if they would follow Him (Leviticus 26:3-5). God can and has mercifully intervened to protect His faithful people. God does care. God Himself says, "For I have no pleasure in the death of one who dies. … Therefore turn and live" (Ezekiel 18:32, emphasis added).
Yes, God wants all of mankind to turn to Him and receive His blessings (2 Peter 3:9; Jeremiah 29:11).
What we can learn from tragedies
Jesus Christ used tragedies of His time to teach an important lesson. He said that those who die in tragedies aren't necessarily more evil than other people; they're just victims of time and chance, living in a world apart from God (Luke 13:2-3). People in most natural disasters are simply in the wrong place at the wrong time.
But Jesus Christ goes on to explain that since we, too, are mortal, we will ultimately perish unless we repent of our sinful ways and turn to God (Luke 13:5). This life will end for all—what lies beyond is the pressing question.
It is a lesson we would do well to take to heart. Whether or not we are affected by tragedies, the path to life beyond this temporary existence begins with personal repentance. For a clear explanation of this most important subject, see "What Is Repentance?"
A better world is coming
In the not-too-distant future, humans will bring themselves to the point of completely ending all life on earth (Matthew 24:21-22). It will be at that point that Christ will return to save mankind from itself.
At that time Satan will be removed, and the Kingdom of God will be set up on the earth. For a thousand years it will be God's world—a time of peace and prosperity.
Concerning that time, God says, "I will make them and the places all around My hill a blessing; and I will cause showers to come down in their season; there shall be showers of blessing" (Ezekiel 34:26).
Although we mourn today because of natural disasters, we can look forward to a future when God will rain down blessings.
Yes, we can take refuge in the promises of a better future when "God will wipe away every tear from their eyes; there shall be no more death, nor sorrow, nor crying. There shall be no more pain, for the former things have passed away" (Revelation 21:4).
To learn more about why God allows tragedies to happen, read our article "Why Does God Allow Suffering?"