The loss of a parent is something no one wants, yet it is something most of us will likely face. Thankfully, God's love and inspired words can comfort us.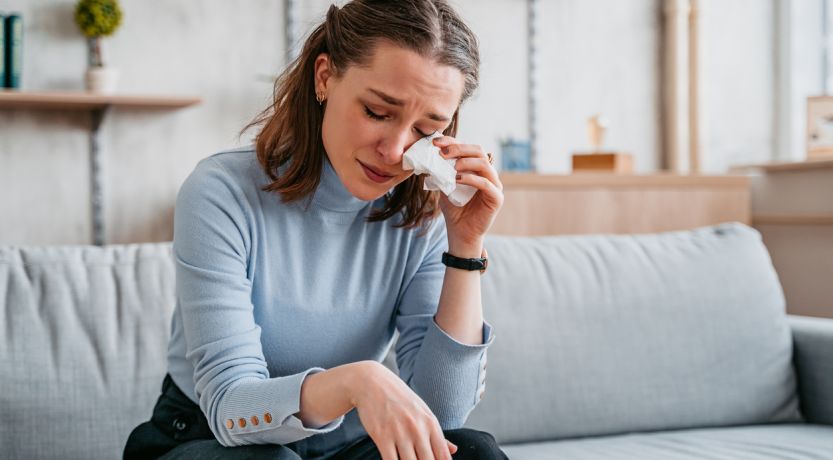 One of life's most challenging moments is losing a parent. And before we know it, our peers start losing their parents. We look at each other, shake our heads and wonder who is next.
So we reason with ourselves and try to soothe each other with the inevitable realization that death is just a part of life. While we know this to be true, the ache that comes with the loss of a parent is genuine and never completely fades away.
As Christians, how can we deal with the loss of a parent? This article addresses various situations:
Dealing with the loss of a parent with a long-term terminal illness.
Dealing with the sudden loss of a parent.
Dealing with the loss of an estranged parent.
Dealing with the loss of both parents.
Dealing with the loss of a parent at a young age.
Dealing with the loss of a parent with a long-term terminal illness
When my dad was diagnosed with stage 4 small-cell lung cancer, my family was confronted with a whirlwind of decisions, options and general chaos that immediately surrounded us. Was chemo the right treatment? Or radiation? This? That? So many decisions!
Eventually, the options faded, and all we had was time. Hospice held our hand as much as they could. In reality, an extended terminal illness is a long, lonely road for the dying and the caregiver.
Many of your friends and family may not understand your emotional pain and physical exhaustion. But some—those who have been through it themselves—will. Remember that you aren't alone.
Below are a few helpful tips for the caregiver:
When the time is right, contact a hospice center for resources to help you navigate the road ahead. They'll hold your hand and guide you through the process.
Tell your friends and extended family precisely what you need. They cannot read your mind, as much as they wish they could, and are often at a loss as to how to help. Again, be specific.
After you tell them what you need, accept their help. It's okay. There is no need to feel guilty.
Your parent will most likely experience discouragement and depression, which can be an additional heavy burden for you to bear. Even though you may feel guilty, it's essential to take time for yourself—even if it's only for a short time.
While caring for a dying parent can be physically and emotionally grueling, peace can come from knowing that you have time to let go and say good-bye—which is a gift.
Hang in there! We have an incredible Comforter who understands every single detail of our loss. King David, in Psalm 34:18, praised God's promise to hear our cries and deliver us: "The LORD is near to those who have a broken heart, and saves such as have a contrite spirit."
When we are brokenhearted and crushed, we feel defeated. Weary. Discouraged. Depressed. We may even say, "I just can't deal with this sadness anymore." David reminds us that "many are the afflictions of the righteous, but the LORD delivers him out of them all" (verse 19).
Our Father in heaven is aware of all the sadness and pain we anguish over, and He promises to comfort us as we take our sorrows to Him. Jesus Christ said, "Blessed are those who mourn, for they shall be comforted" (Matthew 5:4). We must remember His promises and pray for that comfort.
Dealing with the sudden loss of a parent
Whether the loss happened in an instant, a day, a week or a month, you're in shock. Your thoughts swirl in an ongoing loop. If only there had been more time. Did we make the right choices? What if we had done "X" instead? What if? What if? What if?
You may have overwhelming feelings of missing your parent, realizing the gut-wrenching magnitude of life without him or her.
These are very normal feelings. Remember, we have an incredibly loving Father who understands every element of your loss.
In the book of John, there is a powerful story of when Jesus Christ was deeply moved by the sudden and untimely death of his good friend Lazarus. The surprising thing is, it wasn't necessarily the death of Lazarus that deeply moved Him. His friends' sadness, grief and mourning touched Him! Christ "groaned in the spirit and was troubled" (John 11:33). With profound compassion for Mary and the others, "Jesus wept" (verse 35).
Jesus Christ is no different toward us. He understands sadness and suffering better than anyone else.
When you groan at the sudden loss of a parent, remember that Jesus intimately understands your suffering and sense of loss, and He will be moved with compassion to comfort you—the brokenhearted. Lean on Christ and ask Him for His comfort and "the peace of God, which surpasses all understanding" (Philippians 4:7).
Dealing with the loss of an estranged parent
When you receive the news that your estranged parent has died, you may be overwhelmed with an entirely new set of emotions. In essence, it may feel like a second death, since you had already mourned the loss of your parent when the relationship ended. This time, sadly, is different.
You may find yourself overcome with emotions at the oddest times and places. If you lived close to your estranged parent, places around town that you know he or she frequented, such as the post office or a favorite store, feel different! Previously, you may have entered these locations and scanned the crowd, hoping to avoid a confrontation or perhaps wishing to catch a glimpse of him or her.
Now, everything is different, even while it's effectively the same, since there was little to no contact before his or her death. Your thoughts may feel surreal since you've probably gone through so many of these emotions before. You doubt yourself. Was I at fault? Could I have repaired our relationship? Why didn't we fix things before he or she died?
Our loving Father and elder brother Jesus Christ are aware of every detail of our lives, especially during times of extraordinary sadness and overwhelming grief.To make things more difficult, the death of an estranged parent can be challenging for others to understand, unless they have gone through it themselves. However, our loving Father and brother Jesus Christ understand every tiny detail of your loss. Jesus said that those who mourn will be comforted (Matthew 5:4). Lean into the comfort of God!
All too often, people are estranged from a parent, but not by choice. The fact is, no one is perfect, and we live in an imperfect world. During Jesus Christ's brief ministry on earth, many of His disciples "went back and walked with Him no more" (John 6:66). He, too, had close disciples who chose to remove themselves from Him.
Strife, anger, grudges and bitterness are a part of our world. For now, that is. In the future, Jesus Christ will return to bring a better world where we shall "weep no more" (Isaiah 30:19). We must pray for that future time to come quickly.
Dealing with the loss of both parents
Many of us are dealing with, or have dealt with, the loss of parents, stepparents and beloved in-laws. Wonderfully supportive siblings can help soothe the pain of loss, yet there is still the sense of tremendous loss when both parents are gone. The sense of loss can be even more extreme for an only child.
It's challenging, and the ache of loneliness is real. However, we're not alone because God's character is deeply rooted in loving concern for us—His children. He tells us not to be dismayed because He is always with us: "I am your God. I will strengthen you, yes, I will help you, I will uphold you with My righteous right hand" (Isaiah 41:10).
Ask God to strengthen you! Ask Him to help you. Ask Him to uphold you with His right hand of righteousness. The God of all comfort is there for us when we need Him.
A few years after my dad died, my siblings and I lost our estranged mom suddenly. In a strange turn of events, I was able to be there for her before she died. This was a gift, yet there were so many unanswered questions. I chose to be thankful for the little time that God had given us together. There was a calm afterward because I knew that God was there to help me throughout my mom's last days.
In Galatians 5:22-23, the third trait listed in the fruit of God's Spirit is peace—and God gave me the fruit of peace when I needed it most. Trust in Him. Ask for His peace. It will help!
Dealing with the loss of a parent at a young age
So much is missing when you lose a parent at a young age. So much is unknown. Some were so young when their parent died that they wonder what their mother or father was like. So many special occasions were missed, such as birthdays, weddings and grandbabies being born. So many lost moments, like scraped knees, bee stings, recitals and swim meets.
If you have a void in your life due to the loss of a parent at a young age, reach out to family, friends, church members and neighbors. Ask them what your parent was like, what quirks he or she had, or if they have any photos of your dad or mom. Make a book of memories! It's healing to talk about your parent, and to talk about him or her often. Remind yourself—God has a plan.
Death is temporary
At death, our parents are no longer suffering. They are simply asleep, waiting in the grave for Christ to return and for the resurrection at their appointed time (1 Thessalonians 4:13-18). The most incredible comfort is that we will see our loved ones again (John 5:28-29). This is terrific news!
Yet when our parents die, we still mourn and we suffer. It is a trial we all must face. Please remember that God says He is our refuge, strength and help (Psalm 46:1).
You may still be weary. You may still be questioning whether or not you will ever feel normal again. Grieving takes many paths.
But please remember, you aren't alone.
Our loving Father and elder brother Jesus Christ are aware of every detail of our lives, especially during times of extraordinary sadness and overwhelming grief. In passage after passage, God reminds us of His unbounded love for us all.
"Blessed be the God and Father of our Lord Jesus Christ, the Father of mercies and God of all comfort, who comforts us in all our tribulation, that we may be able to comfort those who are in any trouble, with the comfort with which we ourselves are comforted by God" (2 Corinthians 1:3-4).
Hang in there!
For further help in dealing with the loss of a parent, you may also be interested in these related Life, Hope & Truth articles: