A World Without Shootings
Mass shootings continue to leave us wondering why this keeps happening and how we can stop it, but the Bible promises a future where violence is a thing of the past.
Nineteen children and two adults are dead after Tuesday's massacre at an elementary school in Uvalde, Texas.
Twenty-one lives ended. Taken. Twenty-one worlds fading to black in a cacophony of fear, confusion and alarm.
Not fair.
Not right.
And worst of all, not surprising.
I wish I could say I was shocked by the news of another mass shooting. Or the one before that. Or the one before that.
But I'm not.
I'm angry, sure, same as you. My heart aches for the parents, siblings, children and friends who have lost loved ones. My blood boils at the thought of someone who could plan to snuff out so many lives with such cold indifference.
But I'm not shocked. Not anymore. In fact, I've come to expect it. These tragedies have become routine. We're getting used to them.
Uvalde may be the worst mass shooting this year, but it's also the eighth one this year to leave five or more people dead. And if we define mass shootings by its most popular definition—four or more victims wounded by gunfire—then we've already had more mass shootings in 2022 than we've had days in the year.
Part of the routine is this: in the days to come, both politicians and concerned citizens will use the moment as an opportunity to talk about gun control and security measures to make sure something like this never happens again.
Except it will happen again.
It always happens again, because no amount of regulations can ever have a measurable impact on the one thing that really needs to change:
The human heart.
A country without shootings
What if I told you about a country where mass shooting—and, in fact, violence of any kind—is completely nonexistent?
You'd probably think I was lying (or crazy). Even in countries that seem to have a handle on violence, crime still exists. Murders still happen. Innocent people still die at the hands of those who seem to have no conscience.
There is coming a day when mass shootings—and the warped and twisted minds behind them—will be a thing of the past. But it's no lie. That country is real. It exists. But there's one big problem: you can't find it anywhere on this earth.
Yet.
The book of Hebrews talks about men and women who knew God's promises about the future and "were assured of them, embraced them and confessed that they were strangers and pilgrims on the earth. For those who say such things declare plainly that they seek a homeland" (Hebrews 11:13-14).
These faithful followers of God considered themselves citizens of a nation that doesn't yet exist on the earth: "But now they desire a better, that is, a heavenly country. Therefore God is not ashamed to be called their God, for He has prepared a city for them" (Hebrews 11:16).
That country, that city, is special because of what will be inside it—and, just as important, what won't.
God's commandments will change the world
The apostle John was given a vision of that city "coming down out of heaven from God, prepared as a bride adorned for her husband" (Revelation 21:2). And for the people in that city, "God Himself will be with them and be their God. And God will wipe away every tear from their eyes; there shall be no more death, nor sorrow, nor crying. There shall be no more pain, for the former things have passed away" (verses 3-4).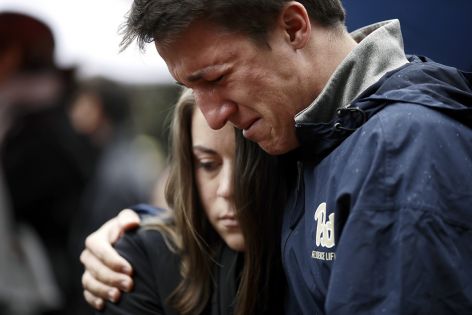 No more death.
No more sorrow.
No more crying.
No more pain.
Can you imagine what our world would be like if that were true today? What life would be like if we never had any reason to cry ever again?
It sounds impossible, but it's real. It's coming.
But not everyone gets to be part of it. There are requirements to being in this city: "Blessed are those who do His commandments, that they may have the right to the tree of life, and may enter through the gates into the city. But outside are dogs and sorcerers and sexually immoral and murderers and idolaters, and whoever loves and practices a lie" (Revelation 22:14-15).
All of humanity will, either now or in the future, have the opportunity to be part of God's Kingdom. But it's not a free pass—a world without death and sorrow and crying and pain doesn't just happen by accident. God's commandments show us the way to a life worth living, and only those who make the commitment to live by those commandments will have a place in His city.
"But the cowardly, unbelieving, abominable, murderers, sexually immoral, sorcerers, idolaters, and all liars shall have their part in the lake which burns with fire and brimstone, which is the second death" (Revelation 21:8). All those intent on living a life that brings pain to themselves and those around them will receive the only mercy God can give them: complete and total nonexistence.
Mass shootings will end
For now, though, we have to live with a world that "lies under the sway of the wicked one" (1 John 5:19). Satan the devil has an incredible amount of influence in our world—and that influence manifests itself in so many of the news stories that no longer shock us the way they should.

But that influence won't last forever.

There is coming a day when mass shootings—and the warped and twisted minds behind them—will be a thing of the past. Tragic news stories about the latest body count will be beyond shocking—they'll be unheard of. God promises to bring a Kingdom to the earth filled with the peace, safety and joy that mankind has failed to cultivate in 6,000 years of human history.

Will you be there? You can be. God wants you to be. Find out more in our free Journey Starter Pack—where you'll spend seven days moving through each of four separate Journeys designed to guide you through Knowing God, The Problem of Evil, The Plan of God and The People of God.

God has a plan, a future and a hope for each of us—including those who died in this latest tragedy.

"He who testifies to these things says, 'Surely I am coming quickly.' Amen. Even so, come, Lord Jesus!" (Revelation 22:20).

Topics Covered: News and Trends, Social Issues, Violence