Jesus Wept
There are many misconceptions about masculinity and about Jesus Christ, but examining the context and implications of one short verse can help clear up many of them.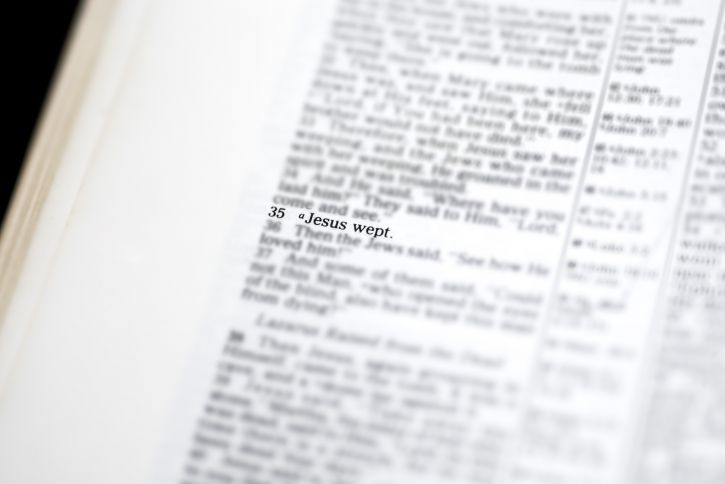 Some think the epitome of masculinity is the strong, silent type—emotionless, decisive, self-assured. Definitely not someone you would find shedding tears. Boys have long been told, real men don't cry.
But the Bible shows a different story. The true embodiment of masculinity displayed a range of emotions—real, strong and under control.
A famous funeral
Jesus was good friends with Lazarus and his sisters, Martha and Mary. When He heard of Lazarus' untimely death, Jesus was not dismayed and distraught as many were. He knew the ultimate outcome and even the immediate future for Lazarus was assured.
But He was not immune to the sorrow the family and friends were experiencing.
"Then, when Mary came where Jesus was, and saw Him, she fell down at His feet, saying to Him, 'Lord, if You had been here, my brother would not have died.' Therefore, when Jesus saw her weeping, and the Jews who came with her weeping, He groaned in the spirit and was troubled" (John 11:32-33).
Jesus was moved by the mourning of Mary. He was touched by others' emotions, and so "Jesus wept" (verse 35).
See more of the background in our article "Women of Faith: Martha and Mary."
Compassionate and caring
The Bible makes it clear that Jesus was compassionate and caring. He recognized human needs and sought to fulfill them.
Twice Matthew describes Jesus as "moved with compassion" for the multitudes (Matthew 9:36; 14:14). He healed them, fed them and prayed for them. See more about this in our article "Dealing With Compassion Fatigue."
But not weak
Some think of Jesus as weak, but this energetic former carpenter and stonemason was far from that.
Jesus knew sorrow, and He promised to return to bring a better world.When He faced His greatest trial, knowing He would soon be arrested, beaten and crucified, He poured His heart into fervent prayer. His mental agony was so intense that "His sweat became like great drops of blood falling down to the ground" (Luke 22:44). He wished humanly that a different way could be found, but He courageously and obediently concluded, "Nevertheless not My will, but Yours, be done" (verse 42).
Instead of focusing on Himself, He thought and prayed about His disciples. He tried to encourage and strengthen them, when He was the One facing the greatest trial. He told them, "You will weep and lament, but the world will rejoice; and you will be sorrowful, but your sorrow will be turned into joy" (John 16:20).
Jesus was not weak or cowardly. He was strong, courageous and self-controlled.
Not the only time He cried
But He did express the range of human emotions. And the tears He shed after Lazarus' death were not the only ones the Bible records.

As He approached the Holy City of Jerusalem, He envisioned the destruction and suffering that would come upon it. He said:

"For days will come upon you when your enemies will build an embankment around you, surround you and close you in on every side, and level you, and your children within you, to the ground; and they will not leave in you one stone upon another, because you did not know the time of your visitation" (Luke 19:43-44).

That's why "as He drew near, He saw the city and wept over it" (verse 41).

Hebrews 5:7-8 summarized the life of suffering and sorrow He lived: "In the days of His flesh, when He had offered up prayers and supplications, with vehement cries and tears to Him who was able to save Him from death, and was heard because of His godly fear, though He was a Son, yet He learned obedience by the things which He suffered."
No more tears
Jesus knew sorrow, and He promised to return to bring a better world. After His second coming, the world will experience peace and prosperity, and the tears will be replaced with songs of joy. "You shall weep no more. He will be very gracious to you at the sound of your cry; when He hears it, He will answer you" (Isaiah 30:19).
Eventually, the time will come when "He will swallow up death forever, and the Lord GOD will wipe away tears from all faces" (Isaiah 25:8).
Jesus wept. But He is looking forward to the day no one will!