Hopelessness grips far too many people. What is the solution? What will break the shackles and open the way to a better life and hope for the hopeless?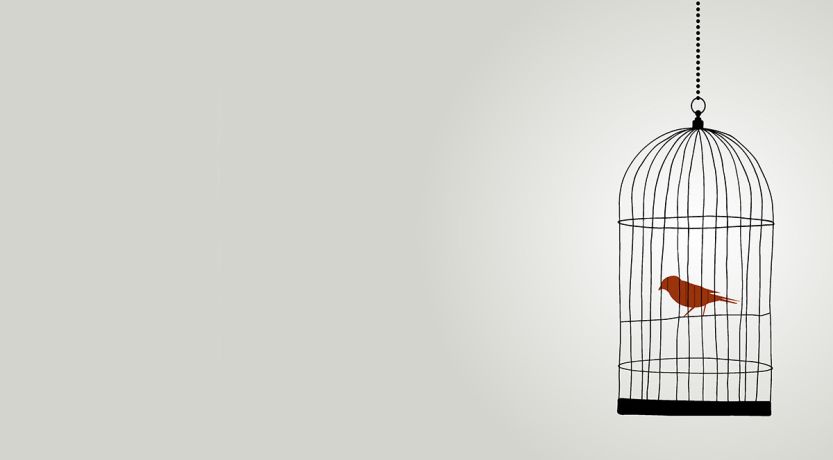 Most of us have felt the anxiety of being lost in a maze, with no idea where to go in our lives. But sometimes this fog of uncertainty can be replaced by a creeping sensation that every path is a dead-end; that the maze is, in fact, a prison—or even a house of horrors.
For too many people, life has gone from bewildering to discouraging to hopeless.
I was touched when I heard Chris Newell's story. He left school at age 14, and he told the BBC he was applying for 10 jobs a week but didn't even get responses. He turned to alcohol and drugs; and at the age of 20, he tried to take his own life.
"I just got into a cycle of staying in bed because I had nothing to wake up for. Then I began noticing my mental health getting worse and worse. I became depressed and anxious. When I went out in public it got to the point where I felt paranoid and edgy around people.
"And I think that's all because I didn't have a routine and structure, because I think that's important in a lot of people's lives, to have something to wake up for in the morning, to have something to live for. I just felt horrible about myself."
Chris felt worthless, like he wasn't getting anywhere. He was at rock bottom for a long time, and during this time he attempted suicide. He felt hopeless—like there was no way out.
Sadly, there are many more people like Chris. They face different circumstances, from joblessness to debt to debilitating illness to loneliness to addiction to powerlessness to depression.
All of these can leave thousands feeling trapped, disheartened—and hopeless.
The results of hopelessness
People who see no hope can feel frustrated, discouraged, heartsick, anxious, stressed and angry. As a person is beaten down further and hope ebbs away, this may turn into giving up, listlessness, lifelessness—just going through the motions, more like an automaton than a human being with free will, self-determination and great potential. These characteristics that reflect our humanity can be buried under the avalanche of hopelessness.
Hopelessness sucks the life and resilience out of us.
Human kindness and human resilience give hope to the hopeless
You will be happy, as I was, that Chris' story had a turn for the better. BBC reported that he found the Prince's Trust, a charity that helped him with job training and confidence building. It helped him find a job that gave structure and a purpose to his life. However, a study quoted in the report noted that perhaps three quarters of a million other young people just in the United Kingdom feel they have nothing to live for.
Charities like the Prince's Trust do an invaluable service in pulling people out of holes and providing opportunities to help them regain that natural human resilience that helps us all survive the storms and relentless challenges of life.
We in no way want to minimize these efforts. They are an important first step in rescuing people from the grip of hopelessness.
But we all know that, ultimately, just having a job and the basic comforts of life is not enough. Though we mask it with entertainment or endure it with grit, in the end we all face some existential questions:
What is my life all about?
Will I die just like an animal?
Is life itself a dead-end?
As a professor of philosophy wrote in his chapter on the meaning of life: "If you think about the whole thing, there seems to be no point to it at all. Looking at it from the outside, it wouldn't matter if you never existed. And after you have gone out of existence, it won't matter that you did exist" (Thomas Nagel, What Does It All Mean? A Very Short Introduction to Philosophy, 1987, p. 96).
The human yearning for meaning and hope is not restricted to the poor and destitute. Even the fabulously wealthy and powerful King Solomon wrote, "Therefore I hated life because the work that was done under the sun was distressing to me, for all is vanity and grasping for the wind" (Ecclesiastes 2:17). Solomon had it all and tried it all, but concluded that at death the best of us are no better off than the animals (Ecclesiastes 3:18-20).
There must be more!
Philosophy can't give us the hope we are desperately searching for. Solomon found that comedy, food and drink, building projects, power, wealth, music and even human wisdom couldn't lift him out of the throes of meaninglessness.
But there is more to the story. Solomon came to recognize that the meaning and purpose of life was not in the physical world around us, but in God who created us (Ecclesiastes 12:13). God is the One who can give us meaning and hope.
God understands feelings of hopelessness
God understands our feelings of being overwhelmed. He showed that by recording the thoughts and prayers of others who have experienced these emotions. Read Psalm 102:1-8, for example, which is "a prayer of the afflicted, when he is overwhelmed and pours out his complaint before the Lord" (superscription).
God hears these cries, and "He shall regard the prayer of the destitute, and shall not despise their prayer" (verse 17).
The prophet Isaiah, no stranger to challenges himself, shared God's message and plan to bring comfort and real hope through the Messiah: "The Lord has anointed Me to preach good tidings to the poor; He has sent Me to heal the brokenhearted, to proclaim liberty to the captives, and the opening of prison to those who are bound; to proclaim the acceptable year of the Lord, and the day of vengeance of our God; to comfort all who mourn" (Isaiah 61:1-2).
Jesus Christ's life and death opened the door to real hope for a meaningful life now, and an abundant and joyous life for eternity!Giving this hope was so important to God that He was willing to sacrifice His Son to make our rescue possible. Jesus Christ's life and death opened the door to real hope for a meaningful life now, and an abundant and joyous life for eternity!
In the meantime, in the midst of the troubles of this life, the apostle Paul tells us that God is "the Father of mercies and God of all comfort, who comforts us in all our tribulation, that we may be able to comfort those who are in any trouble, with the comfort with which we ourselves are comforted by God" (2 Corinthians 1:3-4).
Raising hope
How can we discover and claim this hope and comfort that God promises?
We can follow the example of those depicted in Psalm 107. This song recounts the troubles of all kinds of people bereft of hope, from those wandering in the wilderness, to prisoners, to those drawing near the gates of death. In each case, "They cried out to the Lord in their trouble" and He delivered them (verses 4-6, 13, 19).
God knows our troubles, but He wants us to come to Him and ask for His help and relief. He wants us to recognize the true source of help and our only real hope.
Paul put it this way: "Be anxious for nothing, but in everything by prayer and supplication, with thanksgiving, let your requests be made known to God; and the peace of God, which surpasses all understanding, will guard your hearts and minds through Christ Jesus" (Philippians 4:6-7).
After crying out to God for help, we should study the Bible to begin to grasp His plan of hope. Paul explains, "For whatever things were written before were written for our learning, that we through the patience and comfort of the Scriptures might have hope" (Romans 15:4).
For example, we can turn to God's wonderful promises like this one: "For He Himself has said, 'I will never leave you nor forsake you.' So we may boldly say: 'The Lord is my helper; I will not fear. What can man do to me?'" (Hebrews 13:5-6).
Knowing how God has worked with people in the past and His promises for the future can help us grow to trust and rely on Him. This can lead us to continue building our relationship with Him by fulfilling the command God gave at the launch of His Church: "Repent, and let every one of you be baptized in the name of Jesus Christ for the remission of sins; and you shall receive the gift of the Holy Spirit" (Acts 2:38).
Repentance marks the change of our way of life from the destructive paths we seem to naturally choose to the beneficial way of life God has designed. The gift of the Holy Spirit transforms our minds and pours the love of God into our hearts—the key to God's real hope that never disappoints (Romans 5:5).
The transformation of our minds leads us to focus on the positive and praiseworthy (Philippians 4:8), giving us an uplifting mind-set that can defeat the onslaught of negativism that bombards us in this world.
When we have experienced God's hope and help, we will also want to help share that hope. That is the essence of why God's Church is so zealous to proclaim the gospel—the good news—of God's plan and His coming Kingdom.
Looking for the church behind Life, Hope & Truth? See our "Who We Are" page.
Real hope for the hopeless
The state of the world today can look hopeless. Our individual lives can be overwhelmed with hopelessness. But there is a God, and He truly loves us and offers us real hope. Without God, there is no hope. But with Him there is a solid hope that can serve as "an anchor of the soul, both sure and steadfast" (Hebrews 6:19).
Learn more about God's plan to transform your life by studying our free booklet Change Your Life! It summarizes many key passages about God's step-by-step process for making us more like Him. Let God begin that work in you. Then you can be "confident of this very thing, that He who has begun a good work in you will complete it until the day of Jesus Christ" (Philippians 1:6).
We encourage you to download and begin to study the booklet today!