Many people are mired in hopelessness, despondency and despair. Thankfully the Bible reveals our only hope. There is an amazing future ahead!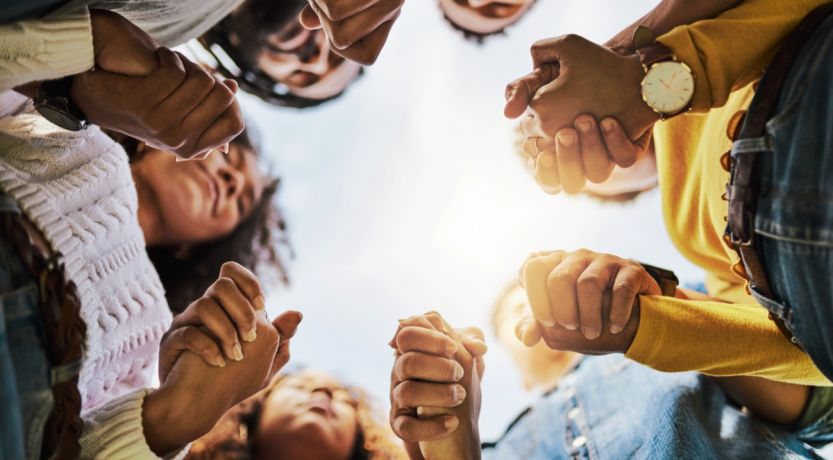 For many people, the world we live in offers little consolation and hope for the future.
Worries abound: the spectre of nations divided and at loggerheads within and without, the constant threat of full-scale nuclear and biological warfare, devastating weather patterns that destroy vast regions, health concerns, the daily struggle to feed the family. The list seems endless.
Many feel anxious, afraid, overwhelmed, tormented and upset. They especially struggle with feelings of helplessness and hopelessness.
Will things improve in the coming years, or will world conditions worsen? Are there any lasting solutions?
The Bible reveals our only hope
Our all-loving God created humans and recorded for us His laws and wisdom that bring about peace, joy, happiness and everything that is good and helpful for the human race. He has revealed this knowledge in the Bible—God's complete and perfect instruction book for mankind.
Unfortunately, from the beginning human beings have rejected God's instructions. The result is clearly seen in the failure of every government established over the centuries.
If we are willing to study the Bible, we will come to understand that God is love, and that He wants us to live happy, abundant and prosperous lives—now and for eternity.If we are willing to study the Bible, we will come to understand that God is love, and that He wants us to live happy, abundant and prosperous lives—now and for eternity.
It is to the Bible we must go in order to discover what an interesting and incredible future God has planned for the human race. Out of the present chaos will emerge a world filled with happy, joyful and prosperous people.
God's future plan—our only hope
The Bible states that God is working out a purpose on the earth, and He has the power to carry out every one of His plans and promises. This is in direct contrast to today's politicians and world leaders who make promises they are unable to fulfill.
The hope God promises is based on His supreme power and unchangeable character. Consider what the Bible says about what He can and can't do:
"Ah, Lord GOD! Behold, You have made the heavens and the earth by Your great power and outstretched arm. There is nothing too hard for You" (Jeremiah 32:17).
God, unlike humans, is not limited in what He can accomplish. As Christ said, "The things which are impossible with men are possible with God" (Luke 18:27, emphasis added throughout).
What God has promised He will fulfill. Paul highlighted the "hope of eternal life which God, who cannot lie, promised before time began" (Titus 1:2).
The hope God promises will be fulfilled beginning with the return of Jesus Christ and then continuing on into promises of His eternal Kingdom. Notice a few of God's promises:
God promises that sorrow and suffering will be replaced by joy and gladness: "'For I will restore health to you and heal you of your wounds,' says the LORD" (Jeremiah 30:17).
Furthermore, "they shall come and sing … and they shall sorrow no more at all. For I will turn their mourning to joy, will comfort them, and make them rejoice rather than sorrow. … And My people shall be satisfied with My goodness, says the LORD" (Jeremiah 31:12-14). It will be so totally different from our world today!
"And the ransomed of the LORD shall return, and come to Zion with singing, with everlasting joy on their heads. They shall obtain joy and gladness, and sorrow and sighing shall flee away" (Isaiah 35:10).
Imagine a world where all people will experience joy, happiness and contentment! And what God has promised He will achieve!
God promises that weather patterns will change from the devastating floods, searing droughts and horrific and destructive wildfires of today. Incredible blessings will be pronounced on the land, and farmers will reap bountiful crops: "The desolate land shall be tilled," and "this land that was desolate has become like the garden of Eden" (Ezekiel 36:34-35; see also Deuteronomy 28:1-5, 12).
Deserts, like the Sahara, Gobi and other major barren and infertile regions, will be transformed into fertile and productive lands. "The poor and needy seek water, but there is none, their tongues fail for thirst. I, the LORD, will hear them; I, the God of Israel, will not forsake them. … I will make the wilderness a pool of water, and the dry land springs of water" (Isaiah 41:17-18).
"And the desert shall rejoice and blossom as the rose; it shall blossom abundantly and rejoice, even with joy and singing" (Isaiah 35:1-2).
Read the entire 35th chapter of Isaiah. The "fearful-hearted" will be comforted, the blind will see, the deaf will hear, the dumb will speak, and the lame will be healed.
Worldwide peace will come at last. Today our news is filled with violence and conflicts between nations. Nobody feels totally safe from the constant threat of war, including nuclear war. However, the Bible declares that man is incapable of bringing peace to the earth (Isaiah 59:8). Only God can bring about real peace.
Isaiah 2 refers to a time when Christ will be ruling on the earth, when He will "teach us His ways, and we shall walk in His paths." The end result will be that nations "shall not lift up sword against nation, neither shall they learn war anymore" (verses 3-4).
These wonderful promises will be fulfilled when Jesus Christ returns to rule over this earth for 1,000 years.The peace that Christ will bring will not be a temporary treaty that nations spurn and don't adhere to: "Of the increase of His government and peace there will be no end" (Isaiah 9:7). God will zealously maintain that peace through His power!
Children will also be shielded from the ravages of war. When warfare erupts today, children are often the unfortunate victims. But in this future, "all your children shall be taught by the LORD, and great shall be the peace of your children" (Isaiah 54:13).
These wonderful promises will be fulfilled when Jesus Christ returns to rule over this earth for 1,000 years—a period of time known as the Millennium.
The ultimate promise and hope—eternal life in the Kingdom of God
But that 1,000 years is only the beginning. Beyond those physical blessings, the greatest hope for followers of Christ is God's promise to give those who love, obey and respond to Him eternal life in His Kingdom.
There are numerous passages in the Bible that refer to the hope true believers have in the resurrection to life immortal. Whole sections are devoted to this promise of the resurrection—the change from mortal to immortal (1 Corinthians 15; 1 Thessalonians 4:13-18).
Referring to the "elect" (true Christians), the apostle Peter stated: "Blessed be the God and Father of our Lord Jesus Christ, who according to His abundant mercy has begotten us again to a living hope through the resurrection of Jesus Christ from the dead" (1 Peter 1:2-3).
Peter continued in verse 4: "To an inheritance incorruptible and undefiled and that does not fade away, reserved in heaven for you." The word inheritance emphasizes the family relationship that God's children have with their Heavenly Father (1 John 3:1-3).
Our future inheritance in the Kingdom of God is incapable of decay or being corrupted. It is imperishable, undefiled, unfading.
What's more, it is reserved and guarded by the power of God until Christ returns and brings our reward with Him (Revelation 21:7; 22:12-14).
This promise should cause us to "greatly rejoice" and should fill us with inexpressible and glorious joy (1 Peter 1:6-9). With these encouraging concepts uppermost in our minds, we can resist the influences of hopelessness.
Keep the vision clearly in mind
At times this life really does hurt so much we might be tempted to lose hope. Even as Christians suffer for now, God promises to give us the strength and ability to endure (Hebrews 10:35-39).
And we also look beyond the difficulties and find our hope in God's promises. Paul assures us that whatever we suffer now is nothing in comparison to the eternal promises of His Kingdom (Romans 8:18; 2 Corinthians 4:17-18).
Seeking God's Kingdom must be the most important priority in our lives (Matthew 6:33). Is there anything more important? It is difficult to put into words the wonderful future plans our loving Father has prepared for us.
It is up to each of us to grasp our incredible potential and so fulfill God's desire for all of us.
Read more about our only hope and the wonderful promises of God in our articles "Hope for the Hopeless" and "God's Promises: Rock-Solid Hope and Assurance."