4 Myths About God's Law
There are many ideas about the role of God's law in a Christian's life. Are Christians required to obey the laws of God or not?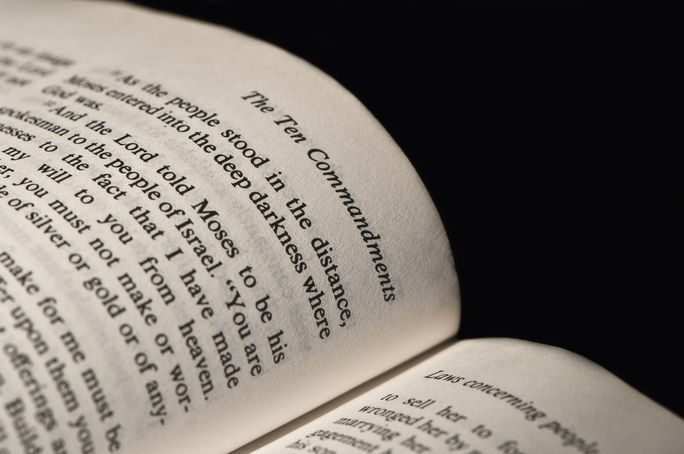 The basic purpose of laws is to protect people. Take, for example, driving laws. Laws about speed limits or not texting or drinking while driving are all designed to protect you and others. They deter us from behaving in a manner that does (or could) have destructive effects. Breaking a law is called a crime and leads to consequences—for the lawbreaker and for others.
The same is true for God's laws. They were designed by our Creator not just to control us, but to keep us and others safe. Breaking His law is called sin and also has consequences—the most serious being death (1 John 3:4). The Bible describes blessings for obeying and curses for breaking God's law (Deuteronomy 11:26-28).
Yet, despite the Bible's clarity about all of this, some in mainstream Christianity still see the law as negative. Let's look at four myths and misconceptions about God's law and discover what the Bible says.
Common myths about the law
Myth 1: God's law is a burden
Some people read about the Pharisees' stringent use of rules and regulations and Jesus' constant rebukes of them and see that as evidence that the law is a burden. However, a careful reading of the Scriptures shows that the Pharisees were not properly teaching and administering the law of God. They added their own traditions and customs on top of God's law—creating enormous burdens on people (Matthew 15:3; 23:4).
This myth is totally contrary to what the Scriptures say about God's laws: "For this is the love of God, that we keep His commandments. And His commandments are not burdensome" (1 John 5:3).
Myth 2: God's law is not required under the New Covenant
Though some believe the law was abolished under the New Covenant, a careful reading of the Bible shows a different story. God's laws were constantly disobeyed by ancient Israelites under the Old Covenant. But the problem wasn't because the law was bad or burdensome; it was because of them (Hebrews 8:7-8). They didn't have God's Holy Spirit writing those laws on their hearts and minds. Under the New Covenant, the opposite is true—God promises, "I will put My laws in their mind and write them on their hearts; and I will be their God, and they shall be My people" (verse 10).
The New Covenant doesn't abolish the law—it gives help for God's people to actually obey it through God's Holy Spirit. The New Covenant doesn't abolish the law—it gives help for God's people to actually obey it through God's Holy Spirit. Jesus and the apostles stressed the importance of keeping the commandments (Matthew 19:17; 1 Corinthians 7:19; 1 John 2:3-4).
Myth 3: Jesus fulfilled the law so we don't have to keep it
Those who believe this myth point to Jesus' statement in the Sermon on the Mount, "Do not think that I came to destroy the Law or the Prophets. I did not come to destroy but to fulfill" (Matthew 5:17). Even though Jesus' next statement described how He wasn't abolishing even the smallest "jot" or "tittle" of the law (verse 18), some still misconstrue Him to be saying that He fulfilled it so we don't have to.
But Jesus was not saying that at all! He was saying that He made the law full—in other words, He filled it with greater meaning. In the same breath Jesus said that He came not to "destroy the Law" and that the law will still apply till "heaven and earth pass away" (Matthew 5:17-18). He came to "magnify the law, and make it honourable," as the prophet Isaiah said He would (Isaiah 42:21, King James Version). To learn more, read "Jesus Fulfilled the Law: How? Do We Have To?" and "Christ Is the End of the Law? How?"
Myth 4: Love replaces God's law
Some people believe that since the magnification of God's law is love, as long as we are showing love we no longer need to actually keep the 10 Commandments. However, the problem with this idea is that it separates love and God's law into two competing things.
In reality, the Bible intrinsically connects the two by defining true godly love as keeping the Commandments (Exodus 20:6; Deuteronomy 30:16; Joshua 22:5; Daniel 9:4; John 14:15; 1 John 5:1-3). The 10 Commandments define how to love God (the first four) and how to love other people (the last six).
A way of life and death
In the Garden of Eden, God planted two trees: the "tree of life" and the "tree of the knowledge of good and evil" (Genesis 2:9). Adam and Eve disobeyed God's commandment to avoid the "tree of the knowledge of good and evil" and instead obeyed the serpent (Genesis 3:1-3, 4-6). And humanity has subjected itself to pain and suffering ever since—because we have continued making essentially the same decision in many forms (Genesis 2:17).

Satan has deceived people to the point that they are characterized as "children of disobedience"—sadly even misleading many Christians into believing that disobedience is no problem to God (Ephesians 2:2 KJV; Revelation 12:9; Jude 1:4).

The apostle Paul described basically two ways of living life: "sin leading to death, or of obedience leading to righteousness" (Romans 6:16).

Which will you choose?