The Bible speaks of a marriage between Jesus Christ and His Bride. Jesus never married while on the earth, but the time will come at His return when He will marry His Bride. Just who is she?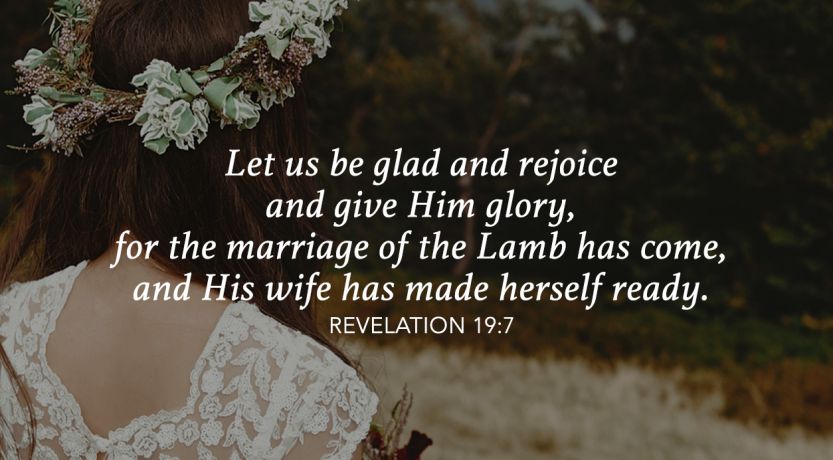 Can it be? That Jesus has a bride in mind whom He will marry? What is even more fascinating is that the Bible says the Bride of Christ is now making herself ready for that marriage. She knows who she is!
But do we know? Is it possible to find out? The answer is, yes, we can know because of a few key scriptures in the Bible that reveal this very important truth.
The Lord was first betrothed to Israel
The Bible shows that before Jesus Christ came to the earth as our Savior, He had been the Word, who was with God and was God (John 1:1-3, 14). The Word developed a unique relationship, not with a physical woman, but with an entire nation—Israel. "For they [Israel] drank of that spiritual Rock that followed them, and that Rock was Christ" (1 Corinthians 10:4).
Notice this story beginning in Ezekiel 16:3: "Thus says the Lord GOD to Jerusalem [the capital of Israel]: 'Your birth and your nativity are from the land of Canaan.'"
Abraham, Isaac and Jacob dwelt in the land of Canaan, and eventually their descendants became a large nation while in Egypt. When God brought them out of Egypt, He entered into a marriagelike covenant with them.
The Word interacted with mankind and swore an oath to Israel by entering into this covenant and said, "You [Israel] became Mine" (verse 8). The Lord then blessed Israel with the finest of clothes, produce and prestige.
"'I adorned you with ornaments, put bracelets on your wrists, … and a beautiful crown on your head. Thus you were adorned with gold and silver, and your clothing was of fine linen, silk, and embroidered cloth. You ate pastry of fine flour, honey, and oil. You were exceedingly beautiful, and succeeded to royalty. Your fame went out among the nations because of your beauty, for it was perfect through My splendor which I had bestowed on you'" (verses 11-14).
The prophet Jeremiah recorded God's words about this same event: "Thus says the LORD: 'I remember you, the kindness of your youth, the love of your betrothal, when you went after Me in the wilderness, in a land not sown. Israel was holiness to the LORD, the firstfruits of His increase'" (Jeremiah 2:2-3). Soncino Books of the Bible says this: "With beautiful and tender imagery that act of trust is described as Israel's espousals, comparable with a bride following her husband to a strange country" (commentary on Jeremiah 2).
But something happened.
Israel rejected the Lord
After all that God had done for Israel, she sinned by rejecting Him and went after other gods. In a very clear indictment against Israel, God faulted her as an adulterous wife.
"But you trusted in your own beauty, played the harlot because of your fame, and poured out your harlotry on everyone passing by. … Such things should not happen, nor be. You have also taken your beautiful jewelry from My gold and My silver, which I had given you, and made for yourself male images and played the harlot with them. … Also My food which I gave you—the pastry of fine flour, oil, and honey which I fed you—you set it before them as sweet incense. …
"Moreover you took your sons and your daughters, whom you bore to Me, and these you sacrificed to them to be devoured. Were your acts of harlotry a small matter, that you have slain My children and offered them up to them by causing them to pass through the fire? And in all your abominations and acts of harlotry you did not remember the days of your youth. … You are an adulterous wife, who takes strangers instead of her husband" (Ezekiel 16:15-22, 32).
Yet, time after time, God called out to Israel to repent. "'You have played the harlot with many lovers; yet return to Me,' says the LORD" (Jeremiah 3:1).
She refused, and so God divorced her!
God divorced Israel
Israel sinned, and because she treacherously departed from God, she was given a certificate of divorce.How could this happen? The answer: Israel sinned, and because she treacherously departed from God, she was given a certificate of divorce.
"The LORD said … 'Have you seen what backsliding Israel has done? She has gone up on every high mountain and … played the harlot. And I said, after she had done all these things, "Return to Me." But she did not return. … Then I saw that for all the causes for which backsliding Israel had committed adultery, I had put her away and given her a certificate of divorce'" (Jeremiah 3:6-8).
Notice this profound statement in verse 14: "'Return, O backsliding children,' says the LORD; 'for I am married to you.'"
Even though Israel departed and was given a certificate of divorce, God always considered her to be His wife. His love for Israel never ceased, and He sent prophets to warn her to repent and return to Him.
The Word—God—once He became Jesus Christ, remarked about how in the past He had wanted Israel to return to Him. "O Jerusalem, Jerusalem, the one who kills the prophets and stones those who are sent to her! How often I wanted to gather your children together, as a hen gathers her chicks under her wings, but you were not willing!" (Matthew 23:37).
In fact, while Jesus was on the earth, He was again rejected by His own people. "He came to His own, and His own did not receive Him" (John 1:11). Many of the Jews, especially the leaders, were so angry with Him that they demanded His crucifixion.
But, before He died for our sins, Jesus made a promise that is often overlooked by many: He would build His Church and the gates of the grave would not prevail against it (Matthew 16:18).
Why the Church?
The Church consists of all who are called out of this world—both from physical Israel (including Jews) and from gentiles. And once they repent and are baptized and receive the Holy Spirit, they become members of His Body, the Church, of which Jesus is the head (Colossians 1:18).
Then notice this incredible statement that the apostle Paul wrote to the members of the Church in Corinth: "For I am jealous for you with godly jealousy. For I have betrothed you to one husband, that I may present you as a chaste virgin to Christ" (2 Corinthians 11:2).
Here we see a unique relationship that the Church, also referred to as "the Israel of God" (Galatians 6:16), has with Jesus Christ. The Church is betrothed, engaged to be married, to Him!
Also, in a limited, physical way, our own personal marriages are to reflect the relationship that Jesus Christ already has with His Church.
Paul told husbands, "Love your wives, just as Christ also loved the church and gave Himself for her" (Ephesians 5:25). To the wives he said, "Submit to your own husbands as to the Lord. … Therefore, just as the church is subject to Christ, so let the wives be to their own husbands in everything" (verses 22, 24).
The Church is being prepared to be the Bride of Christ
Jesus is now working with His Church. He is preparing her to be His future Bride that "He might present her to Himself a glorious church, not having any spot or wrinkle or any such thing, but that she should be holy and without blemish."But there is another important principle that Paul reveals: Jesus is now working with His Church. He is preparing her to be His future Bride that "He might present her to Himself a glorious church, not having any spot or wrinkle or any such thing, but that she should be holy and without blemish" (verse 27).
Christ's future Bride will not be like physical Israel, who disobeyed and rejected her covenant with God. For centuries, the Church has existed and remained loyal to God, and it continues to do so. And each member in the Church has been and is preparing now to participate in the great marriage supper of the Lamb.
Notice this prophecy in Revelation 19:6-9: "'Alleluia! For the Lord God Omnipotent reigns! Let us be glad and rejoice and give Him glory, for the marriage of the Lamb has come, and His wife has made herself ready.'
"And to her it was granted to be arrayed in fine linen, clean and bright, for the fine linen is the righteous acts of the saints. Then he said to me, 'Write: "Blessed are those who are called to the marriage supper of the Lamb!"'"
At the resurrection of the just, all those in Christ will be part of this marriage supper. Jesus Christ is going to be married to the spiritual Israel of God. The Church will be one with Christ forever.
The Bible doesn't give us all the details of what that beautiful, eternal, spiritual relationship will look like. In fact, there are scriptures that reveal other promises, such as becoming the sons and daughters of God—joint heirs with Christ (2 Corinthians 6:18; Romans 8:16-17).
It is also revealed that the resurrected saints will rule with Christ during the Millennium (Revelation 1:5-6; 5:10), when all peoples will be taught the need to accept and obey Jesus Christ as their Lord and Master.
The hope for physical Israel
Not only will spiritual Israel have this wonderful relationship with Christ, but according to a number of prophecies, physical Israel will also return to God when Jesus Christ returns to the earth and begins the Millennium of peace. Notice the unique relationship:
"For you will forget the shame of your youth. … For your Maker is your husband, the LORD of hosts is His name; and your Redeemer is the Holy One of Israel; He is called the God of the whole earth" (Isaiah 54:4-5).
God is going to rescue Israel and will establish and bless the people who comprise her nation: "'For the mountains shall depart and the hills be removed, but My kindness shall not depart from you, nor shall My covenant of peace be removed,' says the LORD, who has mercy on you" (verse 10).
"'I will make your … gates of crystal, and all your walls of precious stones. All your children shall be taught by the LORD, and great shall be the peace of your children. In righteousness you shall be established; you shall be far from oppression, for you shall not fear. …
"'This is the heritage of the servants of the LORD, and their righteousness is from Me,' says the LORD" (verses 12-14, 17).
Then notice these prophecies in Hosea 2:16-17: "'And it shall be, in that day,' says the LORD, 'That you will call Me "My Husband," and no longer call Me "My Master," for I will take from her mouth the names of the Baals, and they shall be remembered by their name no more.
"'I will betroth you to Me forever; yes, I will betroth you to Me in righteousness and justice, in lovingkindness and mercy; I will betroth you to Me in faithfulness, and you shall know the LORD. … Then I will say to those who were not My people, "You are My people!" And they shall say, "You are my God!"'" (verses 19-20, 23).
The conversion of the world
As physical Israel repents and becomes converted, they, too, will become part of spiritual Israel and be one with Christ at a future time. This will also include the gentiles (non-Israelites) who repent and seek after God.
Even now, gentiles who become part of the Church are in the Israel of God. "For through Him we both have access by one Spirit to the Father. Now, therefore, you are no longer strangers and foreigners, but fellow citizens with the saints and members of the household of God" (Ephesians 2:18-19).
"For you are all sons of God through faith in Christ Jesus" (Galatians 3:26).
And then there is this encouraging prophecy in Isaiah 56:6-8: "Also the sons of the foreigner [gentiles] who join themselves to the LORD, to serve Him, and to love the name of the LORD, to be His servants—everyone who keeps from defiling the Sabbath, and holds fast My covenant—even them I will bring to My holy mountain, and make them joyful in My house of prayer. …
"The Lord GOD, who gathers the outcasts of Israel, says, 'Yet I will gather to him others besides those who are gathered to him.'"
The future for all the saints
Eventually all peoples who are found written in the Book of Life will be in Christ, as we see in Ephesians 1:10: "That in the dispensation of the fullness of the times He [God] might gather together in one all things in Christ, both which are in heaven and which are on earth—in Him."
And it is at this time that everything culminates in a fascinating prophecy found in Revelation 21:2-3: "Then I, John, saw the holy city, New Jerusalem, coming down out of heaven from God, prepared as a bride adorned for her husband. And I heard a loud voice from heaven saying, 'Behold, the tabernacle of God is with men, and He will dwell with them, and they shall be His people. God Himself will be with them and be their God.'"
Later in the same chapter it says, "Come, I will show you the bride, the Lamb's wife. And he carried me away in the Spirit to a great and high mountain, and showed me the great city, the holy Jerusalem, descending out of heaven from God" (verses 9-10).
This is the same city from above that Abraham looked forward to seeing (Hebrews 11:10), and it will become a reality. God has prepared this city for all those of faith who are one in Christ and who have their names in the Book of Life (Hebrews 11:16; Revelation 21:27).
We will then be one with our Savior and with God the Father in New Jerusalem forever and ever.
For more information on this, read our article "New Jerusalem." For more about the Church, see the other articles in this section on "The Church: The Body of Christ."