Abraham was called the friend of God, and others in the Bible had close relationships with Him. Can you become a friend of God? Here's how to be God's friend.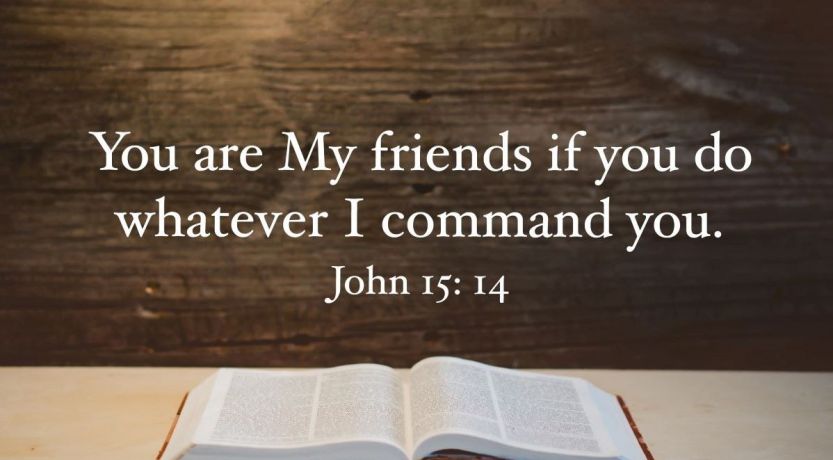 Close friends impact our lives far more than the thousands of other people we come into contact with. Psychologists note that there are many ways we mutually benefit from the relationships with our close friends.
Having good friends who love and support us for what we are leads to greater happiness and emotional well-being.
As Gene D. Cohen, M.D., Ph.D., states in his book The Mature Mind, "Research shows that having at least one—and preferably more than one—confiding relationship is a key ingredient of mental health and resilience" (2006, p. 149).
As vital as human friends are, there is an even more important relationship. Is it possible for the Almighty God to consider us as His loving friends?
Biblical examples of friendships
The Bible has many examples of friendships, including people God called His friends.
Abraham, "the friend of God"
One of the most outstanding examples of a friendship in the Bible is the relationship the patriarch Abraham cultivated with God. It is a most remarkable bond between a human being and the all-powerful Creator God.
In Isaiah 41:8 God refers to the nation of Israel as "My servant," but then surprisingly refers to Abraham as "My friend."
Imagine being called a friend of the all-knowing God who created the heavens and the earth!Imagine being called a friend of the all-knowing God who created the heavens and the earth!
This close relationship is mentioned in the New Testament as well: "And the Scripture was fulfilled which says, 'Abraham believed God, and it was accounted to him for righteousness.' And he was called the friend of God" (James 2:23, emphasis added throughout).
Was it only Abraham who had the privilege of being called a friend of God? What about people who are alive today?
What made the relationship between God and Abraham possible?
Below is a list of some of the reasons Abraham was God's friend:
Abraham obeyed God even when it was inconvenient and difficult. God honored him "because Abraham obeyed My voice and kept My charge, My commandments, My statutes, and My laws" (Genesis 26:5).
Abraham proved he had faith in God as a Friend—he believed the God he served would keep His promises and never leave or forsake him. In Hebrews 11:8 we read: "By faith Abraham obeyed when he was called to go out to the place which he would receive as an inheritance. And he went out, not knowing where he was going."
In Genesis 18:19 God says of Abraham, "for I have known him." That means Abraham communed with God on a regular basis. The book of Nehemiah provides further information: "You are the LORD God, who chose Abram … and gave him the name Abraham; You found his heart faithful before You" (Nehemiah 9:7-8). His heart was closely knit with his Maker—and his Friend! As with Abraham, God knows—has a close relationship with—those who obey Him. But He does not know those who decide to reject His laws (Matthew 7:21-23). They can't be regarded as His friends!
Abraham had deep respect for and great confidence in God. Abraham was put to the supreme test when God tested him by asking him to sacrifice his son Isaac. By demonstrating his willingness to obey, Abraham proved that he was dependable and loyal to God under the most difficult of circumstances. Notice what God said in Genesis 22:12: "Do not lay your hand on the lad, or do anything to him; for now I know that you fear God, since you have not withheld your son, your only son, from Me." The friendship was growing ever stronger. His loyalty was evident.
"Noah walked with God"
The Bible states: "But Noah found grace in the eyes of the LORD," and "Noah walked with God" (Genesis 6:8-9).
Walking with God demonstrates a close and intimate bond or association with Him. As Amos 3:3 declares, "Can two walk together, unless they are agreed?"
We cannot imagine going on a long walk, a wilderness hike or an extended journey with someone we are continually in disagreement with. It would not be wise to undertake such a venture!
But Noah was in harmony with God—he walked with Him.
The friendship of David and Jonathan: special, yet still second to God
David and Jonathan, the son of King Saul, had a special brotherly relationship. The Bible states that "the soul of Jonathan was knit to the soul of David, and Jonathan loved him as his own soul. … Then Jonathan and David made a covenant, because he loved him as his own soul" (1 Samuel 18:1-3).
Jonathan maintained his friendship with David despite danger and threats to his own life (1 Samuel 20:30-34).
Such genuine loyalty and dedication in a friendship is seldom experienced. But David was also known to have an even greater relationship with God. When confronted by his sin with Bathsheba, his major concern and attitude of repentance focused on God. "Against You, You only, have I sinned, and done this evil in Your sight. … Do not cast me away from Your presence, and do not take Your Holy Spirit from me" (Psalm 51:4, 11).
The Bible reveals that David possessed a quality that God highlighted as important. Acts 13:22 quotes God: "I have found David the son of Jesse, a man after My own heart, who will do all My will."
David's heart was right with God, and Jonathan was astute enough to recognize the value of such a trait in his friend.
Abraham, Noah and David obeyed and responded to God and His will. The result was that they enjoyed a unique rapport with God. And you can have that opportunity as well!
Jesus Christ's teaching: "you are My friends if …"
Jesus said in John 15:12-13, "This is My commandment, that you love one another as I have loved you. Greater love has no one than this, than to lay down one's life for his friends."
Then notice verse 14: "You are My friends if you do whatever I command you."
As we have noted by studying the examples already mentioned, commandment-keeping is a vital aspect of being a friend of God! This important spiritual principle is clearly reiterated and emphasized by Jesus Christ.
The friendships of Jesus and His disciples
The Father and Jesus Christ are the supreme examples of what it means to be exemplary and model Friends. Notice these often-quoted verses:
John 3:16: "For God [the Father] so loved the world that He gave His only begotten Son, that whoever believes in Him should not perish but have everlasting life."
1 John 4:9: "In this the love of God was manifested [made plain] toward us, that God has sent His only begotten Son into the world, that we might live [forever] through Him."
Romans 5:8: "But God demonstrates His own love toward us, in that while we were yet sinners, Christ died for us."
John 13:1: "Now before the Feast of the Passover, when Jesus knew that His hour had come that He should depart from this world to the Father, having loved His own who were in the world, He loved them to the end."
Jesus loved His disciples to the end, despite the fact that they all forsook Him in His darkest hour! Christ set an example for us to follow, if we want to become His friends.
One way followers of Christ demonstrate their love and show appreciation to God the Father and Jesus Christ is by following Christ's command to "do this in remembrance of Me" (Luke 22:19). The New Testament Church continued observing the Passover, which commemorates the sufferings and death of our Savior Jesus Christ (1 Corinthians 5:7-8; 11:23-26).
What God looks for in a friend
We can become a friend of God if we follow these biblical principles, which exemplify Jesus Christ's words in John 15:14-15, "You are My friends if you do whatever I command you. No longer do I call you servants, for a servant does not know what his master is doing; but I have called you friends."
Romans 2:13: "For not the hearers of the law are just in the sight of God, but the doers of the law will be justified."
Romans 7:12: "Therefore the law is holy, and the commandment holy and just and good." Furthermore, "the law is spiritual" (verse 14).
Deuteronomy 10:12-13: What did God require of the nation of Israel, which they did not do? "To fear [respect and honor] the LORD your God, to walk in all His ways and to love Him, to serve the LORD your God with all your heart and with all your soul, and to keep the commandments of the LORD and His statutes which I command you today for your good." Read also Deuteronomy 30:8-20.
1 John 5:2-3: "By this we know that we love the children of God, when we love God and keep His commandments. For this is the love of God, that we keep His commandments. And His commandments are not burdensome."
Contrary to general opinion, God's laws do not cause hardship, sorrow or stress. Just the opposite. As Jesus said, "I have come that they may have life, and that they may have it more abundantly" (John 10:10).
Clearly, we prove our desire to have a close, loving relationship with our Heavenly Father and Jesus Christ by living as the Bible instructs us to live.
Become a friend of God
If we walk with God by striving daily to obey His good and beneficial laws, by loyally loving Him with all our heart and by remaining faithful to His instructions, then we can become a friend of God, just as Abraham, Noah and others were.
If we make God our best friend by doing what He says, we will be a friend of God! For more on this and the benefits of being God's friend, see our article "Your Best Friend."