4 Marriage Lessons the Reagans Taught Us
With Nancy Reagan's death, many are paying tribute to her devotion to Ronald Reagan. What lessons can we learn from their long and close marriage?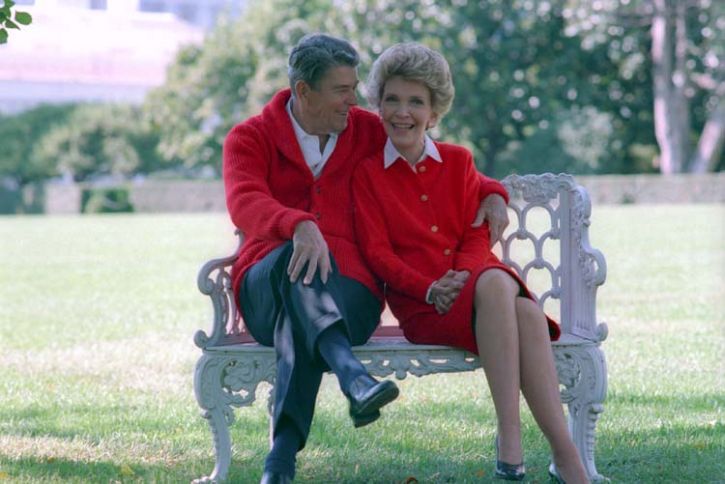 Nancy Davis Reagan died at age 94 at her home in Los Angeles, California, on Sunday, March 6. Her long life was highlighted by her eight years as first lady during President Ronald Reagan's presidency. Her life also included a career as a movie star, being a mother, starting an antidrug campaign based on the slogan "Just Say No," and being an advocate for her husband's legacy and Alzheimer's research.
Though Mrs. Reagan lived a full and productive life in her own right, what many recall as they memorialize her life is the extraordinary love that she and Ronald Reagan shared throughout their long marriage. As their son Ron Reagan Jr. explained, "Once they had bonded together they really were inseparable. … They were in love and they stayed in love for 52 some odd years."
Everyone knows that marriages have problems. After all, we are unique, emotional beings and even though we may love our spouse dearly, we don't always see eye to eye. So how did the Reagans have such a happy marriage? What lessons can be drawn from their story that could help our marriages?
Ronald Reagan helps Nancy from her horse after a weekend ride at Camp David (White House photo by Pete Souza).

1. Never stop courting.
In her book My Turn, Nancy outlined their first date and courtship. "We had dinner together the first night. And the night after that. And the one after that. For the next month or so we must have gone to every restaurant and nightclub in Los Angeles." One night while dining at their favorite restaurant, Ronnie, as she almost always called him, asked her to marry him. She agreed and they were married on March 4, 1952.
Even though they were married, their courtship never stopped.
Ronald continued writing love letters to his wife over the course of five decades. No matter his job or where he traveled, he wrote her "to express his love, thoughts, and feelings and to stay in touch." His love notes, cards and letters often ended with "I love you more than anything I.T.W.W.W.," which stood for "in the whole wide world."
Nancy also loved her husband and expressed it in her own special way. She became famous for what some called "the gaze"—a stare of adoration and rapt attention focused upon her Ronnie.
Because the Reagans were public figures, their love for each other was also public. They often walked hand in hand, and the love, commitment and respect they had for each other were obvious. As one of Nancy's press secretaries put it, "They never took each other for granted. They never stopped courting."
The Bible confirms the importance of continually nurturing marital love. Proverbs 5:18 says, "And rejoice with the wife of your youth." And 1 Corinthians 7:3 adds, "Let the husband render to his wife the affection due her, and likewise also the wife to her husband."
President Reagan's surprise visit to a Republican Party Luncheon honoring Nancy Reagan in New Orleans, Louisiana on Aug. 15, 1988 (Courtesy Ronald Reagan Library).

2. Put your spouse before yourself.
In our world it has become common for us to focus on loving ourselves and evaluating others on how they contribute to our happiness. We rarely think of being in love as something we can control. We generally think love … just happens.
If it was something that just happened—love at first sight—between Ronald and Nancy, they took steps to make sure it never just disappeared.
Instead of putting the primary emphasis on themselves, they each put their spouse first. "From the beginning, the couple wrapped themselves tightly in each other. [Ronald] Reagan would say that coming home to Nancy was like coming out of the cold into a warm room with a fireplace." And Nancy said, "My life didn't really begin until I met Ronnie" ("Nancy Reagan: He Needed Only Her").
Just five years after leaving the White House, the former president's faculties began to fade with the onset of Alzheimer's disease. He announced his diagnosis in a handwritten letter to the nation on Nov. 5, 1994. What is striking about that letter is how his primary concern was for his wife—not what was about to happen to him as the disease slowly robbed him of his mind:
Ronald and Nancy Reagan weren't perfect. Yet they set a marvelous example of how to build and sustain a happy and lasting marriage."I have recently been told that I am one of the millions of Americans who will be afflicted with Alzheimer's disease. … Unfortunately, as Alzheimer's disease progresses, the family often bears a heavy burden. I only wish there was some way I could spare Nancy from this painful experience. When the time comes, I am confident that with your help she will face it with faith and courage" (emphasis added throughout).
The Bible describes love as an outgoing concern for others. Paul wrote, "Love suffers long and is kind; love does not envy; love does not parade itself, is not puffed up; does not behave rudely, does not seek its own" (1 Corinthians 13:4-5).
Jesus Christ taught us to "love your neighbor as yourself" (Matthew 22:39). That principle should be multiplied when it comes to marriage. The deep love between a husband and wife should be expressed by both spouses' "giving preference to one another" (Romans 12:10). Most marriage problems occur when this basic principle is broken.
President Reagan and Nancy Reagan talking in the oval office on May 21, 1986 (Courtesy Ronald Reagan Library).

3. Remember that your spouse can be your best adviser.
Long before the BFF (best friends forever) acronym gained widespread notoriety, the Reagans' relationship epitomized this type of friendship. But their relationship went much deeper; they were also each other's closest adviser.
Prior to dating, Nancy had gone to Ronald, who was the president of the Screen Actors Guild, for advice on how to deal with her name being blacklisted. His help in that situation began a long relationship of helping and advising each other. Throughout their marriage, Nancy became her husband's closest adviser, helping him choose capable people for his cabinets and also advising him when she felt it was necessary to let someone go.
When her husband was the president of the United States, Nancy is credited with encouraging him to make overtures to the Soviet Union to make peace between the two superpowers. It began by building a relationship with Foreign Minister Andrei Gromyko. Later, his efforts continued with Mikhail Gorbachev, and eventually the two leaders brokered arms-control agreements that helped lead to the end of the Cold War.
While not all spouses are automatically good advisers, two people of character and integrity who marry can be wonderful advisers to each other. King David found such an adviser in Abigail, who urged him not to do something that he would later regret (1 Samuel 25:23-35). He was so impressed he later married her.
The ideal virtuous wife of Proverbs 31 is described as someone "her husband safely trusts" who "does him good and not evil all the days of her life" (verses 11 and 12).
President Reagan visits Nancy after her mastectomy at Bethesda Naval Hospital, Maryland, in 1987 (White House photo by Pete Souza).

4. Love for better or worse.
While we all wish we could go through life without any tears or sorrow, life doesn't work that way. We all face trials and difficulties. And such was the case for Ronald and Nancy, who both faced serious health issues.
Both of them had to deal with cancer. For her, it was breast cancer; for him, it was colon cancer. The former president also had to recover from being shot in an assassination attempt on March 30, 1981. It has been noted by many that Mrs. Reagan was at his side through every moment of his recovery.
President Reagan made an amazing recovery for a 70-year-old man, only to face Alzheimer's disease during the "long good-bye" portion of his life. Mrs. Reagan cared for him throughout this long struggle—even when he no longer recognized her or remembered the time they spent together.
When people marry, they often make vows to love each other "in sickness and in health, till death do us part." While such sentiments may be genuinely sincere when they are spoken, the true test of such vows comes in the hardest and darkest moments of life. For Mrs. Reagan, this was not an idle commitment. She never wavered, supervising her husband's care until he died at age 93.
Again, Paul's explanation of love comes to mind. Love, he said, "bears all things, believes all things, hopes all things, endures all things. Love never fails" (1 Corinthians 13:7-8).
As a past blog post explains, "Commitment is the mortar that holds the marriage together."
Ronald and Nancy Reagan saying goodbye to Prime Minister Thatcher after the State Dinner on the north portico on Feb. 26, 1981 (Courtesy Ronald Reagan Library).

Learn from their story
Ronald and Nancy Reagan weren't perfect people. Yet, in spite of their weaknesses, they set a marvelous example of how to build and sustain a happy and lasting marriage.
Charlton Heston once described their marriage as "the greatest love affair in the history of the American presidency." We need more marriages like the one between Ronald and Nancy Reagan. As divorce rates and singleness increase, the next generation needs to see positive examples of strong marriages.
There is much to learn from the story of Nancy and her beloved Ronnie.