Watch Events in Turkey
Update: The attempted coup by some Turkish military forces has been put down. President Erdogan vows those responsible will pay a heavy price as he cracks down even harder.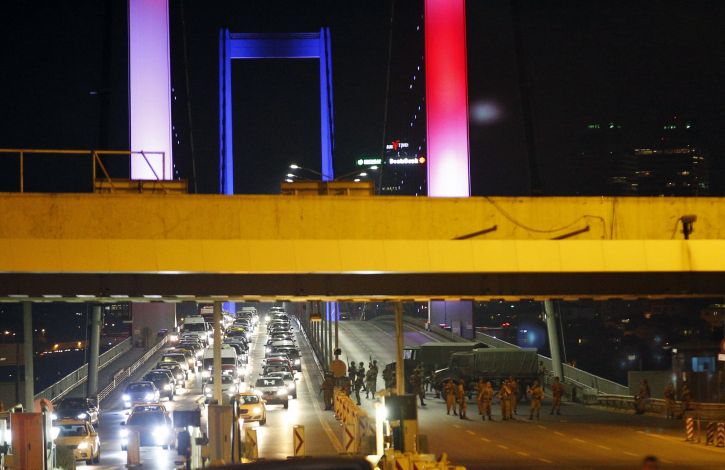 News agencies are reporting on the rapidly developing situation in Turkey, a NATO member that hosts part of the U.S. nuclear arsenal. Turkey is also a key player at the crossroads of Syria, Iraq, the Islamic State, Iran, Russia and the ongoing migrant crisis affecting Europe.
BBC reported July 17:
"Turkey has arrested 6,000 people after a failed coup, with President Recep Tayyip Erdogan vowing to purge state bodies of the 'virus' that caused the revolt.
"At a funeral for one of the 265 victims, Mr. Erdogan repeated an accusation that US-based Turkish cleric Fethullah Gulen was behind the plot.
"Mr. Gulen strongly denies any involvement. ...
"Mr. Erdogan's critics wonder if he could he make use of the latest events as leverage to push harder for a constitutional change that would further enhance his powers."
The Mail Online reported July 16:
"Forces loyal to Turkey's president quashed a coup attempt in a night of explosions, air battles and gunfire that left dozens dead Saturday. Authorities arrested thousands of people as President Recep Tayyip Erdogan vowed those responsible 'will pay a heavy price for their treason.'
"The chaos capped a period of political turmoil in Turkey—a NATO member and key Western ally in the fight against the Islamic State group—that critics blame on Erdogan's increasingly authoritarian rule. He has shaken up the government, cracked down on dissidents, restricted the news media and renewed conflict with Kurdish rebels.
"Pressure has also come from millions of refugees who have fled violence in neighboring Syria and Iraq, and a series of bloody attacks blamed on the Islamic State group and Kurdish rebels."
Reuters reported July 15 as the coup attempt began:
"Turkey Army Says It Has Seized Power; PM Says Elected Government Still in Charge
"Turkey's military said on Friday it had seized power, but the prime minister said the attempted coup would be put down.
"If successful, the overthrow of President Tayyip Erdogan, who has ruled Turkey since 2003, would amount to one of the biggest shifts in power in the Middle East in years.
"Prime Minister Binali Yildirim said the elected government remained in office. There was no immediate word from Erdogan. The Turkish sister channel of CNN said he was 'safe'.
"The armed forces had taken power in the country to protect the democratic order and to maintain human rights, the military said in a statement sent by email and reported on Turkish TV channels. All of Turkey's existing foreign relations would be maintained and the rule of law would remain the priority, it said. …
"Turkey, a NATO member with the second biggest military in the Western alliance, is one of the most important allies of the United States in the fight against Islamic State. …
"After serving as prime minister from 2003, Erdogan was elected president in 2014 with plans to alter the constitution to give the previously ceremonial presidency far greater executive powers.
"His AK Party, with roots in Islamism, has long had a strained relationship with the military and nationalists in a state that was founded on secularist principles after World War One, and which has a history of military coups."
U.S. News and World Report wrote July 15
"Just three years ago, President Barack Obama referred to Recep Tayyip Erdogan—then Turkey's prime minister, now its president—as a partner, calling for broader economic ties with the NATO ally and hailing Erdogan's efforts to negotiate peace with Turkey's ethnic Kurdish population.
"But since then, Erdogan has led a crackdown against Turkey's domestic extremist element, conducting air raids, imposing curfews in Kurdish areas and killing more than 5,000 militants. He has publicly questioned the U.S. commitment to their alliance and attempted to consolidate his power. He has targeted foreign and domestic journalists who criticize him or his policies, drastically restricting press freedom.
"The country has been the target of a series of terror attacks this year. Some of the incidents have been blamed on Turkey's Kurdish separatists, while the Islamic State group has taken responsibility for others.
"It's unclear how the attempted coup might affect the war on the Islamic State group, of which Turkey is a key component. The country plays a valuable role in allowing the U.S. to fly sorties against the Islamic State group from its airbase in Incirlik, on the Mediterranean in southern Turkey. Before, raids were carried out from the Gulf.
"Incirlik also houses the portion of America's nuclear arsenal that's held in Turkey."
We will keep watching these unfolding events. For background information about related events, see "An Apocalyptic CrISIS," "The Russian Bear Returns to the Middle East" and "The Migrant Crisis: What Does It Mean?" For a prophetic look at how peace will finally come, see "Peace in the Middle East."