The European Union is facing an unparalleled immigration catastrophe. How is this migrant crisis likely to change Europe's future?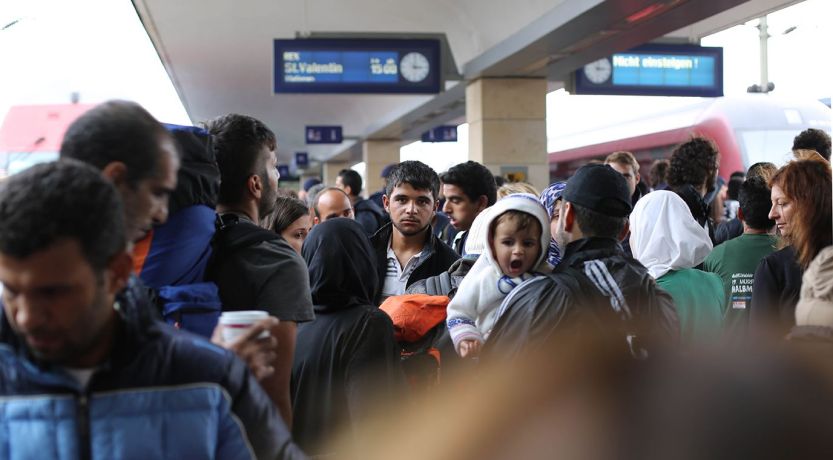 Very rarely does a single image cut through the clutter of the media to both shock and touch the heart. The wrenching photograph of a drowned 3-year-old Syrian boy washed up on a Turkish beach was splashed across front pages of newspapers around the globe, riveting world attention on the massive and often tragic immigration crisis threatening to overwhelm Europe.
In a Europe already in trouble following the tumultuous Greek debt debacle, the migration crisis eclipsed all other concerns. It risked spinning out of control as successive waves of migrants head there. Border mayhem, lack of common response and the inevitable questions of who will pay had member states of the EU squabbling to defend their own interests, seriously jeopardizing deeper European integration.
Nearly 400,000 detected migrants poured into Europe in 2015, up from 216,000 during all of 2014. Over 3,000 died or were missing on the dangerous journey. Many more are on the way.
According to an Italian newspaper report, reprinted in the Feb. 18, 2015, Daily Mail in the U.K., ISIS planned to instigate a flood of 500,000 migrants into Europe as a form of psychological warfare. They also wanted to use the movement of peoples to bring several thousand of their followers into Europe's communities.
Whether or not this report is accurate, the fear of ISIS entering Europe through the thousands of migrants is real.
What are the implications and potential repercussions of this spiraling immigration crisis? Will the face and future of Europe change due to the caravan of humanity headed north?
German Chancellor Angela Merkel, grappling with a humanitarian crisis whose scale and severity is unmatched since World War II, said, "What we are experiencing now is something that will occupy and change our country in coming years. … We want the change to be positive, and we believe we can accomplish that." Merkel said the immigration crisis will define the next decade.
Why Europe faced the migrant crisis
Europe is the closest safe, prosperous and accessible region to the Middle East and Africa. Some Middle Eastern countries—such as Lebanon, Jordan and Turkey—have taken in millions of refugees but are already overwhelmed and lack resources to take in more.
In stark contrast is the stance of wealthy Gulf countries—Qatar, United Arab Emirates, Saudi Arabia, Kuwait, Oman and Bahrain—who did not offer resettlement places to their neighbors and cousins. (Saudi Arabia, however, offered to build 200 mosques in Germany.)
The crisis engulfing Europe began slowly in 2011 after the failed Arab Spring, when Tunisians risked their lives to cross the Mediterranean on rickety fishing trawlers to get to the Italian island of Lampedusa. The fall of the Gaddafi regime in Libya emboldened desperate sub-Saharan Africans to attempt the perilous passage from Libyan shores in far greater numbers.
As the Middle East disintegrated and border controls increased, a shift began. Migrants began to use comparatively cheaper and less risky Balkan routes through Turkey and Greece.
The spike in migrants the summer of 2015 coincided with an obscure Twitter comment from a government agency in Nuremberg noting that the German government pledged to take all Syrian asylum applications, regardless of how they reached German territory.
Tributes to German Chancellor Angela Merkel sprang up in the Arab social media, calling her "the loving mother" and "Mama Merkel." But the move breeched the existing EU protocol and, in essence, opened the doors to Germany. Smartphones, Facebook posts and media coverage of friends landing in Greece or getting off trains in Germany has inspired the migrant rush to Germany.
A flood of people frays a European ideal
The most cherished benefit and cornerstone of European integration is enshrined in the Schengen Agreement of 1985, providing open internal borders and enabling people to move from one country to another without showing documents once inside the EU.
This has caused EU members on the Mediterranean—Greece, Italy and (to a lesser extent) Spain—and the transit countries of Serbia, Hungary and Slovenia to struggle as they attempt to control borders, register and fingerprint asylum seekers, as well as shelter and feed them.
The Syrian civil war has already devoured 250,000 people and displaced half the population, causing one in five Syrians (4 million people) to flee the blood-soaked country. Should the ruthless Assad regime fall to ISIS jihadists, then millions more Alawites and Christians would join the exodus.
While the overwhelming majority of migrants are Muslim, not all are refugees from Syria. Piggybacking on the crisis are migrants from other nations, stretching from Pakistan to North Africa. According to the United Nations, just 53 percent of the migrants are Syrian; The Daily Telegraph quotes figures as low as 40 percent.
The demographic distribution—just 15 percent children, 13 percent women—is telling. Rather than families fleeing persecution, the majority are young men fleeing war or poverty.
Four decades of war and America's departure from Afghanistan and Iraq have led to more sectarian violence and revenge killings, driving many to Europe's doorstep. An undercurrent of hopelessness in the teeming, disease-ridden, shanty megalopolises of Africa wracked with corrupt and tyrannical regimes is compounding the situation.
Hungary's minister for foreign affairs and trade Peter Szijjártó described the crisis bluntly in comments to the Hungarian Times. "It is self-delusion to call this situation a migration crisis," warned Szijjártó. "It is a massive migration of nations, with inexhaustible reserves." He predicted the crisis will continue for years and could see an astonishing 35 million migrants heading to Europe.
Other immigration policy experts see even greater numbers of refugees.
According to Mark Krikorian, director of the Washington, D.C.–based Center for Immigration Studies, "There are hundreds of millions who would undertake the journey—whether jobs await them or not—to ensure that their children grow up in Germany, France, England, or Sweden rather than Syria, Chad, Afghanistan, or Mali. What we are seeing is the vanguard of those millions calling Europe's bluff" ("Where There Is No Border, the Nations Perish," National Review, Sept. 1, 2015).
Destination: Germany
Even more than other prosperous northern European economies such as Sweden and the U.K., the wealthy German colossus has become an enormous magnet for migrants. Registered asylum seekers in Germany are lodged and fed, provided medical care, have their children schooled or cared for, and are even entitled to pocket money.
As many as 800,000 were expected to apply for asylum in Germany in 2015, equal to 1 percent of Germany's population.
If Germany still had robust economic and demographic growth, it could absorb the influx. But it does not. While German unemployment appears low (4.7 percent), the economy is now growing at a paltry 1.6 percent annually. For the rest of Europe the ability to absorb a refugee influx is even worse.
For Germany, empathy and guilt for the country's Nazi past are not the only incentives for the government (but not all Germans) to enthusiastically welcome an influx of foreigners fleeing violence in their homelands. Berlin needs replacement workers. Having the world's lowest birthrate, Germany is shrinking rapidly. According to current demographic trends, it is due to shrink from a population of 81 million today to 68 million in coming decades.
"What Germany is proposing," said syndicated columnist Rich Lowry, "is undertaking a vast social and demographic experiment, with the rapid, bulk importation of Muslim immigrants into a country with an aging population" ("The Refugee Crisis Is Exposing Europe's Folly," New York Post, Sept. 8, 2015).
Backlash from the migrant crisis
With the number of Muslims in Europe increasing dramatically, Eastern and Central European countries are concerned. Their reluctance to take in Syrian refugees revolves around worries about integration of massive numbers of ethnically, culturally, religiously and linguistically different migrants. In August of 2015, the Slovak government said it would only accept Christians from Syria because "in Slovakia we don't have mosques," according to an interior department spokesman.
Even beyond the menace of seeding ISIS-inspired terrorism, Hungarian Prime Minister Viktor Orbán warned of the threat to Europe's "Christian character" because "everything which is now taking place before our eyes threatens to have explosive consequences for the whole of Europe."
Dutch right-wing politician Geert Wilders called the immigrant surge an "Islamic invasion," one that "threatens our prosperity, our security, our culture and identity."
Former French President Nicolas Sarkozy focused on economic factors. He described as "folly" the idea of "taking on dozens of thousands of migrants for whom we have no jobs in Europe." With an unemployment rate exceeding 10 percent, France already has had deep problems with the assimilation of Muslim migrants. A toxic brew of resentment is likely to form in countries such as Italy that already have staggering youth unemployment rates above 40 percent.
Immigration concerns prompt Britain to leave the EU
British Prime Minister David Cameron pledged 1 billion pounds in aid to assist the crisis—its largest-ever response to a single humanitarian crisis. But the U.K. resisted attempts from diplomats in Brussels to mandate a quota to redistribute to each EU member country the burden connected with resettling just 160,000 of the asylum seekers.
In July and August of 2015 Mr. Cameron faced near daily media coverage of migrants chaotically storming vehicles at France's English Channel port of Calais in attempts to enter Britain through the Eurotunnel. All this came as he was preparing to negotiate more favorable terms for the United Kingdom within the EU.
All this contributed to the referendum in Britain to leave the union. The images from Calais and fears of Britain being swamped by new arrivals—with the EU to blame—led to the success of the "Brexit" vote.
What happens in the Middle East doesn't stay in the Middle East
Diplomats in Brussels were at a loss on how to respond adequately to the situation. The United States spearheaded actions during previous humanitarian emergencies and Middle East crises, but the "lead from behind" mantra from Washington has left a leadership void in the region.
"Europe today," wrote professor of foreign affairs Walter Russell Mead, "often doesn't seem to know where it is going, what Western civilization is for, or even whether or how it can or should be defended" ("The Roots of the Migration Crisis," The Wall Street Journal, Sept. 11, 2015).
As Europe's frontiers have collapsed, the potential waves of immigration are so huge that European leaders are now contemplating alternatives other than fences and processing camps. Perhaps they will choose to deal more muscularly with the source of the problem rather than the aftermath.
"Suddenly there's talk in Europe," wrote foreign affairs columnist Bret Stephens, "about using military power to establish safe zones in Syria to contain the exodus of refugees.
"Europe, even Germany, may have no choice," continued Stephens, except "rebuilding its military and using hard power against unraveling neighbors" ("Farewell to the Era of No Fences," The Wall Street Journal, Sept. 7, 2015).
Thus the explosive refugee crisis may prove to be the opening round of a direct European involvement in the Middle East. The scene is being set for a biblical "time of the end" development involving the "king of the South" and the "king of the North" (Daniel 11:40).
Is there any good news?
As shocking as such tragic events in the Middle East and Europe are—and what they portend for the future—the Bible has a message of good news for those willing to "watch therefore, and pray always," seeking to discern the "signs of the times" (Luke 21:36; Matthew 16:3).
You can learn more about the good news of a much better world free of violence and hopeless poverty in our free booklet Mystery of the Kingdom.