New Zealand's Darkest Day
The worst terror attacks in New Zealand's history have shocked the nation. Is there no place on earth where people can be safe from terror?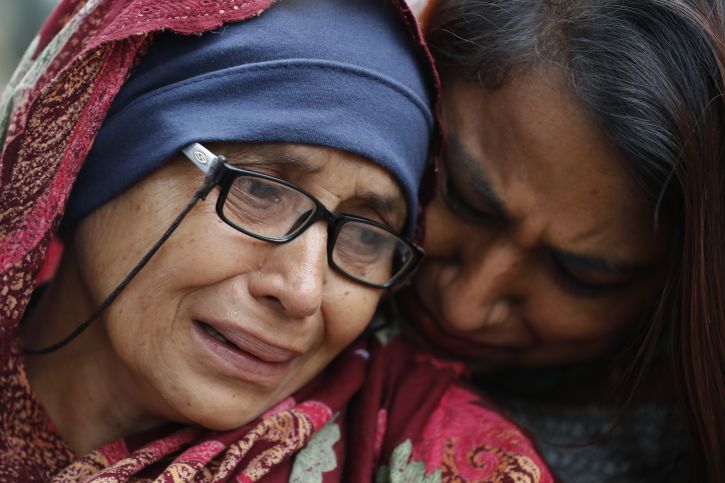 AUCKLAND, New Zealand - On Friday afternoon, news broke in my country of a massive shooting in Christchurch, New Zealand. A man with multiple guns opened fire at Masjid Al Noor mosque, the largest mosque in Christchurch, where 400 were gathered for Friday prayers. He sprayed bullets at men, women and children as they tried to run or hide from the gunfire.
Not only did he commit a heinous massacre, but he also used a body camera to stream it live on social media. Before he began the shooting, he callously said, "Let's get this party started."
Australian-born Brenton Tarrant has been arrested and charged with this mass murder. Two others have been arrested, but at the time of writing it is not clear what role they played in the tragedy.
After the Masjid Al Noor mosque attack, the gunman traveled 7 kilometers (just over 4 miles) and continued his attack at the Linwood Islamic Centre. His rampage lasted 36 minutes before being stopped by two law enforcement officers. At this time, a total of 50 have been confirmed dead and 50 more injured. Of the injured, 36 are in the hospital, two in critical condition.
After the massacre, Facebook and YouTube scrambled to remove all traces of the horrific video from their sites. New Zealand police have been diligently working with social media sites and local Internet providers to remove the footage of the attacks from circulation.
"Nowhere in the world is safe"
If you Google "safest countries in the world," you will find many lists of the world's safest countries based on different metrics. New Zealand is usually high on these lists. It is currently ranked the world's second safest country by WorldAtlas.com.
What has shocked New Zealanders is the fact it happened here, where any kind of shooting is rare. Christchurch mayor Lianne Dalziel said the city was in shock: "This has come as a bolt from the blue. ... It just feels like it's not what would happen in a place like New Zealand."
What has shocked New Zealanders is the fact it happened here, where any kind of shooting is rare. New Zealand Prime Minister Jacinda Ardern described the attack as an "extraordinary and unprecedented act of violence."
In his 74-page white supremacy manifesto titled "The Great Replacement," the 28-year-old alleged shooter lamented the declining birth rates of whites and the rising birth rates of immigrants. He stated his intentions were to "create an atmosphere of fear" and to "incite violence." He chose New Zealand to send a message that "nowhere in the world is safe."
New Zealand's security threat level has been raised to high for the first time. Schools and hospitals were put into lockdown while police and security forces assessed the gravity of the attacks. Mosques nationwide were asked to shut their doors. Certain events around the country were canceled. Australia has also gone on high alert.
The incident has taught us how fragile peace can be and how suddenly it can be taken away. Can we recognize the root causes of these evils and prevent them from happening again?
The root cause
Security officials have noted that those involved in this gruesome attack had no criminal background, nor were they on any watch lists. How can attacks like these be prevented if those who perpetrate them don't give any prior sign of being dangerous?
The fact is, it's impossible to accurately predict individuals who will commit mass acts of violence like this. But we can examine the root causes of hatred and violence in general.
For that we need to go back to the very beginning.
Before the earth or anything had been created, only God the Father and the Word (who later became Jesus Christ) existed. Through the Word, angels were created, and they later witnessed the creation of the earth (Job 38:4-7).
History and the tragedy in Christchurch teach us one thing: It only takes one person to take peace away from everyone.One of God's chief angels was perfect and described as "the seal of perfection, full of wisdom and perfect in beauty" and served before God (Ezekiel 28:12, 14). But despite being perfect, he changed, pride somehow entering his mind (verse 15, 17).
He became full of pride and violence and was cast out from serving before God's throne (Isaiah 14:12). He actually wanted to dethrone His Creator (verses 13-14). He has gone on to become a "terror" to the nations on the earth (Ezekiel 28:19, King James Version; Isaiah 14:16).
He is now known as Satan (which means adversary), and he is the enemy of God and man. He was there in the Garden of Eden (Ezekiel 28:13; Genesis 3:1) to tempt mankind to think like him instead of God. He still works in people to deceive them through hateful and angry thoughts and attitudes (Revelation 12:9; Ephesians 2:2).
It only took one being to take peace away from everyone, first in the angelic realm (where Satan influenced one-third of the angels to think like him) and then in the human realm. When sin entered, not even heaven or the Garden of Eden was immune from its consequences.
He introduced murderous violence (rooted in jealousy and anger) through Cain (Genesis 4). He is still influencing human beings toward hatred, jealousy and anger today. Satan doesn't really care what the human motivations toward violence are—they could be radical Muslim terrorists killing helpless Westerners working in an office building or white supremacists killing helpless Muslims praying in a mosque. All he cares about is his goal of having hatred and violence dominate God's way of love and peace.
The good news is that God has a plan to remove Satan and his influence (Revelation 20:2; Matthew 24:22).
Hope for New Zealand and the world
History and the tragedy in Christchurch teach us one thing: It only takes one person to take peace away from everyone.

As a result of these attacks, New Zealand is in shock, and fear has spread because of one man. This is why real peace will only be achieved when everyone follows God's way instead of Satan's.

The process of creating such a world will begin when Jesus Christ returns. When He governs, people from all nations will flow to His capital in Jerusalem to learn about His law, which defines His way of life (Isaiah 2:2-3). That law will eventually lead to the end of all hatred and violence (Isaiah 2:4).

But you don't have to wait until then to feel its effects. You can practice it in your life today. "Great peace have those who love Your law" (Psalm 119:165). Though keeping God's law won't always protect us from the results of other people's breaking it in today's world, it will bring our lives greater peace and joy and will make us part of the solution to this world's problem, instead of a contributor to its problems.

Please pray for us in New Zealand. And pray for the time when violence like what we witnessed will be a distant memory of the past.