What Does the Bible Say About Forgiving Yourself?
The guilt that comes from sins and mistakes can be hard to let go of, no matter how hard we try to make things right. But is self-forgiveness the answer?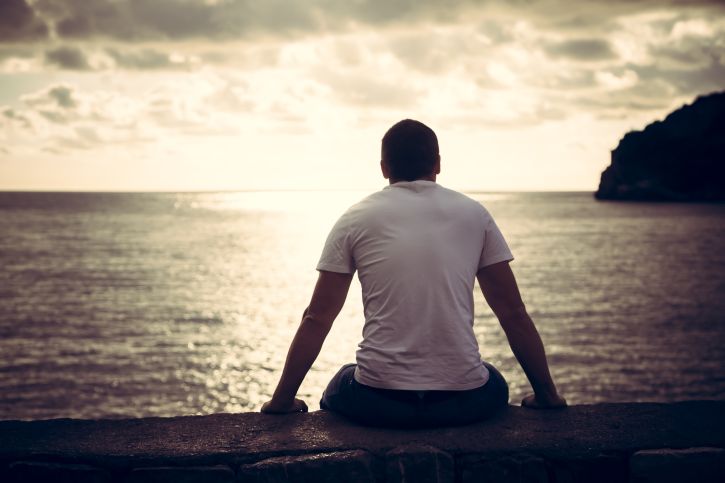 Let's not beat around the bush: this isn't really a blog post about how to forgive yourself.

This is, however, about how to deal with the feelings involved when we talk about forgiving ourselves.

I want to get that out of the way up front, because I don't want to lose anyone in the first half. We need to talk about why forgiving yourself doesn't make a lot of sense—but we're not going to stop there.

When people talk about the need for self-forgiveness, they're often talking about something else entirely—an emotion fundamental to the human condition, and one we absolutely need to understand if we want to live a purposeful and peaceful life.

We'll get to that.

But first, we need to talk about forgiveness.
Why we can't forgive ourselves
In the Bible, forgiveness is the act of letting go of something others owe us.
The Lexham Theological Wordbook calls forgiveness "the release, on the part of the creditor or offended party, of any expectation that a debt will be repaid or that an offender will receive punishment for an offense." It also adds that "the removal does not condone the behavior or suggest approval for the offense."
When we repent of our sins, God forgives us for wronging Him—and He, in turn, calls us to forgive those who wrong us (Luke 17:3-4). Nowhere in the Bible does He command us to forgive ourselves.
Forgiveness requires two or more people—someone who has been wronged and someone who committed that wrong.(For more on repentance, read "What Is Repentance?" and "How to Repent.")
Wronging others creates a debt—an imbalance—between two people.
When we sin against God, we owe Him our very existence. Paying that debt would be the permanent end of our story, because the debt we owe for sin is our lives—eternal death (Romans 3:23; 6:23).
When we sin against others, we owe them some kind of restitution (Exodus 22:1, 4; Leviticus 6:4-5; 22:14; 24:21). Even when we can afford to pay that debt, the end result is often a damaged relationship that no amount of payment can fix.
The important thing to understand here is that, by definition, forgiveness requires two or more people—someone who has been wronged and someone who committed that wrong. Forgiveness can only be given by the one who has been wronged.
That means we can't forgive ourselves for the wrong things we've done.
We can't release or erase the debts we owe to God or to others.
What do people really mean by "forgive yourself"?
It's true that we can cause ourselves pain and suffering through our own poor decisions and mistakes—but wronging ourselves doesn't create a debt that we somehow owe ourselves. There's nothing for us to forgive ourselves of.
Here's where the confusion comes in.
Forgiveness is about letting go of what others owe us. When most people talk about forgiving themselves, they're really talking about letting go of something—not a debt, but guilt.
That distinction is important.
God designed us to feel guilt when we do things we know to be wrong. Contrary to popular belief, guilt is a very good thing. We should feel guilt when we do something wrong. The apostle Paul referred to it as "sorrow" in 2 Corinthians 7:10.
As we'll see, there's both good and bad sorrow (or guilt).
What is guilt in the Bible?
Guilt is the shame we feel over our wrong, sinful actions. When we sin, we should feel guilt—and that guilt should drive us to repent and seek God's forgiveness.
As long as we carry guilt, finding a sense of peace is impossible. King David told God, "When I kept silent, my bones wasted away through my groaning all day long. For day and night your hand was heavy upon me; my strength was dried up as by the heat of summer" (Psalm 32:3-4, English Standard Version).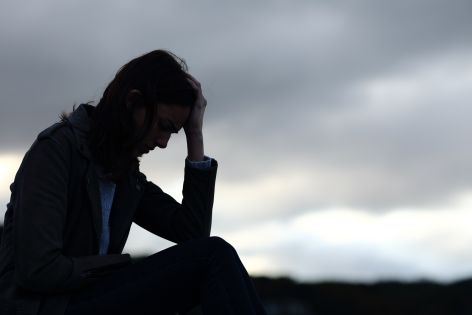 The guilt of David's sins weighed him down until he couldn't sleep—he felt physically ill, as if he were wasting away.
But while God designed us to feel guilt, He certainly didn't design us to carry that guilt around forever.
Paul praised the Corinthians for allowing their "godly sorrow" to produce repentance in 2 Corinthians 7:8-11.
But when we hold onto guilt, we begin to cultivate what he called the "sorrow of the world" that "produces death" (verse 10).
Guilt that just lingers and doesn't propel us toward repentance and change is a very wrong form of guilt. God doesn't want anyone to live perpetually with the crushing feelings of worthlessness, inadequacy and even self-loathing that can accompany guilt.
What God wants us to do when we feel guilt is to take action. To do something.
For more insight on guilt, read "What Is a Guilty Conscience?" and "How to Deal With Guilt and Shame."
"Men and brethren, what shall we do?"
But why put such an emphasis on defining forgiveness? Isn't that just splitting hairs? If someone says "forgive yourself" when they really mean "let go of your guilt," why bother making a distinction?
It's a good question. Here's the answer:
The only way we can truly begin to let go of guilt is by understanding forgiveness.
That's why it's so important not to fall into the mind-set of trying to forgive yourself. Your own self-forgiveness will never make your guilt go away, because the debt you owe isn't to yourself.
Your own self-forgiveness will never make your guilt go away, because the debt you owe isn't to yourself. It's to God.It's to God.
It's to the people you've wronged.
When David tried to ignore his sins and keep silent about them, he was miserable. But that spurred him to bring his guilt before God and repent: "I acknowledged my sin to You, and my iniquity I have not hidden. I said, 'I will confess my transgressions to the LORD,' and You forgave the iniquity of my sin" (Psalm 32:5).
When Peter confronted the crowds about their guilt for the murder of Jesus Christ, "they were cut to the heart, and said to Peter and the rest of the apostles, 'Men and brethren, what shall we do?'" (Acts 2:37). Their guilt prompted them to look for a solution or path forward.
Peter showed them that path: "Repent, and let every one of you be baptized in the name of Jesus Christ for the remission of sins" (verse 38).
By acknowledging and repenting of their sins, by becoming baptized followers of Jesus Christ, these men and women could find true forgiveness—and in that forgiveness, a release from their guilt.
(To learn more about true forgiveness, read "What Is Forgiveness of Sins?")
What God's forgiveness means for us
God doesn't forgive partially, and He doesn't pretend to forgive while still holding our failures against us. "As far as the east is from the west, so far has He removed our transgressions from us" (Psalm 103:12).
When we repent of our sins, God's forgiveness is total and complete. And when the Creator of the universe tells us that our sins have been permanently removed from us—that they no longer factor into the way He looks at us—then we can take the first steps in letting go of our guilt.
When we confess our sins to God, "He is faithful and just to forgive us our sins and to cleanse us from all unrighteousness" (1 John 1:9).
When God forgives us, we are clean.
Self-forgiveness can't do that. Only God can. And when God says that He chooses to look at us differently, it's our job to follow suit—to trust that our sins are infinitely far behind us and to begin seeing ourselves through God's eyes.
What to do when others refuse to forgive you
Of course, even though God promises to faithfully forgive us, we don't have the same guarantee that other people will do the same. There may be times when, despite our best efforts to make amends, others refuse to forgive us.
When we damage a relationship through sin or a serious mistake, it's our job to show—through our words and our actions—that we regret both the sin and the damage it caused. What do we do then? If others won't forgive us, are we supposed to carry around our guilt forever?
No. Paul wrote, "If it is possible, as much as depends on you, live peaceably with all men" (Romans 12:18).
When we damage a relationship through sin or a serious mistake, it's our job to show—through our words and our actions—that we regret both the sin and the damage it caused. We should have a willingness to do what it takes to repair the relationship and make amends—a process that requires effort and time.
(For more insight on reconciling with someone you've sinned against, read our series "The 5 Rs of Healing Relationships.")
But even that might not be enough. "If it is possible," Paul said. "As much as depends on you."
There comes a point when you've done everything you can do on your end—and if forgiveness is still off the table, it may be that all you can do is move on and hope for a change in the future. Some sins can damage human relationships beyond the point of repair—at least in this lifetime.
When that happens, what does moving forward look like?
A case study in letting go of guilt
Few people have understood the weight of guilt more than the apostle Paul. Before he was a follower of Jesus Christ, he was a relentless persecutor of God's Church, actively "breathing threats and murder against the disciples of the Lord" (Acts 9:1).
People died because of Paul's violent persecution. Families were ripped apart. Faithful Christians were left to rot in prison.
When God opened Paul's eyes to the truth (verses 3-6), his zeal for suppressing the gospel message was transformed into zeal for spreading the gospel message (verses 20-22). He was eager to do God's work instead of trying to destroy it.
God wants us to keep moving forward—to trust His forgiveness, to know our failures are behind us, and to focus on the future.But that eagerness didn't erase his past.
Among his brethren were men and women he had personally attacked and persecuted. There may have been people he preached to who had lost family members to the violence of his past lifestyle. This was a reality that never seems to have left his mind. He would later call himself "the least of the apostles, who am not worthy to be called an apostle, because I persecuted the church of God" (1 Corinthians 15:9).
Presumably, Paul made amends when he could, where he could. Presumably, many were able to forgive him after seeing the evidence of his repentance. But it seems impossible that Paul was able to receive personal forgiveness from everyone he had wronged.
How did he move forward? How did he let go of his guilt?
By shifting his focus.
Move past guilt by focusing on the future
If all we ever focus on are our past failures and sins, guilt will consume us. We will wallow in it and be tormented by it.
We can't afford to do that, and what's more, God doesn't want us to do that. He wants us to keep moving forward—to trust His forgiveness, to know our failures are behind us, and to focus on the future.
Here's how Paul looked at it: "Not that I have already attained, or am already perfected; but I press on, that I may lay hold of that for which Christ Jesus has also laid hold of me. Brethren, I do not count myself to have apprehended; but one thing I do, forgetting those things which are behind and reaching forward to those things which are ahead, I press toward the goal for the prize of the upward call of God in Christ Jesus" (Philippians 3:12-14, emphasis added).
Paul focused on the future God has in store for us as if it was a prize that he was competing for. He was totally focused on that goal. His sins, forgiven by God, were in the past. He wasn't going to spend his time looking backward and feeding that feeling of guilt—he was going to look forward and continue to grow, continue to learn and continue to run (1 Corinthians 9:24-26).
Self-forgiveness isn't the way to let go of guilt.
Repentance and trusting in God's forgiveness is.
Topics Covered: Relationships, Christian Living