Doesn't the Bible teach that the wages of sin is death? Haven't Christians been forgiven of their sins? Didn't Christ die for them? Why then do they still die?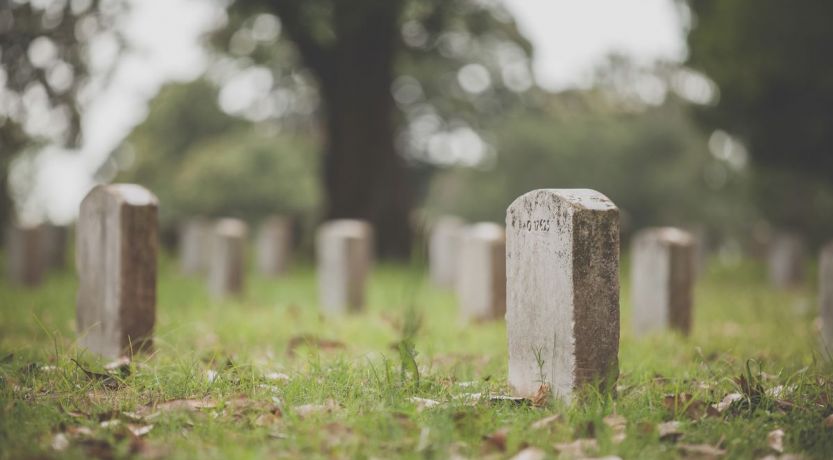 I once ran across the title of an article that was something very close to this: "Shocking Development! Some Christians Died Today!"
The article was a protest about how inconsistent, and almost inconceivable, it was to the writer that Christians—people who have had their death penalty for sin "paid" for them by Christ (something the Bible claims)—still die.
They still have to experience death, by the multiple thousands every month. If someone else paid the death penalty for them—the penalty resulting from their sins—why do they still have to pay it themselves?
How is that possible?
Doesn't that contradict the Bible?
Whether the writer meant it as satire, or a statement of disbelief in the teachings of the Bible, or even an honest question, isn't essential to this study. What is important, I believe, is that we understand that there is a biblical answer to the question. It's a somewhat simple answer—simple, but profound and helpful.
"The wages of sin is death" and other related scriptures
We'll begin with some foundational scriptures that bear on this question.
"For the wages of sin is death, but the gift of God is eternal life in Christ Jesus our Lord" (Romans 6:23). God's gift to us changes the essential nature of our future—from a future dominated by death, to a future whose basic reality is life.
"But God demonstrates His own love toward us, in that while we were still sinners, Christ died for us" (Romans 5:8). This is telling us that there clearly is some sense in which He died in our place—as a substitute for us. The future we would otherwise face (because of our sins) was changed to a different kind of future, because He experienced death for us.
"For I delivered to you first of all that which I also received: that Christ died for our sins according to the Scriptures" (1 Corinthians 15:3, emphasis added throughout). Our sins, which would otherwise cause our death, instead caused His death!
"And He Himself is the propitiation [atoning sacrifice] for our sins, and not for ours only but also for the whole world . . .
"In this is love, not that we loved God, but that He loved us and sent His Son to be the propitiation for our sins" (1 John 2:2; 4:10).
A "propitiation" is a sacrifice that brings atonement and reconciliation with God. It covers sin and satisfies the justice that God's holy character requires. God's justice and holiness and wrath against sin required that our unholiness—our sins, our rebellion against and violation of His righteous laws—should result in our death. If God did not take rebellion against His holiness seriously, why would He expect us humans to take it seriously?
However, that isn't all there is to the story. God's justice was satisfied by Christ's death as a substitute for our death. Thus we could be reconciled to God, have our sins atoned for, and have our future of life made possible.
More of the Bible's teaching on death and life
"For as in Adam all die, even so in Christ all shall be made alive" (1 Corinthians 15:22).
"Therefore, just as through one man sin entered the world, and death through sin, and thus death spread to all men, because all sinned . . .
"(. . . For if by the one man's offense death reigned through the one, much more those who receive abundance of grace and of the gift of righteousness will reign in life through the One, Jesus Christ.)
"Therefore, as through one man's offense judgment came to all men, resulting in condemnation, even so through one Man's righteous act the free gift came to all men, resulting in justification of life" (Romans 5:12, 17-18).
As a human descendant of Adam (being "in Adam"), a person faces a future of death—permanent death. That is the case for everyone (Romans 3:23). So long as a person lives like the first Adam lived—sinning—that person faces a future of death. Death—a death that will never end—has a permanent power over him. The Bible calls this permanent death "the second death" (Revelation 21:8).
In Christ, a person does not face a future of permanent death but will be written in the Book of Life.In Christ, a person does not face a future of permanent death but will be written in the Book of Life (Revelation 20:12, 15). So long as a person has repented and believed in Christ's atoning death, and has Christ living in him or her, that person faces a future in which death does not have a permanent power over him or her.
So long as that person is being recreated as a new creature—like Christ—that person can look forward to a future in which death has to release and give him or her up—to forever life.
Death in a new light
Christians have indeed been forgiven of their death-causing sins, so that they can now expect to live forever—but "not yet!" And thus (until Christ's return), Christians go to "sleep." This is a biblical description of their total unconsciousness—with no mental activity—while awaiting their new bodies and the experience of eternal life.
They have the promise from God of being freed from experiencing death in their future. But they must wait for the fulfillment of that promise. Because of this, Christians view death now through a different lens—that of sleep—unconsciously awaiting a return to life through a resurrection. This new view of death is different from the old, natural one.
Jesus Himself described death as a type of sleep:
"These things He said, and after that He said to them, 'Our friend Lazarus sleeps, but I go that I may wake him up.' Then His disciples said, 'Lord, if he sleeps he will get well.' However, Jesus spoke of his death, but they thought that He was speaking about taking rest in sleep. Then Jesus said to them plainly, 'Lazarus is dead'" (John 11:11-14).
"While He spoke these things to them, behold, a ruler came and worshiped Him, saying, 'My daughter has just died, but come and lay Your hand on her and she will live.' So Jesus arose and followed him, and so did His disciples . . .
"When Jesus came into the ruler's house, and saw the flute players and the noisy crowd wailing, He said to them, 'Make room, for the girl is not dead, but sleeping.' And they ridiculed Him. But when the crowd was put outside, He went in and took her by the hand, and the girl arose" (Matthew 9:18-19, 23-25).
The "not yet" principle
In Christ, a person has been released from facing a future that includes a death that never releases him or her from its power. A Christian now has this promise from God. But there is waiting involved. The Christian must wait on the fulfillment of that promise.
"But God will redeem my soul from the power of the grave, for He shall receive me. Selah" (Psalm 49:15). The "power" of the grave is death. The power that will forever keep a person from experiencing eternal life is death—unless God provides an escape. (And He has, through Christ's death.)
"And do not grieve the Holy Spirit of God, by [which] you were sealed for the day of redemption" (Ephesians 4:30). The day of ultimate redemption is still in the future, at the time of the resurrection. The "seal" spoken of here is an identification—a stamp or identifying marker—that says, "Here is a person who has been guaranteed that he or she will be redeemed from the power of death, who will someday never again face death in the future."
That future day is that person's "day of redemption"—the day when he or she will be resurrected and changed and become an inheritor of eternal life. He or she will never again face death—not even the possibility of death or the fear of death.
This "seal" identifies those people who have been promised by God an eternal inheritance—a life with no possibility of experiencing death in their future. But they don't have it yet. Now, they only have the promise of it. Until they have received it, they will only have the promise of it—and until they have this eternal inheritance, they will "sleep" in their graves.
"That we who first trusted in Christ should be to the praise of His glory. In Him you also trusted, after you heard the word of truth, the gospel of your salvation; in whom also, having believed, you were sealed with the Holy Spirit of promise, [which] is the guarantee of our inheritance until the redemption of the purchased possession, to the praise of His glory" (Ephesians 1:12-14).
First, Christians own the promise of God, a promise guaranteed by the indwelling presence of the Holy Spirit. Then, later, they receive what was promised—a life never again threatened by death. This is their ultimate redemption!
"Not only that, but we also who have the firstfruits of the Spirit, even we ourselves groan within ourselves, eagerly waiting for the adoption, the redemption of our body" (Romans 8:23).
"Then [in the future] they will see the Son of Man coming in a cloud with power and great glory. Now when these things begin to happen, look up and lift up your heads, because your redemption draws near" (Luke 21:27-28).
"Inasmuch then as the children have partaken of flesh and blood, He Himself likewise shared in the same, that through death He might destroy him who had the power of death, that is, the devil, and release those who through fear of death were all their lifetime subject to bondage" (Hebrews 2:14-15).
Here is a description of Christians. They are people released from a form of bondage—the fear of a future with death still having power over them. Once they receive the promised eternal life, there will no longer be even the possibility of experiencing death in their future—ever!
The "not yet" principle applies even to Christ Himself!
"But one testified in a certain place, saying: 'What is man that You are mindful of him, or the son of man that You take care of him? You have made him a little lower than the angels; You have crowned him with glory and honor, and set him over the works of Your hands. You have put all things in subjection under his feet.' For in that He put all in subjection under him, He left nothing that is not put under him. But now we do not yet see all things put under him" (Hebrews 2:6-8).
Though this contains a prophecy of the human potential, it is also the promise of God the Father to Christ.
The man who wrote the article I mentioned at the beginning could just as well have written something like this: "Scandal! Shocking scandal! God the Father has appointed—has promised—that Christ (the Son of Man) is to have all things put under His feet. But that is not the case now! There is still widespread rebellion against the Son in the world today! Scandal! Shocking!"
Christ has the promise from the Father, but even Christ must wait for its fulfillment. The "not yet" principle even applies here—to Christ!
Think of it. God the Father told Jesus that all the creation would be in subjection to Him. All would be under His feet. And yet, when we look at it today, there is still rebellion against Christ all through the world.
Does that make it a lie? A shocking thing—a failed promise of God—an example of biblical teaching that has been contradicted by actual events? Of course not. The key words, clearly, are "not yet." It is true that "now we do not yet" see all things put under Him. But, in God's time, they will be!
And Christians still die—and are not yet living a life with no more death. Some Christians will undoubtedly die tomorrow. Some died today. And some have been dead, in their graves, for a long time. Living Christians and dead Christians have not yet been given their ultimate redemption from death's power over them. Not yet.
Why do Christians die? Because they have simply not yet received their sure inheritance—eternal life.
It's that way with all promises
All of this is consistent with a more general truth. All the promises of God take faith. Whatever the promise is, when a person has been promised something by God, he or she should be fully confident that God will give it to him or her, without fail.
All the promises of God take faith. Whatever the promise is, when a person has been promised something by God, he or she should be fully confident that God will give it to him or her, without fail.But, in most cases, the person must wait for it. He or she won't have it until it is God's time to fulfill the promise. In the meantime, he or she doesn't have it! Not yet.
If the promise from God is some sort of a change in circumstances, that person will indeed experience that change, in God's time. But until that time comes, the person will continue to experience the old circumstances.
This should be easy for us to understand. It would be similar to a human father promising to give his son a new bicycle "sometime in the next few weeks." The son knows his father loves him, and that his father does not lie to him. The son is quite confident that he is going to get the new bicycle, but he doesn't know exactly when. In his mind, the new bike is his—surely his! But it's not yet in his actual possession.
In the meantime, what does he have? His old bike. Until the exact time of the gift giving arrives, the son doesn't yet have the promised gift. Instead, what he has is his father's promise. And he has something else—he still has his old bike.
Until Christians are resurrected or changed to eternal life, they have that as a promise—and they have something else. They have bodies that still die. Or they have sleep, in their graves.
It's how God works
The Bible makes explicit that this is how it is. The examples are clear. They establish a pattern. Until we have the fulfillment of the promise, we have only the promise. But, since it is God who has made the promise—and God never lies and has all power to fulfill His promises—ultimately receiving what was promised is an absolutely sure thing.
"Declaring the end from the beginning, and from ancient times things that are not yet done, saying, 'My counsel shall stand, and I will do all My pleasure'" (Isaiah 46:10).
God declares what He wants done. He states what His will is. He states what He will do for His people. Sometimes, He brings it to pass immediately. In creation week, He willed that there would be light—and there was light, instantly. He "spoke" the creation into existence by His power (see, for example, Genesis 1:3; Psalm 33:6, 9; Hebrews 11:3; and Psalm 148:5-6).
There have been times when He wanted someone healed, and the person received healing from God, instantly. There was no waiting at all.
"When He had come down from the mountain, great multitudes followed Him. And behold, a leper came and worshiped Him, saying, 'Lord, if You are willing, You can make me clean.' Then Jesus put out His hand and touched him, saying, 'I am willing; be cleansed.' Immediately his leprosy was cleansed" (Matthew 8:1-3).
But on other occasions—perhaps most occasions—God has declared His will and made a promise that He would do something, and there was then a delay. Sometimes there is a short delay, and sometimes there is a long delay, between the promise being made and the promise being fulfilled.
God promised Abraham and Sarah a son, and He surely fulfilled His promise and gave a son to them. But it was "not yet"—until they waited for more than 20 years! Until it seemed impossible. It made them live by faith—not sight.
Not yet recipients of the promise
The point of it all is this: It is not shocking or unexpected that Christians still die. In Christ, God promises Christians deliverance from the future unending death that they all otherwise justly face "in Adam." And yet, Christians must wait to receive it until Christ returns.
This explains why Christians—forgiven and delivered from the death penalty—still "sleep," awaiting the final fulfillment of God's promise that they will never face a future of permanent death. While they were still breathing, that was God's promise to them. Now, in the sleep of the grave, that is still God's promise to them.
They will receive the fulfillment of that promise. It is absolute. So, as of now, they have "not yet" received the fulfillment of that promise. Christians, like Christ Himself, have not yet received all that God has promised them.
No, it is not shocking that Christians die. Not at all. It is just a matter of "not yet."
"These all died in faith, not having received the promises [not yet!], but having seen them afar off were assured of them, embraced them and confessed that they were strangers and pilgrims on the earth" (Hebrews 11:13).