What Can We Learn From the Surfside Condominium Collapse?
Tragedy struck Florida last week when a large condo building unexpectedly collapsed in the middle of the night. What lessons should we learn from this disaster?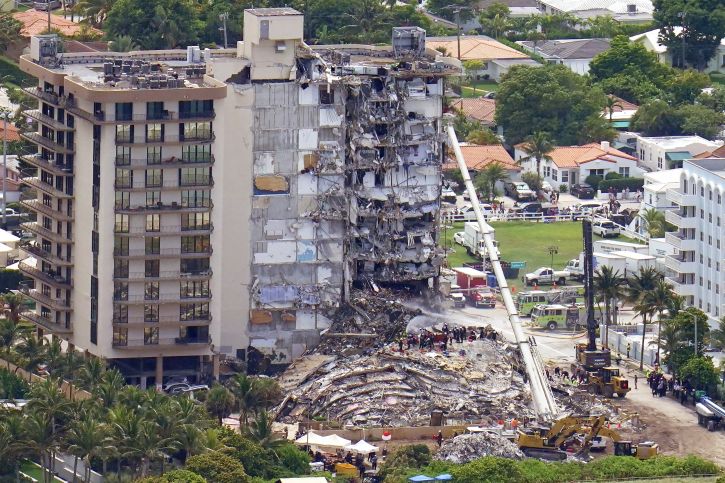 The Champlain Towers condominium buildings are a complex of three buildings in Surfside, Florida, with a beautiful view of the ocean. However, on Thursday, June 24, at about 1:30 in the morning, tragedy struck.
In the middle of the night the 12-story south tower, which had 136 condominium units, collapsed without warning. Chilling video captured by a nearby security camera revealed that it took only seconds for a major portion of the south tower to become a pile of rubble. In the aftermath of the collapse, the scene looked as if the building had been destroyed by a powerful bomb.
As of the time of the time of publishing, 16 people have been confirmed dead in the collapse. However, there are still over 140 people unaccounted for. Search and rescue teams are tirelessly combing through the rubble as quickly as they can, battling the heat and dangerous conditions, but the odds of finding more survivors grows dimmer by the hour. Our prayers are with the families who wait with hope against hope to receive positive news of their loved ones.
The investigations, accusations and recriminations will likely go on for months and years. No one yet knows the exact cause of the collapse. Perhaps it was negligence, inadequate maintenance, or even a sinkhole or unexpected subsurface shifting that caused the building to fall.
Whatever the cause, it doesn't change the sudden and unexpected outcome for the victims. In the blink of an eye, their hopes and dreams and plans for the future came to an abrupt end.
What did Jesus say about tragedies?
In Luke 13:4 Jesus made a statement about a tragedy that was very similar to what happened in Florida. During His time, a tower in a Jerusalem neighborhood called Siloam collapsed and killed 18 people. Some scholars believe this was a tower built by the pool of Siloam for men who were going through the process of ritual purification. If this is true, these 18 men may have been in that area to perform a religious ceremony, but suddenly had their lives cut short when the tower collapsed on top of them.
Jesus was using the tragedy to highlight the necessity of personal repentance.Here are Christ's words about the tragedy: "Or those eighteen on whom the tower in Siloam fell and killed them, do you think that they were worse sinners than all other men who dwelt in Jerusalem? I tell you, no; but unless you repent you will all likewise perish" (verses 4-5).
Jesus' point was clear. When these kinds of tragedies occur, it is not because God specifically targeted the victims for somehow being worse than everyone else who survived. There is an element of time and chance at work in our world. The point is that we all equally need to repent, or we will perish. Jesus was using the tragedy to highlight the necessity of personal repentance.
In the aftermath of this current tragedy in Florida, we can reflect on the same lesson that Jesus asked His audience to think about 2,000 years ago. We can put a renewed focus on repenting of our sins. To do that, we must identify what our sins are, ask for God's forgiveness and strive to change. To learn more about this crucial subject, read our article "What Is Repentance?"
Life is frail and uncertain
Another lesson we should learn from the Florida tragedy is the frailty and uncertainty of life.
Notice these words penned by King David: "LORD, make me to know my end, and what is the measure of my days, that I may know how frail I am. Indeed, You have made my days as handbreadths, and my age is as nothing before You; certainly every man at his best state is but vapor. Selah. Surely every man walks about like a shadow; surely they busy themselves in vain; he heaps up riches, and does not know who will gather them. And now, Lord, what do I wait for? My hope is in You" (Psalm 39:4-7).
When we see how quickly and easily our lives can end, it should inspire us to look to our Creator for meaning and purpose.Tragedies can help remind us of the truth of these words. It's easy to become arrogant or comfortable. We can look to ourselves and our accomplishments for meaning. But we need to temper our thoughts with the truth that our lives are like vapor in the grand scheme of things. We are here for a little bit and then gone. All it takes is a random tragedy to end our lives at any moment.
James, the half-brother of Jesus Christ, was inspired to write something very similar: "Come now, you who say, 'Today or tomorrow we will go to such and such a city, spend a year there, buy and sell, and make a profit'; whereas you do not know what will happen tomorrow. For what is your life? It is even a vapor that appears for a little time and then vanishes away. Instead you ought to say, 'If the Lord wills, we shall live and do this or that.' But now you boast in your arrogance. All such boasting is evil" (James 4:13-16).
When we see how quickly and easily our lives can end, it should inspire us to look to our Creator for meaning and purpose. We can build an appropriate kind of confidence when we live our lives in a manner that pleases our Father in heaven. When we live that way, we can faithfully place our lives in His hands and trust His will for our lives.
For the residents of the Champlain Towers South and their families, a few seconds in the dark of the night changed everything.
Will we heed the lessons God wants us to learn from such tragedies?
Topics Covered: Christian Living, News and Trends, Natural Disasters