Top 10 Blog Posts of 2022
As we begin the new calendar year of 2023, we take a look back at our most popular blog posts of 2022.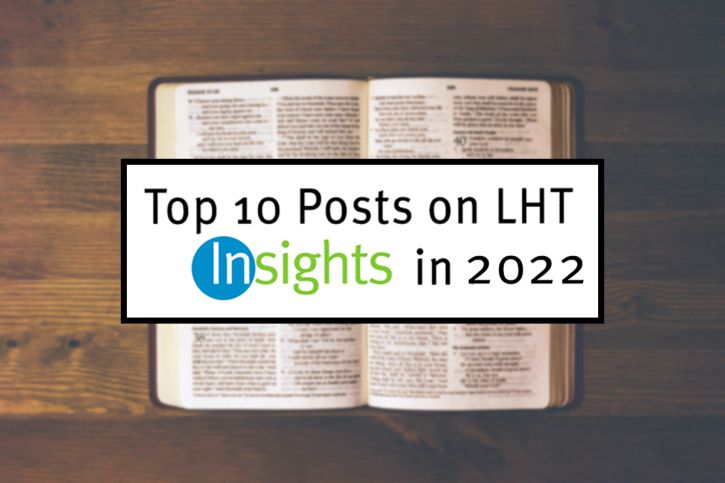 The year 2022 was another momentous year for the world.
We experienced a major war in Europe, the death of a beloved monarch, rapid inflation, spikes in energy prices and continuing political uncertainty in the Western nations. It's likely that many of these stories will continue to impact the world in 2023.
Amid all the chaos in our world, this past year was another strong year for Life, Hope & Truth. As of the time of this writing, Life, Hope & Truth has had over 8.2 million page views this calendar year. Over 480,000 of those views were Insights blog posts.
Amid all the chaos in our world, this past year was another strong year for Life, Hope & Truth.Below is a list of the top 10 blog posts from 2022 based on the number of page views. If you missed any of these posts, hopefully this will give you an opportunity to go back and read them.
One of our big developments this year was adding a new staff writer, Kendrick Diaz. You'll notice that Kendrick authored five of the top 10 blog posts this year. We are very happy to have Kendrick, a gifted writer and communicator, writing for us full-time.
You'll also notice that a number of these posts are focused on explaining a single Bible verse. Covering one verse in detail not only gives us the opportunity to make the meaning of that single verse more clear, but also allows us to address a number of related topics.
"Within the past decade, the world has witnessed Vladimir Putin act in ways that are reminiscent of the era of Benito Mussolini, Adolf Hitler and Joseph Stalin. All of these men, and others like Saddam Hussein, have been the subject of speculation about the identity of the 'beast' . . .
"We believe that there will soon be a fulfillment of the prophecies of the beast. This power is forming in the world today—but it is not forming in Russia! In other words, neither Vladimir Putin nor Russia is the beast of Revelation . . .
"Though Vladimir Putin's Russia will not be the beast of Revelation, he is still worthy of close watch. The Bible does show that Russia will be a significant military power in the end time and will grow closer to China and other nations in the East."
"The point is that Paul understood suffering as well as anyone. If there was any person who had reason to wonder whether or not 'all things work together for good,' it was Paul.
"But, in keeping with his strong faith in God, he left the readers of his day—and us by extension—with the powerful assurance that all things will eventually work for good.
"If you are struggling with problems in your life, the apostle Paul is someone you can look to for encouragement. He didn't write about dealing with suffering as theory—he personally lived and experienced it."
"In no uncertain terms, this verse reveals the primary reason the Bible is unlike any other book in the world. It was inspired by God Himself, the Creator of the universe—your Creator . . .
"The Bible is God's instruction manual for mankind, and as Creator and Designer, He included every principle we would need for the things we face in life. And, because the wisdom of the Bible originates from a timeless God, it is, in fact, timeless in its application to human beings. It's for everyone, everywhere, in every generation."
"In 2 Peter 1:5-7, he provided a list of characteristics that describe the mature Christian—something we should strive to become so we can be 'partakers of the divine nature' (verse 4) . . .
"None of us will become perfect in all of Peter's maturity traits in this life. But that doesn't mean we should not aim to become perfect. One of the identifying marks of true Christians is that they are continually striving to develop these characteristics in their lives."
"After identifying four characteristics of God's people, the Church, Peter went on to describe what those people are to do in their lives: 'that you may proclaim the praises of Him who called you out of darkness into His marvelous light' (1 Peter 2:9).
"When we think of praise, we often think about worshipping God through song. But that is just one of many ways that God's people praise Him. Perhaps the most powerful and important way they can 'proclaim the praises' of God is to set an example of His way of life in action through their daily conduct."
"To define Christianity fully, we have to examine a number of scriptures. But there is one scripture that provides us a very solid and basic summary of what a true committed Christian looks like. That verse is Galatians 2:20 . . .

"The faith we need is 'the faith of the Son of God'—the very faith that Christ had.
"That means we are to live by everything He did and taught. This includes abiding by the laws of God."
"No matter our age, ethnicity or gender, all of us deal with carnal-mindedness.
"It is a fact lost on most people, but because of your carnal mind, you innately resent and resist the idea of a God who has the right and the authority to tell you what to do . . .
"Spiritual-mindedness through the power of God's Spirit is the solution.
"Our greatest weapon in the war against our carnal mind is the Holy Spirit, which equips us with the self-control necessary to resist its dictates."
"Though the trends these horsemen represent have been on the world stage for a long time, they will escalate in intensity and impact during the end times. But, as terrible as they are, Jesus called them only 'the beginning of sorrows' (Matthew 24:8) . . .
"If left unchecked, all these forces could lead to humanity's destruction. But God will not allow that to happen. He will send Jesus back to this earth to save us from ourselves. The return of the Son of God—who is depicted as the Horseman, with a sword, on the real white horse (Revelation 19:11-21)—will end the rides of the four horsemen of war, famine, pestilence and false religion."
"Have you ever considered a palm tree as a symbol of righteousness? Most people probably don't look at palm trees and think, I need to be more like that!

"But a closer look at these three short verses shows that there is more to palm trees than meets the eye . . .
"A righteous Christian will flourish like a palm tree, strive to be upright by keeping God's commandments, bear fruit while developing a closer relationship with God, and will not be easily shaken by the storms of life."
"Matthew 6:33 is a foundational scripture that directs our focus and attention to what God considers to be the most important goal a person can have . . .
"To 'seek' that Kingdom is to have a strong desire to enter it—a willingness to go to any length to do so . . .
"The blessing is entry into the Kingdom of God. That is the reward for those who seek God's righteousness. Righteousness and the Kingdom of God are inextricably linked together!"
Other noteworthy blog posts
We published over 100 blog posts in 2022. For a sample of some of our other helpful and interesting posts, take a look at the list below and read any you may have missed.
You can also browse through our blog archive here: Insights into Life, Hope & Truth.
Have you subscribed?

We plan to continue to post blogs explaining the Bible and making sense of the world around us.

If you aren't already subscribed, you can get our newest blog posts directly in your email inbox by clicking "Subscribe to our Blogs."

Topics Covered: Christian Living, News and Trends, Bible Study