Why Has Russia Invaded Ukraine?
Russia has launched a major ground invasion of Ukraine. Why has Vladimir Putin invaded Ukraine? Where does this fit into prophecy?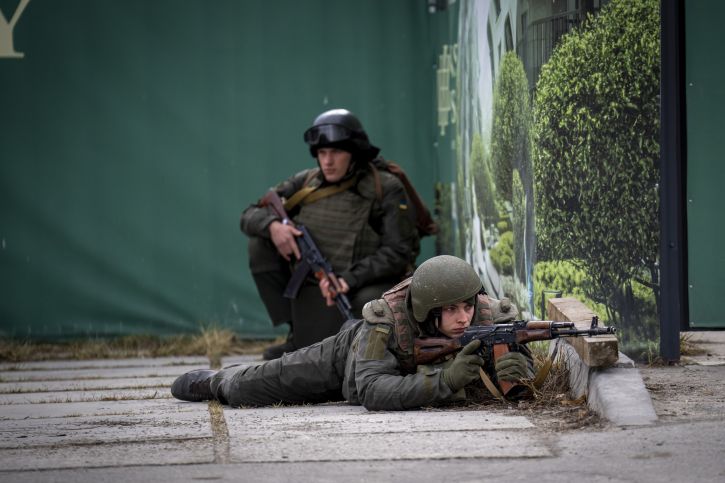 On Feb. 24, the world's fears became a reality when Russia began launching rockets into Ukraine and, shortly after, launched a major ground invasion. The Ukrainian government has announced that the Chernobyl nuclear facility is now controlled by Russian forces.
This all occurred after Mr. Putin recognized the independence of the Donetsk People's Republic and the Luhansk People's Republic in eastern Ukraine. It is now widely believed that Mr. Putin intends to take the Ukrainian capital of Kyiv, overthrow the democratically elected government of Volodymyr Zelensky, and install a puppet regime loyal to Moscow.
Though U.S. President Joe Biden has been clear that he will not send U.S. troops to Ukraine, on Feb. 1 he ordered the deployment of several thousand additional troops to Europe to provide extra support for its European allies in the region and to try to deter a Russian invasion. On Feb. 24 President Biden ordered an additional 7,000 troops to deploy to Germany.
In recent months, the U.S. has sent or repositioned over 6,000 troops to Romania, Poland, Germany and the Baltics to deter Russia from launching an attack on these nations on NATO's eastern flank.
What is behind all of this?
Why is Vladimir Putin so fixated on Ukraine?
It's no secret that Mr. Putin sees NATO as a threat and wishes to have NATO withdraw from Eastern Europe. He wants to ensure that Ukraine never joins NATO, since that would put the Western alliance along even more of Russia's border. It is also no secret that Mr. Putin desires that the former Soviet Union's Eastern European territories remain in Russia's sphere of influence.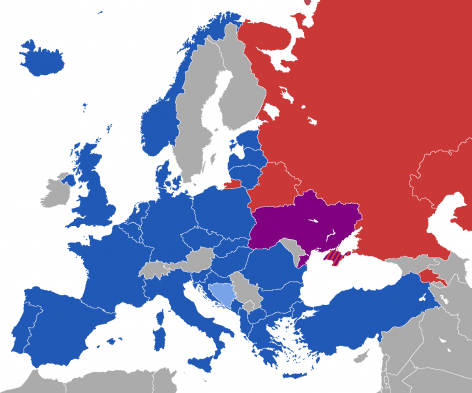 Mr. Putin has described the Soviet Union's collapse as "the greatest geopolitical catastrophe of the 20th century." Ukraine gained its independence from the Soviet Union in 1991.
Ukraine's president in 2014, Viktor Yanukovych, rejected the European Union–Ukraine Association Agreement, which was designed to move the nation closer to becoming a part of the European Union. Instead, he chose to align himself with Moscow.
Mr. Yanukovych's move sparked widespread pro-EU protests in Ukraine that led to his removal. Russia responded by invading Crimea and supporting pro-Russian separatists to undermine the nation's move toward Europe.
The world responded by condemning Mr. Putin's actions, but only through words and sanctions. President Putin was not deterred from working toward his dream of having Eastern Europe back under Russian influence. In fact, it seems he was emboldened.
You can read our past coverage of those events here: "What in the World Is Putin Doing in Crimea?" and "The Russian Crime(a)."
Russia views Ukraine as a strategic security buffer zone. Invaders from Europe have attacked Russia several times in the last 500 years.
In 1812 France's Napoleon Bonaparte attacked Russia with a half million soldiers. In 1941 Hitler betrayed Stalin, to his shock, and invaded the Soviet Union as part of Operation Barbarossa. Russia incurred massive losses in Ukraine. As well, Ukraine became a launching pad for Hitler's attack on Stalingrad. For Russia, Ukraine is nonnegotiable and must again come under its sphere of influence.
With its Feb. 24 invasion of Ukraine, Vladimir Putin has begun the process of forcibly returning Ukraine to Russia's sphere of influence. It remains to be seen if Mr. Putin will be able to overthrow the Ukrainian government and install a pro-Russian puppet regime. Even if he's able to achieve that, it is believed that Ukrainian militia groups could form an armed resistance that will lead to Ukraine becoming a war zone for months, or even years, to come.
Mr. Putin has even hinted that he could take similar action against Sweden and Finland in an attempt to bring them into Russia's sphere of influence. There is now a growing discussion within Sweden and Finland on renewing efforts to join NATO. Of course, this would anger Mr. Putin even more.
"Wars and rumors of war" in Russia and China
The Bible prophesies not only that the end times will see an increase in wars, but also an increase in "rumors of wars" (Matthew 24:6). That is what we are seeing in our world today.
Ukraine and Russia are now at war, and there are fears of this conflict spreading to Europe.
In Asia, a remarkably similar situation is occurring in the east between China and Taiwan:
Vladimir Putin and Xi Jinping met in Beijing before the Winter Olympics, Feb. 4, 2022 (www.kremlin.ru).

Like Russia, China is a military power to reckon with, having overwhelming forces ready to invade a smaller country.
Like Russia, China has performed illegal incursions into territories of other nations.
Like Russia, China has seen very few consequences for its actions, despite tough rhetoric.
Like Russia, China sees the United States as the prominent power to undermine.
Like Russia, China sees its influence expanding and has invested greatly in its military in recent years.
You can read more about this simmering situation in our blog post "Why the China-and-Taiwan Conflict Matters."
And we've been seeing China and Russia move closer than ever before, strengthening ties and aligning themselves against the West. Last year, China and Russia held massive war game exercises together, and both will be performing naval drills with Iran this year.
In December 2021 Mr. Putin and Xi Jinping held a virtual meeting, in which Mr. Putin said: "A new model of co-operation has been formed between our countries—one based on foundations like noninterference in each other's internal affairs and respect for each other's interests."
Beyond the formal alliance between the two nations, Chairman Xi told Mr. Putin that "in its closeness and effectiveness, this relationship even exceeds an alliance."
On Jan. 28, 2022, China announced it's working with Russia to build a lunar research station by 2035. The intent of the joint project is to build a station that rivals NASA's Lunar Gateway.
The deepening relationship between Russia and China is of great interest to students of Bible prophecy. The Bible prophesies that the "kings from the east" will form a strong bloc in the end times (Revelation 16:12). This alliance will eventually field a 200-million-man army that will launch a destructive military attack on the European-based beast power (Revelation 9:16).
Germany's muted response to Russian aggression
Russia and Germany were initially at peace during the beginning of World War II, forming a nonaggression agreement called the Molotov-Ribbentrop Pact. The pact assured each nation that the other would not attack it. The agreement divided Eastern Europe into German and Soviet spheres of influence.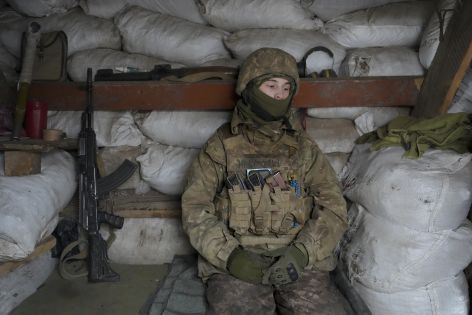 This time, due to its dependence on Russian energy, Germany's initial response to Russia's threats against Ukraine has been timid. Other Eastern European nations have taken note.
Latvian Defense Minister Artis Pabriks criticized Germany, calling its relationship with Russia "immoral and hypocritical." He continued, "It's driving a division line between west and east in Europe."
Germany was also strongly criticized by Kyiv mayor Vitali Klitschko for blocking Ukraine from receiving defensive weapons it could use to counter a Russian attack. He said, "I'm disappointed with the stance taken by the German government. Every time we speak of defensive weapons, Germany blocks someone from delivering them."
What's in the future for Russia and Europe?
Despite its current position, Germany will play a major role in the political and economic power that will arise in Europe.
The Bible prophesies a 10th and final revival of the Roman Empire—known in prophecy as the beast. This final permutation of the Roman Empire will be a collection of European leaders under a single charismatic political leader.
Another name for "the beast" is the "king of the North" (due to Europe being geographically to the north of Jerusalem). It is possible that fears of Russian aggression could be a factor in motivating these European nations to unite under a bold political strongman.
This end-time Europe will no longer be under America's umbrella of protection. It will replace the U.S. and Great Britain as the world's greatest economic and military superpower.
To learn more about these prophecies, read "Who Is the Beast?"
This power will react to the aggressive actions of the "king of the South" (likely a confederation of Muslim nations) by defeating it with an overwhelming military force (Daniel 11:40-43). It seems this Muslim confederation will be driven by a desire to destroy the Jewish state of Israel (Psalm 83:4).
But after the European beast power has defeated the "king of the South" and taken control of the Holy Land for itself, another confederation of nations will attack it. These powers will come from the north and east (likely referring to Russia and China, along with other Asian nations). This will provoke even greater aggression and bloodshed from the beast power (Daniel 11:44).
But the good news is that this future time of warfare and destruction will be forcibly stopped by the return of Jesus Christ. He will not only overthrow the governments that provoked this global end-time war, but will establish His government over all nations. Our world needs this to happen. That's why Christians are instructed to regularly pray, "Your kingdom come" (Matthew 6:10).
Though we live in a time of "wars and rumors of wars," Jesus encourages us to "look up and lift up your heads, because your redemption draws near" (Luke 21:28).
As we get closer to the fulfillment of these prophecies, we urge our readers to build, or deepen, their relationship with God. The time of Jesus' return is drawing nearer. The warning signs are all around us.
Will you be ready?
Topics Covered: Prophecy, End Times, News and Trends