Tears in a Bottle
David poetically praised God for His deep compassion. We also can envision our loving God gently keeping our tears in a bottle, never forgetting the challenges and sorrows we face.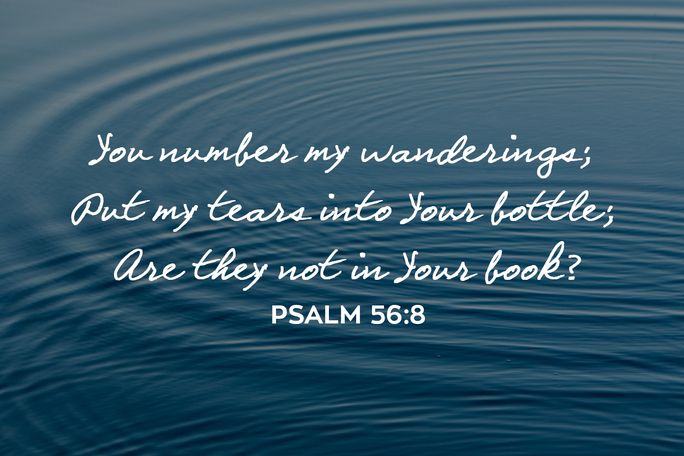 Jealous King Saul had tried again and again to kill David. David fled, but nowhere seemed safe from the king's informers. Finally, in desperation he entered a stronghold of Israel's enemies, the Philistines. Saul would not get him in Gath.
But David's troubles were only beginning. The Philistines recognized David, and they remembered what he had done in battle against them. Instead of thinking "the enemy of our enemy is our friend" (as they would later), they focused on: "Is this not David the king of the land? Did they not sing of him to one another in dances, saying: 'Saul has slain his thousands, and David his ten thousands'?" (1 Samuel 21:11).
As anyone would be, David "was very much afraid" (verse 12). He quickly decided to act insane, scratching on the gate and drooling. Maybe the Philistine king would believe the act, considering that David had come right into an enemy city—what could be crazier than that!
In the end, though, David realized it was God who allowed him to get away from this death-defying situation.
This terrifying experience made a lasting impression on David. He wrote two of his most powerful songs—Psalms 34 and 56—about this low point in his life that God saved him out of.
Crying out to God
Our great God never forgets anything He chooses to remember. In Psalm 56 David cried out: "Be merciful to me, O God, for man would swallow me up; fighting all day he oppresses me. My enemies would hound me all day, for there are many who fight against me, O Most High" (verses 1-2). Between the king of Israel and the king of Gath and all their henchmen, David was vastly outnumbered!
But by verse 8, David's confidence and appreciation for God's compassion comes through:
"You number my wanderings; put my tears into Your bottle; are they not in Your book?"
Remembering the God who remembers
Our great God never forgets anything He chooses to remember. He will never forget the character we have developed in trials, the patience and compassion we have learned, the "labor of love" we have given (Hebrews 6:10).

Jesus Christ came to the earth to live a human life of wanderings and of tears, and that allows Him to better understand us. "For we do not have a High Priest who cannot sympathize with our weaknesses, but was in all points tempted as we are, yet without sin" (Hebrews 4:15). So we can "come boldly" to God and "obtain mercy and find grace to help in time of need" (verse 16).

When we remember that God remembers our tears—keeps our tears in a bottle, as it were—we can praise Him and go to Him for the comfort and help we need.

Read more in our article "Crying: What the Bible Says" and our blog post "God Will Wipe Away Every Tear."