How to Build Faith
Faith is essential for the Christian. But many ask, "How do I build faith?" This blog post will explore three ways to build living and dynamic faith.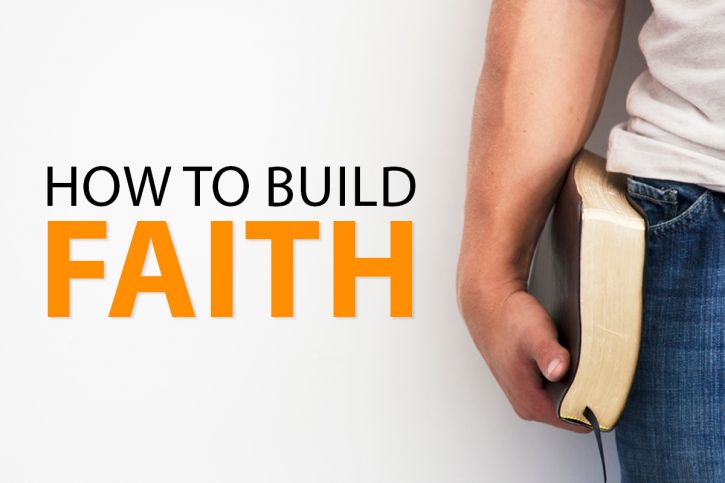 The world we know is quickly becoming a faithless wasteland.
Jesus Himself, when He walked the Holy Land almost 2,000 years ago, foresaw the withering of faith that would herald the end of the age—the time in which we now live.
He asked His disciples the sobering question, "When the Son of Man comes, will He really find faith on the earth?" (Luke 18:8).
Is it any surprise—given today's world and its growing disbelief in absolute truth, increasing acceptance of evolutionary theory and rising level of vitriol toward biblically based values—that Jesus predicted an almost total absence of faith?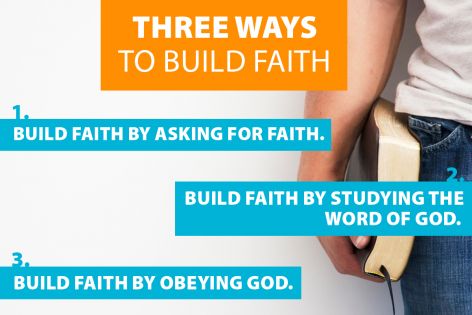 God inspired the apostle Peter to record this warning: "Knowing this first: that scoffers will come in the last days, walking according to their own lusts, and saying, 'Where is the promise of His coming? For since the fathers fell asleep, all things continue as they were from the beginning of creation'" (2 Peter 3:3-4, emphasis added).
As we approach the last days, we should expect scoffers to increase and the assault on faith to intensify.
But what is the message for true Christians today?
The message is this: in order to spiritually survive our day and age, we need to build faith—big faith! (To learn more about the biblical definition of faith, read "What Is Faith?")
But what can we do to increase our faith?
Here are three ways you can build faith.
1. Build faith by asking for faith.
Were the first-century apostles of Jesus Christ a special breed of people who, from the moment they were born, radiated perfect faith 24/7?
Not at all. During His ministry, Jesus rebuked many of His followers, including the often rash and hasty apostle Peter, for their lack of faith (Matthew 14:31; 8:26; 16:8). Not even the apostles, men we think of as spiritual giants, were let off the hook in the matter of faith.
Notice Luke 17:5: "And the apostles said to the Lord, 'Increase our faith.'"
The first key to building faith is summed up in that verse. We also should turn and ask for faith in the same way the apostles did when they realized they needed faith and turned to Jesus Christ for help.
Consider the saying that goes, "If you don't ask, the answer is always no."
When it comes to faith, the adage is equally true—how can we expect to have faith if we never ask for faith?
Building faith is a lifelong endeavor that requires our daily participation—that is, we should be asking for it constantly.With the apostles' example in mind, we might go to God on our knees and, in our own words, cry out, "Lord, increase my faith."
Recognize, though, that faith is not built overnight—it's not as simple as praying, "Give me faith," and expecting faith to come in one fell swoop. Building faith is a lifelong endeavor that requires our daily participation—that is, we should be asking for it constantly.
In Scripture the lesson of coming to God repeatedly to pray for something is an established one.
In the Sermon on the Mount, Jesus told His followers: "Ask, and it will be given to you; seek, and you will find; knock, and it will be opened to you" (Matthew 7:7). In other words, "ask, ask again, and keep on asking"—never let down and quit.
Again, in Luke 18:2-7 we read a parable about a widow who approached a judge around the clock—even to the point of being bothersome—to get what she wanted. Eventually, out of sheer tiredness, the judge gave in to her demands.
The lesson was that "men always ought to pray and not lose heart" (verse 1).
God wants to give us faith, but He also wants us to actively and continually seek it.
The first way to build faith is to add it to your prayer list.
For more insight on prayer, read "How to Pray Effective Prayers."
2. Build faith by studying the Word of God.
The second way to build faith is to diligently study the Word of God.
"But that just increases head knowledge, not actual faith," someone might argue.
On the contrary, Romans 10:17 shows the effect the Bible can have on those who really study it: "So then faith comes by hearing, and hearing by the word of God."
The Bible is a historical account replete with instance after instance in which the God of heaven and earth intervenes dramatically to show His existence and power.Hearing the Word of God comes in one of two ways:
You can hear the Word of God spoken by a preacher or with a Bible audio app.
You can "hear" the Word of God as you yourself read the Bible.
In either case, if we listen to God's Word with an Isaiah 66:2 attitude, faith will grow.
What is it about studying the Bible that builds faith?
One thing is the fact that the Bible is a historical account replete with instance after instance in which the God of heaven and earth intervenes dramatically to show His existence and power.
Consider the following examples:
Read Exodus 14 and think about what God did. He used His awesome power to split the waters into two walls, allowing the Israelites to walk across the Red Sea on dry land—and then He ordered those same walls to collapse on the pursuing Egyptians.
Read through the psalms David wrote while on the run from King Saul, hiding out in a cave like a rat, and how he pleaded with God to protect him—which God did time and time again.
Read in 2 Kings 19 about how King Hezekiah was hopelessly cornered by the Assyrian King Sennacherib but turned to God for deliverance—and God killed 185,000 Assyrian soldiers in a single night and saved the whole city of Jerusalem.
Read through the Gospels and see the magnificent miracles Jesus—God in the flesh—performed in healing the sick, casting out demons and literally raising the dead.
By carefully going through these biblical accounts, you will begin to internalize what God has done and can do. God's power has not waned over the years. He is still El Shaddai—God Almighty.
These inspiring stories of God's power will reassure you and strengthen your faith.
To learn more about God's unlimited power, read "The Power and Greatness of God."
3. Build faith by obeying God.
After we ask for faith and study the Bible, we need to do what God says.
Obedience is crucial for faith building because it is, in one way, a test—do we really want to continue to build faith? Are we willing to step out and do what God reveals to us in His Word?
The reality is that faith only increases so much by praying and reading exclusively.
If we refuse to obey God, even after we recognize His authority to tell us what to do, then our faith will stagnate. On the other hand, if we act on the faith that God has already given to us, we will develop even greater faith.
Let's consider an example of how this works.
God expects us to put what we learn in His Word into practice, and if we do so faithfully and obediently, we can expect our faith to increase.Say, for instance, you find yourself in Exodus 20 and come across the passage that says, "Remember the Sabbath day, to keep it holy. Six days you shall labor and do all your work, but the seventh day is the Sabbath of the LORD your God. In it you shall do no work" (verses 8-10).
You also know from previous study that God says, "If you diligently obey the voice of the LORD your God . . . all these blessings shall come upon you and overtake you" (Deuteronomy 28:1-2).
But you choose not to obey because you are afraid to talk to your boss about taking Saturdays off and potentially losing your job.
What has just happened?
By refusing to believe and act on God's Word, you have effectively 1) called into question God's power, faithfulness and goodness, 2) distorted your notion of the limitless God, and 3) essentially said, "God, I don't trust You to take care of me. I have to take care of myself." The result is stifled faith.
Now consider the alternative.
Say you choose to obey because you are convinced that God says what He means and means what He says.
By obeying God because you know God cannot lie (Hebrews 6:18), you have 1) affirmed God's trustworthiness, 2) begun to see God the way He wants you to see Him, and 3) exercised faith. In the aftermath, you will be blessed, your consciousness of God will deepen, and your faith will undoubtedly grow.
God expects us to put what we learn in His Word into practice, and if we do so faithfully and obediently, we can expect our faith to increase.
Build real faith
God is not some distant god who is way off somewhere, unknowable and unreachable. He doesn't want you to doubt His existence and your ability to have faith in Him.
Notice in Jeremiah 29:13, God tells us, "And you will seek Me and find Me, when you search for Me with all your heart."
When you ask for faith, study the Bible and obey God, you are seeking God—and you will build faith over time as you begin to understand how real He is.
True Christians are going to need to build that kind of faith—real faith—to stay spiritually strong in the ever-growing faithless wasteland that Jesus predicted. As the apostle Paul said, "Watch, stand fast in the faith, be brave, be strong" (1 Corinthians 16:13).
So, apply these three steps in your life.
Believe God and build faith.
Topics Covered: God, Christian Living, Christian Growth