Enemy of Faith: Doubt
Doubt sank Peter, and it can punch holes in our faith as well. But the Scriptures make clear there is no doubt God will fulfill His promises.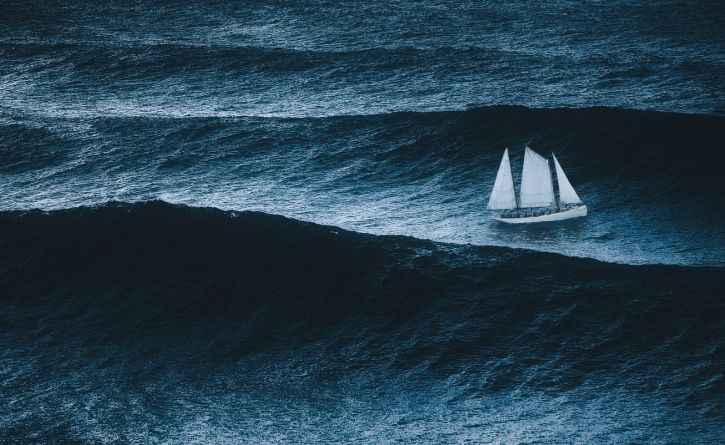 A third enemy of faith that we are warned about is doubt.
Why did you doubt?
Many people are familiar with the story of Peter walking on water.

After miraculously feeding about 5,000 men plus women and children, Jesus sent the crowd away. Then He ushered His disciples into a boat and sent them on their way while He went off to pray (Matthew 14:22-23).

A storm arose, tossing the boat about (verse 24). During that storm, Jesus approached, walking atop the fierce waves (verse 25). The disciples were astounded (verse 26). Jesus identified Himself (verse 27); and Peter, in his usual brash manner, asked Jesus to help him to also walk on the water.

Jesus simply said, "Come" (verses 28-29).

We can imagine that Peter might have been nervous, but he bravely stepped out of the boat and proceeded to walk toward Christ. But apparently the howling wind and the rough sea unnerved him, because he started to sink (verse 30). Jesus had to save him from drowning.

"And immediately Jesus stretched out His hand and caught him, and said to him, 'O you of little faith, why did you doubt?'" (Matthew 14:31, emphasis added throughout).
Defining doubt
According to Dictionary.com, doubt means:
To be uncertain about; to consider questionable or unlikely; to hesitate to believe; or
To distrust.
How can we have faith in something we are uncertain about or that we question as unlikely? If we hesitate to believe something, or don't have trust in it, we certainly don't have faith in it, do we?
Doubt is caustic to true faith.
The power of faith
Jesus gave His disciples many examples of the power of faith and the importance of conquering doubt.
"Now in the morning, as He returned to the city, He was hungry. And seeing a fig tree by the road, He came to it and found nothing on it but leaves, and said to it, 'Let no fruit grow on you ever again.' Immediately the fig tree withered away. And when the disciples saw it, they marveled, saying, 'How did the fig tree wither away so soon?' So Jesus answered and said to them, 'Assuredly, I say to you, if you have faith and do not doubt, you will not only do what was done to the fig tree, but also if you say to this mountain, "Be removed and be cast into the sea," it will be done'" (Matthew 21:18-21).
Notice that He said we must have faith and not doubt. That's a problem with most of us. We may think we have faith, but when the crunch comes, we actually can be crippled by doubt. Doubt is a faith killer.
Examine the evidence and grow in faith
Many prophetic scriptures are meant to give Christians hope for the future. Consider a couple of them:
"And when the Chief Shepherd appears, you will receive the crown of glory that does not fade away" (1 Peter 5:4).
"For the Lord Himself will descend from heaven with a shout, with the voice of an archangel, and with the trumpet of God. And the dead in Christ will rise first" (1 Thessalonians 4:16).
Focus on these sure promises and God's assurance that He will fulfill them—for us, if we obey Him in faith. God is all-powerful, and His word is sure.
Remember what the author of the book of Hebrews wrote: "Now faith is the substance of things hoped for, the evidence of things not seen" (Hebrews 11:1).
Faith is evidence! It is being absolutely convinced that God's promises, given to us through His prophets and apostles, are rock-solid and that they apply to each and every member of the Body of Christ.
Whenever doubt creeps into our minds, we should go to God for help to strengthen our faith. We should refresh our minds with scriptural evidence of God's sure promises.
This is the third in a four part series on Enemies of Faith. To read part 2, see "Enemy of Faith: Fear." To continue the series, see part 4 "Enemy of Faith: Human Reasoning."
Read more about living faith in the section on "Faith: Believing and Pleasing God."
Topics Covered: Christian Living