The Scriptures include some thought-provoking accounts of two sisters—Martha and Mary. In each case, we will see that both had a deep faith in God.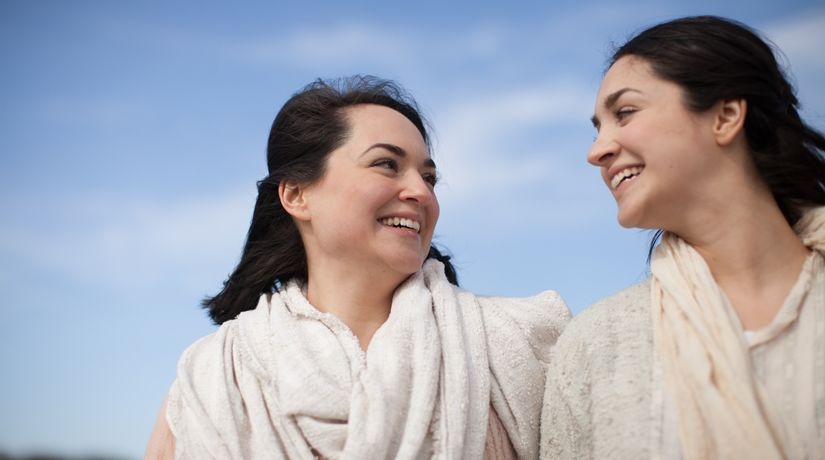 The Bible states that Martha and Mary, along with their brother, Lazarus, lived in Bethany, which was only about 2 miles outside of Jerusalem (John 11:18). Apparently, they all were well-known in the community, as we read that many Jews came and comforted Martha and Mary when their brother Lazarus died (verse 19). We also see that Jesus was very fond of all three—He loved them (verse 5).
But before we get to the story of Mary and Martha's faith, consider another earlier time when Jesus interacted with the sisters and pronounced one of His most famous statements.
Martha, Martha …
The occasion is found in Luke 10:38-42. Jesus had entered the village and was invited by Martha into her home. It was often the custom to invite travelers into one's home for a meal. In this case, Martha did that, and as was noted earlier, Jesus knew the family.
As the hostess, Martha was busily preparing the meal and making sure the serving would go well. It was a lot of work! Martha soon became upset because her sister, Mary, wasn't helping. Jesus had sat down in the house, and Mary was listening intently to His words.
Martha, even though she was the one who had invited Jesus into the home, was exasperated and approached Jesus, questioning Him—"Lord, do You not care that my sister has left me to serve alone?" Martha then boldly asked Him to "tell her to help me."
What follows is the well-known phrase Jesus said: "Martha, Martha, you are worried and troubled about many things."
Lesson to learn
The point is, Martha was anxious and stressed. Even though she acknowledged that Jesus was "Lord" and she had invited Jesus in for a meal, those factors were being overshadowed by the fact that Martha was doing all the work, and it was getting hectic! But Jesus gave instruction concerning a very important aspect about life that we all need to consider: "One thing is needed, and Mary has chosen that good part, which will not be taken away from her."
Sometimes we can be so busy in life that we need to step back and focus on the most important things. Mary was doing that. She was listening to Jesus. And those words of Christ, when believed and acted upon, can help us live the life we should.
Mary took advantage of the presence of Jesus and listened to Him. It was her priority at that time. Do we see the need to have similar priorities? We should take the time to pay attention to the words of our Savior—and thankfully we can do that at any time when we are reading the Scriptures (see the article "Jesus Christ, the Prophet?").
For further information about priorities, please read "Christian Priorities."
The faith of Martha and Mary
Some time later, Lazarus, their brother, became very sick, and both sisters sent word to Jesus. They had faith that He would heal Lazarus of his sickness. But Jesus did not come right away, since He intended to perform a miracle "for the glory of God, that the Son of God may be glorified through it" (John 11:3-4).
Lazarus died, and understandably, his death deeply affected his sisters. By the time Jesus arrived, Lazarus had been dead and buried for at least four days (verse 11). Martha and Mary each came to Jesus privately and said: "If you had been here, my brother would not have died" (Martha in verse 21, and Mary in verse 32).
In verse 22, we see the deep faith of Martha. She really believed that Jesus could do anything and said: "But even now, I know that whatever You ask of God, God will give You." This was after Lazarus had died and was buried—so what was she requesting of Jesus? She believed that Jesus could do anything!
Jesus then stated emphatically, "Your brother will rise again."
Martha's understanding
After Jesus spoke these words, Martha responded, and what follows is a fascinating discourse between Martha and Jesus. In verses 24-27 we see a lot of what Martha believed and what she knew about the plan of God.
"Martha said to Him, 'I know that he will rise again in the resurrection at the last day.' Jesus said to her, 'I am the resurrection and the life. He who believes in Me, though he may die, he shall live. And whoever lives and believes in Me shall never die. Do you believe this?'
"She said to Him, 'Yes, Lord, I believe that You are the Christ, the Son of God, who is to come into the world.'"
Very few people of that time believed that Jesus was the Messiah. Martha was one of the few, and she also believed in the resurrection—she knew the dead would rise again.Very few people of that time believed that Jesus was the Messiah. Martha was one of the few, and she also believed in the resurrection—she knew the dead would rise again. It appears from what Martha said in this conversation that she had strong faith.
Later, we read in verse 28 that after she had said these things, she went her way and secretly called Mary her sister, saying, "The Teacher has come and is calling for you."
When Mary came to Jesus, she told Him that, had He been present, Lazarus would still have been alive. Mary was deeply distressed over her brother's death and was weeping, and those with her were weeping. The scene was very moving to Christ. In fact, the shortest verse in the Bible comes at this time: "Jesus wept" (verse 35).
The miracle
Jesus, still groaning in Himself, came to the tomb of Lazarus. He was now about to perform a miracle to the glory of God (verse 40). The story is found in verses 41-44:
"Then they took away the stone from the place where the dead man was lying. And Jesus lifted up His eyes and said, 'Father, I thank You that You have heard Me. And I know that You always hear Me, but because of the people who are standing by I said this, that they may believe that You sent Me.' Now when He had said these things, He cried with a loud voice, 'Lazarus, come forth!' And he who had died came out bound hand and foot with graveclothes, and his face was wrapped with a cloth. Jesus said to them, 'Loose him, and let him go.'"
This was a tremendous event, and it had a very positive reaction. "Then many of the Jews who had come to Mary, and had seen the things Jesus did, believed in Him" (verse 45).
In fact, this was one of the intents of the miracle. Jesus wanted Martha, Mary and the others to believe and see the glory of God (verse 40).
But not all believed in this miracle, and there were some who conspired against Jesus. "Then, from that day on, they plotted to put Him to death" (verse 53).
After Lazarus' resurrection and before Jesus Christ was crucified, Mary once again came into the picture; this time she did something that was to be noted for all time.
Mary's act of worship
The story is found in John 12:1-3: "Then, six days before the Passover, Jesus came to Bethany, where Lazarus was who had been dead, whom He had raised from the dead. There they made Him a supper; and Martha served, but Lazarus was one of those who sat at the table with Him. Then Mary took a pound of very costly oil of spikenard, anointed the feet of Jesus, and wiped His feet with her hair. And the house was filled with the fragrance of the oil."
As verse 5 indicates, it was a costly gift befitting a king (valued at about 300 denarii, which would have been about 300 days of wages for a worker!). It was an act of honor, worship and subservience to her Master and Lord.
So what did Jesus think about this? The answer is in John 12:7, and is also mentioned within the story found in Matthew 26:12-13: Jesus answered, "For in pouring this fragrant oil on My body, she did it for My burial. Assuredly, I say to you, wherever this gospel is preached in the whole world, what this woman has done will also be told as a memorial to her."
What Mary did at that time (confirmed again in John 11:2), became part of the gospel message. Jesus Christ was anointed with oil prior to His death.
The record shows that both Mary and Martha knew that Jesus was the Messiah. They both worshipped Him as their Lord, and each had deep faith. Both believed in the words of Jesus Christ and both set an example for us.
There are other women of faith who are noted in the Bible, and their stories and examples are found in this "Women of Faith" section of Life, Hope & Truth. As you read about them, you'll see that each of their lives offers valuable lessons for us as well.