Violence fills today's news. It seems there is one vicious and violent act after another. What is the cause of violence, and will it ever end?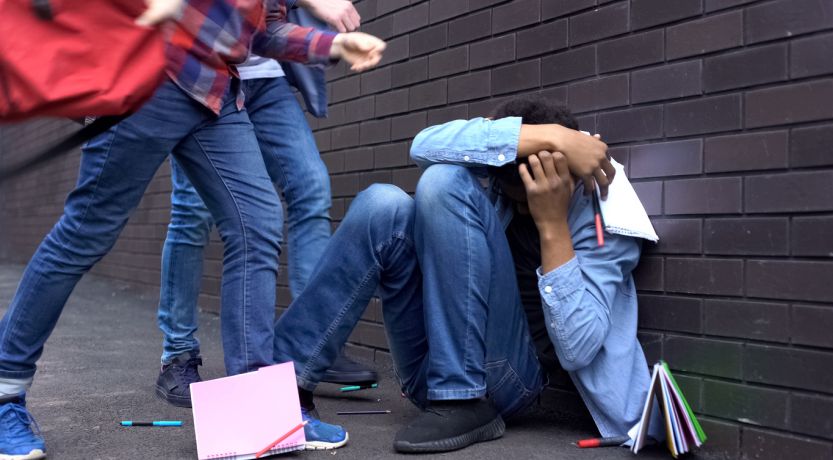 A recent headline from Oklahoma read, "Police Identify Victim, Suspect in Fatal Hobby Lobby Warehouse Shooting."
Atlanta: "Man Charged With Shooting, Killing Clark Atlanta Baseball Player Sitting in Car, Police Say."
Then there are the ones that make national news, like this one from Uvalde, Texas: "At Least 19 Children, 2 Adults Killed After Shooter Opens Fire at Texas Elementary School."
And even as this was being written, a gunman killed eight at a mall in Allen, Texas.
The images of the horror that take place every time this happens rightly get people upset. We should be moved by the loss of life and destruction of families in these circumstances. Everyone would like this problem to be fixed.
The source of violence
Why do people do these things to each other?
What does Scripture have to say about the subject? The following verses give us a clue as to what God has to say about what motivates people:
"The heart is deceitful above all things, and desperately wicked; who can know it?" (Jeremiah 17:9).
"For out of the heart proceed evil thoughts, murders, adulteries, fornications, thefts, false witness, blasphemies" (Matthew 15:19).
God's Word tells us these things come from the heart of men. That is where they begin and are manifested into evil actions.
No matter where one stands on the issue of the availability of weapons, one thing should be agreed upon: In order for a gun or a knife or a baseball bat to do something evil, it has to have an evil person using it. (Of course, tragic accidents can occur to innocent people when they are careless, but this article is focused on intentional violence.) Like all murder and violence, it begins in the heart of a person.
The pathway to violence
In the school where I work, I am part of a team that is tasked with identifying and dealing with potential or active threats made at or toward our campus from students or other outside individuals. In this role I had the opportunity to attend a week-long conference hosted by the Texas School Safety Center.
One thing that numerous presenters kept referring to was that in most school shootings, there is a trail of indicators that the shooter leaves that hint at his future plans. This is known as the pathway to violence (Behavioral Threat Assessment and Management for Educators and Administrators, Texas School Safety Center).
It has four main steps: ideation, planning, preparation and implementation.
Ideation: Potential school shooters are expressing thoughts or fantasies (verbally to friends or on social media) considering the use of violence to address a real or perceived grievance, threat or provocation.
Planning: They begin giving thought and consideration not only to the idea of committing violence, but to the who, what, when, where and how of doing so. Expressions may begin to refer to timing, location, targets, means, methods, etc.
Preparation: Beyond just acquiring weapons, this stage involves attempts to prepare for the violence and to develop or acquire the means and methods to engage in harm to target(s) or victim(s). They may try to obtain the means to fulfill their plans (e.g., weapons, tools, particular clothing, etc.). They may adjust plans if they encounter barriers or see opportunities that support their violent ideas and plans. They may also test boundaries to practice accessing secure areas.
Implementation: The person of concern moves to carry out the violent plan.
The research behind this indicates there is rarely a spontaneous implementation of targeted violence. However, the rate at which an individual might move through these stages may vary.
A major point that was highlighted at the training was that if a person is discovered early on the pathway, then the likelihood of preventing a mass shooting goes up. Notice that during the first stage there is "a real or perceived grievance, threat or provocation" that has been unresolved. Essentially, the person of concern feels like violence is his only way to deal with a problem that has been going on too long.
For some, the unresolved problems could include bullying, social isolation, feeling like a failure, loss of a relationship, family problems, abuse, etc. For most it is not just one thing, but a multitude of unresolved things that have added up over months and years until the person reaches a boiling point and feels there is no way out.
It is critical that if someone notices a person struggling or having changes of behavior or mood, he or she should say something to the person or let a trusted adult know. (The txssc.txstate.edu website on threat assessment advises: If you see, hear, know something, say something and do something. This goes for students, parents, teachers or any community member.)
The pathway to violence in the story of Cain
When we consider this pathway to violence, we can see it as a reflection of what is described in Scripture.
"But each one is tempted when he is drawn away by his own desires and enticed. Then, when desire has conceived, it gives birth to sin; and sin, when it is full-grown, brings forth death" (James 1:14-15).
When we give in to our own desires (allow them to take over our thoughts), we then act on them (carry them out). The result of this is death (spiritually and, in the case of a violent outburst, literally, in taking the lives of others).
The point of all this is that the act of violence begins with a thought. The means by which it is carried out is not the core issue; it goes much deeper into the heart of the individual. The apostle John tells us that hatred is the same as murder in 1 John 3:15.
Hatred comes from within. It has been around since the beginning of man, as we see in the example of Cain and Abel. Cain became the first murderer, probably using just a rock or club or his bare hands. How did it all start? Cain's offering was not respected by God, and he became angry. God called him out: "Why has your countenance fallen?" Cain was visibly upset.
It seems that Cain was jealous that Abel's offering was accepted but his offering wasn't respected. It wasn't Abel's fault, but Cain seemed to blame him anyway.
Listen to what God said to Cain
Notice in Genesis 4:7 what God told Cain to do:
"If you do well, will you not be accepted? And if you do not do well, sin lies at the door. And its desire is for you, but you should rule over it."
God told Cain he needed to rule over, get control of, his emotions. In this sense, we are all like Cain. We've all had angry thoughts about a situation or how someone wronged us.
God tells us all the same thing He told Cain: we need to rule over our attitudes.
The apostle Paul later wrote: "'Be angry, and do not sin': do not let the sun go down on your wrath, nor give place to the devil" (Ephesians 4:26-27).
We can take great comfort knowing that Jesus Christ will return and usher in a new way of life for all mankind.God understands that we have emotions, that we are going to get angry. Sometimes it's justified, and sometimes it's not, but we feel angry anyway. Either way, we are to rule over it. We are to go and deal with it in a right spirit, seek to reconcile with the other person, before the day is gone so we do not let Satan gain a foothold in our heart. Going to bed angry makes for a bad night's sleep and then a bad start to the next day.
Paul also said, "If it is possible, as much as depends on you, live peaceably with all men" (Romans 12:18). Sometimes it is not possible to reconcile, and sometimes the abuse and injustice are so great, we can't even go to the perpetrators. But even then, we need to rely on God, and leave vengeance to Him (verse 19).
We must trust in God, and with His help, we can grow to have the peace of God that allows us to control our anger.
Failing to address these issues, as we saw with the pathway to violence, can lead to horrible outcomes. In the case of a Christian, it can mean his or her very salvation. If hatred of your brother is the same as murder, and murderers have no place in God's Kingdom (Revelation 21:8), then we need to make sure our minds and hearts are not allowed to be hateful.
Christ tells us in Mark 7:20-23 that what comes out of us is what defiles us.
King David understood this, and he prayed fervently to God:
"Create in me a clean heart, O God, and renew a steadfast spirit within me" (Psalm 51:10).
A Christian's source of defense
As the world descends into greater chaos and hatred, undoubtedly there will be more incidents of murder and mass shootings. Even the best plans of prevention, defense and securing schools won't be able to stop all of them. It's a tragic reality of the world today that has been going on since mankind began.
With this in mind, some conclude that they should prepare to defend themselves by arming themselves.
As Christians we have a Defender who never sleeps or takes a break and who can be in all places at once. We need to rely on Him to defend us.
In Psalm 59:9, King David wrote that "God is my defense." We, too, need to be more trusting in our God to defend and strengthen us.
The ultimate solution to violence
Ultimately, there is only one solution that will end all anger, hatred and violence and the sorrow and suffering that follow it. We are told in 1 Thessalonians about how Christ will return:
"For the Lord Himself will descend from heaven with a shout, with the voice of an archangel, and with the trumpet of God. And the dead in Christ will rise first.
"Then we who are alive and remain shall be caught up together with them in the clouds to meet the Lord in the air. And thus we shall always be with the Lord.
"Therefore comfort one another with these words" (1 Thessalonians 4:16-18).
We can take great comfort knowing that Jesus Christ will return and usher in a new way of life for all mankind. The eventual result of God's way is what we see in Revelation 21:4:
"And God will wipe away every tear from their eyes; there shall be no more death, nor sorrow, nor crying. There shall be no more pain, for the former things have passed away."
Only a change in people's hearts will truly end the problem with gun violence. We eagerly wait and look for that day when Christ will return to put all nations under His feet and to bring the peace of His Kingdom to this world.
In the meantime, we need to carefully follow the instructions given in James 4:8:
"Draw near to God and He will draw near to you. Cleanse your hands, you sinners; and purify your hearts, you double-minded."