When you've made a decision to turn your life around and attempt to live in harmony with the teachings of the Bible, it can be disappointing to fall back into old bad behavior. However, a slipup, mistake or even sin can be a temporary setback. It does not mean the goal is unreachable.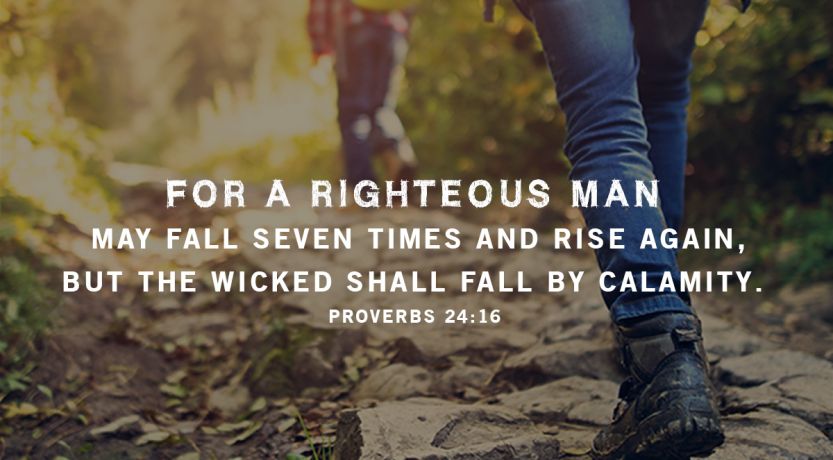 When we commit to following God and His way, we don't want to slip up. We don't want to make a mistake or fall back into sin.
But the temptations are all there. The habits of the past can sneak up on us. We can so easily let down our guard and sin.
What should we do when we slip up? How do we prevent a relapse from overwhelming us and causing us to give up?
Jesus' disciples went through this. What He told them can help us too.
The disciples' argument and Jesus' encouragement
Toward the end of His earthly ministry, Jesus overheard His disciples arguing with each other over who would be given the highest seats of honor in His coming Kingdom.
He addressed this act of immaturity by admonishing them to focus on serving rather than exalting themselves in order to be served by others. Serving was the example He had set for them (Luke 22:24-27).
Then He expressed His appreciation for their enduring faithfulness over the past three-plus years. It hadn't been easy for them with the Jewish religious leaders' growing hostility and persecution.
"But you are those who have continued with Me in My trials. And I bestow upon you a kingdom, just as My Father bestowed one upon Me, that you may eat and drink at My table in My kingdom, and sit on thrones judging the twelve tribes of Israel" (Luke 22:28-30).
He encouraged them that they would not be forgotten. When He returns to the earth, they will be rewarded with positions of rulership!
Jesus knew they would slip up
An awesome future is ahead, but until then—in this life—there are spiritual battles to fight and enemies to face.
At the beginning of His ministry, Jesus had to do battle with Satan (Luke 4). Jesus confronted him and resisted his tempting offers—and Satan slunk away in defeat.
The disciples faced similar temptations and trials, as do all who become Jesus' followers today.
Following His death, Christ would return to the Father, but the disciples themselves would have to face the prince of the power of darkness. Satan was anxious to try his wiles on them.
As Jesus told Peter, "'Simon, Simon! Indeed, Satan has asked for you [all], that he may sift you as wheat. But I have prayed for you, that your faith should not fail; and when you have returned to Me [when thou art converted (King James Version)], strengthen your brethren'" (Luke 22:31-32).
"Sift you as wheat": a description of Satan's attacks
Satan had requested permission to intensify his efforts against those first leaders of the Church Jesus would build. He wanted to sift them as wheat.
What does this analogy entail? After stalks of grain are harvested, the grain must be separated from the chaff. In the first century this was done through agitation, treading on by heavy animals such as oxen, and then by blowing the chaff away by strong winds or a fan.
Just as Satan had tried to destroy Job and turn him against God (Job 1:9-11; 2:4-5), so he desired to use his powers to destroy the disciples.
But Satan can do no more than God permits.
God allows His servants to be tested and tried so they can be instructed and grow; but as Paul wrote, God will not allow us to be tempted more than we are capable of enduring (1 Corinthians 10:13).
Jesus assured Peter that though they would have to face trials and problems, He was praying for them.
"But I have prayed for you, that your faith should not fail" (Luke 22:32).
Christ's intercession for us
Even though following His death and resurrection, Christ returned to heaven, He continues to serve us as High Priest at the right hand of God the Father, seeking His help and mercy in our daily lives. We see this in many passages in the New Testament:
"Who is he who condemns? It is Christ who died, and furthermore is also risen, who is even at the right hand of God, who also makes intercession for us" (Romans 8:34).
"Now this is the main point of the things we are saying: We have such a High Priest, who is seated at the right hand of the throne of the Majesty in the heavens" (Hebrews 8:1).
"Therefore, in all things He had to be made like His brethren, that He might be a merciful and faithful High Priest in things pertaining to God, to make propitiation for the sins of the people" (Hebrews 2:17).
Jesus knew they would fail
Jesus knew His disciples would fail that evening when the authorities came to arrest Him and put Him on trial.
And they did fail! They all abandoned Him (Matthew 26:56; Mark 14:50). Peter denied Jesus three times that evening. Afterward—when he realized what he had done in spite of the fact that he had strongly asserted he would lay down his life before doing such a thing—Peter turned away and wept, heartbroken, ashamed of his actions.
God is merciful and longsuffering, quick to forgive. He knows that we will not always get it right every time. Like a baby learning to walk, we will fall many times. But we don't have to stay down.And Christ knew Peter and the others would regret what they had done and would return to their calling. They did! And their dedication was stronger than ever.
They repented and recommitted themselves to following their Savior and ours.
Returning and repenting
Repentance is what God wants, and He is the One who leads us to it. As Paul wrote, "Or do you despise the riches of His goodness, forbearance, and longsuffering, not knowing that the goodness of God leads you to repentance?" (Romans 2:4).
God is merciful and longsuffering, quick to forgive. He knows that we will not always get it right every time. Like a baby learning to walk, we will fall many times. But we don't have to stay down. We can get up and try again, learning from each of our falls until they become fewer and fewer over the years.
Making mistakes and learning from them
"For a righteous man may fall seven times and rise again, but the wicked shall fall by calamity" (Proverbs 24:16). It is only possible to fall seven times if you get up at least six. That's what we must do if we slip up. Get back up again. Learn what we can from our mistakes. Repent and seek God's forgiveness and the help of His Spirit to do better in the future.
All the great people of the Bible made mistakes at one time or another. Job, Abraham, Jacob, David, Peter, Paul and all the others had their times of failures. But they all repented and continued their walk in the ways of God.
If we do our part, the great Master Potter (Isaiah 64:8) will finish the work He has begun in us (Philippians 1:6), and eternal life and a great reward will be in our future!
So if you slip up, don't despair. Get back up, repent and move forward.
Study more about repentance, forgiveness and the continuing process of change in our free booklet Change Your Life!