The Bible tells us to confess our sins. What does this mean? Whom do we confess to and how? What are the results of confession? What does the Bible say?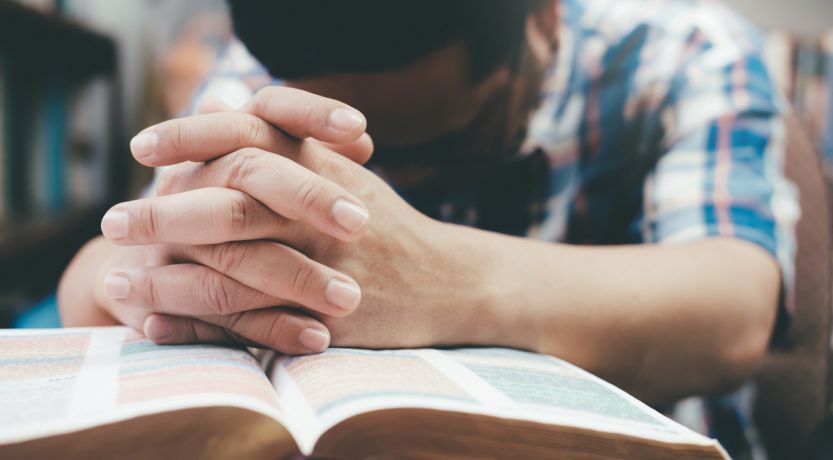 The typical scene may be vivid in your mind: a small, dark, closetlike booth, private and protected from the eavesdropping of the outside world. Only one other human being can hear what you have to share, and he sits opposite the veiled division that keeps the two of you at a safe and possibly anonymous distance.
In this secluded space amid the cathedral ceilings of what feels religious, you are to open up and embrace the vulnerability of verbalizing your deepest, darkest sins. At least, this is what the movies and years of man-made tradition portray as proper confession.
But is this—secretly whispering your sins to a religious leader and waiting to hear what penance will be enough to make up for your sin—really what biblical confession is all about? Rather than focus on the outward piety of denominational traditions, let's look at what the Bible says about confessing our sins.
What does it mean to confess?
As we use the word in English today, to confess is to acknowledge the reality of something that is or has been true. Confessing includes declaring, acknowledging, owning up to or admitting to some action, word, thought or feeling.
Confession can include a wide variety of topics (positive and negative), from confessing one's love for another to confessing to committing a violent crime. Whatever the subject, confession always involves a declaration of the truth.
When it comes to confessing our sins, this involves communicating the truth about what we have done relative to God's instructions for living.
The apostle John defines sin: "Whoever commits sin also commits lawlessness, and sin is lawlessness" (1 John 3:4). Or, as the New International Version puts it, "Everyone who sins breaks the law; in fact, sin is lawlessness."
So, confessing our sins is admitting to the reality that we have broken God's law, which is holy, just and good (Romans 7:12).
Examples of confession in the Bible
The Bible records several examples of confession that show a simple but humble acknowledgement of sin. These are just a few:
"For I acknowledge my transgressions, and my sin is always before me. Against You, You only, have I sinned, and done this evil in Your sight" (Psalm 51:3-4, emphasis added throughout).
"Please let Your ear be attentive and Your eyes open, that You may hear the prayer of Your servant which I pray before You now, day and night, for the children of Israel Your servants, and confess the sins of the children of Israel which we have sinned against You. Both my father's house and I have sinned" (Nehemiah 1:6).
"And I prayed to the LORD my God, and made confession, and said, 'O Lord, great and awesome God, who keeps His covenant and mercy with those who love Him, and with those who keep His commandments, we have sinned and committed iniquity, we have done wickedly and rebelled, even by departing from Your precepts and Your judgments" (Daniel 9:4-5).
"And many who believed came confessing and telling their deeds" (Acts 19:18).
"When they sin against You (for there is no one who does not sin), and You become angry with them and deliver them to the enemy, and they take them captive to the land of the enemy, far or near; yet when they come to themselves in the land where they were carried captive, and repent, and make supplication to You in the land of those who took them captive, saying, 'We have sinned and done wrong, we have committed wickedness' . . . then hear in heaven Your dwelling place their prayer and their supplication, and maintain their cause, and forgive Your people who have sinned against You" (1 Kings 8:46-50).
As we see in these examples and many others, confession of sin should be accompanied by a spirit of humility and a repentant attitude, showing evidence of a desire to change.
Confession is about more than the lips speaking the right words; it is also about the heart. We could certainly admit to our sins verbally, but without genuine, heartfelt repentance, we can't enjoy the benefits of confession.
What is the purpose of confessing our sins?
If we read the passages surrounding the verses quoted above, we see that when a repentant heart is involved in confession, two clear outcomes are being pursued: forgiveness and reconciliation.
We confess our sins to God—acknowledging that we have broken His law—because we want Him to forgive us and enable us to have a close relationship with Him.
Sin separates us from God (Isaiah 59:2), and that is an awful feeling! King David saw the need for forgiveness and cleansing so he wouldn't experience this lonely separation from God indefinitely. He prayed:
"Have mercy upon me, O God, according to Your lovingkindness; according to the multitude of Your tender mercies, blot out my transgressions. Wash me thoroughly from my iniquity, and cleanse me from my sin . . .
"Create in me a clean heart, O God, and renew a steadfast spirit within me. Do not cast me away from Your presence, and do not take Your Holy Spirit from me" (Psalm 51:1-2, 10-11; see "Why Does God Look for a Broken and Contrite Heart?").
David knew that without forgiveness of his sins he risked losing the intimate, personal connection he had with God. He acknowledged his own flawed character by confessing his sins to God, and then he appealed to God's merciful character in asking for forgiveness and reconciliation.
The awesome reality of God's gracious character that causes Him to extend mercy is wrapped up in 1 John 1:9: "If we confess our sins, He is faithful and just to forgive us our sins and cleanse us from all unrighteousness."
This is a promise we can count on because it hinges on the character of the Almighty God. We have to acknowledge what we have done (not deny it, as stated in verses 8 and 10) with a desire to turn away from those sinful actions, and God is willing to grant forgiveness as a response to confession.
Whom do we confess to?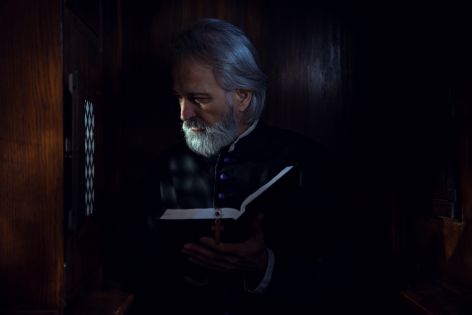 Since "the blood of Jesus Christ His Son cleanses us from all sin" (1 John 1:7), it is logical that we direct our confession not to any human being, but directly to God. We do not need to confess our sins to a minister or member of the clergy in order to seek forgiveness from the Ruler of heaven and earth.
Through the death of Jesus Christ for our sins, we have been given access to a relationship with God the Father. Jesus said that His disciples should make their requests known to the Father directly, through His name (through His power and authority).
Speaking of a time after His death, Jesus told His disciples: "And in that day you will ask Me nothing. Most assuredly, I say to you, whatever you ask the Father in My name He will give you. Until now you have asked nothing in My name. Ask, and you will receive, that your joy may be full . . .
"In that day you will ask in My name, and I do not say to you that I shall pray the Father for you; for the Father Himself loves you, because You have loved Me, and have believed that I came forth from God" (John 16:23-24, 26-27).
If Jesus Christ says we don't even need Him to pray on our behalf because we can talk directly to the Father, why would we need to speak to a priest or minister in a dark closet behind a veil in order to have the confession of our sins heard and forgiven? The truth is, we don't.
Confession is directed to God, because our sin is first and foremost against God (Psalm 51:4).
How do we confess our sins to God?
So, how do we confess our sins? By simply talking to God directly in heartfelt prayer. We talk to Him about the details of what we have done, laying out the truth about our actions, thoughts or attitudes. We acknowledge that what we have done is indeed sin; we apologize and ask for forgiveness and the power to change our actions in the future.
Having professed our belief that Jesus is our Savior and High Priest, we need not have any human mediator between us and the Father when we confess our sins.
The One who made access to the Father possible, Jesus Christ, sits at the right hand of the Father, sympathizing with our weaknesses. Because of His shed blood on our behalf, "let us therefore come boldly to the throne of grace, that we may obtain mercy and find grace to help in time of need" (Hebrews 4:16; see also verses 14-15).
(To learn more about how to confess, see our blog post "How to Ask God for Forgiveness.")
Added benefit of confession
"Blessed is he whose transgression is forgiven, whose sin is covered. Blessed is the man to whom the LORD does not impute iniquity, and in whose spirit there is no deceit" (Psalm 32:1-2).
Confessing our sins means acknowledging in detail what we have done to transgress God's law and asking for forgiveness of those sins so our relationship with God can be restored.Forgiveness certainly is a blessing that results from confession, and it allows us the opportunity to be happy again. "Blessed" can be translated "happy" here, based on the meaning and application of the word in the original Hebrew text. We should note, however, that being blessed means far more than simply having a joyous emotion. Being blessed is a state or condition that brings us joy because of a positive or restored relationship with God.
David goes on in this psalm to contrast confession with hiding sin by keeping silent:
"When I kept silent, my bones grew old through my groaning all the day long. For day and night Your hand was heavy upon me; my vitality was turned into the drought of summer. Selah. I acknowledged my sin to You, and my iniquity I have not hidden. I said, 'I will confess my transgressions to the LORD,' and You forgave the iniquity of my sin. Selah" (verses 3-5).
While David doesn't go on to describe the physical feelings in his body following confession, the vivid description of what was going on inside him while he was covering his sin (see also Psalm 38) leaves room for our minds to fill in the story. Like a burden being lifted from our shoulders, confession gives us freedom from guilt, worry and shame. It could be poetically expressed in a full-body, deep sigh of relief. "Ahh . . ." What a contrast to the days of our silence.
There are mental, emotional and even physical benefits that can come from acknowledging our sin instead of trying to hide it. Once we admit to what we have done, we need not carry around the emotional baggage that can cause even physical symptoms of distress.
True confession: There's much more to be said
There is so much more that could be said about confessing our sins. Scripture contains many more examples of confession done properly. It also contains some examples of confessions that were based only on remorse from being caught, rather than on repentance because of a genuine change of heart.
Another whole branch of the topic could lead to studying the benefits of confessing our sins in confidence to a faithful friend, who can encourage us, pray for us and help keep us accountable (James 5:16).
However, the basics of Christian confession are clear. Confessing our sins means acknowledging in detail what we have done to transgress God's law and asking for forgiveness of those sins so our relationship with God can be restored.
Confession need not take place in a special booth, in a grand religious structure or before a human spiritual leader. It need only be directed to the One with the power and merciful character to do something about the sins we have committed. His throne awaits, and He has a ready ear. We need only the repentant heart to bow before Him and seek His help to change.
We can take heart in God's character and the simplicity of what He promises: "He who covers his sins will not prosper, but whoever confesses and forsakes them will have mercy" (Proverbs 28:13).
Study more about this in our articles "How to Repent," "Godly Sorrow" and related articles.