Hebrews 11 highlights a lesson of faith from the life of Joseph, who "gave instructions concerning his bones." What can we learn from the bones of Joseph?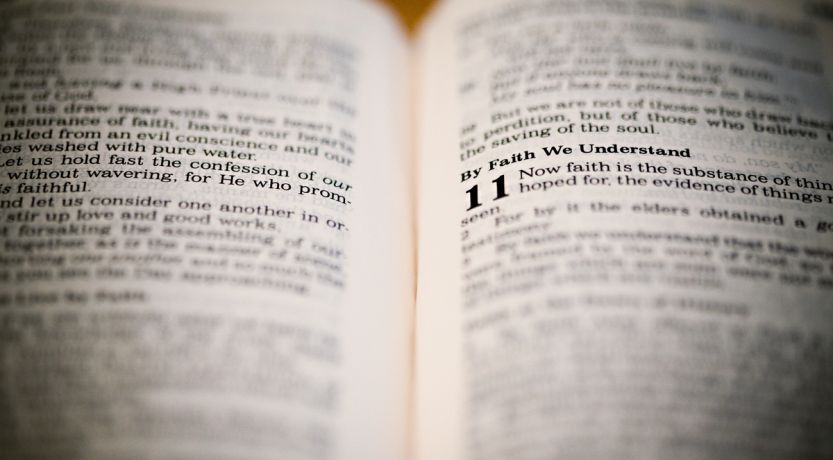 There are several lessons or principles recorded in the Bible relating to bones. Perhaps the best known is the valley of dry bones in Ezekiel 37.
However, there is another account about bones with a profound spiritual lesson for Christians. It involves the patriarch Joseph.
Character study of Joseph in the Bible
Most are familiar with the inspiring story of Joseph found in the book of Genesis. Chapter 37 begins the account showing young Joseph as the favorite son of his father, Jacob. God chose Joseph for a special purpose, but Joseph naively thought the rest of the family would be pleased to hear about his dreams (Genesis 37:5).
In reading the story of Joseph's life, we come to admire his courage, his industry and stewardship as Potiphar's servant, his resistance to temptation, his perseverance in prison, his willingness to forgive his brothers without seeking revenge, his love for his father, as well as other admirable traits.
The happy ending provides for uplifting reading, and the story is one of the great human interest accounts in the Bible. Joseph modeled the meaning of godly character.
An act of faith
However, when asked what they admire most about this great biblical character, most people don't mention what was perhaps his greatest underlying quality.
Joseph is spoken of favorably in the New Testament book of Hebrews. Yet Hebrews 11 refers to only one deed as an example of his godly faith, and it is not included in the traits that are commonly mentioned in connection with his life. The example of the faith of Joseph that was noteworthy enough to be mentioned in the Faith Chapter of the Bible has to do with his bones.
"By faith, Joseph dying remembered concerning the Exodus of the sons of Israel and gave orders concerning his bones" (Hebrews 11:22, Modern King James Version throughout).
Hebrews 11 extols Joseph's faith not by listing any of the noteworthy character traits he exhibited during his active lifetime, but by what he requested when his death drew near. We read his expression of faith in Genesis 50:24-25.
"And Joseph said to his brothers, I die. And God will surely visit you, and bring you out of this land into the land which He swore to Abraham, to Isaac, and to Jacob. And Joseph took an oath of the sons of Israel, saying, God will surely visit you, and you shall carry up my bones from here."
Bones of Joseph in The Ten Commandments movie
People generally are not too concerned about what happens to their bones after death. Yes, they may have a desire to be buried in a hometown or next to loved ones, but those are not expressions of religious faith but of sentimental preference for one's remains.
What was so special about Joseph's request that the author of Hebrews was prompted to include it among other profound acts of faith?
Many reading this article have seen the famous Cecil B. DeMille movie The Ten Commandments, starring Charlton Heston as Moses. There is one dramatic, panoramic scene of the children of Israel leaving Egypt with their young and old, with their sons and daughters, and with their flocks and herds (Exodus 10:9).
Included in the depiction of this exodus was a type of procession with Aaron and the elders carrying the bones of Joseph while chanting in solemn, melodic tones, "Jacob cherished his son Joseph; many colors was his coat."
It was the movie's portrayal of how Joseph's earnest request, made many years earlier, was honored by the nation. God had delivered them, just as Joseph had declared, and out of great respect they were taking his bones to the Promised Land.
Lessons of faith
There is much to learn from this unique biblical account of the bones of Joseph.
Joseph attained great prominence, wealth and authority in Egypt. Yet, although he had achieved enormous success and status, he never lost sight of God or His promises. His wealth and station did not corrupt his faith or cloud his vision of God's plan. Joseph lived and worked in Egypt, but in spirit he dwelt in the Promised Land.
Requesting of his family that his bones be taken to the Promised Land tells us that Joseph was faithfully walking with God right up until his death.Requesting of his family that his bones be taken to the Promised Land tells us that Joseph was faithfully walking with God right up until his death. He had a position second only to Pharaoh in the Egyptian government (Genesis 41:44), but throughout his life, he was first subject to the government of God and the laws of the Kingdom of God (Genesis 39:9).
Vision of faith
Joseph is a great example for each of us. Christians have not been promised a physical Promised Land, but a spiritual Promised Land, the Kingdom of God (1 Corinthians 15:50). Though we have important responsibilities to fulfill with respect to our family, nation, neighbors and ourselves, our minds are to be focused on the Kingdom of God and what God promises is ahead.
It is very easy, especially during times of trial, to get caught up in the everyday pressures and concerns of this life so that the vision of the Kingdom of God begins to fade. But a Christian is called out of this world, and we are primarily to set our affections on things above (Colossians 3:2) not on the things of this world. That takes a continual renewal of our faith through the help of God's Spirit.
Faithful servants of the Faith Chapter
Other individuals mentioned in Hebrews 11 had the same perspective as Joseph. Like Joseph, they died without entering God's Promised Land, yet they saw it afar off.
"These all died by way of faith, not having received the promises, but having seen them afar off. And they were persuaded of them and embraced them and confessed that they were strangers and pilgrims on the earth" (Hebrews 11:13).
Like Joseph, they always put God's plan for them first in their hearts and minds. Like Joseph, they had a vision of something beyond their present circumstances, so God was not ashamed to call them His own people (Hebrews 11:16).
A Christian is first and foremost a citizen of the Kingdom of God (Philippians 3:20). We live by the values and principles of God's government under all circumstances.
That is not how the world around us thinks. People generally justify their behavior based on the situation or circumstances they are presently facing, not on the spiritual laws of God. We all need to seek God's help and continued sustaining spirit to maintain our vision and godly behavior especially in this end time.
Joseph modeled the way of a principle-centered life throughout his 110-year life span. It is underscored by his earnest request concerning his remains.
Joseph was a godly man. His family knew that he was righteous and that God had delivered them through Joseph's faith.
Most important, God respected the kind of man Joseph was and will honor him along with all other men and women of faith by giving them eternal life in the spiritual Promised Land.