Paul said that although he and his companions were "hard-pressed on every side," they continued to "walk by faith, not by sight." How can we walk by faith?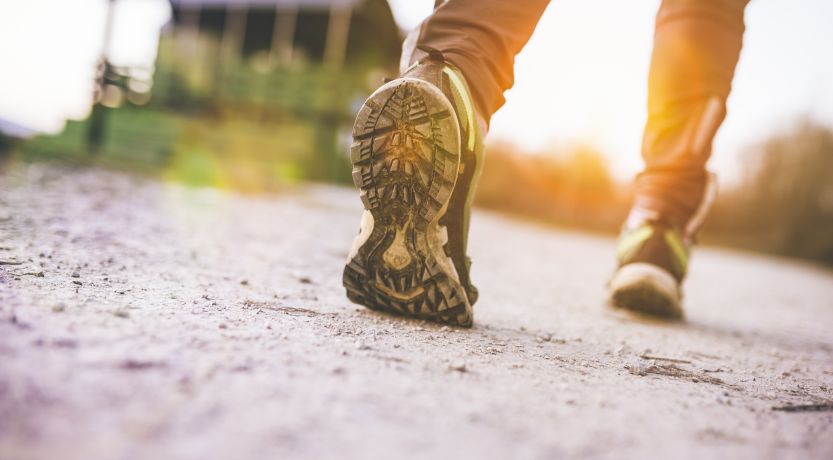 Almost anyone who professes to be a Christian is familiar with the expression "walk by faith, not by sight." These words have been the subject of countless sermons, and they appear in the titles and lyrics of contemporary songs.
But are they so common that they have lost their impact? More important, do you walk by faith, not by sight?
"Walk by faith, not by sight" in context
The concept appears throughout Scripture, but the precise wording in the title of this article comes from a letter the apostle Paul wrote to the church at Corinth (2 Corinthians 5:7). He used the words to explain how he and his colleagues in the ministry faced the many hazards in their path.
Much of what precedes these words is an account of Paul's ministry. For instance, Paul wrote, "Since we have this ministry, as we have received mercy, we do not lose heart" (2 Corinthians 4:1).
Shortly afterward, he gave a stirring description of the trials he and his companions faced: "We are hard-pressed on every side, yet not crushed; we are perplexed, but not in despair; persecuted, but not forsaken; struck down, but not destroyed" (verses 8-9).
When Paul boldly asserted that "if our earthly house, this tent, is destroyed, we have a building from God, a house not made with hands, eternal in the heavens" (2 Corinthians 5:1), he was alluding to the very real possibility he would die. And yet he could cling to hope—hope in a resurrection to eternal life (1 Corinthians 15:51-52).
So great a cloud of witnesses
Perhaps the passage most often associated with faith is Hebrews 11. In fact, this chapter has been dubbed the Faith Chapter. That's because it lists God's faithful servants from Abel to saints of the New Testament era, described in the following chapter as "so great a cloud of witnesses" (Hebrews 12:1).
The Faith Chapter begins with a description reminiscent of Paul's words to the Corinthians: "Now faith is the substance of things hoped for, the evidence of things not seen" (Hebrews 11:1).
Once again, we see this division between what can be seen and what cannot. At the heart of faith is an assurance of what we cannot physically see.
Among the heroes of faith in this chapter is Abraham. Hebrews 11 describes the father of the faithful as leaving his home in obedience to God, "not knowing where he was going" (verse 8). "Not knowing" is another way of expressing the idea that Abraham did not walk by sight. He simply obeyed God, choosing to walk by faith.
The chapter is a litany of biblical heroes. Some are named, including Noah, Abraham, Sarah, Moses and David. Others are not mentioned by name, but by their heroic deeds (verses 33-35) or their tragic deaths (verses 36-37).
But one thing they all shared was a tenacious grip on God's promises to them. Variations of the word promise appear seven times in this chapter (verses 9, 11, 13, 17, 33 and 39).
In some cases, the promises are exclusive to individuals, such as God's promise to Sarah that she would give birth to a son, though she was past childbearing age (verse 11). In other cases, the promises are general (verses 13 and 39), encompassing the gift of eternal life.
Struggling to walk by faith
In a world full of lies, deception and fraud, living up to the example set by "so great a cloud of witnesses" is not easy. Most of us struggle, especially at the beginning of our Christian journeys, to walk by faith.
But we are not alone. Even Christ's closest disciples lost heart.
As Jesus was arrested, tried and crucified, the disciples were afraid. They abandoned Him, fleeing as He was arrested (Matthew 26:56). Peter denied Christ three times (verses 69-75).
Days later, while gathered together, the disciples were still afraid. For that reason, they made sure that the doors were closed (John 20:19). These men were not walking by faith, but living in fear.
Doubting Thomas
While the disciples were together, the resurrected Jesus appeared to them. One of them, however, was missing from this gathering. When Thomas rejoined the group, the others told him what had happened, but he could not believe what they told him about the resurrected Christ.
His words highlight his inability at the time to walk by faith: "Unless I see in His hands the print of the nails, and put my finger into the print of the nails, and put my hand into His side, I will not believe" (verse 25).
Eight days later, Jesus appeared to the disciples again. This time He singled Thomas out, telling Thomas to put his hand into Christ's side and to examine His hands (verse 27). Thomas believed, but only after seeing.
The words Jesus spoke to Thomas underline the disparity between walking by faith and walking by sight: "Thomas, because you have seen Me, you have believed. Blessed are those who have not seen and yet have believed" (verse 29).
The English idiom "doubting Thomas" has its origin in this incident. But Thomas was not the only disciple to be slow in believing. All of the disciples found it difficult to believe.
When Mary Magdalene and several other women had previously reported the resurrection of Jesus to the disciples, they also struggled with the news: "And their [the women's] words seemed to them like idle tales, and they did not believe them" (Luke 24:11).
How can you walk by faith, not by sight?
Even these men, who had spent 3½ years traveling with Jesus, struggled to walk by faith. Like us, they lived in a world full of lies, deception and fraud.
So it's not surprising, then, that we may also stumble at times just as they did.
And yet, we know God expects us to walk by faith, and that "without faith it is impossible to please Him" (Hebrews 11:6).
So how do we move forward in faith? The New Testament example of a Roman centurion can help us understand what it means, and what it takes, to walk in faith.
The faith of the centurion explained
Two of the Gospel accounts (Matthew and Luke) record this incident. The centurion, a gentile, sent some of the Jewish elders to Jesus to request healing for his beloved servant. The elders gladly petitioned Christ on the centurion's behalf, saying, "He loves our nation, and has built us a synagogue" (Luke 7:5).
Jesus started toward the centurion's house, but the centurion sent friends to Jesus to tell Him not to "trouble" Himself by going all the way to his home, saying that he was not worthy of the visit (verse 6). The message, however, included more.
We will also grow in faith as we humble ourselves before God, just as the centurion did.He told Jesus, "But say the word, and my servant will be healed. For I also am a man placed under authority, having soldiers under me. And I say to one, 'Go,' and he goes; and to another, 'Come,' and he comes; and to my servant, 'Do this,' and he does it" (verses 7-8).
This was a remarkable example of walking by faith. The centurion did not need to see Christ in his home. He did not need to see Jesus placing His hands on the servant. He did not need to see anything. He simply believed.
Jesus told the crowd around Him that He had "not found such great faith, not even in Israel!" (verse 9).
Keys to the centurion's faith
As we examine this Roman soldier's faith, it's helpful to consider his role. As a centurion, he was in charge of a centuria (approximately 100 soldiers). In Capernaum, which was not near the frontier of Roman power, he and his centuria were not engaged in combat. Instead, they served as a police force.
When we look closely at this story, we can see character traits of this Roman soldier that resulted in his great faith.
The first trait we notice is the care this man had not only for his servant, but also for the community his men policed. For this reason, the Jewish elders were happy to petition Jesus on behalf of the centurion, whom they described as "deserving" (verse 4).
The next trait we see is humility. He understood the reluctance of Jews in first-century Galilee and Judea to interact with gentiles. He humbled himself, not insisting that Jesus enter his home.
A third trait is the centurion's insight into the power of God. As a man of authority, he recognized the authority of Christ, understanding that Jesus did not need to be physically present to heal the servant.
What does this mean for us?
We, too, can begin to walk by faith when we strive to live godly lives. Part of godliness is following the centurion's example of loving our neighbors. That's because we cannot truly love God unless we love the people around us—family, friends, coworkers and strangers (1 John 4:20).
We will also grow in faith as we humble ourselves before God, just as the centurion did. Humility before God requires us to live as God intends, not as we are used to living. It means obeying Him, even when that is not easy.
Finally, just as the centurion recognized the authority and power of Christ, we must come to understand who God is. His power is unlimited. He loves us deeply. He has promised us eternal life. And nothing—absolutely nothing—can stand between Him and us (Romans 8:38-39). When we understand these things about God, we will more readily walk by faith.
Another key to walking by faith
It's clear that Paul, like the centurion, cared about people. His letters are filled with references to this love of his for the people responding to his preaching, and even those who didn't. Paul also humbled himself, and he recognized the unlimited power of God.
But there was another key that helped Paul walk by faith, just as it helped the heroes of Hebrews 11. Paul walked by faith because he anchored that faith to the promise of eternal life.
We see that faith demonstrated toward the end of his second letter to the Corinthians, in which he cataloged some of the specific dangers he had already faced (2 Corinthians 11:23-29). Among the trials he listed were three beatings with rods, five whippings, one stoning and three shipwrecks! Paul could have died from any one of these!
Paul knew that whether he died preaching the gospel or died in bed, his "outward man [was] perishing" (2 Corinthians 4:16). In spite of that, he wrote, "The inward man is being renewed day by day."
He came to understand that his present suffering was temporary, and he put his focus on the unseen, because "the things which are seen are temporary, but the things which are not seen are eternal" (verse 18).
We, too, can learn to focus on what is eternal. This takes time to learn, of course, and we won't walk by faith perfectly. But if we follow the example of Paul, the Roman centurion and the heroes of the Faith Chapter, we'll be able to walk by faith, not by sight.
Study more about this vital subject in our online article "How to Grow in Faith."